The Best Bitcoin Hardware Wallet available in the market today is the Ledger Nano X. With its advanced features and robust security, the Ledger Nano X offers users a secure and convenient way to store their Bitcoin and other cryptocurrencies. The device utilizes a secure chip to store private keys and provides multi-factor authentication to ensure that only the authorized user can access their funds.
The Ledger Live app, coupled with the hardware wallet, enables easy management of Bitcoin holdings, allowing users to send, receive, and monitor their transactions with ease. The device also supports over 1,800 cryptocurrencies, making it a versatile option for crypto enthusiasts. With its sleek design, user-friendly interface, and high-level security, the Ledger Nano X stands out as the top choice for those seeking the best Bitcoin hardware wallet.
What Is Hardware Wallet?
Hardware wallets are physical devices designed to securely store cryptocurrency private keys offline, making it one of the safest ways to safeguard digital assets like Bitcoin. Hardware wallets utilize secure elements – usually an anti-tamper chip – to generate and store private keys necessary for accessing and managing cryptocurrency holdings. These private keys allow access to and management of these holdings.
Hardware wallets provide protection from online threats such as hacking, malware infections and phishing attacks by keeping keys stored offline away from devices connected to the internet. Hardware wallets provide extra layer of protection, as they sign and verify transactions on-device without ever leaving the device,
Meaning private keys never leave its confines and could potentially allow unauthorized access to cryptocurrency assets held within it. They often also come equipped with features like PIN codes, passphrase support and backup options that further increase security and recovery options for their users.
How Do Hardware Wallet Work?
Hardware wallets work by securely generating and storing private keys offline, away from potential online threats. Here's a step-by-step explanation of how hardware wallets function:
Key Generation: When setting up a hardware wallet, it generates a unique private key using a random number generator and cryptographic algorithms. This key remains securely stored within the wallet's secure element or chip.
Transaction Preparation: When you want to initiate a transaction, the hardware wallet uses the private key to create a digital signature. The digital signature proves ownership of the funds and authorizes the transaction.
Offline Verification: The hardware wallet displays transaction details on its screen, including the recipient's address and the transaction amount. You review and verify these details on the wallet itself, ensuring they are accurate and haven't been tampered with.
Transaction Signing: After verifying the transaction details, you confirm the transaction on the hardware wallet. The wallet then uses the private key stored offline to digitally sign the transaction.
Broadcasting the Transaction: Once the transaction is signed, the hardware wallet generates the necessary data to complete the transaction. This data is then sent to a connected computer or mobile device, which broadcasts it to the Bitcoin network.
Confirmation and Inclusion: Miners on the Bitcoin network validate the transaction and include it in a block. Once confirmed by the network, the transaction is considered completed, and the recipient receives the funds.
Here is List Of Best Bitcoin Hardware Wallet
ELLIPAL Titan
NGRAVE
SafePal S1
CoolWallet Pro
Trezor Model One
BitBox02
KeepKey
7 Best Bitcoin Hardware Wallet
1. ELLIPAL Titan
ELLIPAL Titan is an innovative hardware wallet designed to securely store cryptocurrencies. Featuring advanced security features and user-friendly controls for managing digital assets, this user-friendly experience offers safe storage of digital assets. ELLIPAL Titan wallet uses an airgapped system, meaning it doesn't connect to any network – Wi-Fi, Bluetooth or USB – in order to ensure its private keys and sensitive information remain offline and away from potential online threats.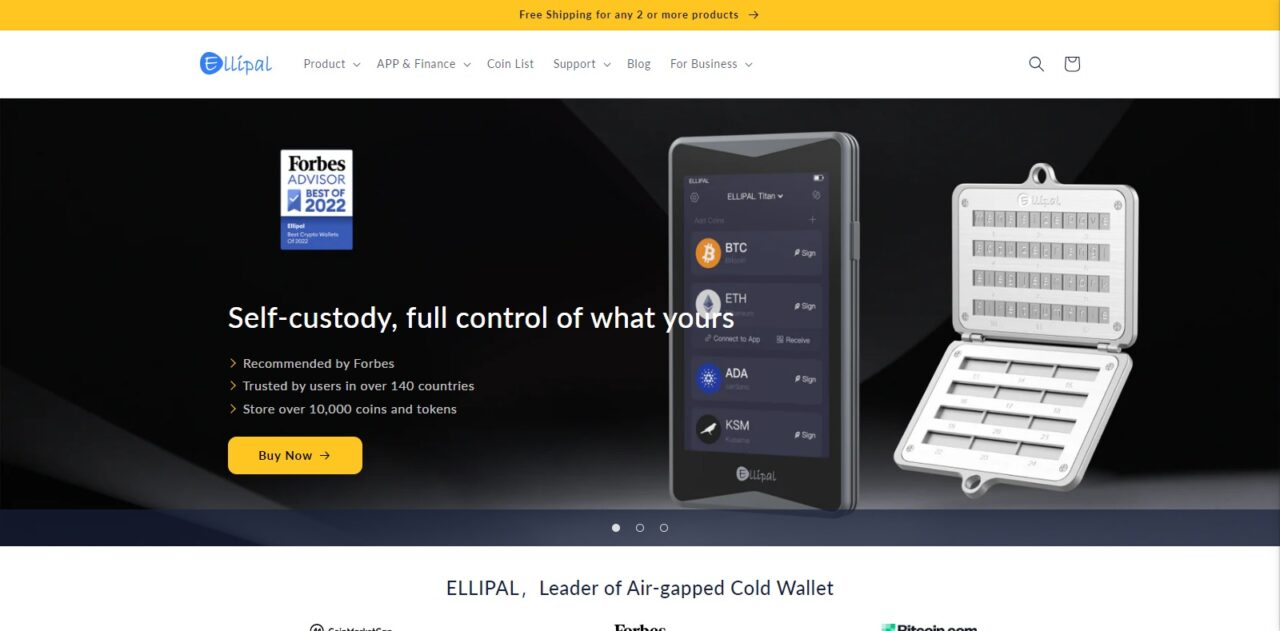 This device features a large touchscreen display for simple navigation and interaction, as well as supporting several cryptocurrencies including Bitcoin and Ethereum as well as popular ERC-20 tokens. ELLIPAL Titan wallet prioritizes user privacy and security with features like its self-destruct mechanism that deletes data after multiple unsuccessful login attempts.
It also features multi-signature support, passphrase encryption and compatibility with the ELLIPAL mobile app for easy transaction management. Overall, the ELLIPAL Titan is an effective hardware wallet option for those seeking increased security and convenience when managing cryptocurrency holdings.
2. NGRAVE (Best Bitcoin Hardware Wallet)
NGRAVE is an established brand known for providing secure hardware wallet solutions for cryptocurrencies. Their product stands out in offering an offline, air-gapped environment to protect private keys from potential cyber threats and safeguard them. The NGRAVE ZERO hardware wallet stands out as an innovative combination of cutting-edge technology and stylish design.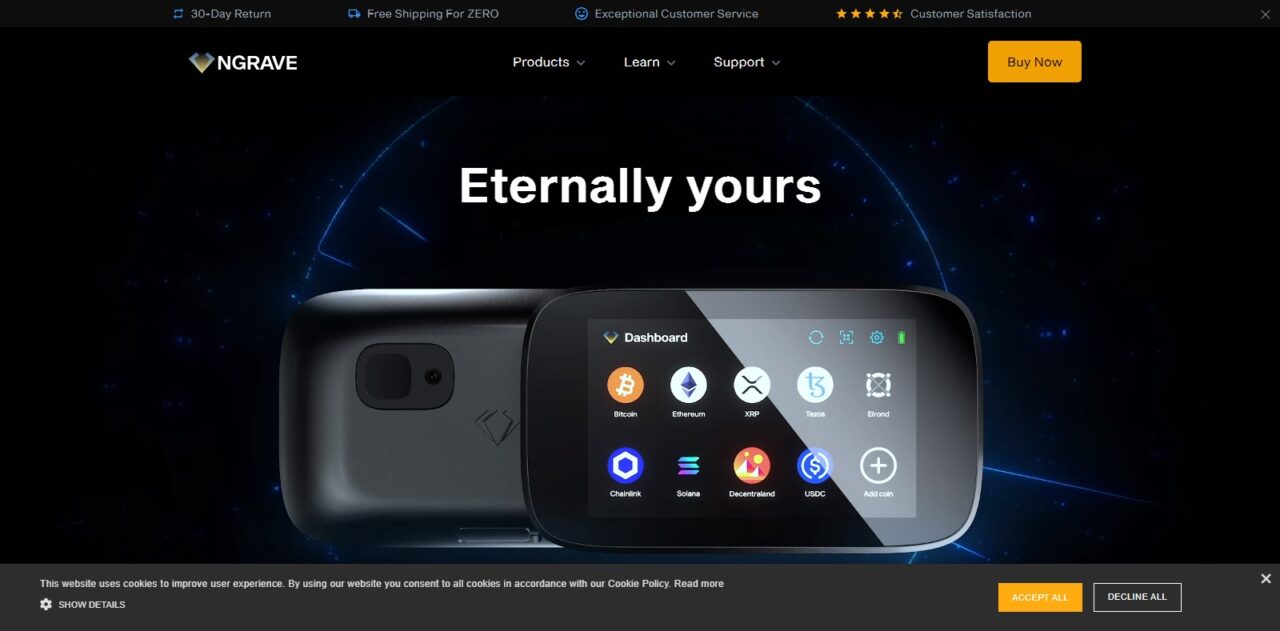 Utilizing a two-part system consisting of a hardware wallet and communication device, this innovative method isolates private keys so they do not come into contact with any connected device, significantly decreasing risk for sensitive information to be compromised. The NGRAVE ZERO is equipped with secure elements and tamper-proof features to offer a user-friendly touch screen interface, providing a safe user experience.
NGRAVE provides an advanced backup solution, the NGRAVE GRAPHENE, that allows users to securely save a copy of their private keys for future reference. Their dedication to privacy and security makes NGRAVE an excellent option for cryptocurrency storage needs.
3. SafePal S1
SafePal S1 is a well-recognized hardware wallet designed to offer secure storage and management for cryptocurrency assets. Known for its compact size, user-friendly interface, and advanced security features. SafePal S1 wallet features an offline air-gapped design to protect private keys generated and stored securely away from potential online threats. It incorporates secure chips and encryption algorithms for optimal protection of sensitive information.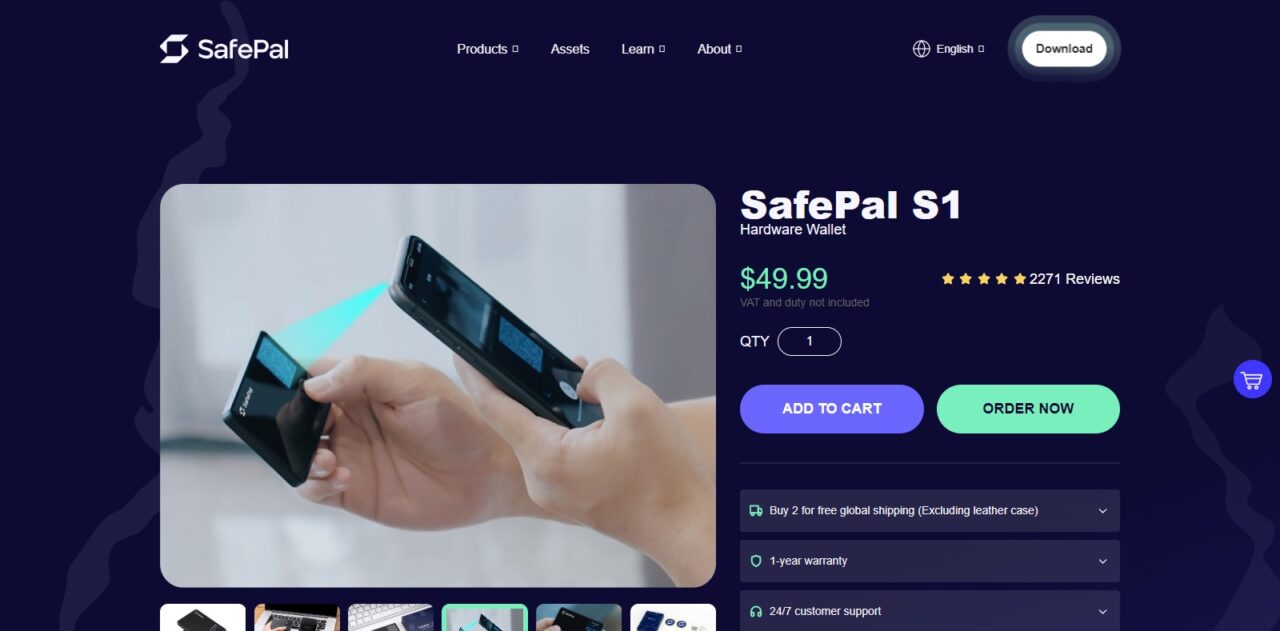 SafePal S1 features an onboard display and buttons for effortless navigation and transaction verification, as well as support for numerous cryptocurrencies including Bitcoin, Ethereum, Binance Coin and others. Users can manage their digital assets with the SafePal mobile app, which connects seamlessly to wallet via QR code scanning for an enjoyable user experience.
SafePal S1 comes equipped with backup and recovery features like mnemonic phrase backup and support for multiple wallets to give users peace of mind in case their device becomes lost or damaged. Boasting strong security features in an intuitive design, SafePal S1 makes an excellent choice for protecting cryptocurrency holdings.
4. CoolWallet Pro (Best Bitcoin Hardware Wallet)
CoolWallet Pro is an advanced hardware wallet designed to secure cryptocurrency storage and easy management. Distinguished by its sleek credit-card-sized form factor and sophisticated security features, CoolWallet Pro stands out as an industry standard solution. CoolWallet Pro supports an expansive variety of cryptocurrencies, such as Bitcoin, Ethereum and Litecoin, with secure element chips and encryption to protect private keys and guarantee transaction integrity.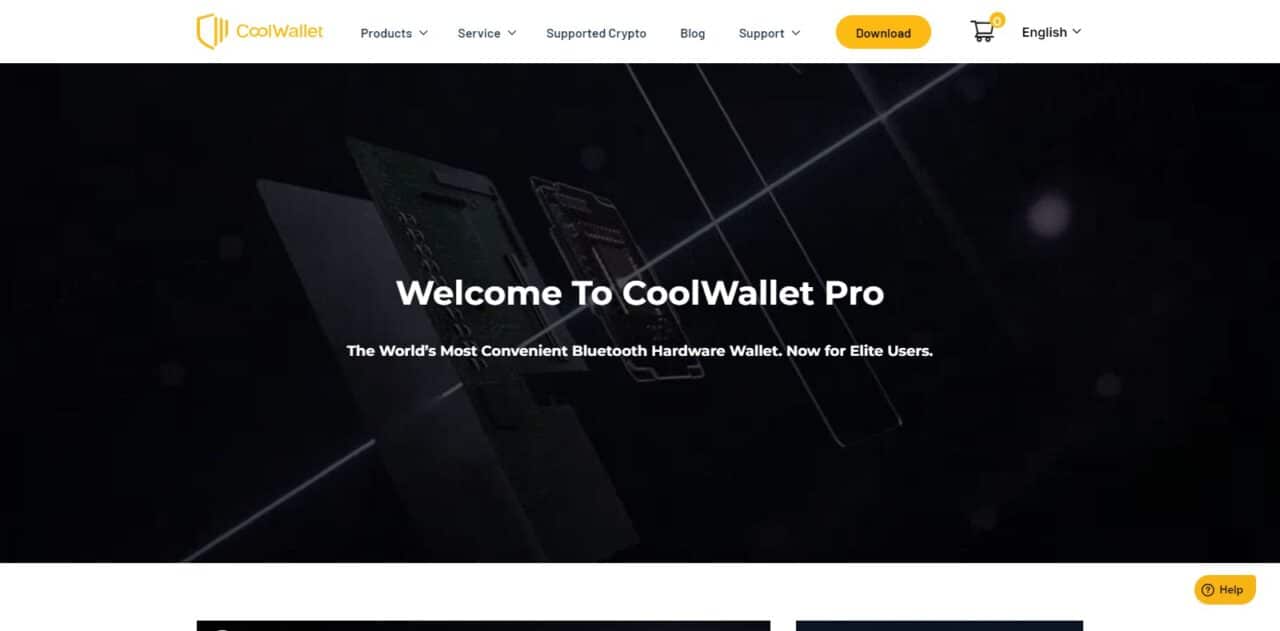 CoolWallet Pro features an e-paper display, allowing users to directly verify transaction details on its e-paper display. Connected via Bluetooth to the CoolBitX mobile app, CoolWallet Pro provides a user-friendly way of monitoring cryptocurrency holdings and managing cryptocurrency holdings. CoolWallet Pro's features include balance tracking, transaction history management and portfolio administration.
One notable aspect is its integrated biometric fingerprint sensor which adds another level of security when accessing and authorizing transactions. CoolWallet Pro features backup and recovery features like an unique recovery seed and encrypted offline backups to provide users with peace of mind should their cryptocurrencies become lost or stolen. Thanks to its sleek design and robust security features, CoolWallet Pro offers individuals looking to protect their cryptocurrency investments an effective and hassle-free solution.
5. Trezor Model One
The Trezor Model One hardware wallet from SatoshiLabs was one of the pioneering cryptocurrency hardware wallets, known for its outstanding security and dependability. The Trezor Model One cryptocurrency storage device was created to securely manage various cryptocurrencies such as Bitcoin and Ethereum. The compact, monochrome display comes equipped with two buttons for navigation purposes and provides secure storing.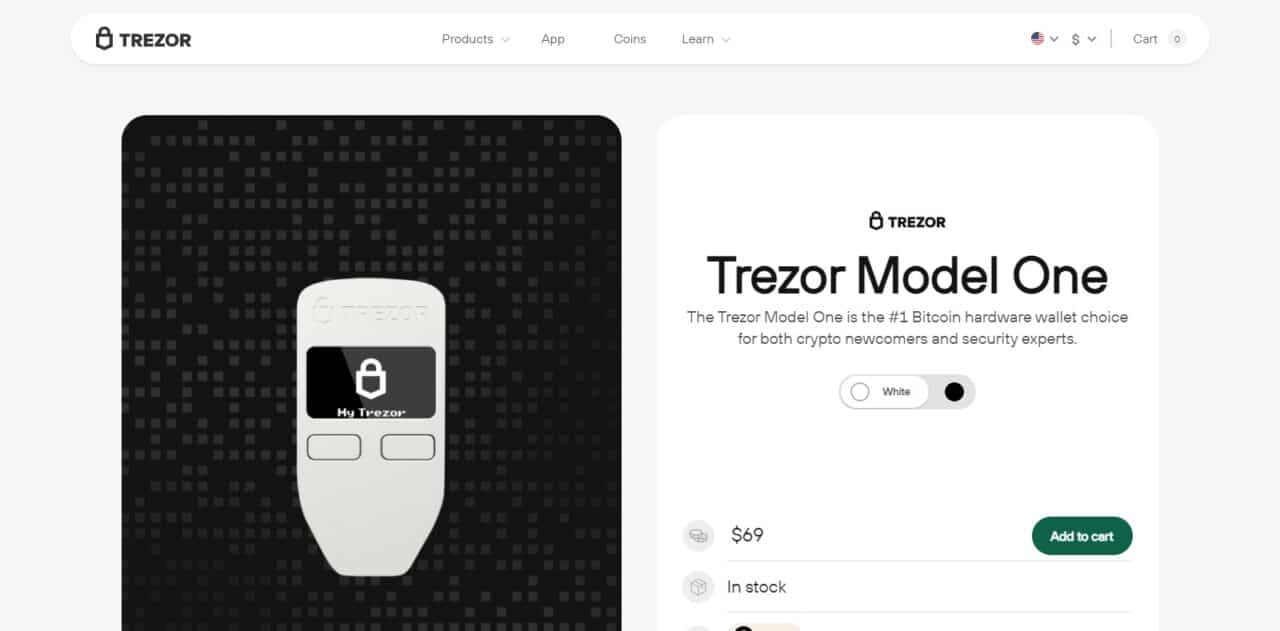 Operating under an offline, air-gapped system, it protects private keys from potential online threats and allows the user to initiate transactions by verifying and validating details displayed on their device's display screen. The Trezor Model One integrates advanced security measures, including cryptographic algorithms, PIN code protection and passphrase encryption.
Furthermore, users receive a recovery seed which allows for the swift restoration of funds in case their Trezor becomes lost or damaged. The Trezor Model One hardware wallet is compatible with the Trezor Bridge software, providing seamless interaction between it and a user's computer or mobile device. Thanks to its strong emphasis on security and user friendliness, the Trezor Model One makes an excellent choice for individuals searching for reliable cryptocurrency storage devices.
6. BitBox02 (Best Bitcoin Hardware Wallet)
The BitBox02 hardware wallet from Shift Crypto provides secure cryptocurrency storage and management. Focusing on both user friendliness and strong security measures, its design prioritizes providing users with an enjoyable user experience. BitBox02 supports various cryptocurrencies, such as Bitcoin and Ethereum, as well as ERC-20 tokens. Featuring an elegant minimalist design with a small OLED display and touch buttons for navigation, the device makes investing simple.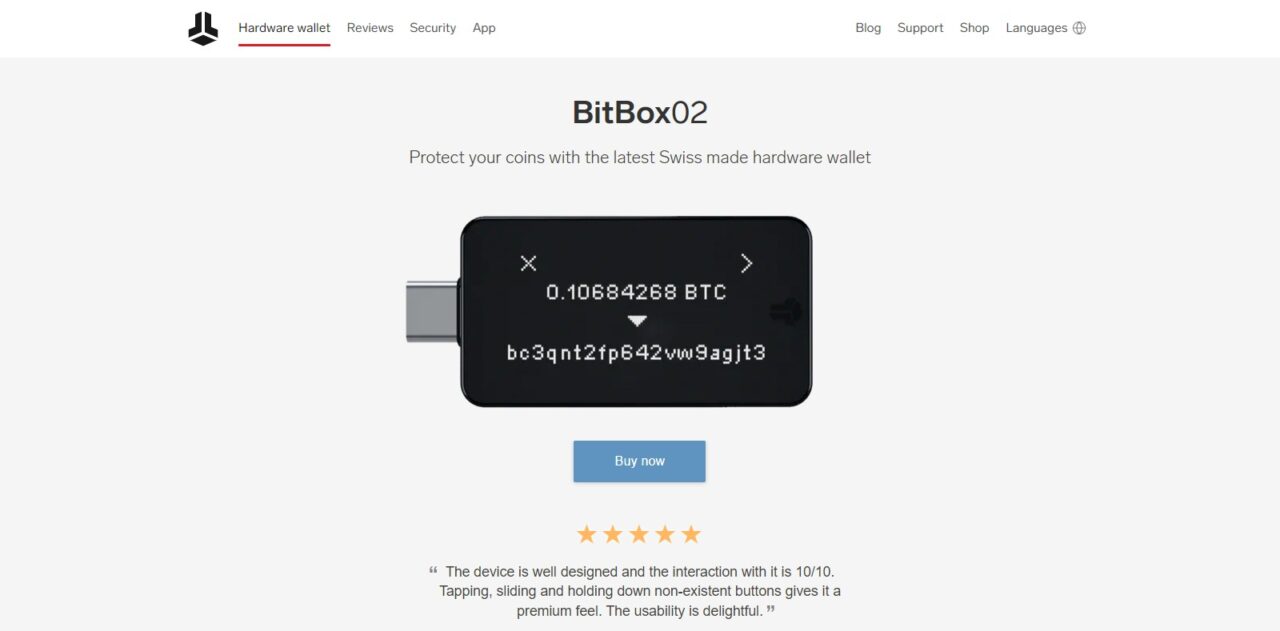 It uses a secure chip and microcontroller to protect private keys and defend against potential attacks, with advanced security features including a secure boot loader, encrypted backups, and BIP39 mnemonic phrases for backup and recovery. To maximize user convenience, the BitBox02 can easily connect to computers and mobile devices through USB
Bluetooth, providing easy asset management capabilities like tracking balances and initiating transactions through BitBoxApp software. Shift Crypto places an emphasis on open-source transparency, enabling users to review and verify the wallet's code for added trust. Overall, BitBox02 is an ideal choice for individuals searching for an easy yet secure hardware wallet to protect their cryptocurrency holdings.
7. KeepKey
KeepKey is a widely-used hardware wallet developed by ShapeShift that offers secure cryptocurrency storage and management. Noted for its large and intuitive display, robust security features, and user-friendliness, KeepKey stands out as an outstanding cryptocurrency solution. KeepKey is an innovative device that supports various cryptocurrencies, such as Bitcoin, Ethereum and Litecoin. Featuring a sleek yet durable design with an OLED display and metal case for extra protection.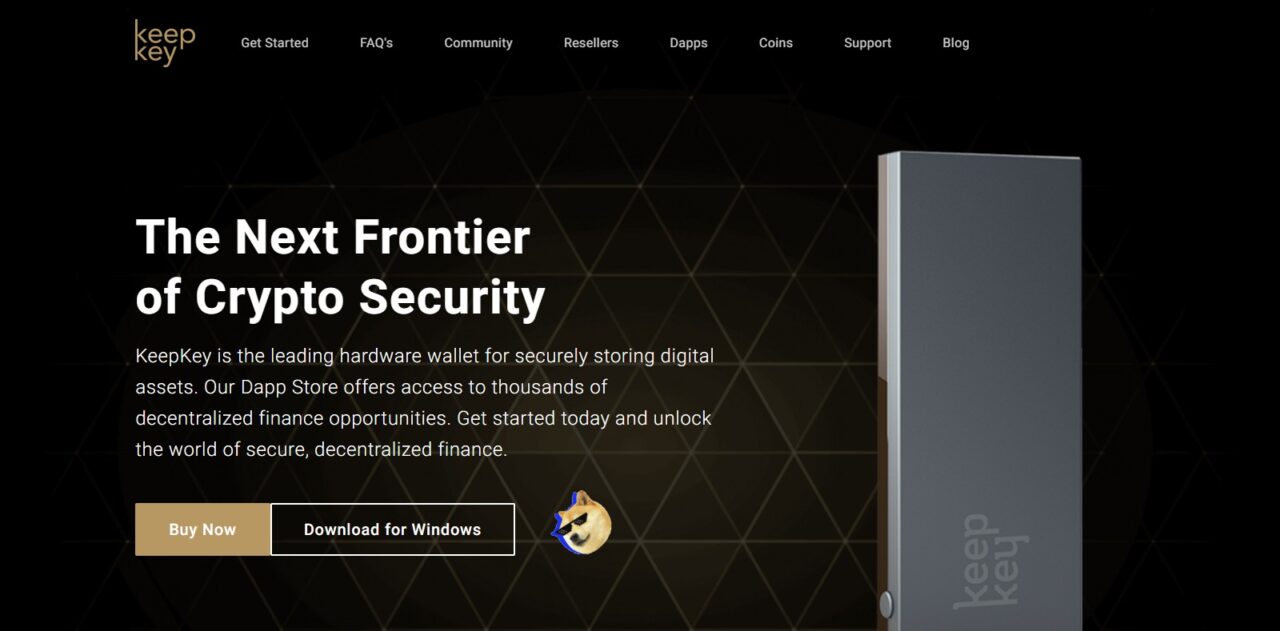 Advanced security measures such as a secure microcontroller, PIN code protection and passphrase encryption are implemented to protect private keys and prevent unwarranted access. KeepKey provides users with an option for retrieval seeds to restore funds in case their device becomes lost or damaged. This wallet connects directly to a computer via USB and integrates seamlessly with either KeepKey Chrome extension or ShapeShift mobile app,
Giving users access to manage assets, make transactions and view balances efficiently. KeepKey places an emphasis on user experience by offering an intuitive and user-friendly interface, making it accessible to both beginner and expert users. Focusing on security, usability and supporting a wide variety of cryptocurrencies, KeepKey provides a secure hardware wallet option for storing and managing digital assets safely.
Best Bitcoin Hardware Wallet Conclusion
Conclusion When choosing the ideal Bitcoin hardware wallet, factors such as security, ease of use, supported cryptocurrencies and additional features should all be taken into consideration. Two prominent solutions stand out among these criteria: Ledger Nano X and Trezor Model One are examples. The Ledger Nano X stands out with its advanced security features, such as its secure chip, multi-factor authentication and support for multiple cryptocurrencies.
With its sleek design and user-friendly interface, this device makes itself attractive to both novices and veteran users. Trezor Model One stands out as an innovative solution, boasting proven security measures and user-friendliness, along with its intuitive user interface and wide compatibility.
Both wallets have shown their effectiveness at protecting users' Bitcoin and digital assets; when selecting one as your best hardware wallet option it is crucial to take your personal needs and preferences into consideration as well as desired features for optimal protection and ease of managing cryptocurrency holdings.
Best Bitcoin Hardware Wallet FAQ
What is a Bitcoin hardware wallet?
A Bitcoin hardware wallet is a physical device designed to securely store private keys associated with Bitcoin and other cryptocurrencies. It keeps the keys offline, reducing the risk of online attacks and unauthorized access to funds.
How does a hardware wallet enhance security?
Hardware wallets enhance security by storing private keys offline in a secure element or chip. They require physical interaction to initiate transactions, adding an extra layer of protection against malware and phishing attacks. Additionally, hardware wallets often include features like PIN codes, passphrase encryption, and backup options to further enhance security.
Are hardware wallets compatible with multiple cryptocurrencies?
Yes, most hardware wallets support multiple cryptocurrencies. The level of compatibility varies among different models, so it is essential to check whether the hardware wallet supports the specific cryptocurrencies you intend to store.
Can I recover my funds if I lose my hardware wallet?
Yes, most hardware wallets provide a recovery seed or mnemonic phrase during the initial setup. This seed can be used to restore your funds onto a new device or wallet in case your hardware wallet is lost, stolen, or damaged. It is crucial to securely store and backup the recovery seed in a separate location.
Are hardware wallets user-friendly?
Hardware wallets strive to provide a user-friendly experience. They typically feature intuitive interfaces, clear instructions, and compatibility with companion apps or software. However, it is recommended to familiarize yourself with the wallet's functionality and security measures before use.
Can I use a hardware wallet with mobile devices?
Yes, many hardware wallets can be used with mobile devices through companion apps. These apps facilitate the connection between the hardware wallet and the mobile device, allowing users to manage and monitor their cryptocurrencies on the go.