Best Blockchain To Launch NFT Token When considering the best blockchain to launch an NFT (Non-Fungible Token), Ethereum continues to maintain its prominent position. In 2023, Ethereum remains the go-to choice for NFT creators and enthusiasts due to its established infrastructure, well-defined standards like ERC-721 and ERC-1155, and a vast network of NFT marketplaces.
Ethereum's long-standing reputation, developer support, and a broad user base ensure that NFTs launched on its platform have a wider reach and greater liquidity. Despite emerging competition, Ethereum's track record and ongoing upgrades, including Ethereum 2.0, make it a solid foundation for innovators looking to enter the NFT space with confidence and reliability.
What is Blockchain ?
Blockchain is a revolutionary technology that serves as the foundation for cryptocurrencies like Bitcoin and has far-reaching applications beyond digital currencies. At its core, a blockchain is a decentralized, distributed ledger system that records transactions across a network of computers in a secure and immutable manner.
Each transaction is grouped into a "block," and these blocks are linked together in a chronological sequence, forming a chain of data. What sets blockchain apart is its transparency, security, and resistance to tampering.
Once a transaction is added to the blockchain, it becomes extremely difficult to alter or delete, ensuring trust and integrity in various applications such as financial services, supply chain management, voting systems, and, notably, the creation and trading of non-fungible tokens (NFTs). Blockchain technology has the potential to transform industries by providing a tamper-proof and transparent way to record and verify transactions, reducing the need for intermediaries and enhancing the efficiency and security of data management.
Here is list of Best Blockchain To Launch NFT Token
Ethereum
IBM Blockchain
Hyperledger Fabric
R3 Corda
Tezos
EOSIO
Stellar
7 Best Blockchain To Launch NFT Token In 2023 
1. Ethereum
Ethereum, introduced by Vitalik Buterin in 2015, has quickly become a central element of decentralized internet and often known as Web 3.0. Through smart contracts it offers more than digital currency exchange services alone. These self-executing contracts enable developers to build decentralized applications (DApps) and programmable assets on the Ethereum blockchain.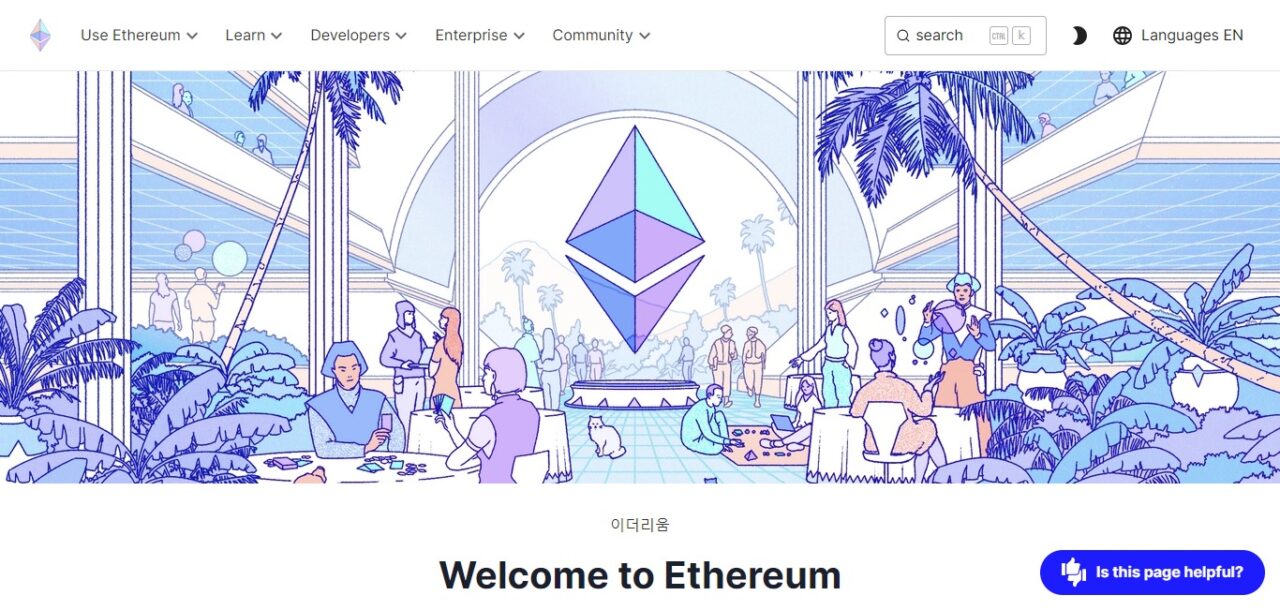 Ethereum stands out among cryptocurrency platforms due to its adaptability, enabling developers to build an array of applications ranging from decentralized finance (DeFi) platforms and non-fungible token (NFT) markets to identity verification systems and more. Ethereum's native cryptocurrency, Ether (ETH), serves both as digital currency and fuel for smart contracts on its network.
While experiencing some scalability issues, Ethereum continues its evolution through upgrades like Ethereum 2.0 aiming at improving efficiency and energy consumption. Ethereum also plays an integral role in shaping blockchain landscape and contributing to an increasingly decentralized and innovative digital world.
2. IBM Blockchain (Best Blockchain To Launch NFT Token)
IBM Blockchain is a pioneering initiative by the technology giant IBM that harnesses the power of blockchain technology to revolutionize various industries. Built on the trusted Hyperledger Fabric framework, IBM Blockchain offers a secure and transparent way for organizations to digitize their processes, streamline supply chains, and enhance trust among participants.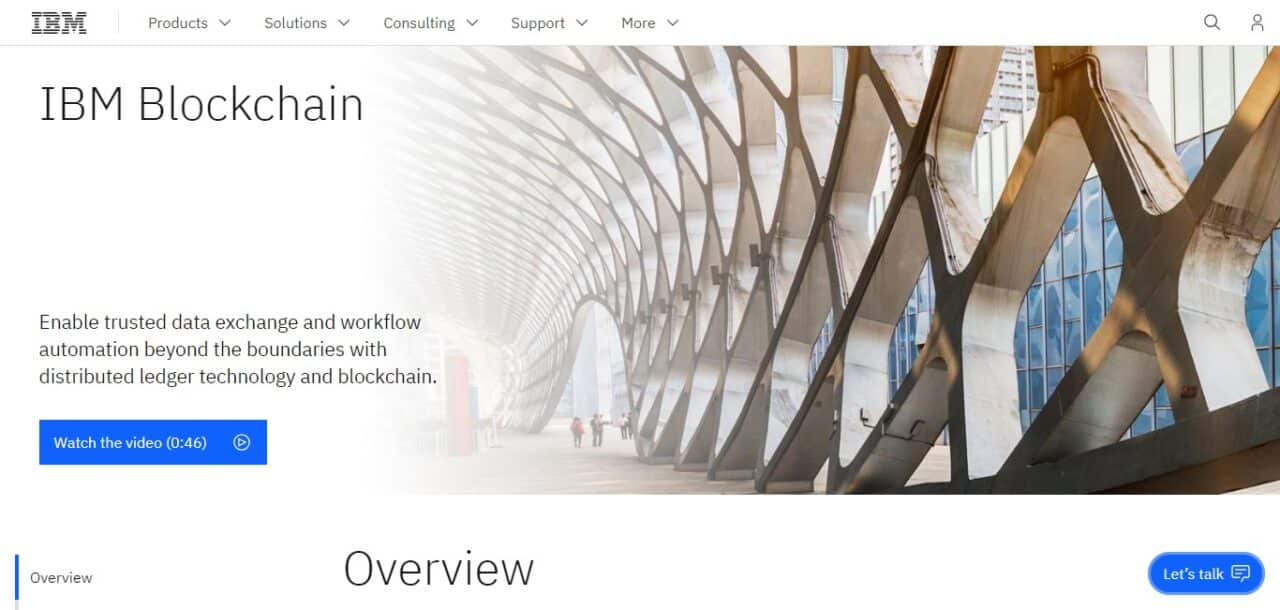 It provides a comprehensive suite of tools and services that enable businesses to develop, deploy, and manage blockchain networks tailored to their specific needs. With a focus on enterprise-grade solutions, IBM Blockchain has found applications in domains like supply chain management, finance, healthcare, and more.
Its commitment to interoperability and collaboration with open-source communities underscores its dedication to advancing blockchain adoption on a global scale. IBM Blockchain is a driving force behind the transformation of industries, ushering in greater efficiency, transparency, and trust in business operations through the innovative use of blockchain technology.
3. Hyperledger Fabric
Hyperledger Fabric is an open source blockchain framework created under the auspices of Linux Foundation's Hyperledger project. This open-source platform was specifically created for enterprise-grade applications, offering a flexible architecture to allow organizations to easily create private blockchain networks tailored specifically to their individual business requirements.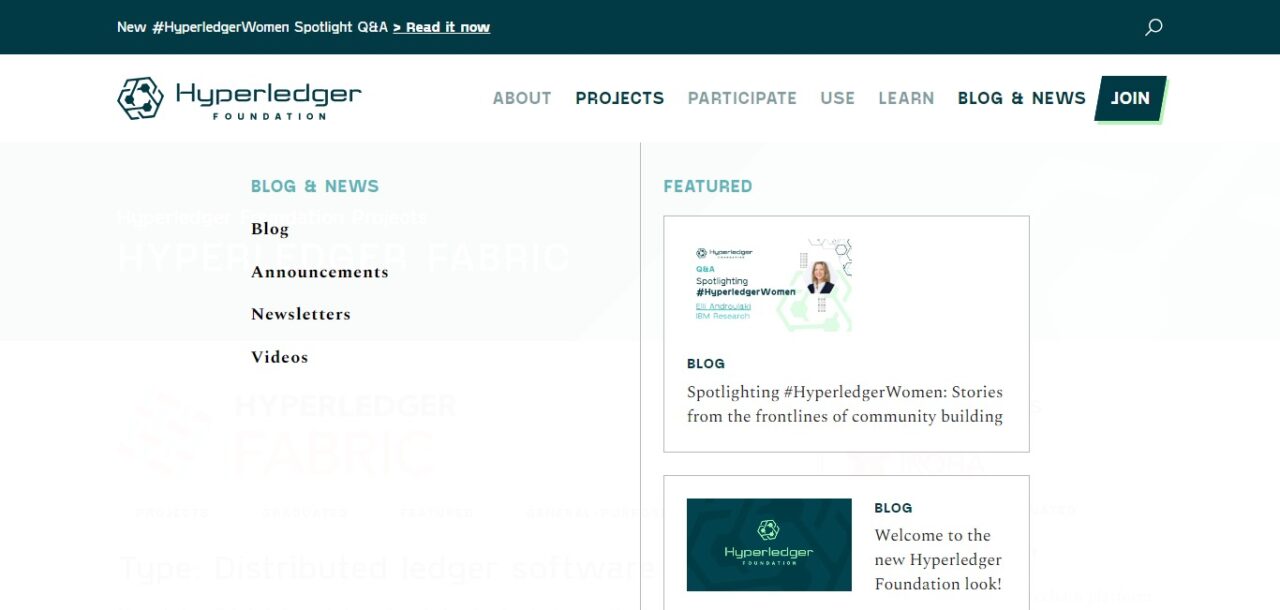 Hyperledger Fabric's modular design separates components such as consensus, membership services and smart contracts into individual modules for maximum scalability, privacy and security – ideal for complex multi-party applications such as supply chain management, financial services or healthcare.
Hyperledger Fabric enables businesses to enhance transparency, traceability, and trust within their operations while keeping control over data governance and network administration. As it's community driven and collaborative nature makes Hyperledger Fabric an attractive solution for enterprises seeking to leverage blockchain technology in a secure and scalable manner.
4. R3 Corda (Best Blockchain To Launch NFT Token)
R3 Corda is an advanced blockchain platform tailored specifically for use within the financial services industry and beyond. Created by R3, this blockchain aims at providing secure, private, and efficient transactions between businesses and institutions. What sets Corda apart is its emphasis on privacy and data confidentiality, ensuring that sensitive data is only shared among relevant parties on an as-needed basis.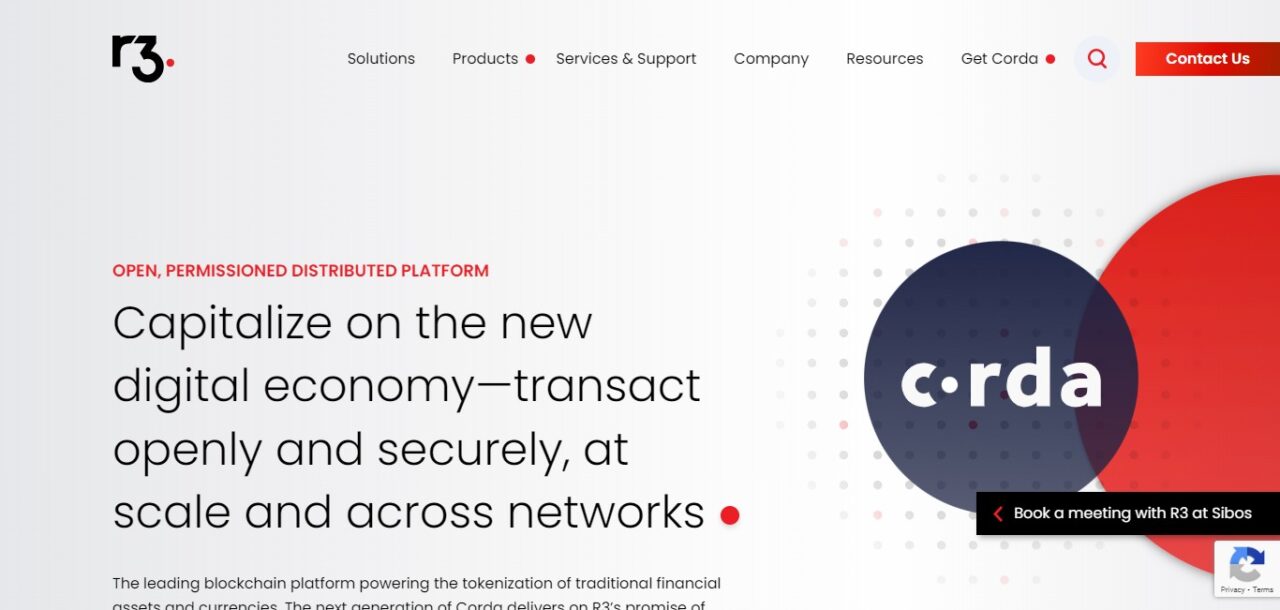 Corda's smart contract technology, commonly referred to as "CorDapps," allows organizations to easily automate complex agreements and processes while upholding stringent privacy controls. Applications such as trade finance, supply chain management and identity verification where data privacy and compliance are of utmost importance are particularly suitable.
Corda's modular architecture and interoperability features allow for seamless integration with existing systems, making it an excellent solution for enterprises seeking to modernize their operations while adhering to regulatory compliance and data security regulations. As blockchain technology transforms industries, R3 Corda plays an essential part in driving innovation and efficiency across finance as well as other areas.
5. Tezos
Tezos is an innovative blockchain platform known for its emphasis on on-chain governance and self-amendment. Launched in 2018, Tezos uses a novel approach to blockchain evolution by inviting token holders to actively take part in decision making regarding protocol upgrades and improvements. This on-chain governance system ensures the network can adapt and scale over time while mitigating fork risks.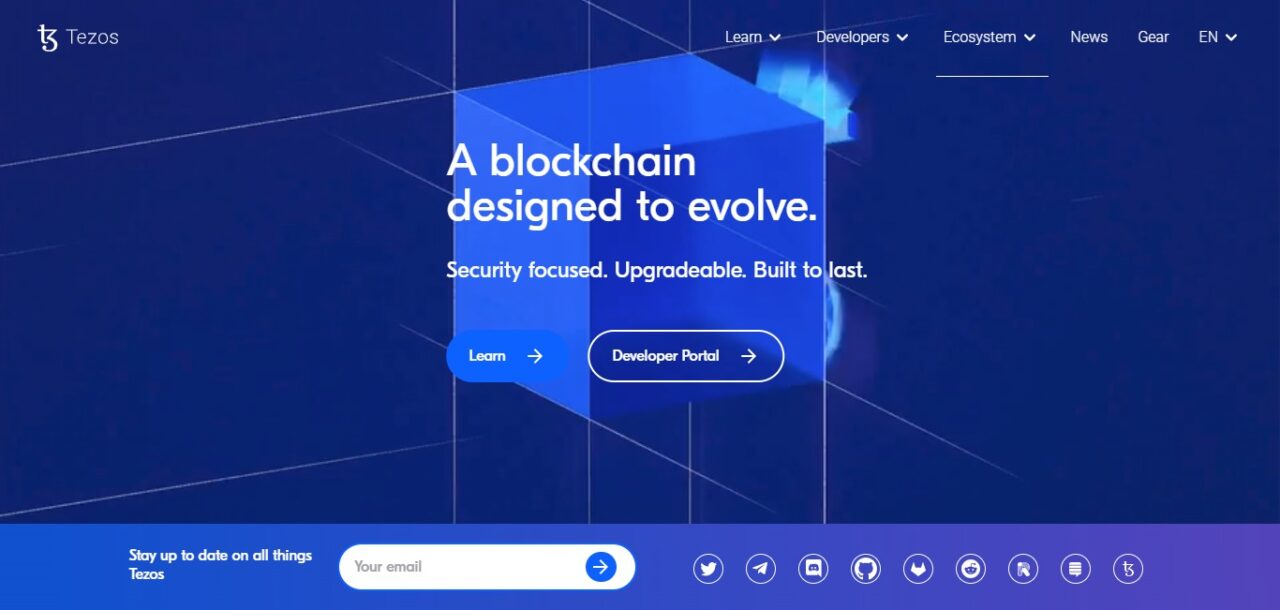 Tezos also features Michelson, an intelligent contract language designed with security and formal verification in mind – an excellent option for developers building decentralized applications (DApps). Tezos stands out by employing proof-of-stake (PoS) consensus, which is more energy efficient than traditional proof-of-work (PoW) systems, in line with rising environmental concerns in the blockchain space.
As a result, it has gained recognition for its commitment to decentralization, innovation, and sustainability; making it a suitable option for developers and projects looking to use blockchain technology across diverse applications.
6. EOSIO (Best Blockchain To Launch NFT Token)
EOSIO is a powerful blockchain platform known for its scalability and high throughput capabilities. Launched by Block.one, EOSIO is designed to support the development of decentralized applications (DApps) and smart contracts with efficiency and speed. One of its key features is its delegated proof-of-stake (DPoS) consensus mechanism, which enables fast transaction processing and high performance, making it suitable for applications that require real-time data processing and interactivity.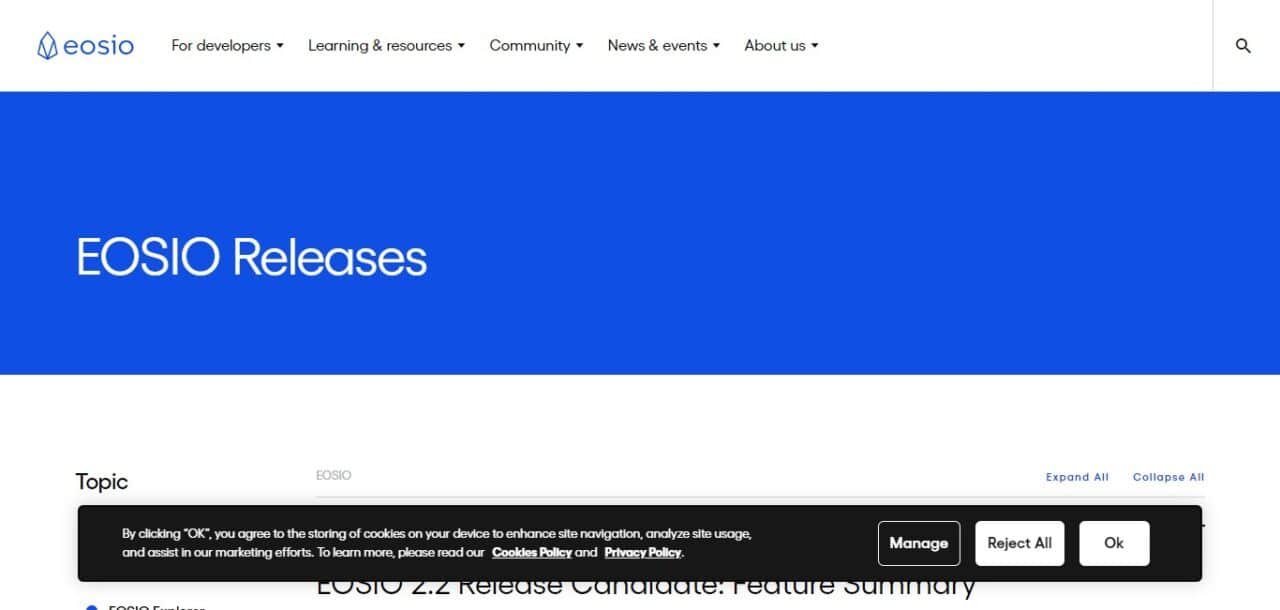 EOSIO also differentiates itself through its governance model, which involves token holders voting for block producers who validate transactions and maintain the network. This approach aims to create a more democratic and transparent blockchain ecosystem. EOSIO's developer-friendly environment, robust tooling, and developer support have attracted a vibrant community and numerous projects across various industries, including gaming, social media, and finance.
While it offers impressive scalability and performance, EOSIO's governance model has faced criticism and challenges in achieving decentralization, but it continues to evolve and shape the landscape of blockchain applications.
7. Stellar
Stellar is a blockchain platform and cryptocurrency network that stands out for its focus on facilitating cross-border payments and financial inclusion. Created in 2014 by Jed McCaleb, one of the co-founders of Ripple, Stellar was designed to enable fast, low-cost, and secure international money transfers, making it particularly appealing to financial institutions, payment processors, and individuals in underserved regions.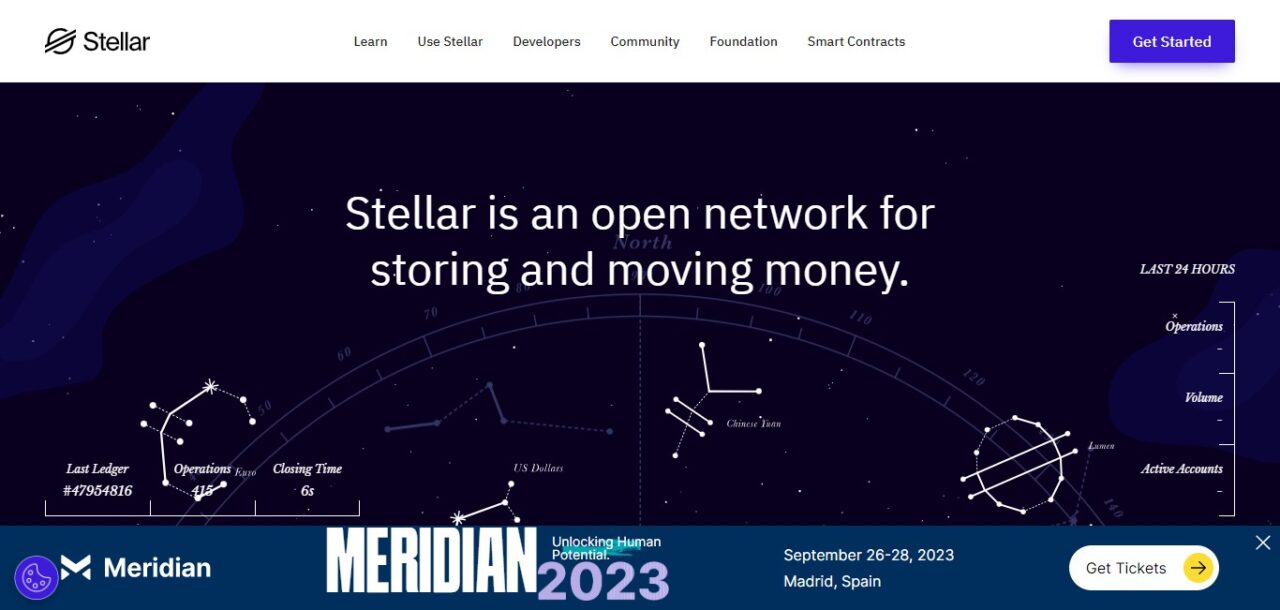 Stellar's native cryptocurrency, Lumens (XLM), plays a crucial role in facilitating these transactions by serving as a bridge between different fiat currencies. One of Stellar's unique features is its consensus protocol, which relies on the Stellar Consensus Protocol (SCP), allowing for quick settlement times and high transaction throughput. Furthermore, Stellar is known for its mission-driven approach to making financial services more accessible to the unbanked and underbanked populations around the world, partnering with various organizations and initiatives to promote financial inclusivity.
With its emphasis on interoperability and its commitment to improving global financial access, Stellar continues to play a significant role in the evolution of blockchain technology for cross-border payments and beyond.
Best Blockchain To Launch NFT Token Conclution
Conclusion: Selecting an optimal blockchain to launch an NFT (Non-Fungible Token) in 2023 depends on a variety of considerations, including project-specific needs and goals. Ethereum remains the go-to NFT solution due to its established infrastructure, developer support, and wide adoption; however, emerging platforms like Solana offer attractive alternatives with faster transaction speeds and lower fees.
Decisions on blockchain solutions ultimately depend on factors like scalability, security, community support and unique features offered by each blockchain. As the NFT ecosystem develops, blockchain platforms will continue to address their limitations and enhance their capabilities – giving creators and collectors plenty of choices that suit their goals in this dynamic digital space.
Best Blockchain To Launch NFT Token FAQ
What is the best blockchain to launch an NFT token?
The choice of the best blockchain to launch an NFT (Non-Fungible Token) depends on your project's requirements and priorities. Ethereum is a popular choice due to its well-established ecosystem, developer tools, and wide adoption, making it suitable for a wide range of NFT projects. However, other blockchains like Solana, Binance Smart Chain, and Flow have gained attention for their scalability, speed, and lower transaction fees. The best blockchain for your NFT project will depend on factors like scalability, security, community support, and your project's specific needs.
What are some advantages of using Ethereum for NFTs?
Ethereum offers a robust and established ecosystem for NFTs. It provides well-defined NFT standards like ERC-721 and ERC-1155, a wide range of developer tools, and compatibility with major NFT marketplaces. Ethereum's large and active community ensures a broad user base and liquidity for NFTs launched on its platform.
Why consider alternative blockchains like Solana for NFTs?
Alternative blockchains like Solana offer advantages such as faster transaction speeds and lower fees, addressing some of the scalability and cost issues associated with Ethereum. They are gaining popularity for projects looking to avoid congestion and high gas fees while still benefiting from blockchain technology.
How do I choose the right blockchain for my NFT project?
To choose the right blockchain for your NFT project, consider factors such as scalability, security, transaction costs, developer support, and the specific features of the blockchain that align with your project's goals. It's crucial to assess your project's unique needs and conduct research on the blockchain options available to make an informed decision.
Are there emerging blockchains worth considering for NFTs in 2023?
Yes, several emerging blockchains, such as Solana, Binance Smart Chain, and Flow, are gaining traction in the NFT space due to their unique features and scalability. It's advisable to stay updated on the latest developments and explore these options to see if they align with your NFT project's requirements.