Best Copy.ai Alternatives have emerged in the world of AI-powered content generation, offering various features and pricing options to suit different needs. One notable option is Writesonic, which provides a range of content generation tools, including blog post and social media content generation. Another alternative is ContentBot, which focuses on creating high-quality written content for businesses and marketers.
Additionally, Snazzy AI offers AI-powered copywriting tools with an emphasis on e-commerce and advertising content. These alternatives, among others, cater to users seeking efficient and creative AI-driven writing solutions beyond what Copy.ai has to offer. Choosing the best alternative depends on your specific content generation requirements and budget.
Why Choose Copy.ai Alternatives?
Choosing Copy.ai alternatives may be a prudent decision for several reasons:
Diverse Features: Different alternatives offer a variety of features and capabilities. Depending on your specific content needs, you can find alternatives that excel in areas such as blog post generation, social media content, advertising copy, and more.
Pricing Flexibility: Alternatives often come with different pricing structures, allowing you to choose a plan that fits your budget. This flexibility can be particularly beneficial for startups and small businesses.
Unique AI Models: Each alternative may use its own AI models and algorithms, leading to differences in the quality and style of generated content. Exploring alternatives can help you find the one that aligns best with your brand's voice and content goals.
Niche Focus: Some alternatives, like Snazzy AI, may specialize in specific niches, such as e-commerce or advertising. If your content needs are highly specific, choosing an alternative that caters to your niche can yield better results.
Customer Support: Investigating alternatives allows you to evaluate the level of customer support and training options they offer. Good customer support can be invaluable in troubleshooting issues and optimizing content generation.
Integration Capabilities: Depending on your workflow and existing tools, you may prefer an alternative that seamlessly integrates with your current software stack, making content generation more efficient.
Trial Periods: Many alternatives offer free trials, allowing you to test their capabilities before committing to a subscription. This enables you to assess whether an alternative truly meets your requirements.
Ultimately, the choice to explore Copy.ai alternatives comes down to your unique content generation needs, budget, and preferences. By researching and experimenting with different options, you can find the solution that best suits your business or creative endeavors.
Here is List Of Best Copy.ai Alternatives
Jasper.ai
Describely
Writesonic
Frase
Anyword
Word.ai
ClosersCopy
Simplified
ContentBot
Scalenut
Rytr
Jenni AI
Grammarly
13 Best Copy.ai Alternatives for 2023
1. Jasper.ai
With the aid of the potent AI platform Jasper.ai, you can easily scale up your marketing material, develop highly effective email campaigns, improve the search engine optimization of your current content, and produce interesting blog entries that will propel you to the top of search engine results pages (SERPs).
You may feed Jasper.ai your style manual, existing content, product descriptions, and other business expertise, making it the most distinctive AI writing tool on the market. This aids the AI in comprehending the core values of your company, the tone of your brand, and the positioning you have in mind for it.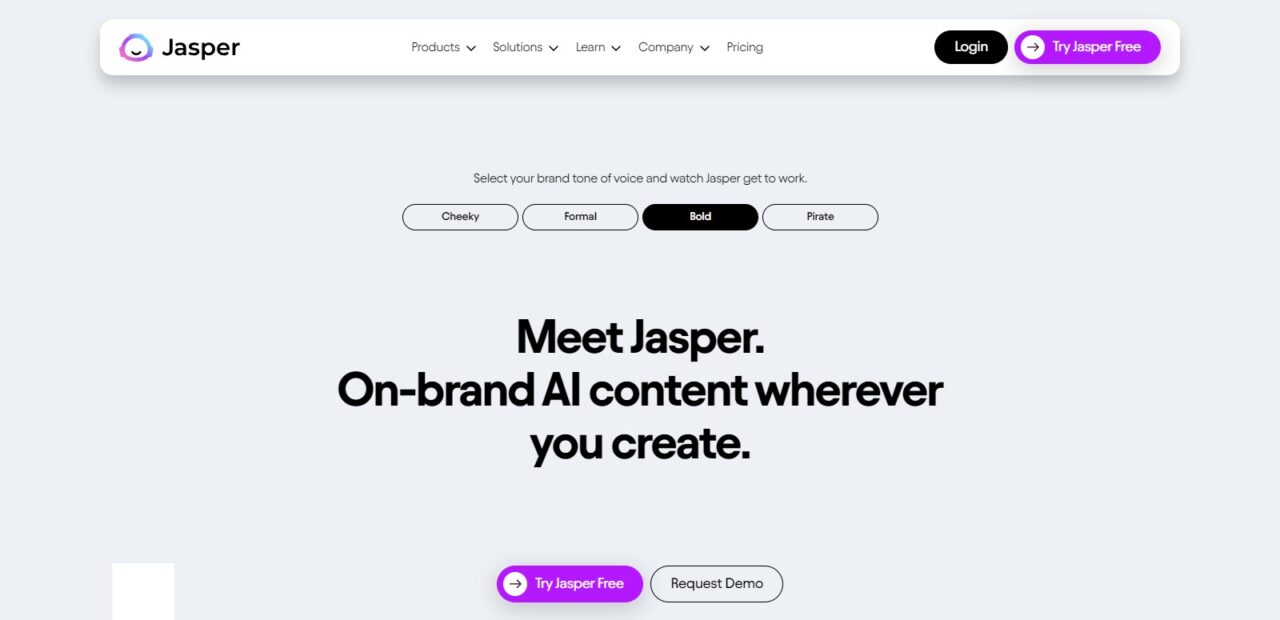 Anyone in the organization can utilize Jasper.ai efficiently, even if you don't have a specialized author or content marketer. Simply choose the kind of content you want to produce—a blog post, a social media update, or an extensive email campaign—and upload your current assets to give the tool instructions.
In less than 15 seconds, Jasper.ai will produce content that is ready for publication based on prompts. It will just take you a few minutes to polish it up to add a human touch or stress particular aspects.
2. Describely (Best Copy.ai Alternatives)
A platform for writing copy and content that is especially suited for e-commerce companies is called Describely, formerly known as Copysmith.ai. The tool is excellent at creating product descriptions, bullet points, tags, and titles for any type of product, assisting you in reaching your target market with the products in your online store.
The most appealing feature of Describely is that there is no content creation cap, so you may use it to write or revise product descriptions for each and every item in your store. Additionally, you may produce descriptions in bulk as opposed to individually, which will save you a ton of time and allow you to concentrate on expanding your business.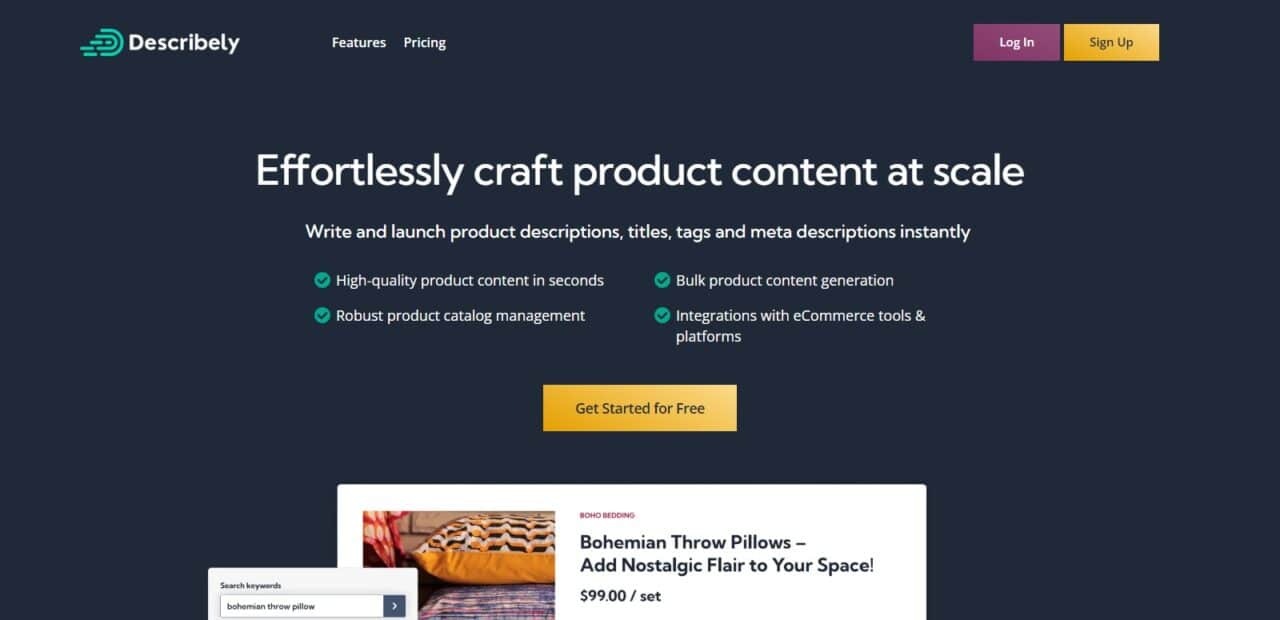 With Describely, you can manage all of your material in one location and quickly import your complete product inventory. Compared to manually modifying product descriptions for every item in Shopify's backend, this is a thousand times faster and easier.
The material that Describely writes is also SEO-optimized, ensuring that your e-commerce site appears highly in search engine results pages (SERPs) for all pertinent phrases. This will help you draw in more customers, make more sales, and boost your revenue. Even if you have no idea how SEO works, Describely will take care of everything for you with a single click, including relevant keywords, meta tags, and meta descriptions.
The best feature of Describely is how easily it interacts with PIM (Product Information Management), Shopify, and WooCommerce tools like Salsify, so you'll be able to manage every aspect of your online store from one place.
3. Writesonic
Writesonic is a fantastic tool that can create lengthy articles that are true to your brand and factually accurate. In order to create customised content that ranks well and grabs the attention of your target audience, the AI can be trained on your existing content, style guides, and other documents.
The tool's cutting-edge AI, which is supported by GPT-4, analyzes the top Google results for the keywords you've entered, pulls the pertinent data, and then quickly creates an original post that is SEO-optimized.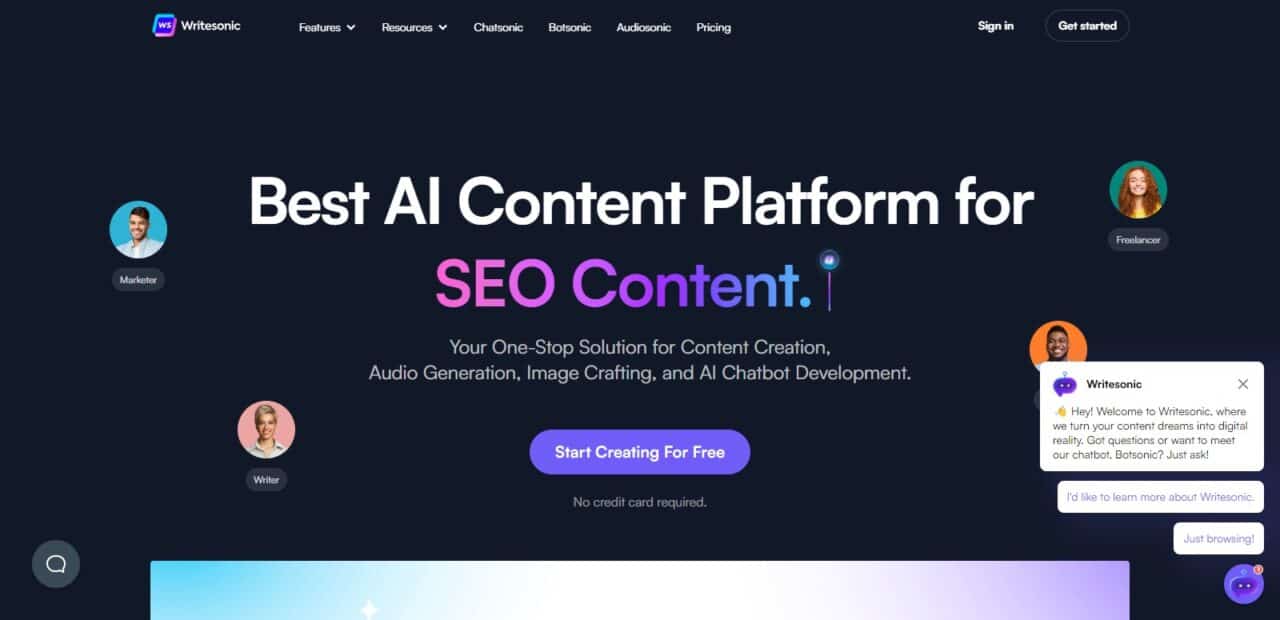 Writesonic will assist you with creating compelling YouTube video ideas, descriptions, intros, and tweets that are on-trend and pertinent to your sector if you want to reach your target audience on platforms other than Google.
The best part of this tool is that you can use it for free to get started and test out all of its capabilities before deciding to pay a monthly subscription. 10,000 words each month will be available for you to experiment with, which is more than enough to decide if Writesonic is the best tool for you.
4. Frase (Top Copy.ai Alternatives)
Frase is a powerful AI tool that excels in helping you create SEO-optimized content that ranks, so you can outperform your competitors and get content that generates clicks from your target audience.
Compared to other AI writing tools on the market, Frase has the most unique, comprehensive approach to creating articles. Instead of instantly generating the content, it takes you through a four-step process to ensure that the articles it creates are the best they can be.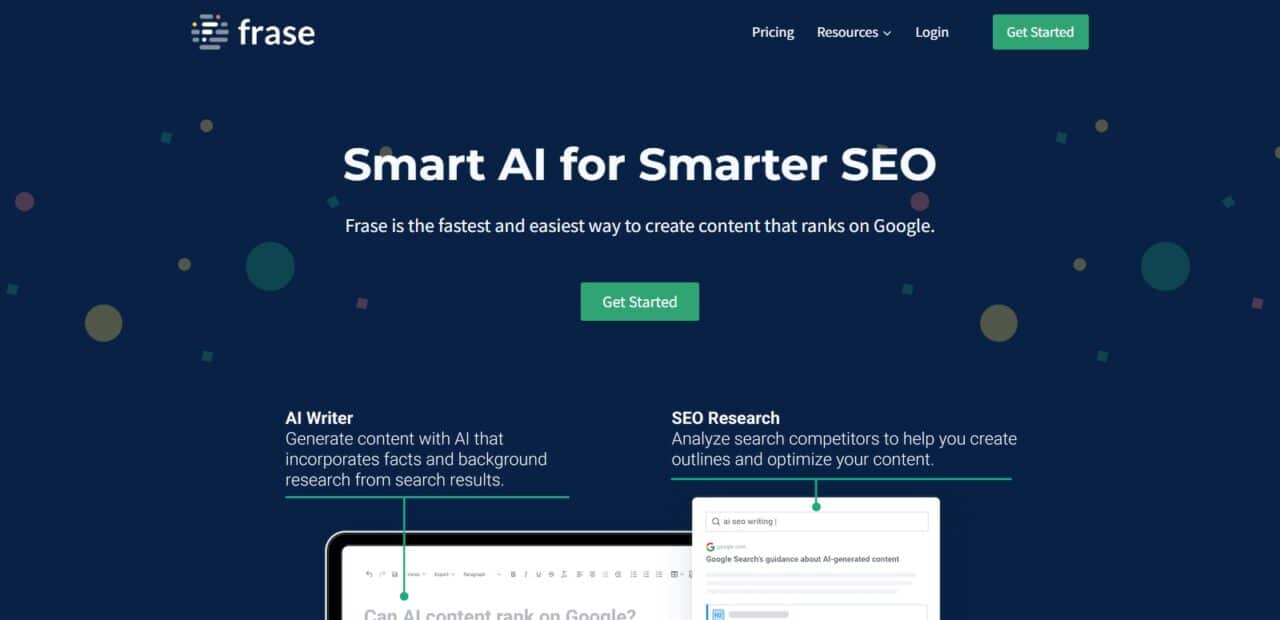 The program then gives you a thorough outline for the article with a variety of heading options so you can see exactly what material has to be included in it to satisfy the readers' needs. The content can then be quickly reorganized by dragging and dropping headlines in the Outline Builder and adding your own ideas.
Additionally, Frase uses the People Also Ask part of Google to compile a list of queries for your FAQ section, allowing you to cover all the auxiliary words and guaranteeing that your readers never have to look elsewhere for solutions.
5. Anyword
Anyword is a very helpful tool that assists in developing new material based on what has really demonstrated to be most effective for your brand. The platform can evaluate every piece of content you've ever published, enabling you to pinpoint the messaging that connects with your audience, the pieces of content they engage with most frequently, and the ad copy that drives the most clicks and conversions.
The more marketing materials you can feed into Anyword, the better for your company. You can give Anyword more guidance in addition to letting it learn from existing material by developing an ideal client profile with distinct pain points to concentrate on, identifying the tone of voice you want the tool to use, and tailoring the brand standards it adheres to.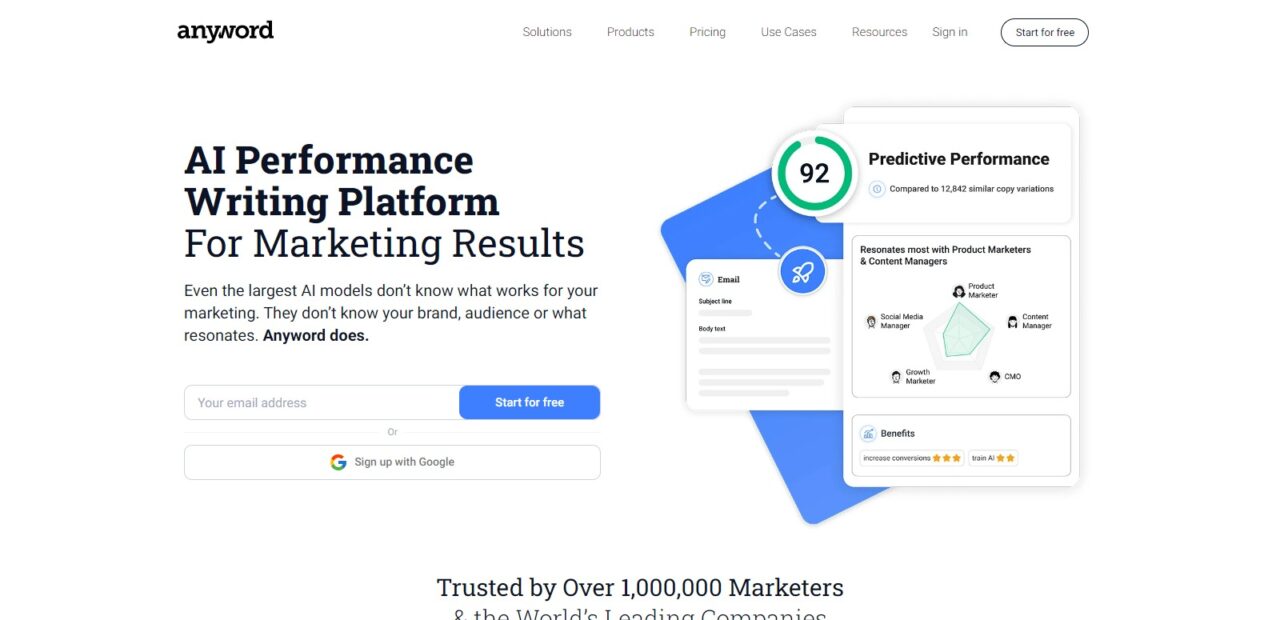 Additionally, you may instruct the tool to include all pertinent brand messaging in the content it produces, including the company profile, goal statement, elevator pitch, and thorough descriptions of any goods and services you offer.
Convenience is just another benefit of choosing Anyword. Anywhere you write, you may use the Anyword Performance Boost Extension by adding it straight to your browser. This will allow you to write process manuals and knowledge bases in Notion more quickly, as well as create email marketing campaigns for your subscribers.
6. Word.ai (Best Copy.ai Alternatives)
Word.ai is a content rewriting tool that allows you to create compelling, original content while avoiding plagiarism and AI imprisonment. It also speeds up the generation of content by 10x. It may be used to both enhance and expand upon your current material or to turn your ideas, drafts, or outlines into interesting posts and articles.
Word.ai's operation is extremely straightforward. It uses machine learning to process your input and present you with a number of options while considering sentence structure, phrasing difficulty, readability, and sentence clarity into account. Several versions of your text that are both reader- and Google search algorithm-optimized appear right away.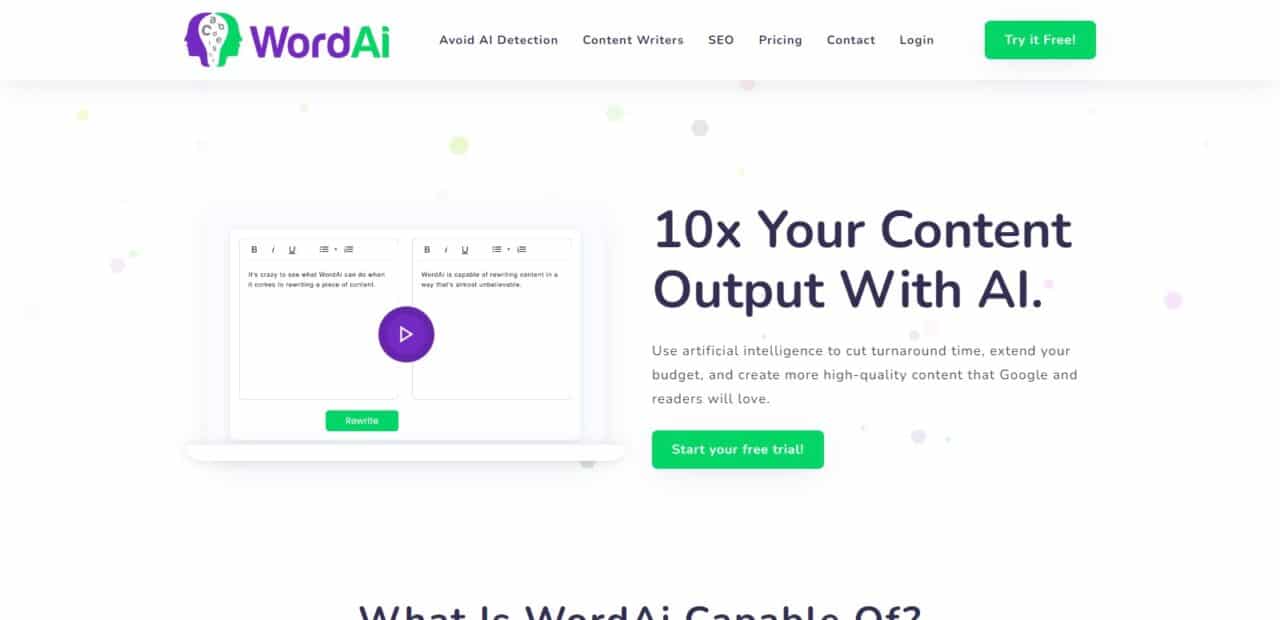 You won't ever have to be concerned about duplicating material because every sentence is completely redone. With the tool, you can quickly expand your content creation and meet deadlines by rewriting individual sentences or even full articles.
Even more time can be saved by using Word.ai's bulk rewrite tool, which lets you upload and rewrite several articles at once.
Having said that, this tool's clear drawback is that you must supply the initial input because it cannot develop content from scratch. Nevertheless, you may teach your writers to use the program and, by removing writer's block from the picture, effectively treble their output of content while also making sure that it is original, interesting, and prepared for publication.
7. ClosersCopy
An AI copywriting helper called ClosersCopy may assist you in creating effective short and long-form copy for any purpose. This covers everything from blog articles and sales pages to emails, sales pitches, and ad text.
If you have little expertise with copywriting but are eager to learn, this application is a wonderful alternative to Copy.ai. It provides more than 700 different frameworks, which serve as templates, to direct you and assist you in creating persuasive text that converts well.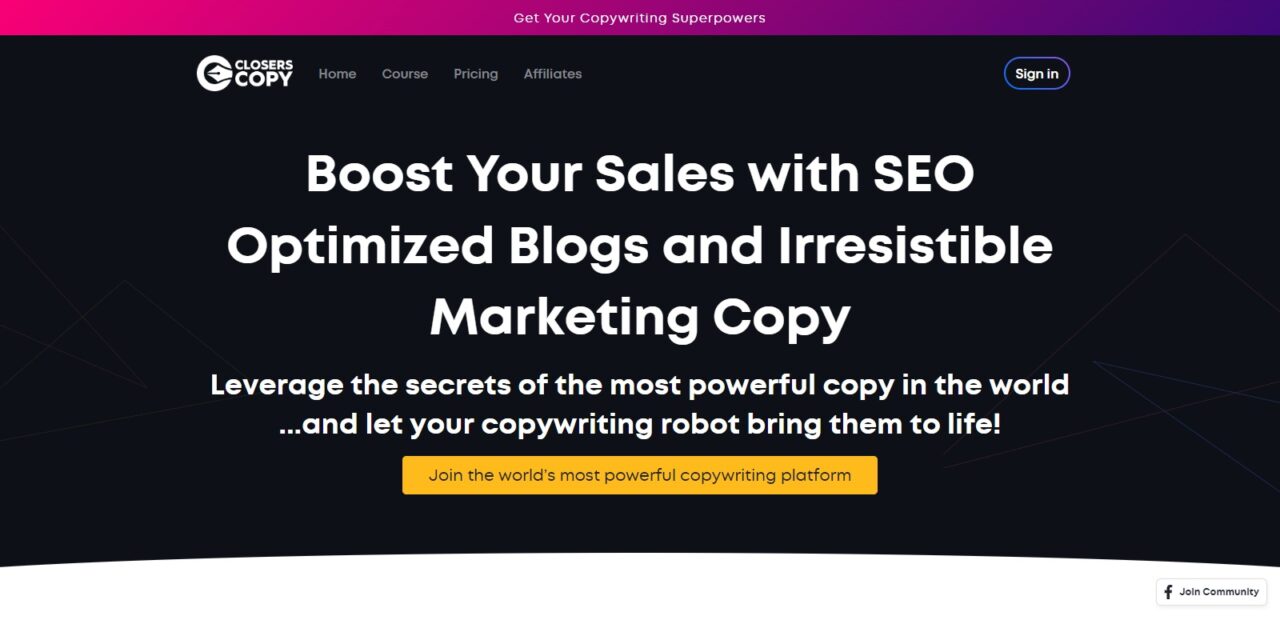 Additionally, you may pick the copy's tone from 10 options, making it simple to modify the copy's style to suit your requirements and the goals of the delivery. The tenor ranges from official and instructive to casual, genuine and even dismal.
Simplified may produce long-form material in addition to copy, such encyclopedia entries and blog posts. You can use the tool to quickly generate complete posts or to separately generate headlines, paragraphs, bullet points, and FAQs. If you don't like any of the results, all you have to do is choose a sentence to have the tool rewrite, expand, or shorten it.
8. Simplified (Top Copy.ai Alternatives)
Simplified is a strong platform with a wide range of AI-powered applications. Everything from writing to graphic design, video editing, and social media management can benefit from it.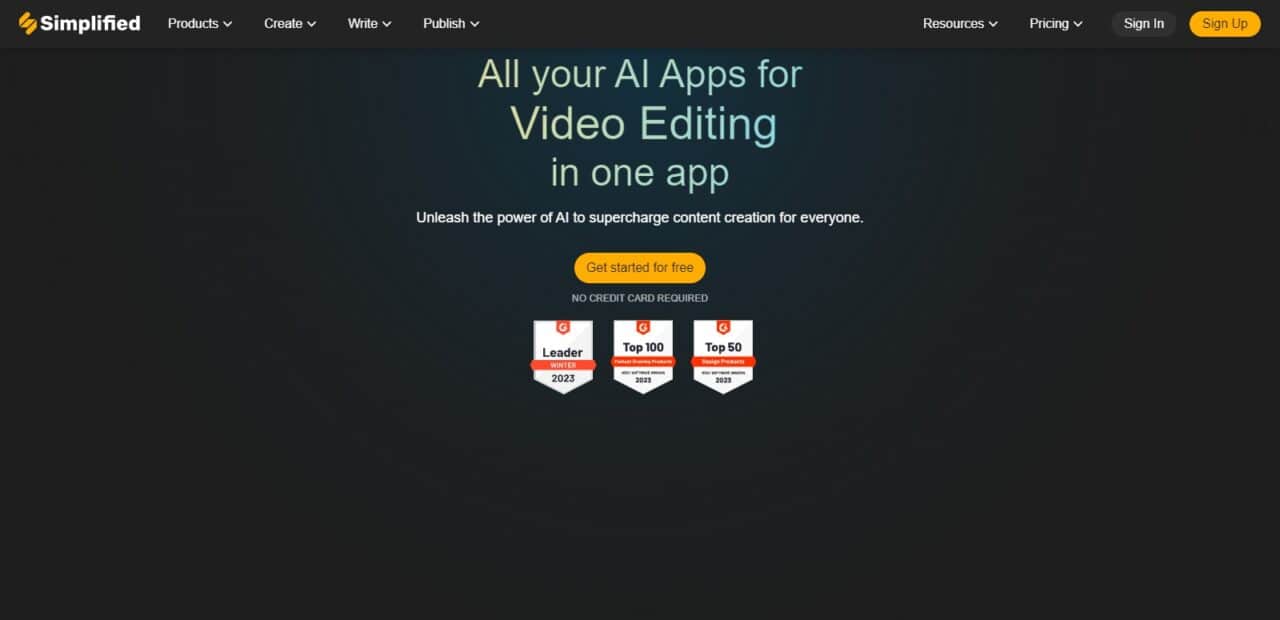 For every form of deliverable, including social advertisements, business about pages, landing pages, product descriptions, YouTube video descriptions, and marketing emails, the Simplified AI writer offers 90 alternative copywriting templates.
9. ContentBot
With ContentBot, you can import up to 500 blog topics, automate your entire content production process by creating AI flows, directing everything through custom rules, and having the program create and publish material for you.
In essence, the AI flows are a set of triggers that you can set up within the platform to instruct ContentBot exactly what to do and when. Timer triggers, prompts, keywords, SEO reports, demands for human approval, and other elements fall under this category.
And to make full use of ContentBot's flows, you don't require any sophisticated coding expertise. You only need to connect the necessary flows using drag-and-drop in the sequence that you want the tool to execute them.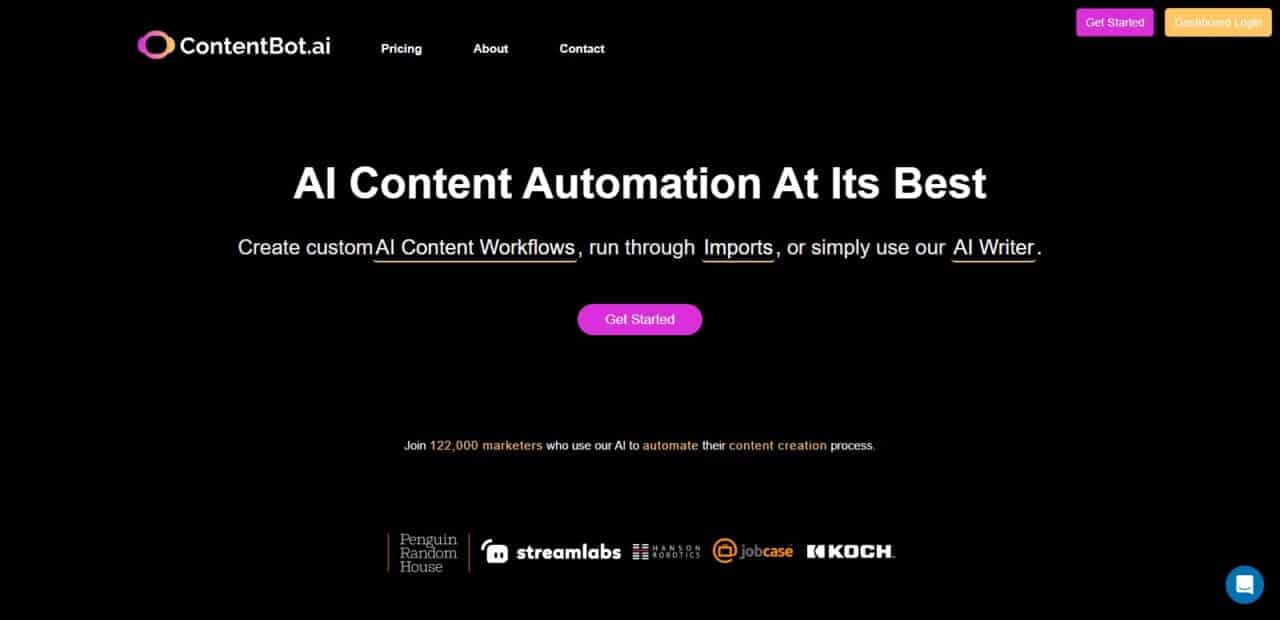 However, the effectiveness of the writing instructions will have a significant impact on the final product. You must thus be as specific as you can when instructing ContentBot on the subject you want it to cover, the keywords it should concentrate on, whether it should be more educational or sales-oriented, the title and headings to use, how to create meta descriptions for your articles, etc.
The flows aren't only limited to blog posts. Applying the same logic to landing pages, social media posts (LinkedIn, Twitter, Facebook), marketing emails, and even ecommerce product descriptions.
10. Scalenut (Best Copy.ai Alternatives)
Scalenut is a fully functional AI SEO program that streamlines all phases of content creation, from inspiration and keyword research to planning and writing.
The nice thing about Scalenut is that it eliminates the need for manual keyword research and gut instinct when choosing what subjects to write about. The tool will research the top-performing pages, top SERP queries, semantic key phrases, and trends on Google and social media to find the themes and keyword clusters that will help you outperform the competition.
The final result is a data-driven content strategy, engaging blog articles, and optimized blog outlines with headings, keywords, and FAQs that bring in thousands of organic visitors each month.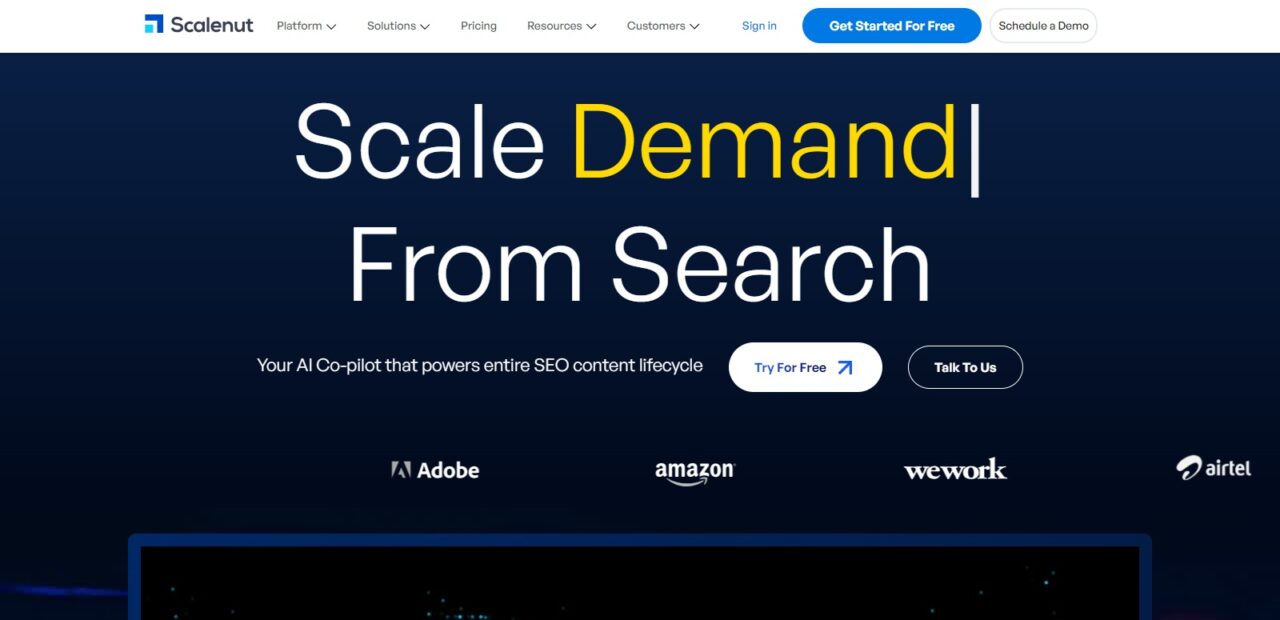 The actual text is created using the most recent, factually correct data available from SERPs, and it has been tone-adjusted to match your brand. Even the tone, word choice, and certain words that you want Scalenut to use can be governed by your guidelines.
Scalenut can help you optimize current blog entries to increase their readability and online visibility in addition to producing SEO-optimized material from scratch. You may assess the performance of your pages and the actual effects of each SEO optimization recommendation Scalenut recommends using the tool's real-time SEO score.
11. Rytr
Rytr is a ground-breaking AI writing assistant that makes the process of creating content simple and affordable. With Rytr's sophisticated features, you can quickly and easily create high-quality material without having to go through the tedious process of brainstorming and drafting. For companies and people looking to improve their internet presence, marketing initiatives, or simply express their thoughts effectively, this AI-driven solution is a game-changer.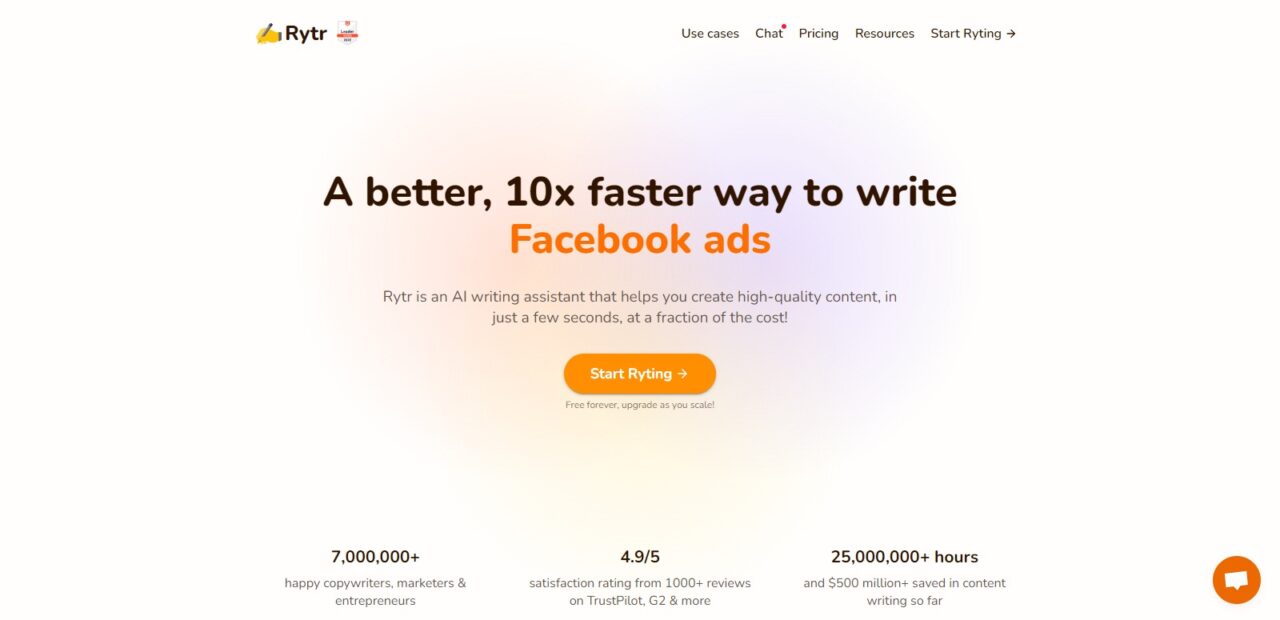 Rytr stands out for its capacity to produce a variety of content, including academic papers, marketing materials, blog articles, and product descriptions. Rytr ensures that your material not only meets but frequently surpasses the criteria of quality and relevancy by utilizing artificial intelligence.
Furthermore, Rytr offers unparalleled affordability, enabling you to save significantly on content creation costs while maintaining an impressive level of output. It's a versatile and invaluable tool for writers, marketers, and anyone who values high-quality content without breaking the bank. Experience the future of content creation with Rytr and enjoy exceptional results with ease.
12. Jenni AI (Top Copy.ai Alternatives)
Jenni.ai, which uses cutting-edge artificial intelligence to create unique content, is a revolutionary advancement in the field of AI writing assistants. Writer's block can be effectively treated with this ground-breaking tool, which has the ability to quickly generate content ideas or even entire blog pieces.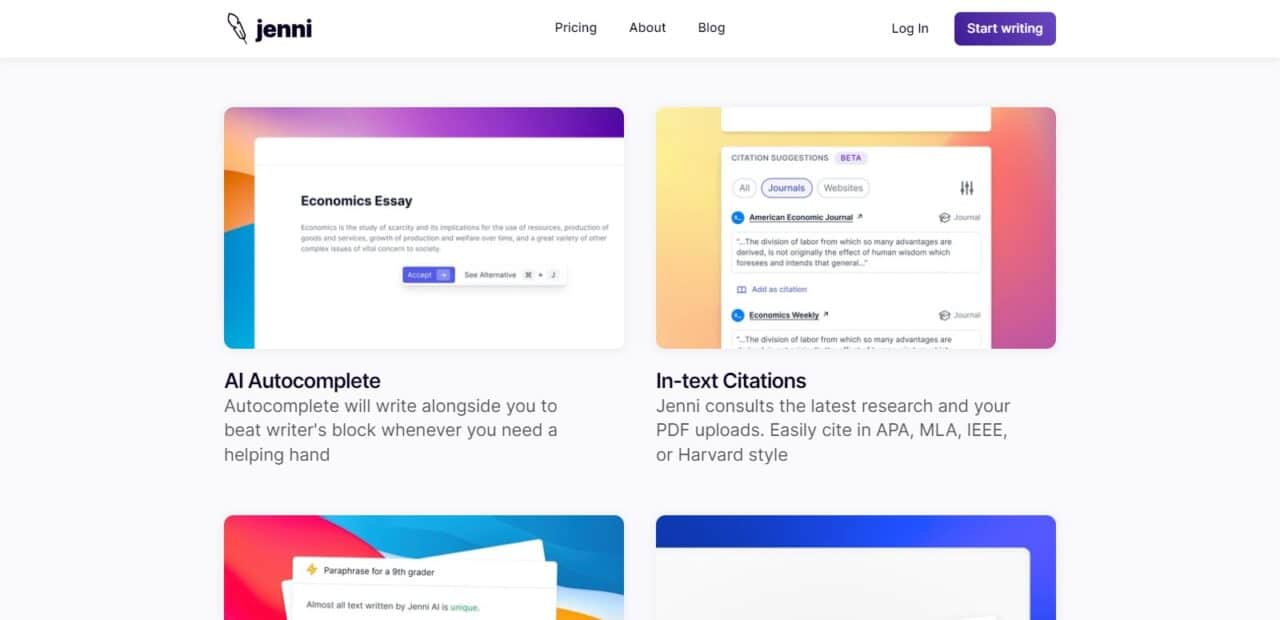 Jenni.ai claims that their product, which boasts unequalled sophistication and prowess, is the pinnacle of AI-driven writing aid on the market right now. I'm eager to use Jenni.ai and see firsthand how this cutting-edge AI writing aid can change content creation, making it easier and more effective than before.
13. Grammarly
At Grammarly, they strive to help people achieve more through effective communication, whenever and wherever they write in English. Every day, more than 30 million people and 50,000+ teams around the world rely on Grammarly's generative AI solutions and real-time writing suggestions to create and strengthen their written communication. Grammarly's AI-enabled communication assistance augments your skills at every step, helping you write more effectively, efficiently, and confidently.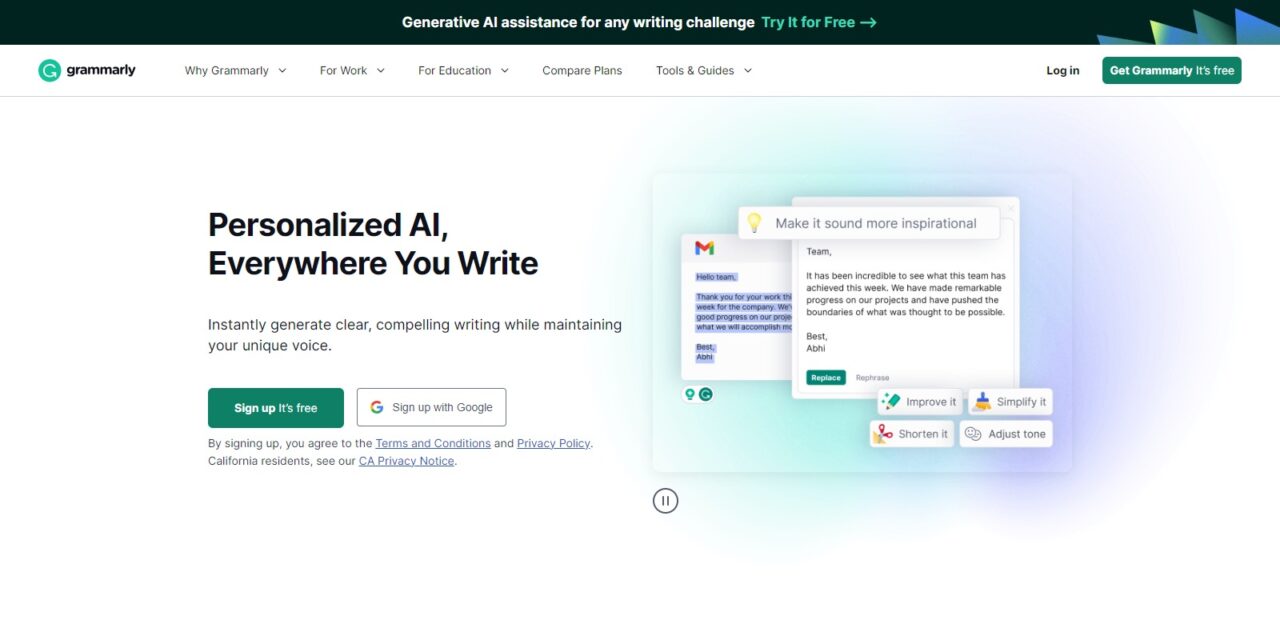 Using a variety of innovative approaches—including generative AI, natural language processing, advanced machine learning, and deep learning—they consistently break new ground to deliver unrivaled assistance in product offerings. We're also committed to ethical innovation, with a deliberate approach to mitigating bias and supporting inclusive language.
That's why they were recognized by TIME as one of the 100 most influential companies and by Fast Company as one of the world's most innovative AI companies. It's also why we rank among industry leaders on lists such as the Forbes Cloud 100 and The Software Report's top 100 software companies.
Pros & Cons of Copy.ai
Pros:
Time Saving: Copy.ai can quickly generate content, saving both writers and marketers both time and effort when creating blog posts, product descriptions, email subject lines or more.
Variety of Content: Content Creator provides templates and capabilities to generate different kinds of content – articles, ads, social media posts and more.
User-Friendly Interface: The interface is user-friendly, making it accessible for people of varying writing skills – you don't need to be an experienced copywriter to use this effectively!
Customization: Content generated can be tailored specifically to your needs by providing a brief or altering the settings for content production.
Cost-Effective: Utilizing Copy.ai can be more cost-effective for small businesses and startups than hiring professional copywriters.
Consistency: Staying on brand with its voice and messaging across platforms is important in creating a seamless brand experience for consumers.
Cons:
Whilst Copy.ai can generate content quickly, its generated text may not always meet user standards for quality or tailoring; users must review and edit any generated text thoroughly to ensure its accuracy and coherence.
Plagiarism Concerns: Depending on how a tool is utilized, plagiarism or producing similar material to existing sources could become a concern. It's essential that generated content be truly original.
Learning Curve: While the interface may be user-friendly, it may still take some time to master and utilize all of its capabilities effectively.
AI Content Lacks Creativity and Nuance: AI-generated content may lack the creativity and nuanced understanding that human writers would bring, especially for more specialized or creative tasks.
Subscription Costs: Copy.ai operates under a subscription model, so its costs may accumulate over time. It is crucial that users assess whether its benefits justify its ongoing expense.
Overreliance on AI: Relying too heavily on AI-generated content can hinder the growth of both internal writing skills and creativity.
How to Choose the Best Copy AI Alternative?
Choosing the best alternative to a Copy AI tool involves considering several factors to ensure it meets your specific needs and preferences. Here's a step-by-step guide to help you make an informed decision:
Define Your Requirements
Begin by identifying your primary use cases for a Copy AI alternative. Are you looking for content generation, copywriting assistance, translation, or something else? Understanding your specific requirements will guide your choice.
Budget Considerations
Determine your budget for the tool. Some alternatives offer free or low-cost plans, while others may have higher subscription fees or pay-as-you-go pricing models. Be sure to choose a tool that fits within your budget.
Feature Set
Compare the features offered by different alternatives. Look for features such as content quality, language support, template variety, integration options, and ease of use. Prioritize the features that are most important to your work.
Content Quality and Accuracy
Evaluate the quality and accuracy of the content generated by the tool. Test the tool with sample inputs or review user feedback and testimonials to gauge its performance.
Ease of Use
Consider the user interface and overall user experience. A user-friendly tool will save you time and effort in the long run. Look for a solution that is intuitive and requires minimal training.
Customization Options
Determine whether the tool allows you to customize its output to match your brand voice and style. The ability to fine-tune generated content is crucial for many users.
Integration and Compatibility
Check if the tool integrates with other software or platforms you use, such as content management systems (CMS), email marketing tools, or e-commerce platforms. Seamless integration can streamline your workflow.
Security and Privacy
Ensure that the tool you choose prioritizes data security and respects your privacy. Look for tools that offer strong encryption and data protection measures.
Customer Suppor
Assess the level of customer support provided by the alternative. Look for responsive customer service, documentation, tutorials, and a community or support forum.
User Feedback and Reviews
Read user reviews and testimonials to gain insights into the real-world experiences of others who have used the tool. Pay attention to both positive and negative feedback.
Best Copy.ai Alternatives Conclusion
Finding an alternative to Copy.ai is ultimately determined by your needs and preferences, with various AI-powered writing and content generation tools offering different features, pricing structures, customization levels and integration capabilities. When making this choice it is important to keep factors such as budget constraints, quality generated content generation, ease of use customization options available as well as integration options in mind when selecting an AI writing and content generation tool.
Consider alternatives to Copy.ai such as OpenAI's GPT-3-based platforms, like ChatGPT, which can help with content generation and copywriting tasks. Furthermore, AI writing assistants such as Writesonic, Conversion.ai, and CopySmith each possessing their own set of strengths and weaknesses are also worth looking into as possible replacements for Copy.ai.
Your ideal alternative to Copy.ai will depend on your individual needs and priorities, so use trial periods, free plans, and user reviews to assess these tools in real-world situations and identify one that meets them all – one which enhances content creation while streamlining workflow and meeting goals set for you personally.
Best Copy.ai Alternatives FAQ
What are Copy.ai alternatives?
Copy.ai alternatives are AI-powered writing and content generation tools that offer similar capabilities to Copy.ai, such as generating copy, assisting with content creation, and improving writing efficiency.
Why would I consider using a Copy.ai alternative?
You might consider using a Copy.ai alternative if you're looking for different pricing structures, features, customization options, or integration capabilities that better suit your specific needs and preferences.
What factors should I consider when choosing a Copy.ai alternative?
When choosing an alternative to Copy.ai, consider factors like your budget, the quality of generated content, ease of use, customization options, integration possibilities, and scalability to determine the best fit for your requirements.
Are there free alternatives to Copy.ai?
Yes, some Copy.ai alternatives offer free plans or trial periods. These can be a great way to test the tool's capabilities and see if it meets your needs before committing to a paid subscription.
Can I customize the output of Copy.ai alternatives to match my brand's voice and style?
Many Copy.ai alternatives offer customization options that allow you to fine-tune the generated content to align with your brand's voice and style. Be sure to check if the tool provides this feature.