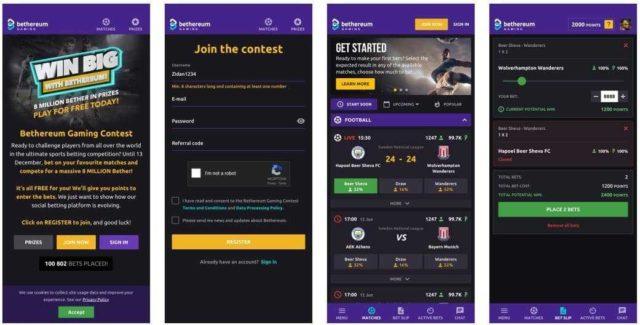 The social betting platform, Bethereum (Bether) where betting is between friends and other players, not against a bookmaker is set to release their Mobile App on Thursday.
The release is in fulfilment of Bether's 4th quarter roadmap of 2018. CWS spoke to Giacomo Tognoni, CEO of Bethereum.
He announced that the mobile version will essentially bring the same functionality as on the desktop version which is already live at gaming.bethereum.com but in a fully optimised application supporting all kinds of mobile devices. "It also has a few minor improvements over the desktop version, for example, you can now see the score of live games in the MY BETS section for games that are live" Tognoni stated.
The CEO further explained that the mobile app is very user-friendly, with a new navigation banner at the bottom of the screen to rapidly jump to selected features and functionality.
Community Expectation
According to Tognoni, the community is impatiently waiting for the mobile device support, for two reasons. " First, some players don't have access to a desktop and secondly, the mobile version can be played anytime, anywhere," he informed CWS
.
On the part of the Bether team, he disclosed they are very much looking forward to launching the mobile version, adding the first release will bring a working version, but there is also a plan to have another major release about one week later to bring some more improvements and polish.
Bether is running a Gaming Contest with 8 Million Bether tokens in prices which is worth $30,000. The contest which runs till 13 December will see the top 400 players receiving a prize and then the top 2000 players will be entered into a prize draw for 101 prizes, of which the top prize will be half a million Bether tokens.
Currently, the Bethereum gaming contest, even with support for only the desktop, has about 200,000 bets in less than 30 days. The team is optimistic the release of the mobile app will bring the number up.
Article Disclaimer
The Information Presented Here Does Not Constitute Investment Advice Or An Offer To Invest. The Statements, Views, And Opinions Expressed In This Article Are Solely Those Of The Author/company And Do Not Represent Those Of Coinworldstory. We Strongly Advise Our Readers To Do Your Own Research (DYOR) Before Investing In Any Cryptocurrency, Blockchain Project, Or Ico, Particularly Those That Guarantee Profits. Furthermore, Coinworldstory Does Not Guarantee Or Imply That The Cryptocurrencies Or Projects Published Are Legal In Any Specific Reader's Location. It Is The Reader's Responsibility To Know The Laws Regarding Cryptocurrencies And Icos In His Or Her Country. Please Respect Your Country Law & Take Advice From Your Advisor .