Divi AI : In this article, we will cover a detailed review of Divi AI. How does it work & What are its important features?
What is Divi AI?
Divi AI is an impressive plugin designed to seamlessly integrate with Divi builder, offering various creative capabilities. From writing code and content generation, all the way through image generation and generation It provides web developers and designers alike a valuable asset they can rely on when building websites and apps. What sets Divi apart is its intricate knowledge of its elements, which enables them to craft contextually relevant content and design features.
It gives deep insights into your website structure and page you are working on, giving it the capability of producing content with precision equivalent to that produced by professional writers, web developers, or digital artists. It offers significant time savings while producing high quality tailored content and design something no other tool offers! This integration makes Divi AI an indispensable asset when looking to streamline website creation while keeping high standards for quality and design in check.
Divi AI Key Points
| Key | Point |
| --- | --- |
| Product Name | Divi AI |
| Product Type | Ai |
| Free Trail | Not Available |
| Price Start From | $89/ Year |
| Deployment | SaaS/Web/Cloud Mobile – Android Mobile – iOS |
| Offline/Online Support | Online |
| Customer Type | Large Enterprises ,Medium Business ,Small Business |
| Official Website | Click Here To Visit |
Divi AI Price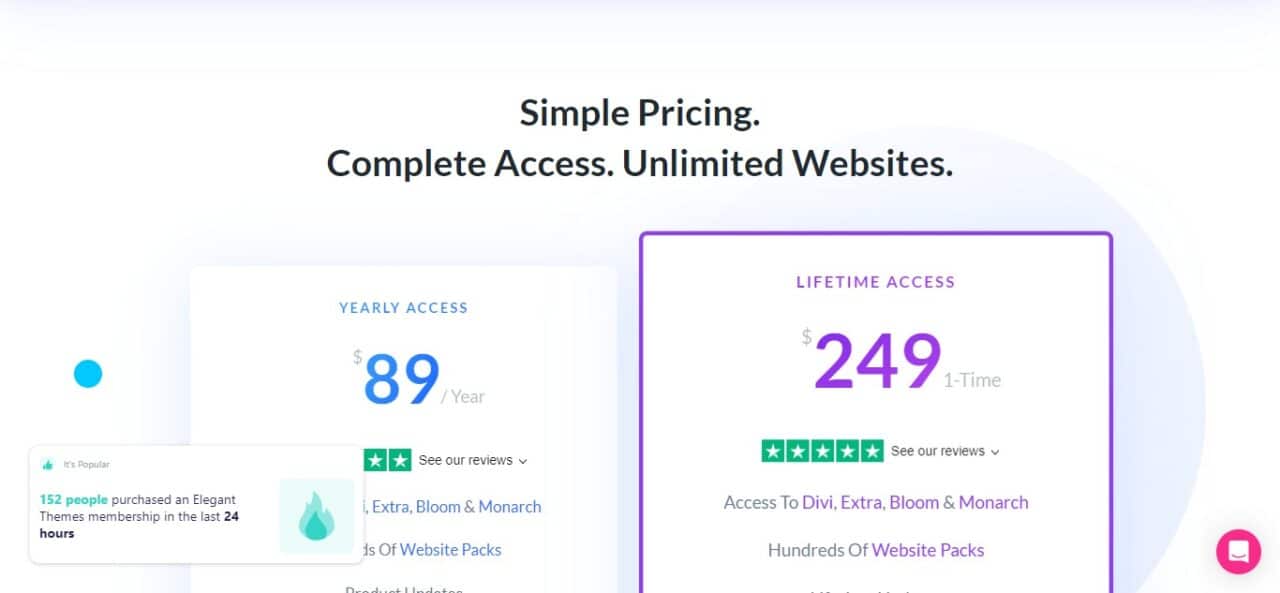 How to Sign Up Divi AI
Purchase Divi Theme or Divi Builder: If you don't already possess Divi Theme or Divi Builder from Elegant Themes, purchase them. Go online, select an offering from Divi that meets your needs, and complete your transaction.
Download and Install Divi: Once purchased, Divi can be easily installed onto any website by downloading its Theme or Builder and saving its installation file on your computer.
Install Divi on Your WordPress Website:
Log into your WordPress administrative dashboard.
Navigate to either "Plugins" if installing the Divi Builder plug-in or "Themes".
Simply select either "Add New Plugin" (for plugins) or "Add New Theme".
Upload the Divi installation file that was downloaded in step two.
Once installed, activate the Divi Theme or Builder by selecting its toggle button in your dashboard.
Access the Divi Builder:
First, navigate into your WordPress administrative panel. In the page editor area you should see an "Enable Divi Builder" button which when clicked will launch the Divi Builder.
Using Divi AI: With Divi Builder enabled, you can begin making use of Divi AI features which are typically integrated into various modules and options provided by Divi. When adding text modules for example, Divi will offer the option for Divi AI-generated content generation.
Configuring Divi AI: Depending on your version and any updates made since my last knowledge update, Divi may offer settings or options to configure its AI feature, including setting its tone or style of content generated.
Divi AI Key Features
Auto-Generate Content With One Click
Generate text, images, or entire modules with a click. It analyzes existing content and website details to recommend the content you should add next.
Let Divi AI Learn From Your Website
Receive highly relevant and on-brand results from Divi by providing it with context about your website and the current content you are working on.
Generate Images Automatically
Just click one button and let Divi create images for you. It learns from your page and the context around your image to generate something highly relevant on-demand.
Refine & Modify Existing Images
Supply a reference image to Divi and have it change the image as much or as little as you want. You can even completely change the image's subject matter while retaining composition and style.
Fine-Tuned On The Divi Module Codebase
Divi can write code, generate custom CSS and customize the design of your website within the Visual Builder. It's trained on the Divi codebase, giving it an advantage over other large language models.
Divi AI Learns From Your Website
Divi delivers highly relevant content by considering your website name, description, and the context of the current page.
Divi AI Pros & Cons
| Pros | Cons |
| --- | --- |
| Integration with Divi Builder: Divi offers seamless integration between its web theme and page builder functionality and Divi's artificial intelligence for effortless web page management and creation. | Cost: Depending on the pricing structure and any additional AI features that might incur costs, Divi might increase overall user costs when used within its Builder software platform. |
| Content Generation: Divi can assist in writing copy for pages and posts on your website to save you both time and effort in producing written copy for these. | Quality: While AI tools may provide assistance, their content and design may not always match that produced by human writers, developers, or designers. |
| Coding Generation: Generating code can also help customize the design and functionality of your website. | Learning Curve: New users might experience difficulty mastering how to utilize AI features within Divi Builder effectively, particularly those without experience in web development and design. |
| Image Generation: Being able to generate images quickly is an invaluable time saver for web designers and developers, providing creative assets for use on your website. | Quality: Dependence on Artificial Intelligence for content and design could result in less originality and an more generic appearance. |
| Contextual Understanding: Divi has an in depth knowledge of all of the elements on your website and can produce contextually appropriate content and design assets. | Learning Curve: Some users might find it challenging to learn how to use AI features effectively within the Divi Builder, particularly if they are not experienced in web development or design. |
Divi AI Alternative
Runway ML: With this tool powered by AI technology, Runway ML facilitates image and video generation as well as style transfer services and more.
Deep Dream Generator: With this tool you can transform images into surreal dreamlike artworks using neural networks and deep dreamlike experiences.
Kite: Kite is an AI-powered code completion tool for developers that offers suggestions and autocompletions as you type.
GitHub Copilot: Utilizing OpenAI's Codex AI engine, this AI tool was created by GitHub to assist developers when writing code by providing suggestions and autocompletions.
LogoMakr: With this tool you can use artificial intelligence (AI) to design logos based on user input and preferences.
Crello: Crello offers AI-powered design features to make creating graphics, social media posts and more easier than ever before.
Divi AI Conclusion
It offers an exciting addition to the Divi Builder, and has the potential to speed up content creation, code generation and design processes. As part of a user's Divi WordPress theme and page builder experience, Divi features AI-powered features to boost development projects as well as design projects. Divi stands out with its seamless integration with Divi Builder and ability to generate content, code, images and context-aware understanding of website elements features which aim at increasing efficiency and productivity of web designers and developers alike.
However, it's essential to consider potential drawbacks, including cost and quality issues in AI-generated designs or content production; user adoption issues; as well as adapting workflows around AI. Also keep in mind that AI tools evolve constantly; Divi or similar programs might already offer improved capabilities by the time of your analysis.
Before selecting Divi or any AI tool, it is advisable to keep up-to-date on its latest advancements, conduct extensive research, and assess how well its goals match with those of your individual company or practice. AI tools should provide enhanced web development processes while upholding quality content creation processes while protecting unique design features the latter should determine your decision of AI tools over others.
Divi AI FAQ
What is Divi AI?
Divi AI, developed by Elegant Themes for use with their Divi Builder WordPress page builder, aids users in producing content, code, and images for their websites more quickly than before.
How do I access Divi AI?
To gain access to Divi, it's necessary to install and activate either the Divi Theme or Divi Builder plugin on your WordPress website and access its interface when building or editing webpages.
What can Divi AI create?
Divi can create written content articles and pages as well as code customization features as well as images and design elements for your website.
Does Divi AI replace the need for human content creators, designers, and developers?
Yes, Divi allows for customizable content and design output in the Divi Builder to meet individual preferences and fulfill specific needs.
Can I customize the content and design generated by Divi AI?
Divi may provide assistance in various tasks, yet cannot fully replace human professionals in web development and design. Human creativity, expertise and quality assurance remain important elements.
Is Divi AI constantly updated and improved?
Elegant Themes releases updates regularly and it is important that users regularly review its official website or documentation in order to gain up-to-date information regarding Divi features, improvements and any upcoming or recent releases.
Are there any additional costs associated with using Divi AI?
Based on your usage and version of Divi, there may be additional costs associated with premium features or add-ons that require payment. It's recommended to review pricing details on Elegant Themes website to obtain accurate data.