In a twinkling of an eye, the hot Grin has been on the line for 2 weeks. Primitive Ventures partner Eric Meltzer said after Grin went online that $100 million has entered the Grin mining market.
However, a large amount of investment seems to have not yet shown its power, and Grin has achieved a substantial increase in computing power in the past week or so.
Derek Hsue, an investment analyst at Blockchain Capital, recently analyzed the computing power of Grin and several other GPU mining networks (Ethereum, Monroe, Beam). It should be noted that the values ​​in the analysis are rough estimates and are not accurate numerical statistics .
At the same time, there are two important assumptions in this analysis: 1. The benchmark GPU in the analysis is 1070; 2. Ethereum, Monroe and Grin are mostly GPU mining, and Zcash is mainly ASIC mining machine.
From the change in computing power of Grin, we can see that from January 19th, Grin's computing power began to increase substantially, increasing by 2 times in only 4 days and by 6 times in the 31st.
Combine the values ​​of the four GPU mining cryptocurrencies into one picture: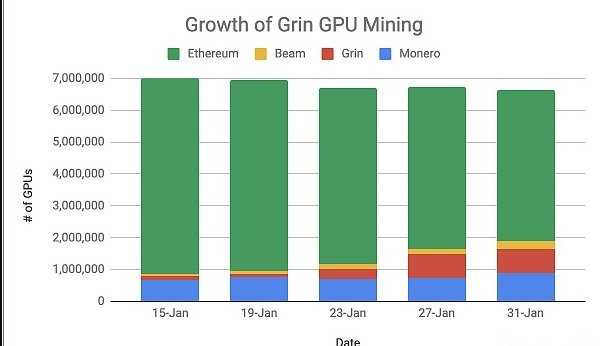 We found that while the power of Grin was skyrocketing, the computing power of Ethereum fell all the way. In the time after Grin went online, the ETH price fell from $116 on January 15 to $105 on January 31, a drop of 9.4%. At the same time, the computing power of the Ethereum network fell by as much as 25%.
After the upgrade of Constantinople on February 27th, the Ethereum block reward will be reduced from 3ETH to 2ETH, and the reduction will inevitably lead to further decline in computing power.
It seems that most of Grin's new computing power comes from the existing Ethereum mining machine, not the new mining equipment. Recent chip makers Nvidia and AMD's forecast for the first quarter of 2019 also indicate weak sales of encrypted GPUs, which seems to support this claim.
Currently, Grin's trading volume on exchanges and OTC counters is very high, even exceeding its market value. However, the real price of Grin will not be confirmed until the market calms down, which may take weeks or months. Many miners who dig for Grin may be more optimistic about the prospects of Grin, and the actual profitability may not be as good.
As the heat of the Grin gradually declines, the miners are gradually transferred from Ethereum, and it is likely that a large number of GPU miners will withdraw from the Grin mining. After all, the biggest feature of GPU miners is that it is not limited to a single blockchain, it can be turned to a higher profit margin network at any time.