About Get-Paid.com
Get-Paid.com has been providing online market research & surveys since 2005.
In today's data driven age businesses are continually strive to discover the next big product or trend. One of the ways they can get ahead of their competitors is to ask opinions of as many people as they can to gain insight into their market. Whereas before they would send a team with clip boards to the shopping mall it is now a lot more efficient for this process to be done online.
Businesses from all over the world provide us with surveys for you to complete online. We then reward our users who successfully complete each survey by giving them a percentage of what we earn. So you get paid for simply giving your opinion and you don't even have to leave the house. To date we have matched thousands of participants with hundreds of different businesses.
So if you are looking to earn a bit of extra income or just happen to have some time to spare why not register with Get-Paid.com today.
Website: Get-Paid.com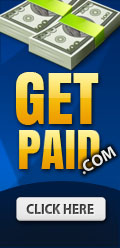 Price: Free
Score: 90 Out Of 100
Verdict: Legit
How to Make Money Using GP
There are two different categories for earning with Get-Paid.
The first is by earning coins and the second is by winning coins.
Here is a list of ways you can earn coins:
Surveys
ToolBar
Referrals
PayPerCall
Tasks
Videos
Offers
Business Cards
PayPerClick
Most of the ways you can earn are universal in all of the companies similar to GP.
So what makes this company better?
Well, that isn't an easy way to answer it but one common comment I came across during my research is the fact that the payments went through quickly.
Of course there were a few people complaining about the payment system but I think it is fair to say that no system is perfect.
Let's take a few of the ways to earn with GP and go into them in detail to clarify any confusion.
PayPerCall- This is where you get paid to answer surveys and call companies.
This is a super way to rack up points and each survey takes only a few minutes to complete.
Well Managed Program – Get-Paid is operating since 2006. It has passed the test of time and has proven to be stable and reliable, paying without major issues.
Paying – Get-Paid is paying its members. Generally, payments are processed twice a week. We tested the site and we got paid:
Unlimited Affiliate Program – There is no limit of the number of people that you can refer to the site, which is excellent opportunity for members who are able to build a big and active downline. If manage to do so, then you could earn extra pocket money without hard additional effort. At Get-Paid, there is 2 levels referral system in place. Level 1 referrals are the members that you have personally referred. Level 2 referrals are the members that your level 1 referrals have referred.
Worldwide Service – There are no restrictions, Get-Paid is free international service and individuals from all over the world are allowed to join the site and to earn with it.
Fixed Low Minimum Withdrawal – You can request a payment once you have gathered a minimum of $0.50 in you balance (250 coins). $1.00 is the minimum amount to cashout for members from Australia, Canada, UK and US. Great, there is no high minimum payout requirements or stepped cashout system.
Forum – Get-Paid does have a forum. In our opinion, a GPT site should have a forum. The forum is a place where members and staff can communicate with each other. Members can post their success stories or doubts, post payment proofs, share the experience that they had with the site, ask for support and stay informed about the recent changes made to the site. Usually, on the forum you can notice the first signs if something is wrong. If members complain about non-payments or payment delays, then most likely the site is experiencing problems.
ToolBar: All you have to do is download the GP Tool Bar and get paid to use it.
Business Cards: This is the data entry portion of the program.
That's right; all you have to do is put people's information into the appropriate file and you earn points.
You can also win coins which is something that few companies like GP offer.
You can win extra coins through Games and Contests.
I would not count on winning coins on a regular basis if you are going to try out this program.
Stick to the ways to earn points on a regular basis and celebrate if you win extras through the games and contests.
Way To Withdraw Your Hard Earn Money
Most of the reviews I do of companies like GP always come with a few complaints.
One of them is the payment system because companies don't offer payment through PayPal.
Paypal is so easy and is a great indication that the company is legit.
You don't have to worry about that with GP because they offer several ways of receiving your payments.
Here is a list:
PayPal
WebMoney
BitCoin
Prizes
Payza
Perfect Money
Gift Cards
Although it is great to have options, Paypal is the way to go here, in my personal opinion.
It is so easy and the minimum cash out amount is $1.
That is convenient and it will alleviate most of the issues people have with the payment system.
It may take up to 24 hours to receive your cash.
Let's now talk about the referral program, which most people dread.
Still, we need to get it done.
The Get-Paid Referral Program
This is a two tier program that can earn you some extra coins if you are great at the lost art of recruiting.
For example, you earn up to 30% of the coins your recruits earn.
The only thing I don't agree with in this recruitment system is the fact that you can't count on earning anything after your personal referrals because you have no idea how serious your recruits are.
Some people might join and do the surveys and data entry, while another one of your referrals like the recruiting aspect.
However, you can take advantage of the 30% earnings because that is a massive bonus.
You can earn up to 10% on the second tier, which is worth mentioning.
The Get-Paid Special Features
The system I am about to talk about might seem a bit confusing at first but it is really quite simple.
If you are an online gamer you will understand how the system works immediately.
Before we start you need to understand that XP is not the same as points or coins earned.
Define XP:
XP means experience points and they are earned by doing tasks like surveys.
To keep it simple, let's say you complete a survey.
You will receive XP and if you reach a certain number of points you will level up.
This means that the more active you are, the more XP you will get and level up faster.
You might be asking, what are the benefits of leveling up?
Leveling Up:
Every time you level up, you get access to bonuses and other features.
For example, you might start getting paid more points per task you complete or you might even get bonus points.
You might also get great features like getting paid faster and daily bonuses if you are active enough.
This is all great and keeps people motivated on the tasks.
What are Get-Paid Badges?:
This aspect of GP is not for everyone but you will receive them anyway.
You will get badges when you accomplish certain goals, like logging on for a week straight or being active in the GP community.
These badges do not earn you any extra cash but they are more for bragging rights and ways to determine how active you are.
The Get-Paid Community:
When you register with GP, you get a profile page that you can customize.
You can add other members and even chat on the website.
With that being said, there is no real perk to being active in the community other than earning badges and chatting with other GP members.
The Positives FeedBack And Negatives FeedBack of Get-Paid
Like all of my reviews, I try to lay out the pros and cons of the company I am reviewing as a recap.
Here is a short list of things I like and dislike about the program
PROS
The first and foremost aspect of the company I liked was the fact that there are several ways of making money.
This means you can try them out and see what you like best.
This tied into the other aspect of the program I like, which is the payment process.
The biggest complaint I have seen during all of my research is the fact that the payment process can become sloppy.
Some companies have even gone out of business because they cannot pay their members in a timely manner.
I have not seen any complaints by GP members yet but I am sure a few people have had issues.
With that being said, most people that join GP are pleased with the process.
CONS
The only part of the GP program that I can't stand is the point system.
I am not sure why some companies still do this but the best system I have seen during my research is a flat $$$ amount for each task.
That way, people can see how much they are earning before they sign up for the task.
The point system is gimmicky and can be done without in my opinion.
The Final Verdict
It is pretty clear at this point that Get-Paid is a legit company although I am a firm believer that there are better ways of making money online.
If you are a fan of the "get paid for doing" websites then this is a great place to get started.
However, there ways that you can make money online that are often overlooked.
Have you ever thought about creating your own business online?
Even if you haven't, it is a lot easier than it seems.
There are so many people out there willing to help you out with the process.
If you think that advice will be expensive, think again.
en start the program for free and upgrade at a later date if you want.
Either way you look at it, there is no risk and you can start an online business that works for you.
I hope you enjoyed the review and I am glad that you took the time to read it.
If you have any experience with Get-Paid, would like to ask a question or leave a comment, feel free to fill out the form below.
Cheers!
[su_quote]This article is writing on 3 July, 2017 based on information available online & news portal. If you feel it's outdated or incorrect, please write here to update it. Mail us: support@digitalworldstory.com Or Whatsaap Us At- 918077121282[/su_quote]
Disclaimer
Not all the websites Which listed in Top List are 100% safe to use or investment. We do not promote any of those. Due diligence is your own responsibility. You should never make an investment into any online program with money you aren't prepared to lose. Make sure to research about the website.