This guide will provide an overview of Lingose Gamefi (LING), an up-and-coming GameFi infrastructure project that has demonstrated exceptional performance as an asset in 2022.
We will explore the reasons behind its market outperformance compared to other GameFi protocols and why we anticipate it has the potential to become the top platform in the virtual economy.
What is Lingose ?
A project called Lingose (LING) mixes gaming with decentralised finance (DeFi) in a virtual economy. With the addition of DeFi features like yield farming and staking, it seeks to give players a gaming experience where they may receive rewards in the form of cryptocurrencies.
Users of Lingose may earn LING tokens by playing and accomplishing various tasks in a range of games, including NFT-based activities, that are run on the Binance Smart Chain (BSC) network. The goal of the project is to build an inclusive and sustainable virtual economy that helps both gamers and DeFi aficionados.
Quick Features
| Token Name | LING |
| --- | --- |
| Token Type | BEP-20 |
| Total Supply | 10,000,000 |
| Circulating Supply | 2,500,000 |
| Token Utility | In-game currency, staking, governance |
| Initial Token Distribution | Private sale (15%), Public sale (10%), Liquidity (20%), Team (15%), Advisors (5%), Ecosystem development (20%), Marketing (15%) |
| Token Allocation | 25% Liquidity, 30% Ecosystem Development, 15% Marketing, 15% Team and Advisors, 15% Community Development |
| Token Price | Varies based on market demand and supply |
| Token Trading | LING can be traded on decentralized exchanges that support BEP-20 tokens, such as PancakeSwap and Binance DEX |
| Token Staking | LING can be staked to earn rewards and participate in the governance of the Lingose ecosystem |
| Token Governance | LING holders can vote on proposals related to the development and governance of the Lingose platform |
| Token Burning | LING tokens are burned periodically to reduce the total supply and maintain the value of the token |
How To Getting Started with Lingose
Getting Started You must have a wallet that is compatible with the Binance Smart Chain, such as MetaMask or Trust Wallet, in order to use Lingose. Here is step by step guide
Visit the official Lingose website (https://lingose.games/) and click on the "Connect Wallet" button located at the top right corner of the page.
Select your preferred wallet provider. Lingose supports several wallets, including MetaMask, Trust Wallet, TokenPocket, and Math Wallet.
Connect your wallet to Lingose by following the instructions provided by your wallet provider. You may need to authorize the connection and sign a message to confirm.
Once your wallet is connected, you can start exploring the available games on the platform. Click on the "Games" section on the main menu to access the game library.
Choose a game that interests you and click on its icon to open the game page.
Follow the instructions provided by the game to start playing and earning LING tokens.
You can also participate in yield farming and staking activities by clicking on the "Earn" section on the main menu. Here, you can stake your LING tokens to earn rewards or provide liquidity to the LING/BNB liquidity pool on PancakeSwap.
That's it! You're now ready to start playing and earning on the Lingose GameFi platform.
What Is Lingose ID?
With the help of the Lingose ID function, users may build a social identity on the platform that is connected to a collection of credential data. Additionally, the platform has a progression "medal wall" and EXP system that improve user gaming.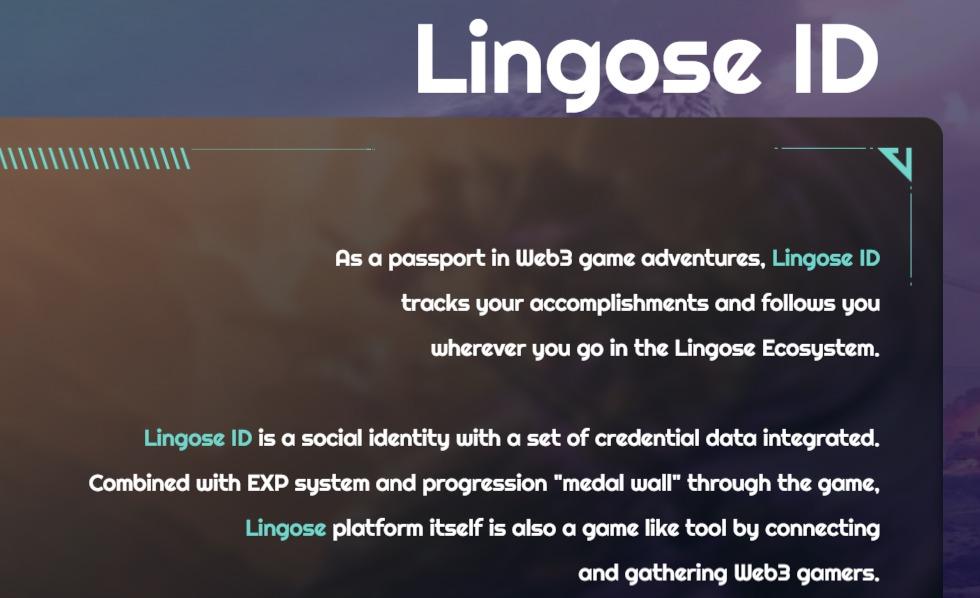 Users are encouraged to join on the platform and establish their reputations as accomplished gamers within the Lingose community thanks to this feature. Lingose's overall goal is to connect and unite Web3 players while providing them with a distinctive and profitable experience in the virtual economy.
Games on Lingose
Players can earn LING tokens by participating in and successfully completing various tasks in the variety of games offered by Lingose, including NFT-based activities. Popular games available on the platform include: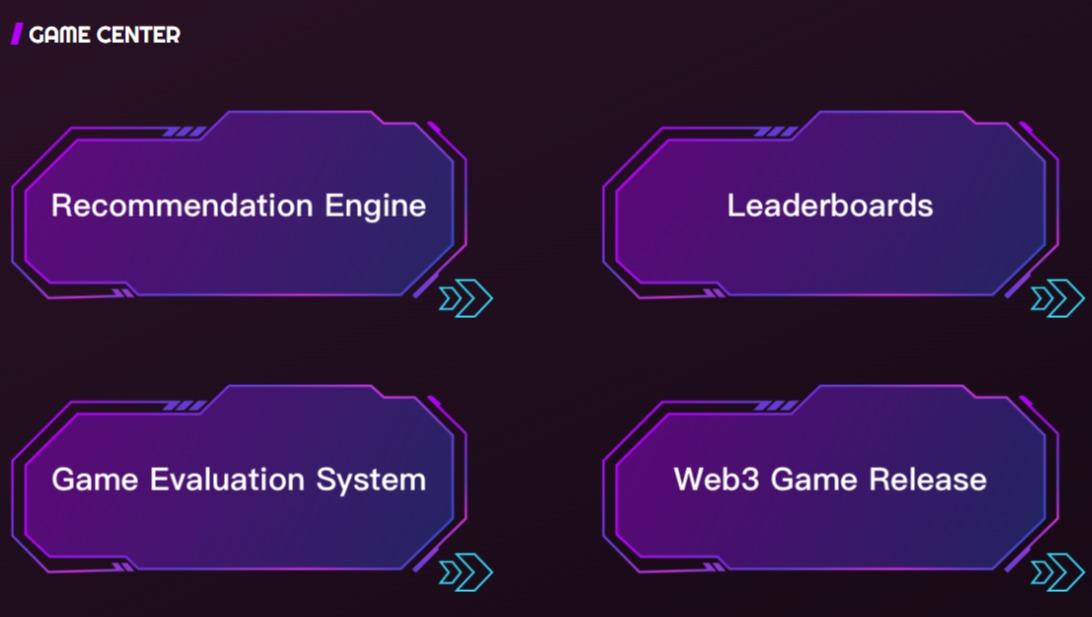 Players in the tower defence game Lingose Tower can acquire LING tokens by repelling enemy assaults.
Finding buried riches in the game Treasure Quest will win players LING tokens.
Playing the card game Crypto Clash, players can win LING tokens by winning matches against their opponents.
How Does Lingoes Gamefi Works?
Blockchain technology is used by the decentralised gaming platform Lingose GameFi to produce a distinctive gaming environment. The Lingose platform runs on a set of smart contracts that let users take part in games and win prizes in the form of LING tokens, the ecosystem's native cryptocurrency.
The Binance Smart Chain (BSC) is a technology that the Lingose platform uses to facilitate quick and safe network transactions. To begin playing games, users can activate their cryptocurrency wallets on the BSC chain by connecting them to the Lingose platform, such as MetaMask, TokenPocket, or OKX wallet.
Numerous games in the Lingose ecosystem are created to provide various degrees of participation and rewards. RPGs, social games, and NFT-based collectibles are a few of these titles. By taking part in games, staking LING tokens, and completing various missions and tasks, players can win rewards.
A social identification system called Lingose ID is also part of the Lingose platform, and it keeps track of players' accomplishments across many games and blockchains. By successfully completing activities and challenges, players can accrue EXP points and advancement medals, which are then shown on their Lingose ID profiles.
Is Lingose a Good Investment?
Given Lingose's stellar fulfillment in the GameFi industry, it is safe to say that many investors are interested in it. Lingose's price has increased noticeably since it debuted on Bybit's Launchpad in September 2021. The project is a great investment for individuals who are interested in cryptocurrency gaming because its ultimate objective is to develop a gaming passport that can track players' successes across various games and blockchains.
Lingose has the potential to become a significant participant in the GameFi market because to its knowledgeable team of gaming industry professionals and its respectable advisory board, which is made up of well-known names in NFTs and Web3 gaming. We think the project has solid fundamentals underneath it, which would make it a worthwhile investment for companies wishing to enter the GameFi market. It's important to keep in mind that investing in cryptocurrencies can be risky, thus before making any decisions on investments, one should always conduct their own study and consult a specialist.
Is Lingoes Gamefi real or fake?
A legitimate cryptocurrency project is Lingose GameFi. It is a decentralised gaming platform with the goal of bringing blockchain technology's advantages to the gaming sector. The Lingose platform uses smart contracts to guarantee openness and justice in its games and to distribute LING tokens as prizes for playing and staking.
The Lingose project features a group of knowledgeable advisers and developers, and anyone can examine the project's whitepaper and roadmap. The fact that LING tokens are listed and traded on a number of reliable cryptocurrency exchanges further supports the project's validity.
Nevertheless, there are risks associated with cryptocurrency investments in general, therefore careful study and due diligence should be done before investing in any business.
What are GameFi Projects?
A new wave of decentralised gaming platforms called GameFi projects brings together the advantages of blockchain technology with decentralised finance (DeFi) to produce a distinctive gaming experience. In GameFi projects, users can gain prizes through taking part in games, staking, and other platform activities. These rewards might take the form of cryptocurrencies or non-fungible tokens (NFTs).
These projects allow players to maintain ownership of their in-game assets, which can be exchanged or sold on decentralised marketplaces, and they use smart contracts to ensure transparency and fairness in their games. Additional DeFi services provided by GameFi projects include yield farming and liquidity mining, which let users can generate passive income by staking their tokens or supplying liquidity to liquidity pools.
The goal of GameFi projects is to establish a brand-new gaming environment where players may gain real-world benefits from taking part in their preferred games. These initiatives are becoming more well-known in the cryptocurrency community and are anticipated to have a big impact on the gaming sector in the future.
Conclusion
With the combination of gaming and DeFi features, Lingose offers a distinctive and satisfying gaming experience. It's a terrific platform for gamers and DeFi enthusiasts alike with a selection of games and the opportunity to earn LING tokens. Why not start your journey in the Lingose virtual economy today and give it a shot?