Shiryo: In this article, we cover a detailed review of Shiryo. How does Shiryo Crypto work & Are important features?
About Shiryo
Shiryo is a blockchain incorporated Play-to-Earn trading card game which utilizes NFT's to allow players to collect decks and participate in matches. It is set in the world of Edrea, a continent with its terrain divided into four elemental factions; Earth, Thunder, Water, and Fire. Players will be able to participate in matches, tournaments and even purchase land through the bespoke Shiryo Dapp accessed via the token's website.
By the recently released extended whitepaper, the initial community-led beta tests for the game will be performed in Q1 2022, with a full game release planned shortly after. The roadmap also details other upgrades including 3D Metaverse integration, a social spaces upgrade, and land expansion options. By the end of 2022, there will be a DAO for players to decide exactly how they want the game to be balanced, a manga, an anime, and a Shiryo TCG mobile app.
Shiryo Point Table
| Coin Basic | Information |
| --- | --- |
| Coin Name | Shiryo |
| Short Name | SHIRYO |
| Max Supply | 1,000,000,000,000,000,000 |
| Total Supply | 981,847,205,393,966,100 |
| Support | 24/7 |
| Official Project Website | Click Here To Visit Project Website |
Shiryo Price Live Data
What Makes Shiryo Unique?
Shiryo Trading Card Game will be launched with 200 unique cards, each with an industry-standard quality of artwork. 50 cards will be given to players for free, allowing them to immerse themselves in the world of Shiryo and start playing. 150 cards will be obtainable as NFTs with tiered rarity: Common, Uncommon, Rare, Legendary, and Mythic. The cards are sold in packs of 5 each.
On top of that players can acquire in-game game Avatars.
Avatars are pixel art wolf heads NFTs with a varying rarity of 9 traits.166 total number of individual pieces, can create millions of possible combinations, making the avatars truly unique.
The world of Shiryo has in-depth lore, depicting past and present events in its timeline.
The story will be further expanded with the release of Shiryo manga and anime.
To immerse players in the world, Shiryo team is creating a metaverse called The Shiryoverse. Players will be able to own part of the Edrea continent, bulid various structures on their land. 3D Shiryo environment is being built so that metaverse explorers can visit their land with their VR headsets, could enter social spaces, and talk to other players in the future.
What is the Shiryo-Inu token?
Shiryo-Inu is a token that fuels the whole Shiryo ecosystem and is used as a currency for in-game assets and services.
10% of each sale of an in-game asset is used to burn the token, permanently reducing the supply.
Shiryo-Inu Holders will be able to:
Stake their tokens for card pack rewards (LIVE)
Buy in-game Avatar NFTs (LIVE)
Trade Avatars and Cards on SHIRYO marketplace (LIVE)
Borrow cards/decks from other players
Buy assets for lands in Shiryoverse
Participate in Game-balance DAO ### Who Are the Founders of Shiryo?
SHIRYO is built by an experienced group of over 50+ members. The SHIRYO team consists of a number of highly qualified blockchain developers, designers, marketers, and community managers with many years of experience in developing DeFi and NFT products. The core part is listed on the website in the Team section.
Shiryo is led by Jordan Fung, CEO and visionary for the project, Jordan has appeared in several video interviews with both prolific blockchain enthusiasts and the Shiryo community alike. His background is in web design and development and he is an avid blockchain enthusiast as well as a passionate TCG player.
Meet Team
The core team is assembled of highly experienced individuals who are carefully vetted as experts in their appropriate field.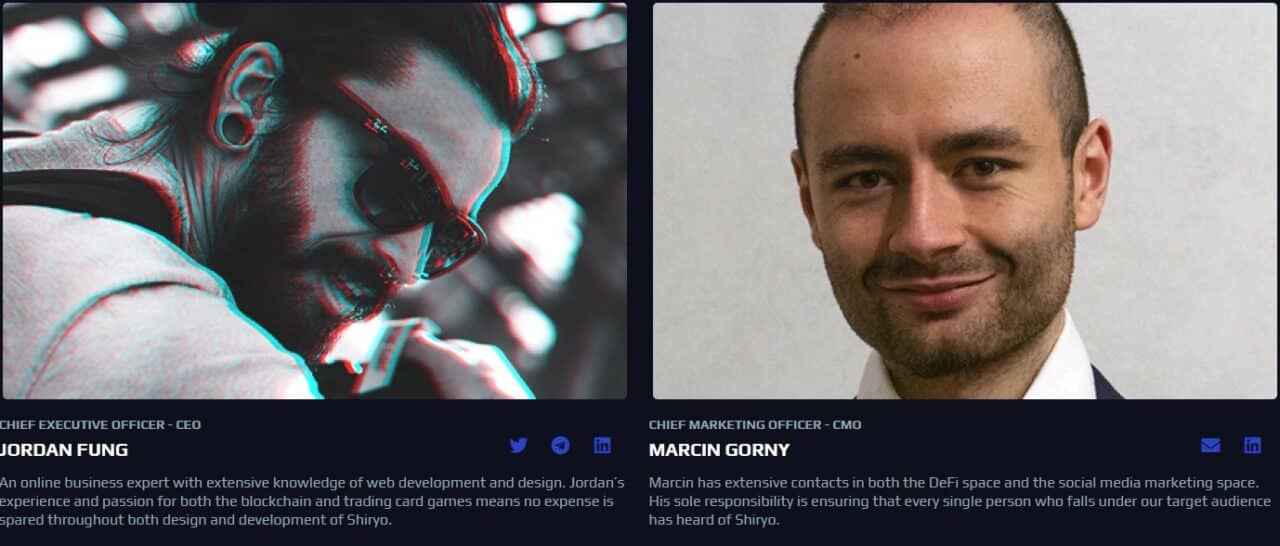 How Many Shiryo-Inu Tokens Are There in Circulation?
Shiryo token was launched on October 29, 2021, with 1 quintillion Shiryo-Inu tokens created at genesis. 95% of the supply was added to liquidity on Uniswap, and the remaining 5% was reserved by the team for future listings and airdrops.
Roadmap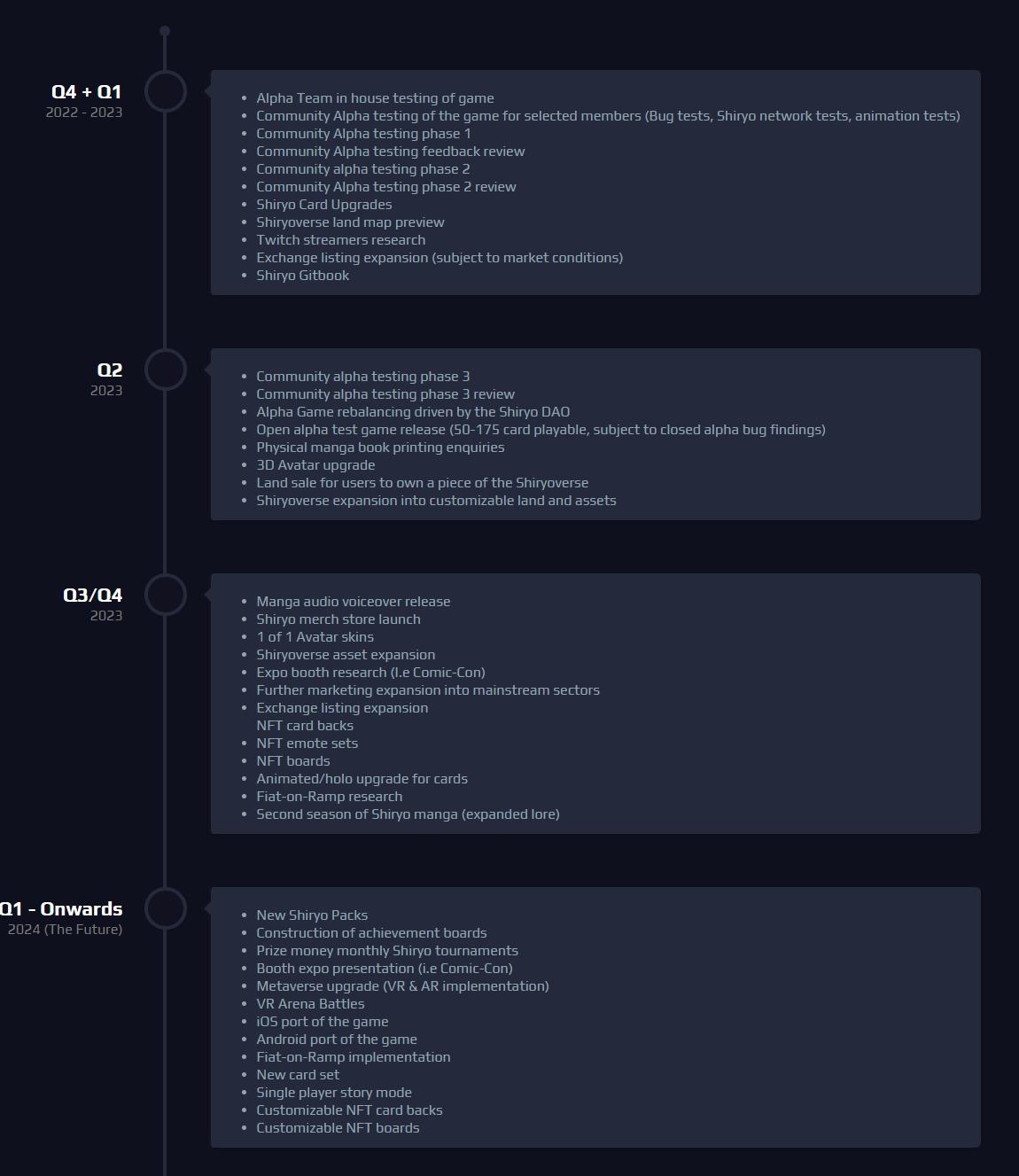 Conclusion
Shiryo is an innovative and engaging blockchain incorporated Play-to-Earn trading card game, that brings together the thrilling world of Non-Farm Traded cards (NFTs) with strategic gameplay set within Edrea. Through blockchain technology and NFTs, Shiryo gives players access to collect rare virtual cards, build powerful decks, compete in thrilling matches and tournaments while engaging in thrilling matches and tournaments.
The game's incorporation of elemental factions adds depth and strategy to gameplay, enabling players to explore various tactics while crafting decks based on Earth, Thunder, Water, or Fire elements. This dynamic environment ensures each match is different while forcing them to adapt their strategies appropriately for every match they participate in.
Shiryo stands as an innovative combination of blockchain technology, NFTs and trading card games, offering players an immersive and rewarding gaming experience in Edrea's vibrant world. Its distinctive features – elemental factions, the Shiryo Dapp, and Play-to-Earn mechanics – make Shiryo an attractive platform both for gaming enthusiasts and blockchain enthusiasts.
FAQ
What is Shiryo?
Shiryo is a blockchain incorporated Play-to-Earn trading card game that utilizes NFTs (Non-Fungible Tokens). It is set in the fantasy world of Edrea, where players can collect virtual trading cards, build decks, and participate in matches and tournaments.
How does Shiryo work?
Players can collect virtual trading cards as NFTs, each representing a unique and valuable card within the game. These cards can be acquired through various means, such as purchasing them or earning them through gameplay rewards. Players can build their decks using these cards and engage in matches and tournaments with other players.
What is the significance of NFTs in Shiryo?
NFTs play a central role in Shiryo as they represent the virtual trading cards within the game. Each NFT card is unique and can have different attributes and abilities, making them valuable and collectible. The use of NFTs ensures scarcity, ownership, and provable authenticity of the virtual cards.
What are the elemental factions in Edrea?
Edrea, the world of Shiryo, is divided into four elemental factions: Earth, Thunder, Water, and Fire. These factions represent different terrain and characteristics within the game. Players can align themselves with a faction and build decks based on the elemental attributes, adding strategic depth to their gameplay.