About Adyen.com
Adyen.com was founded in 2006 by a group of entrepreneurs, including Pieter van der Does and Arnout Schuijff. The existing payments technology consisted of a patchwork of systems built on outdated infrastructure. With the aim of helping businesses grow, the co-founders set out to build a platform capable of meeting the rapidly evolving needs of today's fast-growing global businesses.
Adyen Payment founding team called the business Adyen – Surinamese for "Start over again" – and focused on building a modern infrastructure directly connected to card networks and local payment methods across the world, allowing for unified commerce and providing shopper data insights to merchants. The Adyen platform enables merchants to accept payments in a single system, enabling revenue growth online, on mobile devices and at the point of sale.
Basic Information Of Adyen
Basic
Details
Product Name
Adyen
Fees
€100 ($120 U.S.)
Monthly Account Fee
Free
Payment Option
Instant Payment,
Accepted Credit Cards and Debit Cards,
ACH Payments, and eCheck Processing
Split Payments
Account Available
Individual Account , Business Account
Account Security
Two-Factor Authentication , Full SSL Supported Transfer
Support
Live Chat Option & Ticket System Support Available
Company Office
Central Park Towers, DIFC
Unit 37-30A, level 37
United Arab Emirates
T: +971 800 035770042
Official Website
Click Here To Visit Adyen
Sign up for a Test Account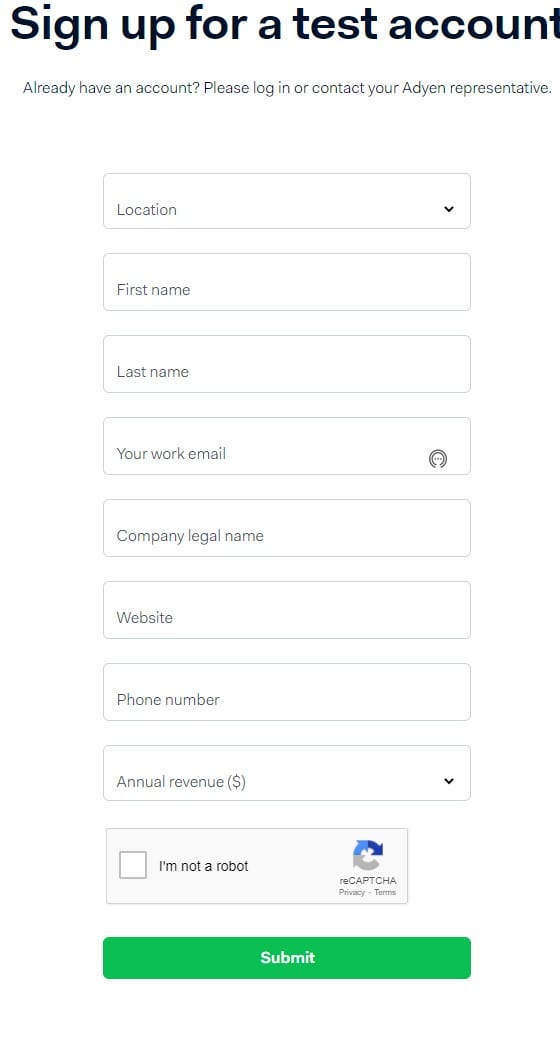 Monthly Fees
They do not have monthly fees, set-up fees, integration fees or closure fees. They do have a minimum invoice of €100 ($120 U.S.) per month, depending on transaction volume and region. They can link multiple bank accounts with multiple currencies, so we don't have to convert the currency.
The Adyen Formula
They build to benefit all merchants (not just one)
They make good choices to build an ethical business and drive sustainable growth for the merchants
Winning is more important than ego; we work as a team – across cultures and time zones
They include different people to sharpen our ideas
They don't hide behind email, instead we pick up the phone.
The create our own path and won't be slowed down by "stewards"
The launch fast and iterate
They talk straight without being rude
Adyen for Platforms
Adyen.com for Platforms is an end-to-end payment solution for peer-to-peer marketplaces, on-demand services, crowdfunding platforms, and any other platform business models. The solution enables you to onboard sellers, service providers or contractors as sub-merchants and accept payments on their behalf. You can also split payments, transfer funds, and pay out to sub-merchants. You maintain complete control over the buyer and seller experience while staying ahead of new regulation, like PSD2, and the latest trends in payments, like real time payouts to cards.
With Adyen for Platforms, you can:
Onboard and verify account holders: Onboard sub-merchants as account holders and perform KYC checks with our lightweight and flexible approach, or combine it with your own solution.
Process payments: Split payments between one or multiple sub-merchants, deduct costs as needed, and hold funds until payout.
Transfer funds: Securely transfer funds between your account and those of your sub-merchants.
Pay out: Decide when and how sub-merchants are paid, on demand or automated.
Reconcile transactions: Use Adyen-generated reports to build your platform's reconciliation processes.
Supported payment methods
Adyen Payment for Platforms supports a wide range of payment methods, such as major card brands (Visa, Mastercard, American Express, Discover/Diners), Apple Pay, Google Pay, SEPA, iDEAL, Sofort, and more. Restrictions may apply where Adyen is not in the settlement flow. Reach out to your sales manager to confirm.
Growth
Expand into new markets with local acquiring and payment methods.
Revenue
Optimize each transaction, increase conversions, and drive revenue.
Real partnership
Access expert advice and support from a dedicated team of payments specialists.
Accept payments across all sales channels
Let your shoppers use their preferred payment types, via a personalized checkout experience, online, in app, or in store, no matter where in the world they are.
Online and in-app payments
Adyen.com Accept cards, mobile wallets and more on any digital channel or device. Every checkout is fully optimized and geared for more conversions.
Payment terminals and in-store POS setups
Enhance in-person payment experiences with a terminal for any need. It's easy to set-up and comes packed with features.
Approve more transactions
Experience more approvals on every single payment with local and global payment processing, data-driven optimizations, and powerful risk management. All within a fully connected single payments system.
Payment methods
Offer the payment methods your customers know and trust.
Local connections
Adyen Payment Global payment processing tailored to your business for lower fees.
Transaction optimizations
Unlock more revenue using data and machine learning for every payment.
Safety and security
Use a data-driven approach to block fraudsters and manage risk.
Understand what your customers really want
Get a better understanding of your entire business with in-depth insights and reporting all in one place.
Daily tasks
Adyen.com Easily complete tasks like refunds.
In-depth reports
Translate data into detailed reports.
Team