Best AI Legal Tools have undergone remarkable advancements, revolutionizing how legal professionals approach their work. Some of the top AI legal tools currently available include cutting-edge contract analysis platforms. These tools use natural language processing (NLP) algorithms to quickly review and extract key provisions from large numbers of contracts, streamlining due diligence processes while eliminating human errors.
AI-powered legal research tools offer lawyers comprehensive, timely information that allows faster access to relevant cases, statutes, and regulations – saving both time and enhancing accuracy in legal research.
AI chatbots designed for legal firms have proven invaluable in handling routine client inquiries, scheduling appointments and helping with administrative tasks – freeing lawyers to focus on more complex matters. Their ability to process large volumes of data quickly while offering instantaneous insights has certainly increased efficiency, improved productivity and raised quality legal services considerably.
What is AI legal Software?
AI legal software refers to an emerging category of advanced technology solutions intended to transform the practice of law and enhance legal processes. These software applications utilize cutting-edge technologies like artificial intelligence, machine learning, natural language processing and other innovative features to assist lawyers and legal professionals with various tasks.
AI legal software's primary use case is contract analysis. NLP algorithms quickly review and extract important details from multiple contracts in order to speed up review time while simultaneously minimizing human mistakes. Artificial Intelligence legal research tools enable lawyers to quickly access relevant cases, statutes, and regulations for legal research purposes – providing thorough yet up-to-date research.
AI chatbots and virtual assistants are increasingly being utilized by legal practitioners to handle routine client inquiries, appointment scheduling and administrative tasks that take up most of their time – freeing them up for more complex legal matters. AI legal software is revolutionizing the legal industry with enhanced capabilities of legal professionals and improved workflow efficiency, leading to more technologically advanced and client-driven legal services in future.
Here Is List Of Best AI Legal Tools
Lawgeex: Best for Contract Review Process
CSDisco: Best for Automation of Legal Processes
Lex Machina: Best for Legal Analytics
Latch: Best for Contracting
One Law AI: Best for Legal AI Communication
DoNotPay (Robot Lawyer): Best for Writing Legal Claims
Westlaw Edge: Best for Legal Research
Bigle Legal: Best for Contract Management
Ghostwriter Legal: Best for Legal Writing Styles
Amto AI: Best for Drafting Legal Documents
10 Best AI Legal Tools
1. Lawgeex
Lawgeex is an artificial intelligence (AI) powered legal software that streamlines legal work, redlining, and contract review processes in an expedient manner. Best known for its technology that reviews legal documents based on customers' predefined policies.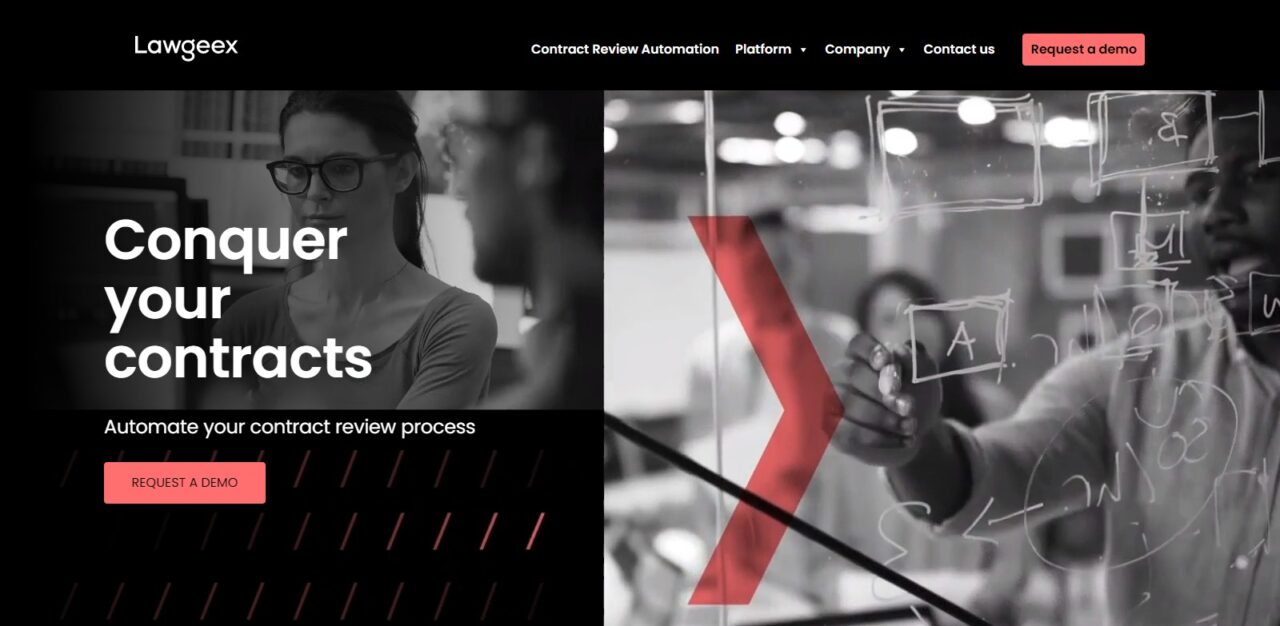 Lawgeex employs machine learning technology with secure algorithms equipped to process contracts and negotiations more securely than manual approaches do – saving 80% time reviewing contracts; 90% costs savings from manual approaches versus automatic ones; closing deals three times faster.
Lawgeex is an AI legal assistant designed for businesses of all sizes and easy for freelancers alike to utilize. You can quickly equip this tool through various training methods available such as in-person, documentation, live online training sessions, videos and webinars.
2. CSDisco (Best AI Legal Tools)
CSDisco is an AI legal software solution that utilizes artificial intelligence and cloud computing to automate legal processes and produce better legal outcomes for corporations, law firms, schools and other agencies.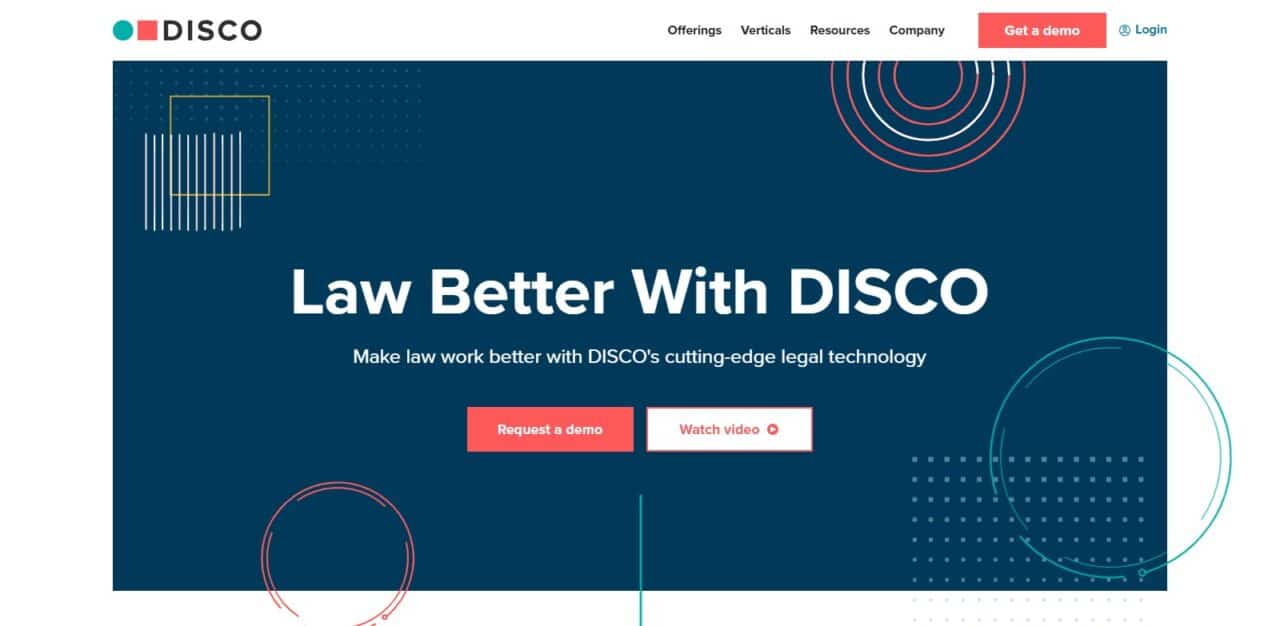 Their clients can take advantage of CSDisco's legal tech company to explore careers, venture into investor relations, host pro bono cases and stay updated with press releases/company updates; streamline legal processes from start to finish while accessing legal knowledge resources such as videos/white papers etc.
3. Lex Machina
Lex Machina is an artificial intelligence (AI) legal assistant offering on-demand legal analytics platform to customers that allows them to craft successful strategies, win cases and close business. It works by collecting data from multiple legal parties every 24 hours and using Lexpression technology.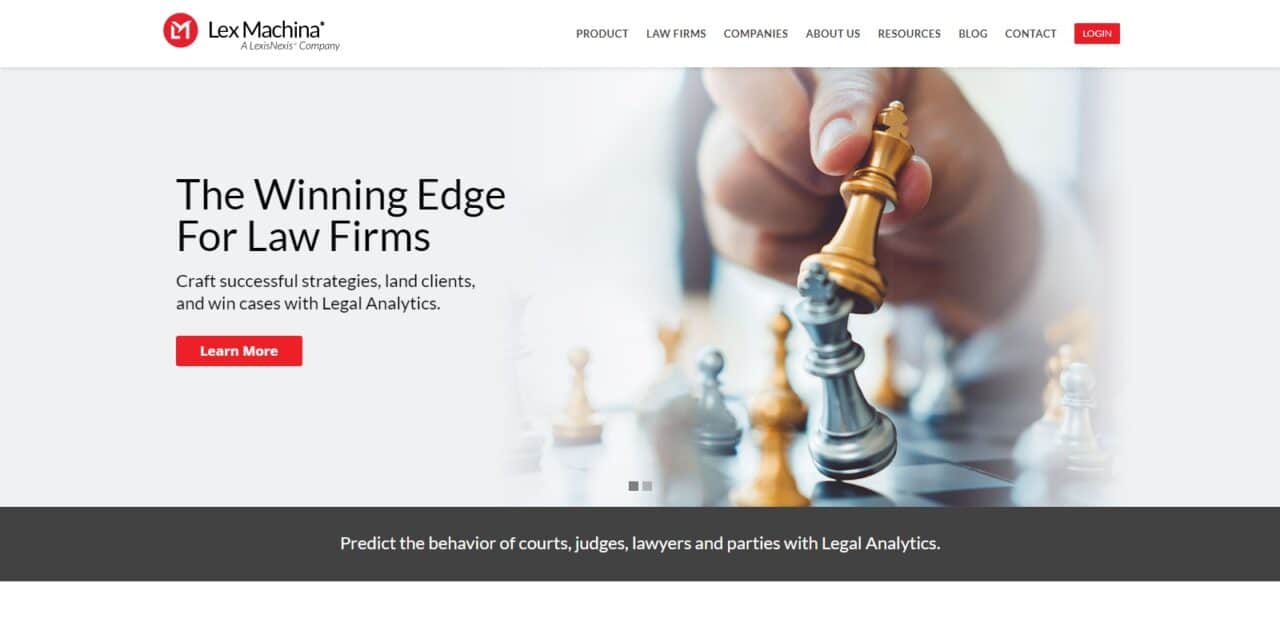 its proprietary natural language processing and machine learning software – to clean, code and tag it. Lex Machina then handles various legal processes efficiently by automating them with its features for maximum efficiency.
4. Latch (Best AI Legal Tools)
Latch is an AI contracting assistant powered by OpenAI's GPT-4, a large language model developed over time. Data processed via OpenAI's API are not used for service improvements; contract information stored for clients and third-parties alike remains private and only used to maintain playbooks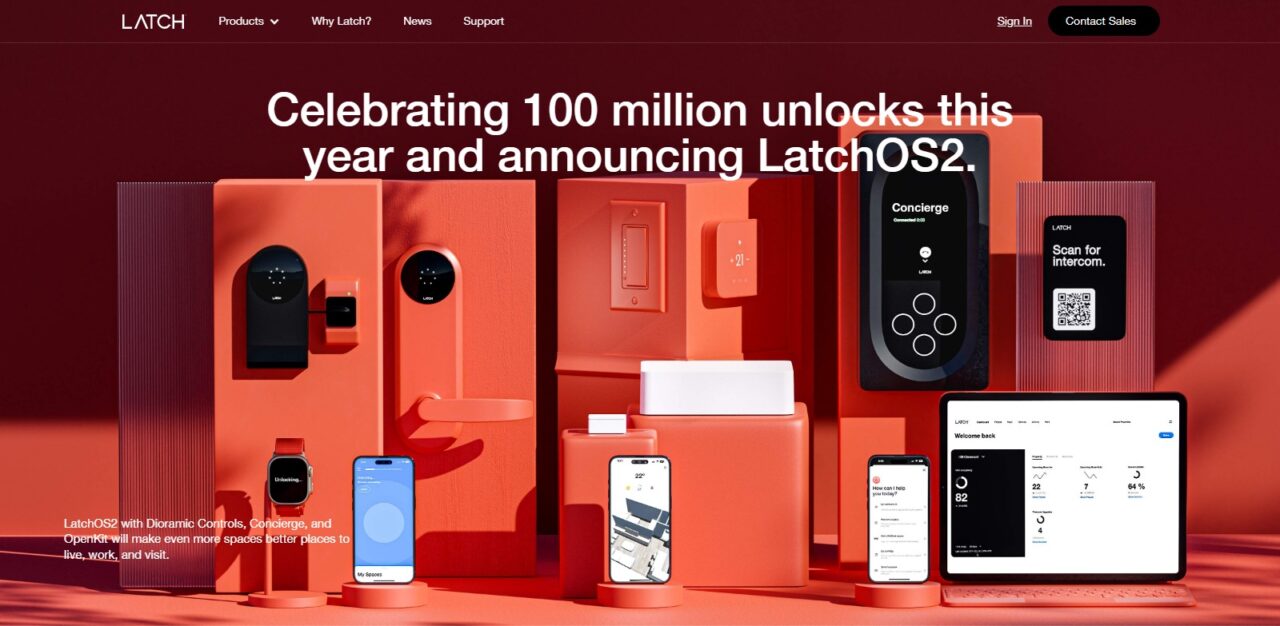 Offering greater assurance regarding client data privacy. Latch provides legal assistance, such as redline suggestions and market standard analysis as well as legal aid directly through Microsoft Word Add-In integration for customer convenience.
5. One Law AI
One Law is one of the premier AI legal assistants, offering state-of-the-art communication via its virtual assistant Amelia. Users can interact with her through voice calls, texts messages, emails and chat regarding legal inquiries.
Amelia's comprehensive AI platform navigates business process flows dynamically while working across 40 languages seamlessly – clients can get a glimpse of her by visiting One Law AI's website for a preview experience with Amelia.
One Law is an ideal way of showing legal innovation. Legal professionals, law firms, businesses and organizations of all sizes can rely on Amelia, one of the top AI legal assistants, to record notes for them as well as providing current and accurate legal analysis or any other relevant legal data.
6. DoNotPay (Best AI Legal Tools)
DoNotPay is an AI-powered legal tech platform designed to streamline legal processes for individuals. Joshua Browder created a platform using artificial intelligence to assist users with legal matters ranging from fighting parking tickets and flight delay compensation claims, canceling subscriptions, etc. DoNotPay's user-friendly chat interface enables users to navigate complex legal procedures efficiently without costly lawyers or excessive paperwork.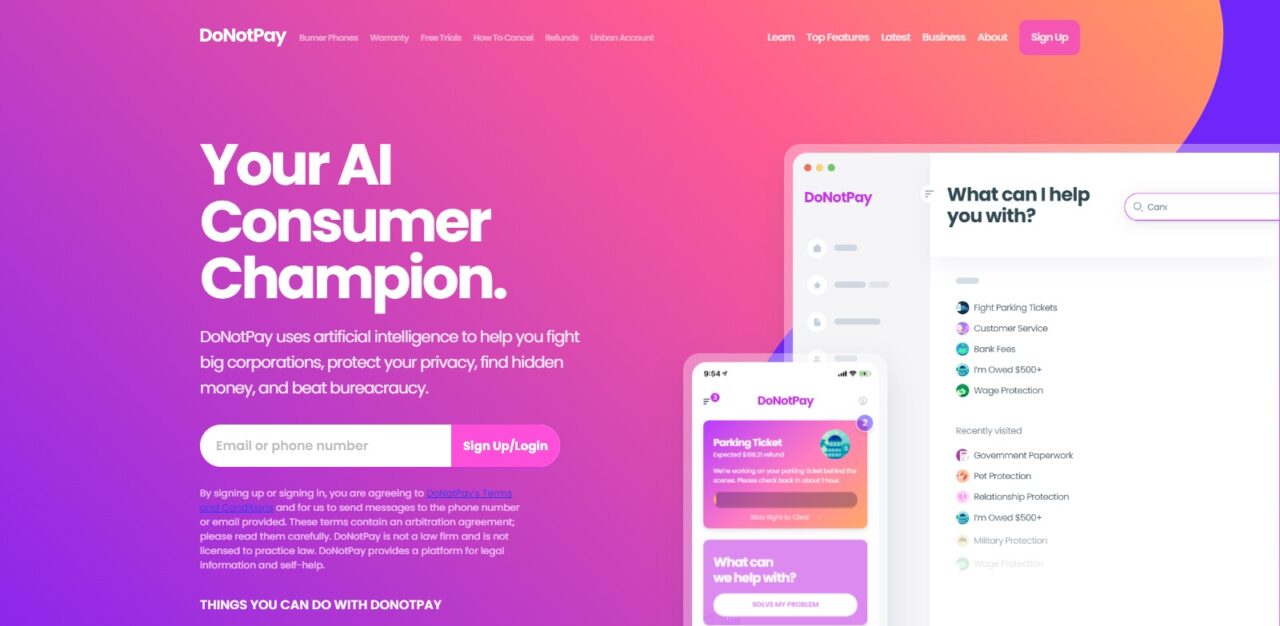 DoNotPay's AI algorithms analyze user input to generate personalized legal advice, while also producing template documents specific to specific cases. With its mission of making legal assistance accessible for everyone, DoNotPay has attracted widespread recognition as well as expanding its services, becoming a valuable tool for individuals looking for cost-effective and efficient legal assistance.
7. Westlaw Edge
Westlaw Edge is an advanced artificial intelligence-powered legal research platform from Thomson Reuters designed to assist legal professionals in conducting thorough and efficient legal research. Westlaw Edge offers users an enhanced, user-friendly experience through cutting-edge technologies such as artificial intelligence, natural language processing and machine learning.
This platform provides access to a comprehensive library of legal materials, such as cases, statutes, regulations and secondary sources; this allows lawyers to quickly locate relevant information while staying abreast of recent legal developments.
Westlaw Edge's AI features, like WestSearch Plus and KeyCite, provide more accurate search results and enable users to identify critical links and risks within their cases more easily. Westlaw Edge's robust capabilities make it an indispensable resource for legal professionals seeking reliable legal insight that they can rely on and take action upon.
8. Bigle Legal (Best AI Legal Tools)
Bigle Legal offers an all-in-one legal tech platform designed to streamline contract management and legal document automation processes. Bigle Legal was designed to streamline complex legal tasks by employing artificial intelligence and natural language processing to efficiently scan contracts and extract key details from them.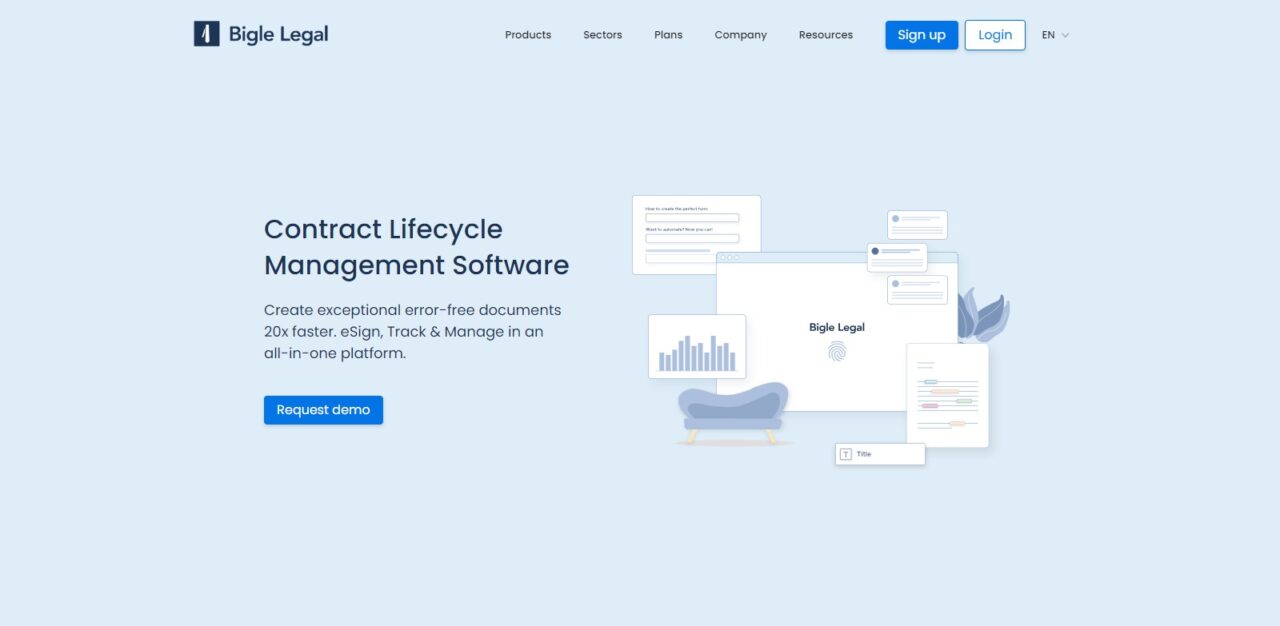 Bigle Legal's platform empowers legal professionals to efficiently create, review and manage contracts while decreasing manual workloads and human errors. Furthermore, its intelligent automation features enable users to generate custom legal documents and templates quickly – saving both time and resources in the process.
Bigle Legal's user-friendly interface and powerful AI capabilities help legal teams collaborate more efficiently. Bigle Legal is now widely trusted by businesses, legal firms, and professionals looking to optimize contract management processes while increasing overall efficiency within the legal realm.
9. Ghostwriter Legal
Ghostwriter OpenAI ChatGPT add-in for Microsoft Office is an innovative writing assistant that helps users efficiently brainstorm, plan and generate content – fast. Built with advanced artificial intelligence, this cutting-edge tool assists writers, professionals, and students alike in producing high-quality documents and articles quickly and effortlessly.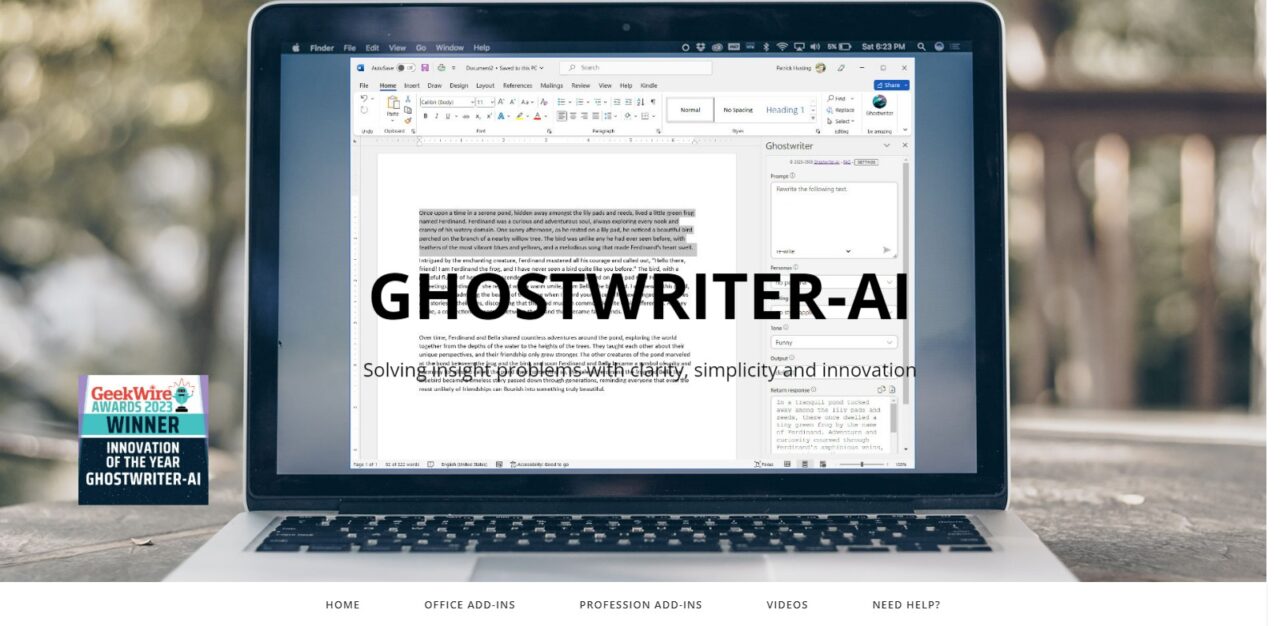 With its intuitive interface seamlessly integrated into Microsoft Office, users can tap into ChatGPT's vast capabilities, using natural language processing to generate creative ideas, structure outlines and produce well-articulated text. Perfect for emails, essays, reports or marketing content creation – Ghostwriter OpenAI ChatGPT add-in is your ultimate companion in increasing writing productivity while creating captivating content like never before.
10. Amto AI (Best AI Legal Tools)
Amto is the ultimate tool for lawyers who want to build strong relationships with their clients through effective communication. It understands that effective communication is about more than just the message – it's also about the tone and style.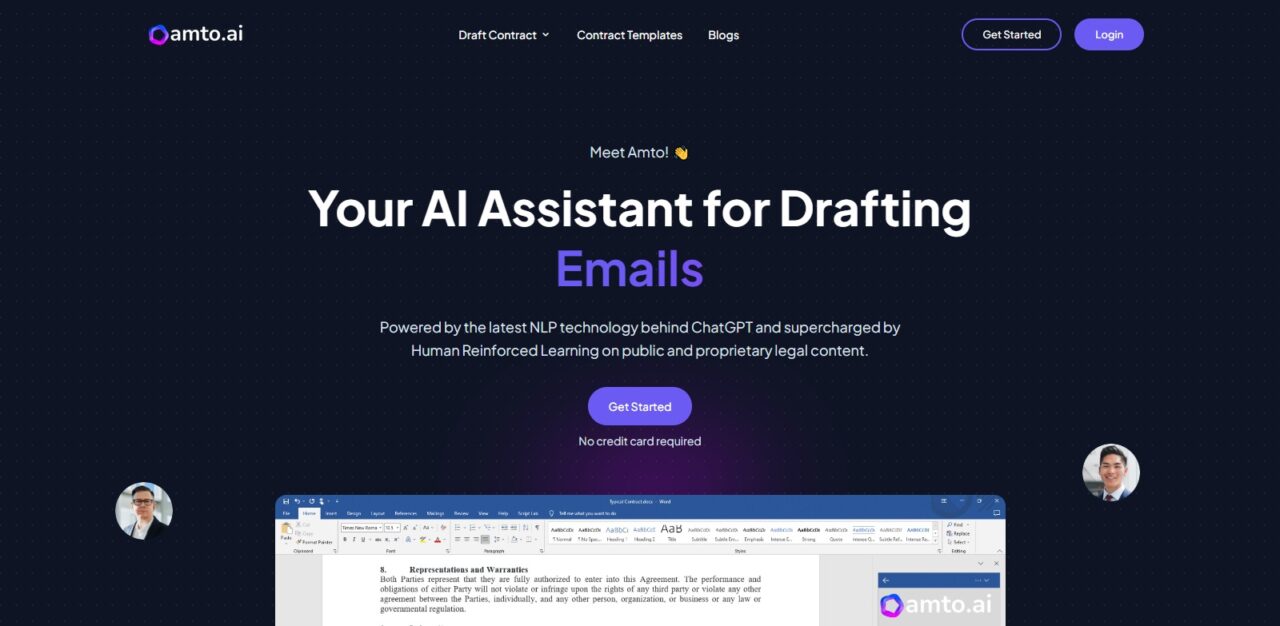 Just as you will use different tones and jargon when communicating with a legal head of a multi-national corporation compared to the owner of a small business, Amto is designed to help you tailor your messages to each individual client, ensuring that your emails are clear, concise, and compelling.
Amto is designed to help you create a lasting impression with your clients so that they trust you and want to work with you again and again. It can automatically generate:
How Much Does AI legal Software cost?
Costs associated with AI legal software vary significantly based on its features, functionality, and capabilities. Different vendors may provide subscription-based models or one-time license fees or usage-based structures as their pricing structures.
Small law firms or solo practitioners typically have more cost-effective options available to them that meet specific needs, such as contract analysis or legal research tools. Such solutions could start as little as several hundred dollars a month or offer pay-as-you-go plans based on usage.
On the other hand, larger law firms and corporations may opt for AI legal software suites with more comprehensive features, which may cost anywhere between several thousand and tens of thousands per year.
Researching and comparing various AI legal software providers is essential to finding one that best meets their needs and budget. Some providers may offer free trials so users can assess its performance before committing to purchase.
Best AI Legal Tools Conclusion
In conclusion, AI legal tools have undeniably revolutionized the legal industry, offering a myriad of benefits that enhance the efficiency, accuracy, and overall quality of legal services. These cutting-edge tools, driven by artificial intelligence, natural language processing, and machine learning technologies, have transformed the way legal professionals approach their work.
From contract analysis platforms that expedite due diligence to AI-powered legal research tools that provide swift access to comprehensive information, these innovations streamline legal processes and reduce human errors. Moreover, AI chatbots and virtual assistants have proven invaluable in managing routine tasks, freeing up valuable time for lawyers to focus on more strategic matters.
With their ability to analyze vast amounts of data, generate insights, and streamline workflow, the best AI legal tools not only optimize efficiency but also enable legal professionals to deliver more effective and client-focused legal solutions. As technology continues to advance, the potential for further advancements in AI legal tools holds promise for an even more transformative future in the legal industry.
Best AI Legal Tools FAQ
What are AI legal tools?
AI legal tools refer to software applications and platforms that leverage artificial intelligence, machine learning, and natural language processing technologies to assist legal professionals in various tasks, such as contract analysis, legal research, and document automation.
How do AI legal tools improve legal processes?
AI legal tools enhance legal processes by automating repetitive tasks, conducting quick and accurate contract reviews, providing efficient legal research, and generating standardized legal documents, all of which save time and reduce human errors.
Which tasks can AI legal tools handle?
AI legal tools can handle a wide range of tasks, including contract analysis, legal research, due diligence, compliance monitoring, e-discovery, legal document automation, and even providing virtual legal assistance through AI-powered chatbots.
How do AI legal tools impact efficiency and productivity?
By automating time-consuming tasks, AI legal tools boost efficiency and productivity for legal professionals. They enable faster data analysis, streamline research processes, and empower lawyers to focus on higher-value strategic work.