Best Alternatives To Google Analytics : As digital presence and marketing become ever more complex, acquiring accurate analytics tools has never been more crucial. Google Analytics has long been the go-to solution for businesses and website owners looking to better understand their audience and optimize online performance, but there has been an explosion of demand for alternative services that offer more features, privacy options, and offer fresh approaches to data analysis.
Join us on this exploration of Google Analytics alternatives as we uncover innovative platforms that not only offer robust analytics but also cater to the evolving needs of users in an age of data privacy and comprehensive insights. Join us as we embark on this adventure and discover powerful alternatives that may change how you think of and utilize data analytics for digital endeavors.
Importance of Finding the Right Alternative To Google Analytics

In the ever-evolving landscape of digital marketing, the importance of finding the right alternative to Google Analytics cannot be overstated. As businesses and website owners navigate the intricacies of online presence, the choice of an analytics platform plays a pivotal role in shaping strategic decisions. While Google Analytics has long been a cornerstone, the diversification of options allows organizations to tailor their analytics approach to specific needs, ensuring a more nuanced understanding of user behavior and engagement.
The right alternative goes beyond mere data collection; it becomes a catalyst for informed decision-making, offering advanced features, enhanced privacy options, and a fresh perspective on data interpretation. In an era marked by growing concerns over data privacy and the need for comprehensive insights, selecting the most suitable analytics alternative becomes a strategic imperative, empowering businesses to optimize performance, refine marketing strategies, and ultimately elevate the overall digital experience for their audience.
How we evaluated Alternatives to Google Analytics?
Our evaluation of alternatives to Google Analytics involved an intensive process centered on essential criteria essential for an all-inclusive analytics solution. We prioritized platforms with robust features for tracking visitor behavior and conversion goals efficiently. Data privacy and security were of primary concern, with an eye towards finding solutions that upheld stringent standards while offering greater control over ownership of data. User-friendliness was assessed to ensure accessibility for people of varying technical levels. Integration capabilities were assessed to ensure seamless compatibility of any chosen alternative with existing tools or workflows.
Cost-effectiveness was of primary concern in this evaluation process, taking into account subscription fees, implementation expenses, scalability considerations, performance evaluation, reliability analysis and real-time insights provided by alternatives. Vendor reputation and support were of utmost importance, with organizations prioritizing vendors with solid track records of customer support. Customization and flexibility also played a pivotal role, enabling organizations to tailor analytics solutions specifically to their individual requirements. By conducting this detailed evaluation, our aim was to find alternatives that not only met Google Analytics' shortcomings but also provided tailored and reliable solutions for organizations looking to advance their digital strategies and overall online performance.
Why to choose a competitor over Google Analytics?
Selecting an alternative solution over Google Analytics requires careful consideration and should take into account the complex needs and priorities of businesses operating in today's digital landscape. One compelling argument lies within data privacy concerns, an ever-increasing topic in today's climate of increased awareness and regulatory reform. Competitors often position themselves as champions of transparent data handling practices, offering users more control over their information while meeting emerging privacy regulations more closely. Beyond privacy concerns, your decision may depend on the advanced features provided by competitors; some offer features tailored specifically for business needs which Google Analytics cannot meet.
Competitors boasting expertise in user engagement analytics, A/B testing or real-time insights offer diverse capabilities that cater to various objectives. User friendliness can also play an essential role, especially for businesses searching for tools with intuitive functionality for users with different levels of technical experience. Cost structures of businesses can have a profound effect on budget decisions, as competitors may offer more attractive pricing models or better returns on investments than their rivals. Customization and flexibility requirements could influence a choice in favour of a competitor who provides greater adaptability for meeting specific business requirements.
Integration capabilities represent another essential consideration, with businesses tending to favor competitors whose tools seamlessly align with their current infrastructure, streamlining workflows and increasing overall efficiency. Companies with extensive and complex analytics needs often seek scalable enterprise-level solutions with features and support tailored specifically for them. There may also be solutions available with features designed to accommodate a large online presence. Opting for an alternative analytics solution such as Google Analytics requires careful consideration, in order to match its specific capabilities with the goals and nuances of an organization, meeting or exceeding all expectations set for digital analytics excellence.
Here Is The List Of 10 Best Alternatives To Google Analytics
StatCounter (Best Alternatives To Google Analytics)
Mixpanel
Kissmetrics
Clicky (Best Alternatives To Google Analytics)
Chartbeat
Woopra
Matomo (Best Alternatives To Google Analytics)
Heap Analytics
Crazy Egg
Adobe Analytics (Best Alternatives To Google Analytics)
10 Best Alternatives To Google Analytics
1. StatCounter (Best Alternatives To Google Analytics)
StatCounter stands out among web analytics platforms with its ease-of-use interface and comprehensive tools for understanding visitor behavior. StatCounter gives website owners and businesses essential tools for tracking and measuring visitors to their website or business site. StatCounter stands out by emphasizing page load tracking to provide insight into website performance and user interactions in an accessible fashion. The platform's user-friendly nature doesn't compromise its effectiveness; in fact, its accessibility allows people with differing levels of technical ability to easily navigate and gain insights effortlessly.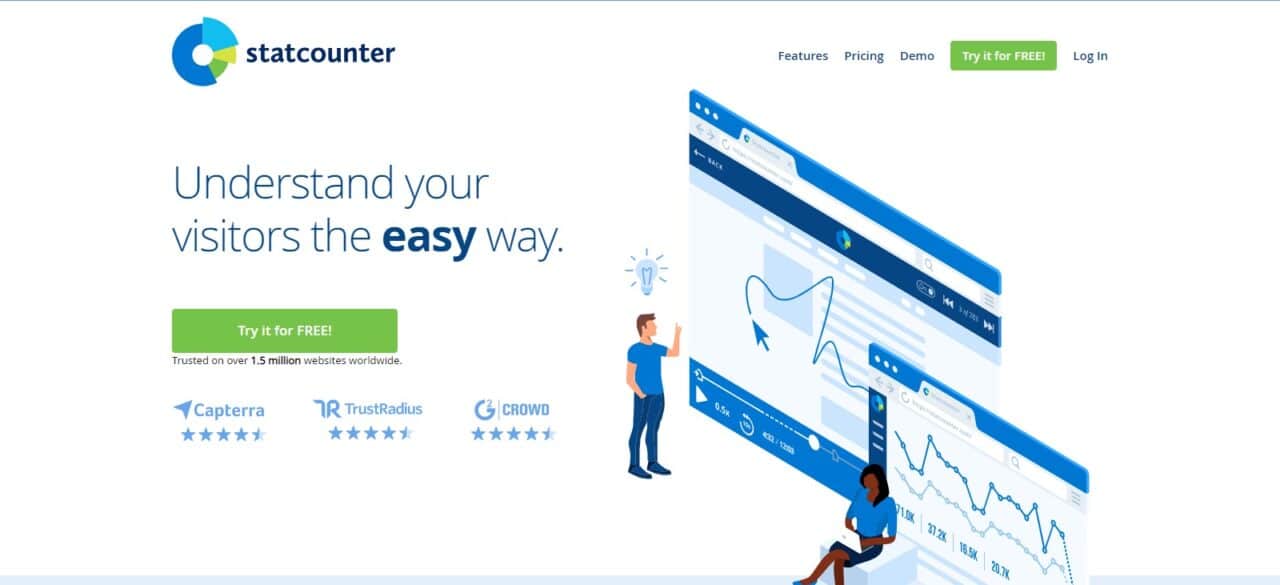 StatCounter offers essential analytics features such as visitor tracking, page views and popular pages – helping businesses to make smart decisions regarding content optimization and user engagement. StatCounter stands out with its customizable alerts feature, keeping users aware of significant changes or trends in website traffic. StatCounter remains an attractive solution that offers reliable yet uncomplicated analytics solutions – offering both essential functionality and intuitive usability in an ever-evolving field of digital analytics.
2. Mixpanel
Mixpanel stands as an industry leader when it comes to analytics, with its emphasis on user engagement insights and behavioral analytics. Mixpanel's reputation for accurately tracking user behavior allows businesses to explore how users interact with their digital products in real-time. Mixpanel stands out with its tailored approach, enabling not only quantitative data analysis but also qualitative insights into user journeys through features like A/B testing and funnel analysis.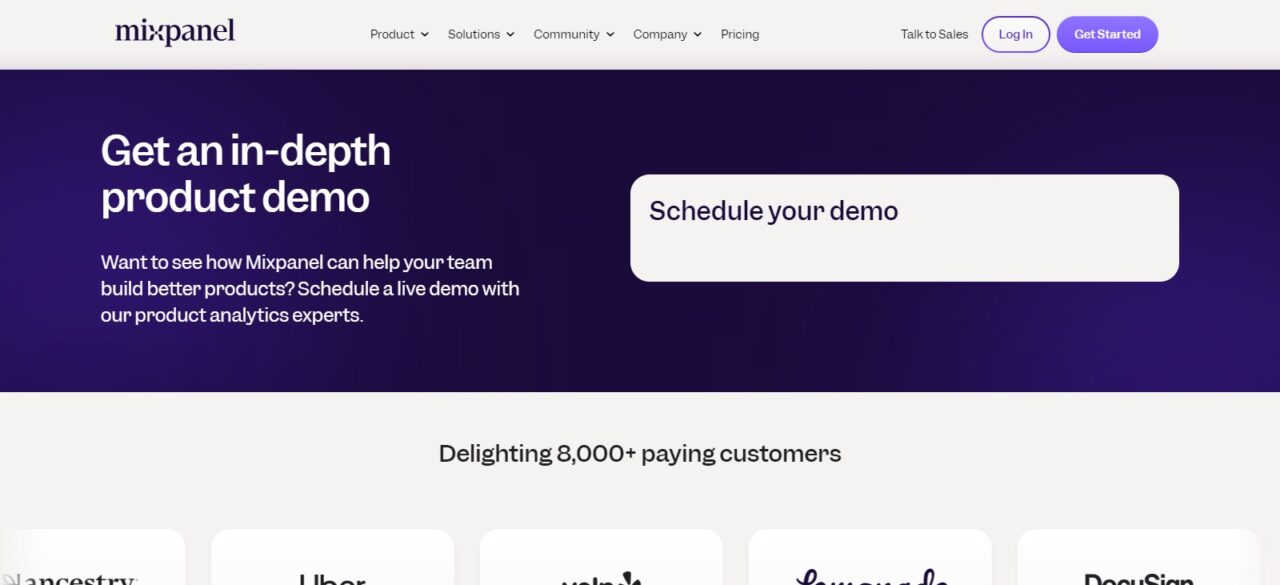 The platform's strength lies in its ability to track and analyze events, providing a granular understanding of user actions while supporting data-driven decision making. Mixpanel offers businesses an invaluable asset when seeking to optimize their products or services based on real-time user feedback. Mixpanel remains an attractive solution for measuring user engagement through sophisticated analytics, offering an intuitive user experience and adapting easily to digital interactions.
3. Kissmetrics
Kissmetrics stands out as a customer-centric analytics platform, providing users with an in-depth view into user behavior and customer journeys. Kissmetrics stands out as an analytics platform with its focus on individual customer experience, going beyond traditional analytics by providing businesses with insights to enable tailored and targeted marketing strategies. Kissmetrics allows businesses to build an in-depth customer profile of their users, which enables the delivery of tailored content and experiences.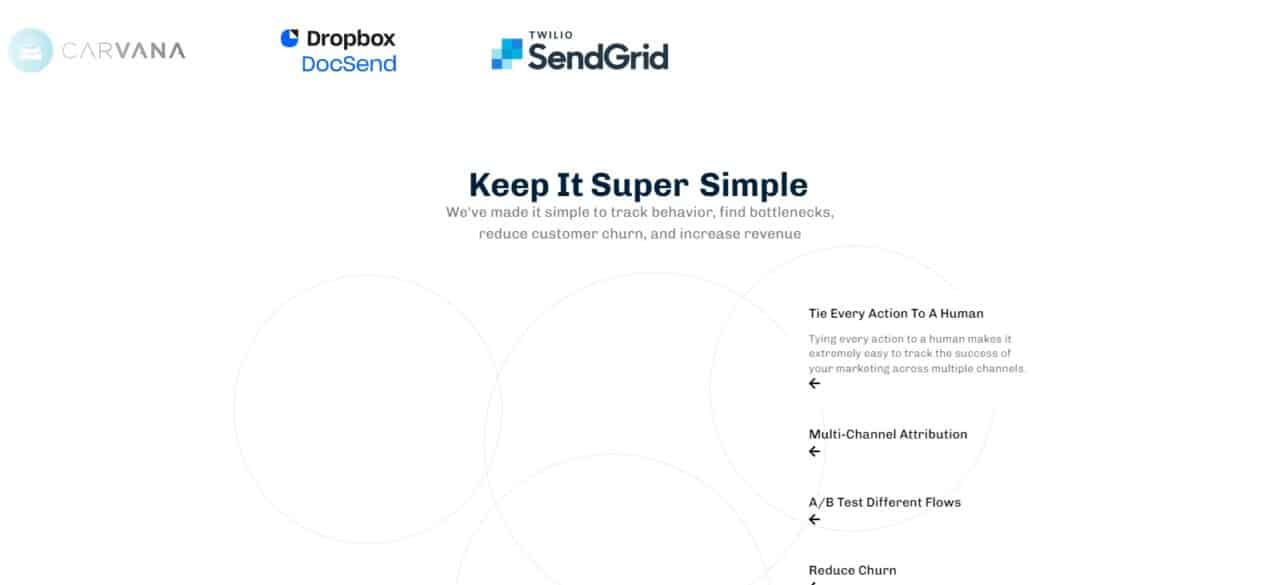 This platform excels in providing businesses with visibility of customer lifetime value by tracking acquisition, conversion and retention from start to finish. As a result, businesses looking to optimize marketing efforts and increase customer lifetime value will find this invaluable. Kissmetrics equips businesses with tools like cohort analysis and funnel tracking that enable them to identify trends, improve user engagement, and enhance overall satisfaction. In an industry crowded by analytics providers, Kissmetrics remains a go-to option for businesses who aim to build meaningful connections with their audiences while taking their marketing strategies further than ever.
4. Clicky (Best Alternatives To Google Analytics)
Clicky stands out as an innovative and user-friendly analytics platform, providing real-time insight into website performance with an emphasis on accessibility and ease of use. What distinguishes Clicky from similar offerings is its intuitive user interface which simplifies complex data for people of varying technical levels. Clicky provides businesses with a comprehensive understanding of user behavior through real-time analytics, heatmaps and session tracking – providing businesses with quick adjustments and optimizations for enhanced business results.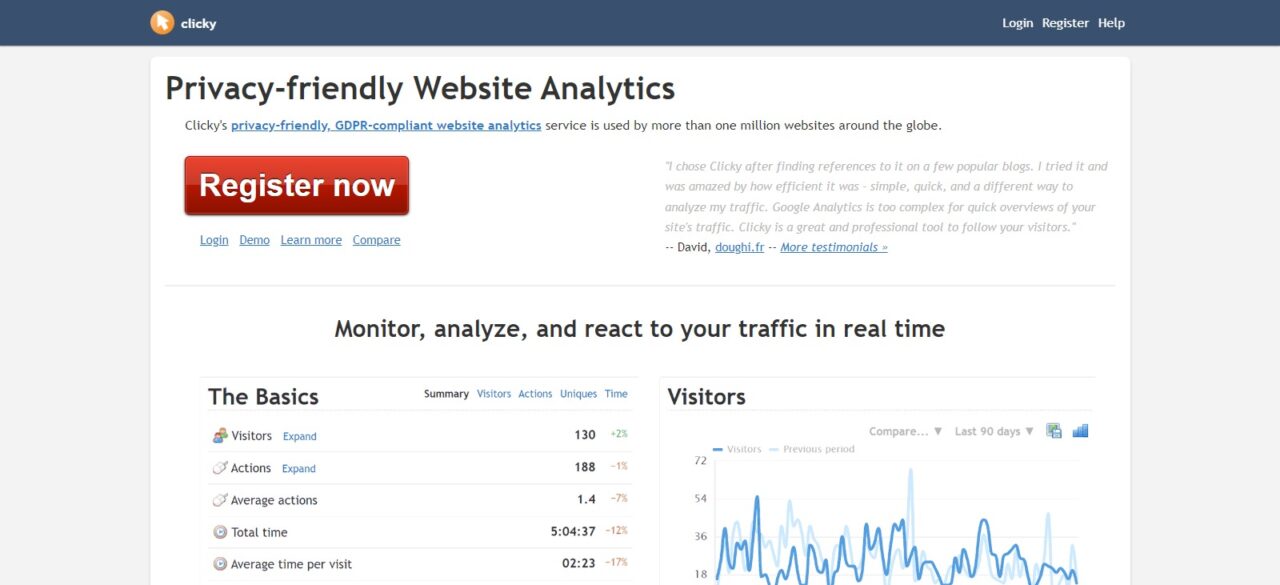 Clicky excels in providing instant data updates, enabling users to monitor website traffic, visitor activities, engagement metrics and engagement rates as they occur. Clicky's heatmaps offer visual representations of user interactions that help businesses refine website design and content placement decisions. Sessions tracking adds depth to analysis by giving insight into user journeys. Clicky's emphasis on simplicity and real-time data accessibility makes it a highly useful analytics solution for businesses, providing them with an uncomplicated yet powerful analytics solution to respond swiftly to user trends and enhance the digital experience for their audience.
5. Chartbeat
Chartbeat stands out as a leader in analytics for content performance and real-time insights. Chartbeat's real-time analytics offer publishers and content creators with the tools necessary to measure audience engagement and content effectiveness. This platform offers instantaneous updates on user interactions, providing publishers with instant insights into website traffic, content popularity and reader engagement in real time. Chartbeat's content performance tracking solutions go well beyond simply measuring reader clickthrough rates – providing deeper insights into how users engage with articles and multimedia.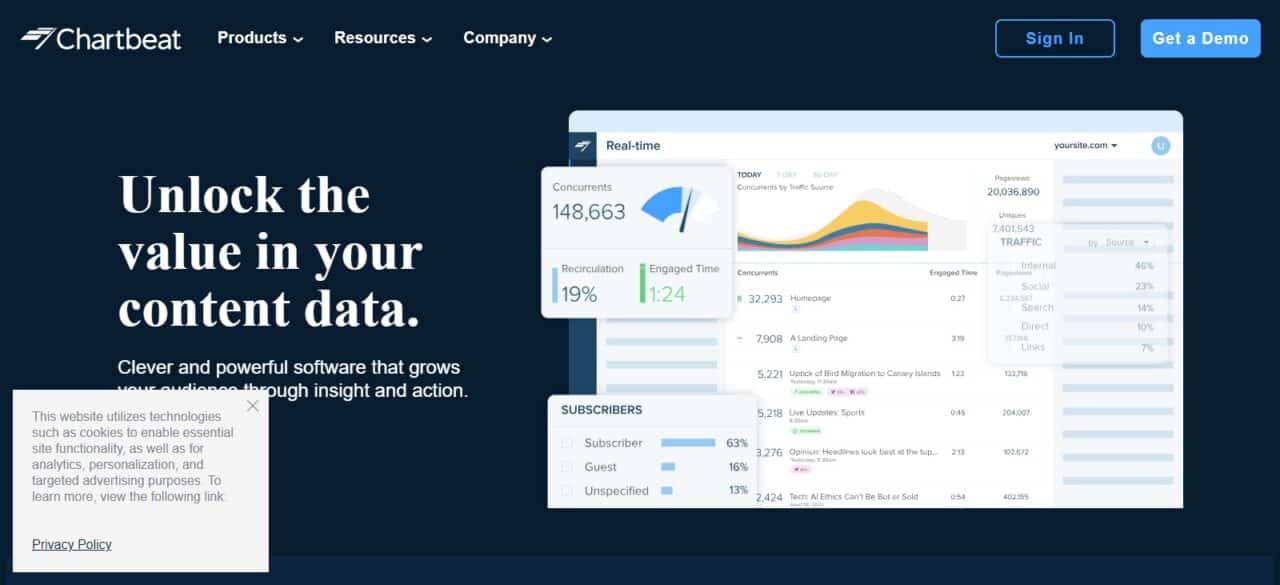 Chartbeat provides publishers with an intuitive platform that facilitates rapid decision-making, optimizing content strategies and increasing audience retention. Chartbeat equips businesses in an ever-evolving digital content landscape with the tools to rapidly modify and adapt content strategies as quickly as audiences change, providing a dynamic yet responsive approach to publishing. As such, Chartbeat stands as an invaluable real-time analytics solution tailored to its changing dynamics.
6. Woopra
Woopra excels as an all-encompassing and real-time customer analytics platform, placing emphasis on understanding user behavior across various touchpoints. Woopra stands out by providing businesses with an integrated view of customer journey, enabling them to track and analyze interactions efficiently. Woopra also stands out by offering insights into every phase of customer lifecycle management – from acquisition, engagement and retention. Real-time analytics capabilities of this platform empower businesses to quickly respond to user activity, optimizing marketing strategies and customer experiences in real time.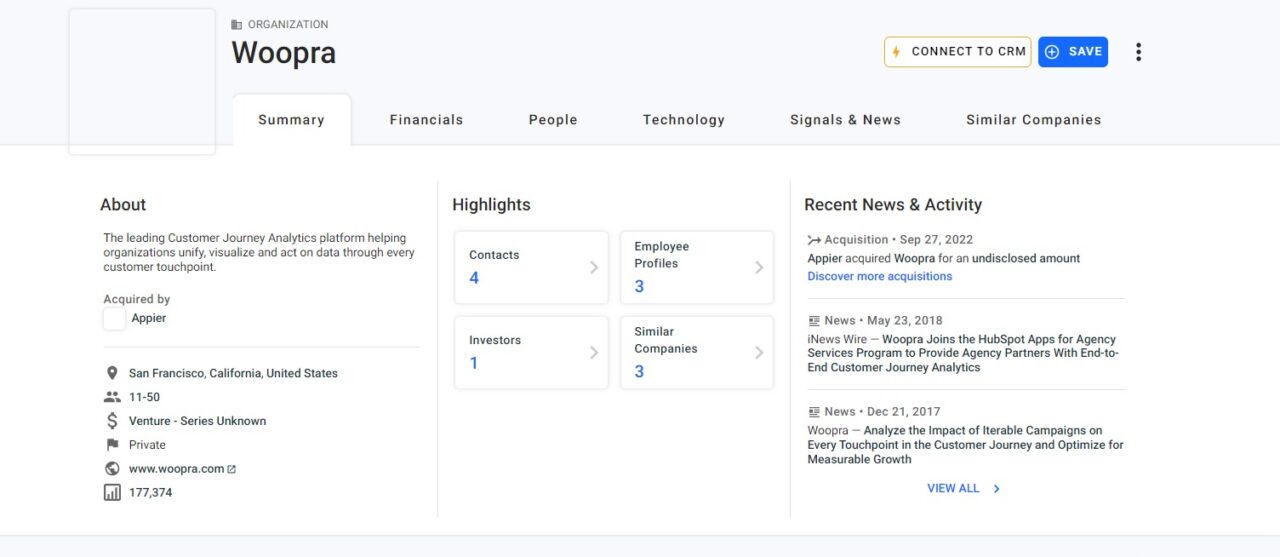 With features like behavioral segmentation and personalization, Woopra allows businesses to develop targeted campaigns for each audience member while forging deeper relationships with them. Woopra's intuitive interface ensures it is accessible to users of varying technical backgrounds, making actionable insights available without an insurmountable learning curve. Woopra stands out as an exceptional tool for customer-centric analytics, excelling at turning data into insightful knowledge that empowers businesses to build long-term relationships and ensure customer satisfaction in today's ever-evolving digital interactions.
7. Matomo (Best Alternatives To Google Analytics)
Matomo (formerly Piwik) offers an innovative and privacy-driven analytics alternative. As an open-source platform, Matomo gives users full control of their data – aligning perfectly with an increased emphasis on data protection and ownership. Matomo stands out by offering customizable analytics, enabling businesses to tailor tracking parameters and dashboards according to specific business needs. This platform offers an expansive set of features for visitor tracking, conversion analytics, and customizable reports – so users can gather actionable insights for better decision-making.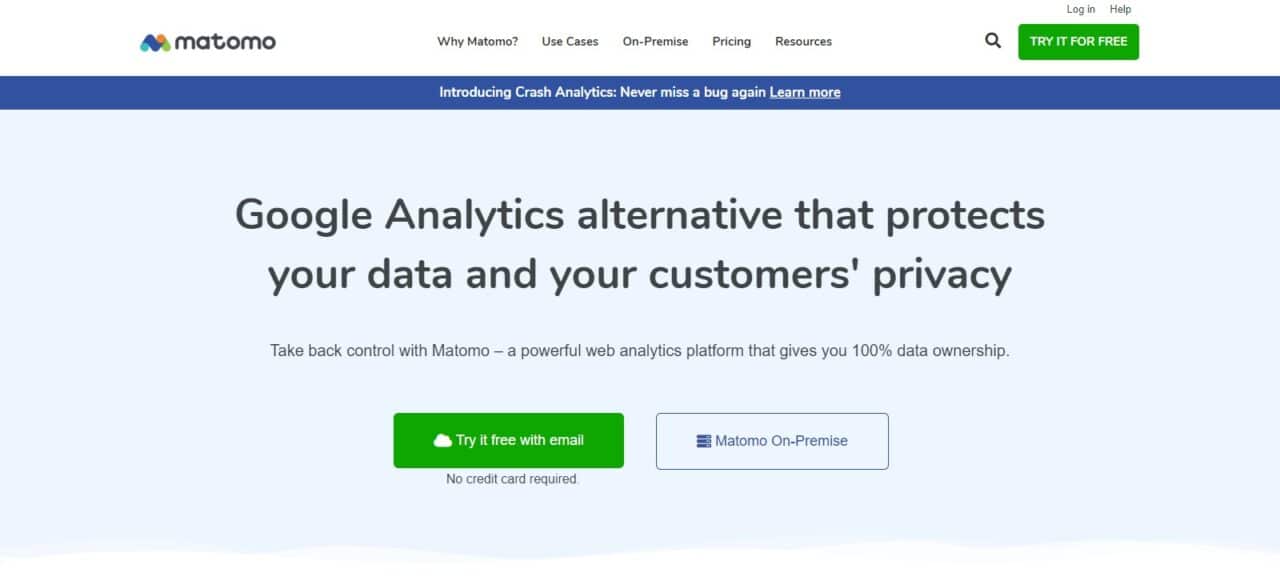 Matomo takes privacy very seriously, with features like IP anonymization and transparent data handling practices. Self-hosted features give organizations more security and compliance controls while remaining compliant. Matomo's open source nature promotes collaboration among users, leading to continual development and innovation. At a time when data privacy is of utmost importance, Matomo stands as a robust yet customizable analytics solution, giving businesses access to data without jeopardizing user privacy or control.
8. Heap Analytics
Heap Analytics stands out as a unique event-driven analytics platform, giving businesses an effective means of comprehending user interactions. Heap Analytics goes beyond traditional analytics tools in its capture of all user interactions automatically, offering a more holistic and flexible perspective than predefined events can offer. Heap Analytics' event-based model empowers businesses to track and analyze specific user actions without manually instrumentation, making the analytics process accessible to people of varying technical backgrounds. Visual user interface of the platform enables intuitive data exploration and analysis for quick spotting of trends and insights.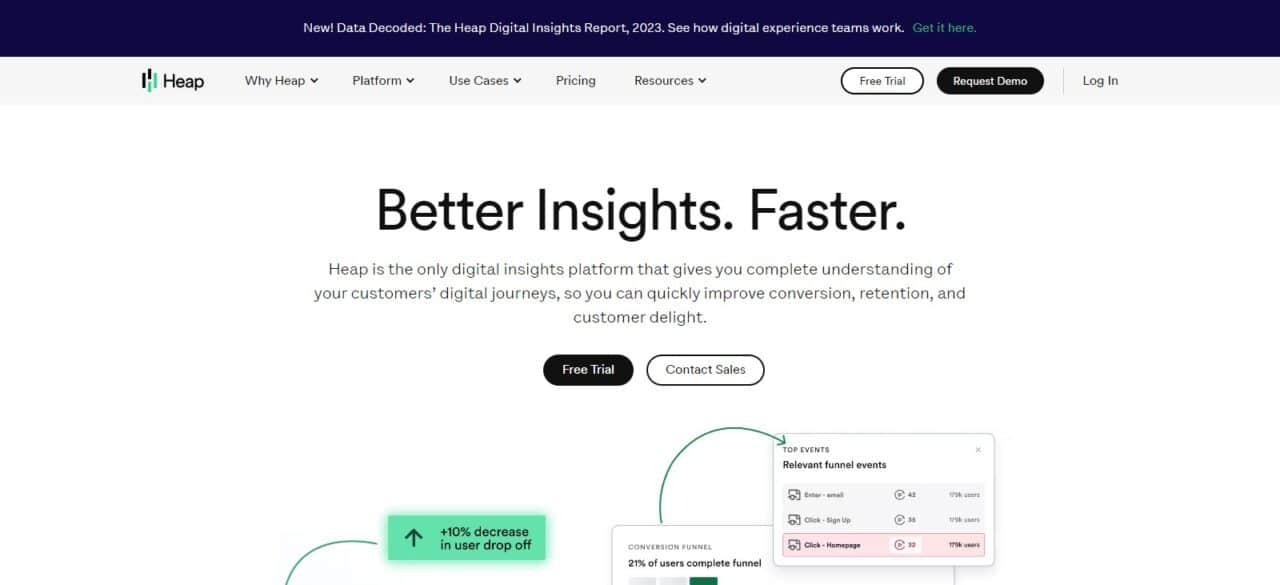 Heap Analytics equips businesses with the tools needed to optimize user journeys and enhance overall user experience, including funnel analysis, retention tracking and segmentation features. Heap Analytics stands out for its flexibility and emphasis on real-time insights, making it an invaluable asset to businesses seeking an agile yet user-friendly analytics solution. Heap Analytics stands out as an innovator of event-based analytics; pioneering event tracking without restricting meaningful insight. Heap Analytics stands out as being an innovator of data analysis as it allows organizations to derive meaningful insight without manually tracking events.
9. Crazy Egg
Crazy Egg has established itself as an indispensable player in the analytics space, renowned for its range of tools that offer unique insights into user behavior. The platform's hallmark feature is its use of visual data representation tools like heatmaps, scrollmaps, and user recordings to provide businesses with an eye-opening illustration of how users engage with their websites. Crazy Egg's heatmap technology helps businesses understand where users are clicking, scrolling and engaging most – an insight which allows for strategic optimization of website design and content placement.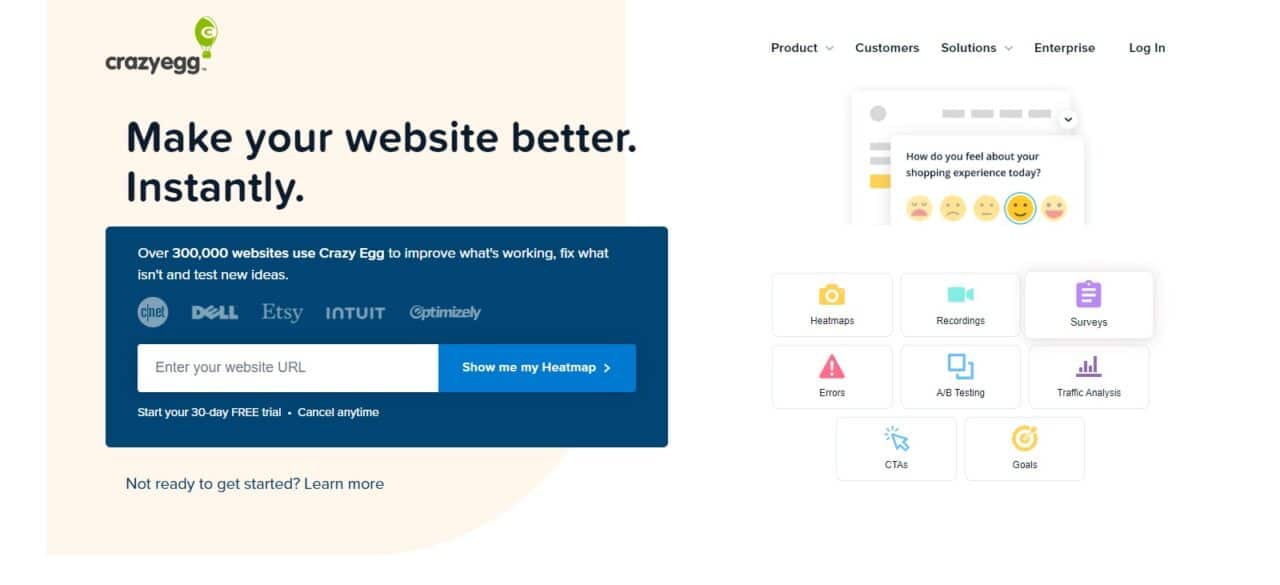 User recordings add depth to analysis, providing firsthand experience of individual user journeys and interactions. Crazy Egg's visual approach makes complex data digestible for users of all technical proficiency. Crazy Egg's A/B testing and reporting tools equip businesses to quickly make data-driven decisions quickly and optimize their online strategies for maximum user engagement. Crazy Egg provides an invaluable analytics solution that enhances user experience on websites by visually appealing analytics that help boost visitor interaction and conversion rates.
10. Adobe Analytics (Best Alternatives To Google Analytics)
Adobe Analytics stands out as a pioneering digital analytics solution, catering to large organizations' complex and ever-evolving analytics requirements. Adobe Analytics, seamlessly integrated into Adobe Marketing Cloud, offers an expansive and effective set of tools for examining user behavior across different digital channels. This platform excels at providing real-time analytics that empower businesses to make immediate and informed decisions based on the latest insights. Depth of Analytic Capabilities.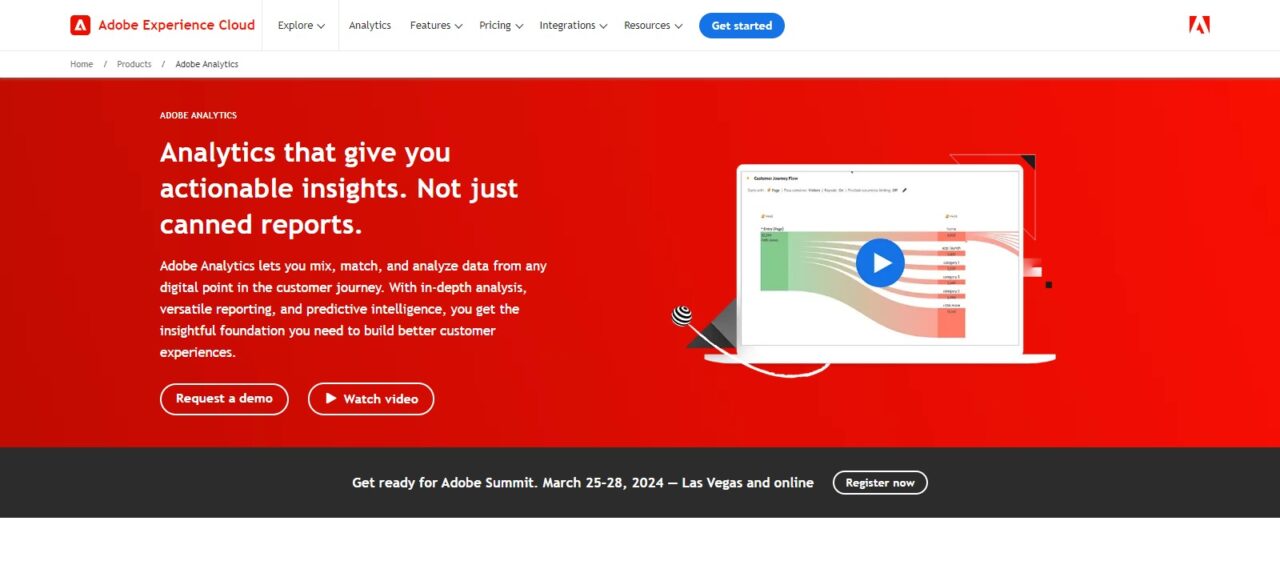 Advanced features, such as segmentation, attribution modeling and predictive analytics give organizations a holistic perspective of their digital performance. Adobe Analytics goes far beyond traditional website analytics, extending app analytics for businesses with multiple touchpoints. Through data visualization and customizable reporting features, Adobe Analytics ensures businesses can extract actionable insights efficiently. With its capacity for processing massive amounts of data and providing sophisticated analytics, Big Data tools are invaluable assets for enterprises seeking to maximize digital strategies, enhance customer experiences, and gain a competitive edge in today's constantly shifting digital environment.
How to choose a QuickBooks alternative?
Define Your Business Requirements: Outline your accounting and financial management needs. Include things such as invoicing, expense tracking, payroll processing, inventory control and reporting in this process.
Consider Scalability: Evaluate the scalability of your business. Select an alternative which can grow with you as your operations expand; accommodating increased transactions, users, and data as necessary.
Compare Features of QuickBooks With Alternative Solutions: Inspect the features available through QuickBooks against those available through potential alternatives. Look out for key functionalities, such as bank reconciliation, financial reporting and tax preparation capabilities as well as integration capabilities with other business tools.
Budget Considerations: Assess your financial constraints and compare pricing structures of different alternatives. Keep an eye out for any hidden fees, subscription plans or additional costs for advanced features that might arise.
Integration Capabilities: Take into account how easily this software integrates with other tools used by your business, such as CRM systems, e-commerce platforms or payment gateways. Seamless integration will streamline workflow and increase overall efficiency.
Trial Period: Many accounting software solutions offer a trial period. Take advantage of it to test its functionality in real life settings before making your commitment. Doing this allows you to determine whether the software meets all your expectations or not.
Conclusion : Best Alternatives To Google Analytics
As evidenced by our exploration of alternatives to Google Analytics, a diverse landscape of powerful analytics platforms exist; each one offering distinct features and benefits. Matomo stands out as a customizable and comprehensive solution, thanks to its open-source base and focus on user privacy. Mixpanel excels in user engagement analytics and A/B testing, offering an innovative approach to data analysis. Meanwhile, Adobe Analytics, an enterprise-level solution with robust features and seamless integration with Adobe Marketing Cloud, stands out for its comprehensive approach and robust integration features.
Clicky offers real-time analytics, heatmaps and an intuitive user experience while StatCounter excels in page load tracking analytics for those seeking an efficient yet straightforward analytics option. Your decision between these alternatives depends on your business needs, be they enhanced privacy concerns, user engagement goals, enterprise-scale scalability needs, real-time insights or ease of analytics. Exploring alternatives to Google Analytics provides businesses with opportunities to redefine their analytics strategy and enhance their digital presence. Finding an alternative must fit seamlessly with each enterprise's goals and priorities for maximum effectiveness.
FAQ'S : Best Alternatives To Google Analytics
Why consider alternatives to Google Analytics?
Though Google Analytics remains widely utilized by businesses, alternative options should be explored due to concerns over data privacy or needing more specialized features for data analysis. Businesses also explore alternatives because it allows for diverse perspectives when performing data analyses.
How do these alternatives prioritize data privacy?
Matomo is an open-source platform that prioritizes user privacy. It enables organizations to retain control over their data while meeting rising concerns over privacy regulations and user information protection.
What sets Mixpanel apart from its alternatives?
Mixpanel stands out by offering businesses advanced tools for user engagement analytics and A/B testing to better understand and optimize user interactions – making it the ideal solution for businesses prioritizing user experience.
Can Adobe Analytics meet the complex analytic needs of large enterprises?
Absolutely, Adobe Analytics is designed to meet these complex demands seamlessly integrated with Adobe Marketing Cloud – offering comprehensive tools for detailed data analysis.
Why does Clicky stand out in terms of usability?
Clicky stands out due to its real-time analytics, heatmaps and user-friendly interface. Its intuitive design enables it to meet the needs of people of varying technical expertise levels with an efficient analytics experience.
Why should StatCounter be considered?
StatCounter stands out as an attractive solution thanks to its ease-of-use and focus on page load tracking; these features make it a reliable option for businesses seeking simple analytics with essential tracking features that prioritize ease-of-use and simplicity.
Can these alternatives integrate with other tools?
Absolutely – most of these alternatives feature integration capabilities for seamless integration between their analytics platforms and other tools such as CRM systems or e-commerce platforms for creating a cohesive digital ecosystem.
Are these alternatives cost-effective?
Cost effectiveness depends on a business's individual requirements and budget constraints, so it is necessary to carefully examine pricing structures, such as subscription plans, features included and potential scalability expenses when making this determination.
How can businesses transition from Google Analytics to these alternatives?
Transitioning involves several steps such as exporting data from Google Analytics, configuring an alternate system, and making adjustments as desired. Many platforms provide guides and assistance for an easy migration.
Which option is the best choice?
It depends on your requirements and preferences as a business. Matomo, Mixpanel, Adobe Analytics, Clicky and StatCounter each provide unique advantages when selecting an analytics solution that best meets the organization's goals and priorities for analytics.