Best Walking Simulator Games of All Time The world of gaming extends beyond action-packed battles and complex puzzles, and walking simulator games have emerged as a captivating genre that places storytelling and immersion at the forefront. Among the best walking simulator games of all time, titles like "Firewatch" stand out for their stunning visuals and emotionally charged narratives set against breathtaking natural landscapes. "Journey" offers a unique online multiplayer experience where players traverse a vast desert, fostering connections without the need for traditional communication. "
The Stanley Parable" challenges player agency in a humorous and surreal office environment, while "What Remains of Edith Finch" masterfully weaves a series of poignant family stories. These games, and others like "Dear Esther," "Gris," and "Gone Home," exemplify the genre's ability to deliver powerful storytelling and evoke deep emotional responses through immersive exploration and interaction. These titles have solidified their places in the gaming pantheon, showcasing that sometimes, the journey is the destination.
What is Walking Simulator Games ?
Walking simulator games, often referred to as "interactive storytelling" or "environmental narrative games," are a unique genre within the video game industry. Unlike traditional games that focus on intense action, combat, or complex puzzles, walking simulator games prioritize immersive storytelling and exploration. In these games, players assume the role of a character who navigates carefully crafted virtual environments, typically on foot.
The primary objective is to uncover a rich narrative, piece together a story, or explore the emotions and experiences of the protagonist. These games often lack traditional challenges and gameplay mechanics, emphasizing the player's interaction with the game world and its characters. Walking simulator games excel in creating atmospheric and emotionally resonant experiences,
inviting players to immerse themselves in captivating narratives and thought-provoking themes. While they may not appeal to everyone, these games have found a dedicated audience who appreciates their unique approach to interactive storytelling and the profound impact they can have on players.
Here is list of Best Walking Simulator Games of All Time
Tacoma
INFRA
Virginia
Dear Esther
Firewatch
Layers of Fear
The Stanley Parable
7 Best Walking Simulator Games of All Time
1. Tacoma
Tacoma is a notable walking simulator game developed by Fullbright, known for their work on "Gone Home." Released in 2017, Tacoma takes players on a mysterious and emotionally charged journey aboard an abandoned space station. Players assume the role of Amy Ferrier, a contractor tasked with retrieving AI data and uncovering the fate of the station's missing crew members. What sets Tacoma apart is its innovative use of augmented reality (AR) technology,
which allows players to view holographic recordings of past events, offering a unique way to explore the narrative. The game excels in environmental storytelling, using clues and interactions to gradually unveil the complex relationships and personal stories of the characters. With its atmospheric setting and emphasis on character-driven storytelling, Tacoma exemplifies the walking simulator genre's ability to deliver immersive and emotionally resonant experiences in the world of video games.
2. INFRA (Best Walking Simulator Games of All Time)
INFRA is a unique walking simulator game developed by Loiste Interactive. Released in episodes between 2016 and 2018, INFRA places players in the role of a structural analyst and engineer tasked with inspecting and assessing the deteriorating infrastructure of a fictional city. Unlike many walking simulators, INFRA combines narrative exploration with a focus on realism and urban decay.
Players must navigate through a decaying and often dangerous urban environment, solving puzzles and documenting the city's structural issues. The game's emphasis on urban exploration and the consequences of neglecting infrastructure sets it apart from traditional walking simulators, offering a thought-provoking and immersive experience that encourages players to contemplate the complexities of modern urban life and the importance of infrastructure maintenance.
3. Virginia
Virginia is an intriguing walking simulator game developed by Variable State and published by 505 Games. Released in 2016, the game takes players on a surreal and mysterious journey as FBI agent Anne Tarver, investigating a small town in Virginia. Known for its distinctive narrative approach, Virginia unfolds without the use of spoken dialogue, relying on visual storytelling,
music, and atmospheric cues to convey its enigmatic narrative. Players uncover a web of conspiracies, secrets, and personal dilemmas as they explore the town's past and present. Virginia's unconventional storytelling and dreamlike atmosphere offer a unique and immersive experience,
inviting players to interpret its narrative in their own way. It's a testament to the walking simulator genre's ability to challenge traditional storytelling conventions and create memorable, emotionally resonant experiences within the world of video games.
4. Dear Esther (Best Walking Simulator Games of All Time)
Dear Esther, developed by The Chinese Room and originally released as a mod in 2008 before its standalone release in 2012, is a seminal walking simulator game that has had a profound impact on the genre. Set on a remote Hebridean island, the game is an atmospheric exploration of loss, memory, and isolation.
Players take on the role of an unnamed protagonist who traverses the desolate landscape, uncovering a fragmented and emotionally charged narrative through voiced-over letters. What distinguishes Dear Esther is its minimalist gameplay, with no traditional puzzles or combat, allowing players to fully immerse themselves in the hauntingly beautiful world and narrative. The game's poetic and introspective storytelling has resonated with players, making it a hallmark of the walking simulator genre, and highlighting the power of interactive storytelling in video games.
5. Firewatch
Firewatch, developed by Campo Santo and released in 2016, is a standout example of the walking simulator genre, renowned for its breathtaking visuals, emotional storytelling, and atmospheric world-building. Set in the Wyoming wilderness during the late 1980s, players step into the boots of Henry, a fire lookout, as he navigates the vast and picturesque Shoshone National Forest.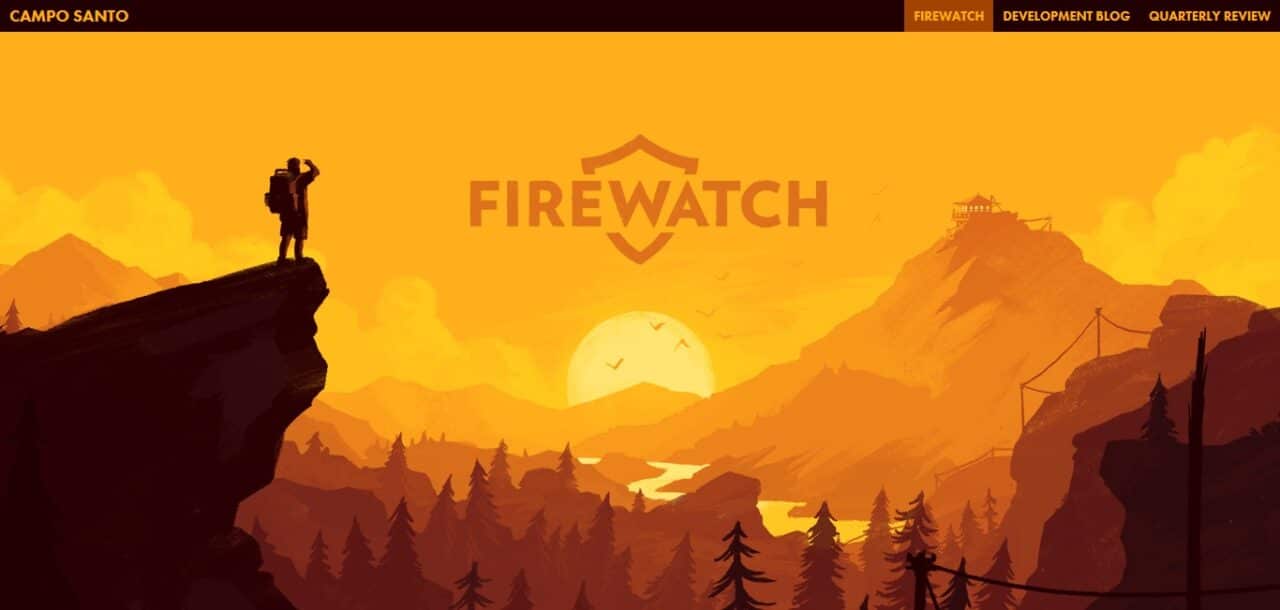 The heart of the game lies in Henry's radio conversations with his supervisor, Delilah, forming a deep and evolving emotional connection as they uncover a mystery within the forest. Firewatch combines stunning natural landscapes with a poignant and character-driven narrative, exploring themes of isolation, loss, and human connection.
It exemplifies the genre's ability to deliver profound and immersive experiences through exploration, storytelling, and the player's emotional investment in the characters and their journey. Firewatch stands as a remarkable achievement, celebrated for its artistic and emotional impact within the world of video games.
6. Layers of Fear (Best Walking Simulator Games of All Time)
Layers of Fear, developed by Bloober Team and released in 2016, is a walking simulator game with a strong emphasis on psychological horror. Players step into the shoes of a tormented painter as they explore a nightmarish mansion filled with unsettling and surreal imagery. The game masterfully employs a sense of dread, as players slowly unravel the painter's descent into madness through environmental storytelling and hallucinatory sequences.
Layers of Fear is lauded for its immersive and unsettling atmosphere, which keeps players on edge throughout their journey. The game's narrative-driven approach to horror showcases the genre's versatility, demonstrating that walking simulators can deliver intense psychological experiences that rival traditional horror games in their ability to provoke fear and unease.
7. The Stanley Parable
The Stanley Parable, developed by Davey Wreden and released in its updated form in 2013, is a thought-provoking and brilliantly satirical walking simulator game. The game challenges traditional notions of player agency and narrative control. Players assume the role of Stanley, an office worker, who suddenly finds himself in a world where his actions are continuously narrated by a sardonic and omnipresent narrator.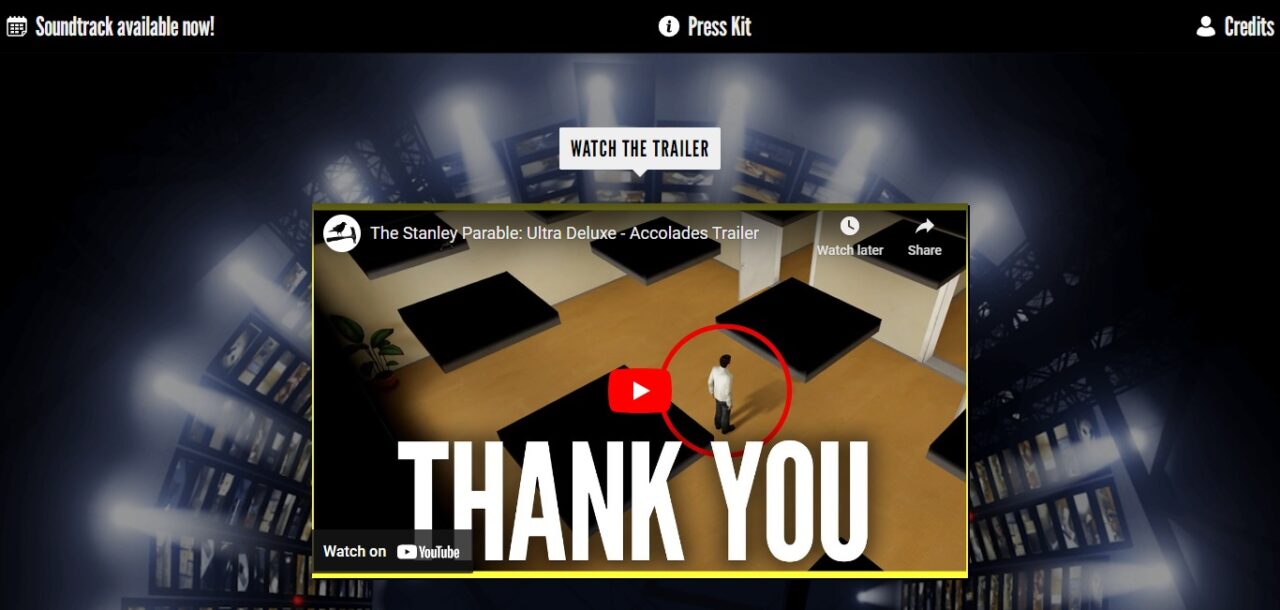 The game subverts player expectations and offers a plethora of branching pathways and choices, each leading to a unique narrative outcome. It's a commentary on free will, conformity, and the relationship between players and game narratives. The Stanley Parable is celebrated for its wit, humor, and ability to provoke players to question their role in video game storytelling. It exemplifies how walking simulators can push the boundaries of interactive narrative and offer a truly unique gaming experience.
Best Walking Simulator Games of All Time Conclution
In conclusion, the world of gaming has been enriched by the emergence of walking simulator games, a genre that prioritizes storytelling, atmosphere, and emotional immersion over traditional gameplay mechanics. The best walking simulator games of all time have demonstrated the profound impact that interactive narratives can have on players.
From the breathtaking beauty of "Firewatch" and the enigmatic storytelling of "Dear Esther" to the mind-bending exploration of "The Stanley Parable" and the unsettling horror of "Layers of Fear," these games have showcased the diverse storytelling potential within the genre.
Walking simulator games invite players to step into evocative worlds, engage with complex characters, and contemplate thought-provoking themes, challenging the conventional boundaries of what video games can achieve. As the genre continues to evolve, it promises to deliver even more innovative and emotionally resonant experiences, cementing its place as a unique and cherished part of the gaming landscape.
Best Walking Simulator Games of All Time FAQ
What are walking simulator games?
Walking simulator games, also known as environmental narrative games or interactive storytelling games, are a genre of video games that prioritize exploration, atmosphere, and storytelling over traditional gameplay mechanics like combat or puzzles. Players often navigate through carefully crafted virtual environments to uncover narratives, emotions, and themes.
What makes a walking simulator game enjoyable?
Enjoyment in walking simulator games typically comes from immersive storytelling, atmospheric world-building, and emotional engagement. These games often excel in creating thought-provoking narratives and evoking strong emotions through player interaction and exploration.
Are walking simulator games suitable for players who prefer action or challenging gameplay?
Walking simulator games may not appeal to players seeking action-packed or challenging gameplay. These games focus on narrative and exploration, making them more suitable for those who appreciate storytelling and immersion over traditional gaming challenges.
What are some key examples of the best walking simulator games?
Some notable examples include "Firewatch," "Dear Esther," "The Stanley Parable," "Gone Home," "What Remains of Edith Finch," "Journey," and "Layers of Fear," among others. These games are celebrated for their storytelling and unique approaches to narrative-driven experiences.
Can walking simulator games be scary or include horror elements?
Yes, some walking simulator games, like "Layers of Fear," incorporate horror elements to create suspenseful and unsettling experiences. The genre's flexibility allows for a wide range of emotional tones and themes.