Today's Article Will Introduce You To What Binance Smart Chain Is And Some Of The Outstanding Projects Inside.
What is Binance Smart Chain?
Binance Smart Chain Is A Blockchain That Works In Tandem With Binance Chain . Simply Put, Binance Smart Chain Is A Blockchain Clone Of Ethereum On Binance, It Can Perform Smart Contract Creation, Compatible With Ethereum's Evm Virtual Machine, And At The Same Time, Bsc Also Supports Cross-chain With Binance Chain.
Binance Smart Chain Does Not Use A New Token, But Always Uses Binance Coin (Bnb) As The Main Token. This Greatly Improves The Efficiency And Scope Of Applications Of Binance Chain And Bnb.
How Does Binance Smart Chain Work?
Binance Smart Chain Uses The Proof Of Staked Authority (Posa) Algorithm, A Hybrid Model Of Proof Of Stake And Proof Of Authority . In Bsc, The Network's Validators Are Those Who Stake A Certain Amount Of Bnb And Then Receive Transaction Fees When They Validate Blocks That Are Approved On The Network.
As Mentioned, BSC And BSC Are Designed To Work In Sync, And Binance Has Built-in Cross-chain Compatibility Between Them. Assets Can Be Moved Quickly Between Blockchains, Thus Combining The Quick Transaction Capabilities Of The Former With The Smart Contract Functionality Of The Latter. Similarly, Binance Chain's Bep-2 And Bep-8 Tokens Can Also Be Swapped With Smart Chain's Bep-20 Tokens .
Additionally, Compatibility With Evm Means That Dapp Creators On Other Blockchains Can Migrate Them To Binance Smart Chain With Relative Ease. This Could Be Especially Appealing To Dapp Operators As Ethereum Continues To Grow And Gas Fees Rise, Although Ethereum's Planned Transition To Proof-of-stake Model In Ethereum 2.0 Could Alleviate Some Concerns About The Current Scale.
The Main Advantages Of Binance Smart Chain
The Proposed BSC Solution Combines The Best Of Both Technologies Together. Short Block Generation Times And Low Transaction Costs Will Help New Users Convert Assets Faster With Lower Transaction Fees. At The Same Time, Evm-compatible Programmability And Cross-chain Communication Will Improve Work Efficiency For Programmers.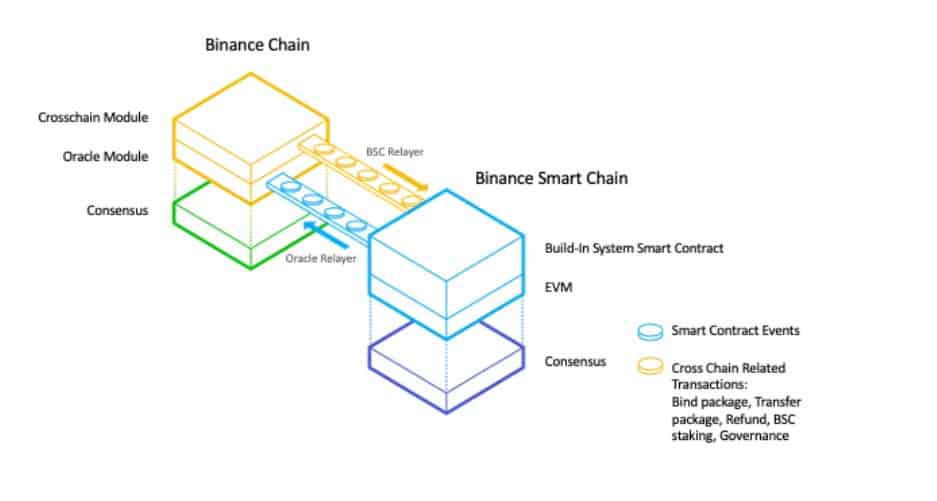 The Idea Of ​​setting Up Binance Smart Chain Is Special Thanks To The Following Factors:
1-BSC Is An Independent Blockchain That Provides Security And Safety To All Users And Developers.
2-BSC Is Evm-compatible And Will Support All Existing Ethereum Engines With Faster And Cheaper Transactions.
3-Smart Chain's Interoperability Between Two Blockchains Will Enable Cross-chain Communication And Scaling For High-performance Dapps That Expect A Fast And Smooth User Experience.
4-Smart Chain's On-chain Governance Through The Proof-of-staked Authority Consensus Mechanism, Which Combines 21 Transaction Validators, Will Bring Decentralization And Greatly Increase The Ability To Participate In Decisions. Community Determination.
Who Can Use Binance Smart Chain?
Binance Smart Chain Will Serve All Developers Who Want To Build Applications With Smart Contract Feature, Especially Dapps That Focus On Tradable Digital Assets, As BSC Also Allows Development Issue Digital Tokens And Trade On Both Chains.
It Also Presents An Attractive Opportunity For Bnb Holders Interested In Staking Bnb To Support The Development Of BSC And Receive Rewards.
Future Of Binance Smart Chain
Binance Smart Chain Officially Launched In Early September 2020 After The Concept Was Announced At The Beginning Of The Year. Even So, Binance Is Making A Big Push Behind The Platform Thanks To Its $100 Million Backing Fund For Defi Applications And Emphasizing The Benefits Of The Dual-chain Approach.
Interestingly, The Launch Of BSC And Efforts To Attract Defi Developers Go Against Binance's Core Business Of Being A Centralized Exchange. According To The Company, It Is Constantly Trying To "Innovate" Itself.
A BSC Launch Post Reads:
For some, the arrival of DeFi means a departure from centralized blockchain platforms. This could be interpreted as a threat to services like Binance. However, we completely disagree. For us, DeFi is an opportunity to provide better solutions for the blockchain world.
We will see if the blockchain world agrees and makes BSC the leading blockchain platform for dapps in the coming years.
Featured Projects That Build Or Integrate Binance Smart Chain (Bsc)
Oracle
Oracle is a system that provides real-time data for blockchains and smart contracts. Thanks to Oracle, blockchain and smart contract (on-chain) can interact with external data (off-chain).
The 3 prominent Oracle projects on BSC are:
Chainlink : The market leading Oracle project has announced a successful integration with BSC.
Band Protocol : By market capitalization, Band Protocol is Chainlink's most formidable competitor in the Oracle segment, Band Protocol announced its integration with BSC recently.
Gravity : A Crosschain-enabled Oracle Network announces the integration of BSC.
AMM
AMM (Automated market maker) is a trading method that uses an algorithm to calculate the token price at the time of purchase. The AMM mechanism does not have a seller concept, instead, the smart contract will act as an intermediary, the seller puts the assets in a place called the liquidity pool, then the buyer will swap the assets they have with the assets. assets in the pool through smart contract.
The 3 outstanding AMM projects on Binance Smart Chain are:
Bounce: A Swap Token platform similar to Balancer.
PancakeSwap : AMMs with a model similar to Uniswap, the mechanism of incentivizing users by Liquidity Mining.
DODO : A DEX that solves the problem of impermanent losses by combining AMM with Oracle. Recently, DODO announced its integration with Binance Smart Chain.
Derivative
Derivatives (or Derivatives) are assets whose value is derived from another asset or benchmark. Typical examples of derivatives are futures and options. In which buyers and sellers trade contracts that track the future prices of assets.
The 2 prominent Derivative projects on Binance Smart Chain are:
MCDEX : A decentralized derivatives exchange. It is currently based on Ethereum and there are plans to add support for Binance Smart Chain.
Hedget: A Protocol that allows users to create options based on the underlying asset. Hedget recently voted successfully and added Binance Smart Chain.
Synthetic
Synthetic (or Synthet i c Asset ) are digital representation tokens of derivatives. Where derivatives are financial contracts that provide customized exposure to the underlying asset or financial position, synthetic assets are a tokenized representation of those positions.
The 2 prominent Synthetic projects on Binance Smart Chain are:
Spartan Protocol : A clone of Synthetix on the Binance Smart Chain platform.
Linear Finance: A Platform that enables the creation, management and trading of Synthetics Assets. Linear Finance is integrating more Binance Smart Chain.
Lending
Lending (or lending) is a form of users using their assets or money to lend to other Borrowers (borrowers) at a certain interest rate. After a period of time, they will get back the principal and interest as originally agreed. Borrowers here can be other users, or organizations such as exchanges.
The 2 outstanding Lending projects on BSC are:
Fortube : A Lending Platform developed by The Force Protocol. Currently, Fortube is the platform with the highest TVL on Binance Smart Chain (according to statistics on DeFiStation).
Hard Protocol: A dAPP for Lending developed by Kava labs.
Defi Ecosystem
A project of many small products combined, prominent projects in this segment on BSC, we have Venus Protocol, Alpha Finance Lab, Kava.
Binance Coin (Bnb) Price Prediction With The Power Of Smart Chain
Binance Coin (Bnb) Was Originally Created By BSC . But Thanks To The Support Of BSC, Bnb Also Had A Sudden Increase In Price. Currently, Bnb Is Still Attracting The Attention Of Investors.
In Addition To Using Bnb To Enjoy Incentives From Binance, Or Pay Online, The Reason For The Increase In The Price Of Bnb Is Due To The High Ethereum Fees, Making Bnb Popular With Many People. Specifically, According To The Latest Statistics, On February 18, 2021, Bsc Had 2.5 Million Transactions, While Ethereum Had Only 1.3 Million Transactions.
With The Faster And Stronger Development Of Bsc, Bnb Is Expected To Continue To Prosper In The Near Future. This Is Not Surprising Because The Market Is Currently Responding Well To Emerging Defi Solutions. So, If You Are Interested In Bnb Coin, You Can Consider Choosing And Investing Because Bnb Is Said To Be Able To Do Miracles In The Future.
BSC Is Supposed To Be The Ultimate Solution. Firstly, Compatibility With Evm Allows Support For Ethereum Engines, With Faster Speeds And Cheaper Transaction Fees. Second, Thanks To Evm Interoperability And Programming, BSC Can Run On Proof Of Stake, Thus Increasing Decentralization And Community Participation. Furthermore, Binance Smart Chain Is Expected To Combine The Features Of Both Blockchain Dex With Smart Contract Functionality. From There, It Makes It Possible For Developers To Program And Interact Additionally On The Blockchain.