About Bitazza Card
Bitazza Card allows users to spend their cryptocurrencies just like they would with a traditional debit card. The card can be linked to a user's cryptocurrency wallet and the funds can be easily converted to the local currency when making a purchase. This type of card can be useful for people who hold cryptocurrency as an investment and want to be able to easily access and spend their funds without having to go through the process of selling their crypto and transferring the funds to a traditional bank account.
Bitazza Card Specification Overview
| Card | Features |
| --- | --- |
| Anonymity | Medium |
| Instant TopUp | NO |
| Reward | 40%. |
| Minimum Deposit | 1$ |
| Mobile Trading | Yes  |
| Card Currency | USD |
| Official website | Click Here To Visit |
About Bitazza Company
Bitazza is ASEAN's locally-based digital asset platform. This means they are one large inter-connected ASEAN trade network comprising of related exchanges and brokers set up locally in various locations in Asia holding local licenses or exemptions for operations.
Homegrown and managed by local partners and teams in each country in which it operates, clients have direct access to the respective personal broker of their trading accounts (instead of mere email support and bot-based chats that most exchanges offer).
Also, with direct integrations with local financial institutions in each respective country, Bitazza enables easy access to local financial and custodian services for digital assets, as well as easy and speedy deposit, withdrawal and conversions between local fiat – cryptoasset – fiat.
As the digital asset industry matures, Bitazza intends to provide the masses with blockchain-based cashless payment solutions. With sample liquidity and the gradual maturing of blockchain technology in the years to come, Bitazza aims to extend its liquidity to the mass retail,
Thereby promoting the use of digital assets to supplement the typical day-to-day fiat-based transactions. Merchants and customers alike will be able to interchange between digital assets and fiat currencies easily and hence acceptance of digital assets for everyday transactions can become mainstream.
Is the Bitazza Card Good For You ?
Bitazza Card is a regional cryptocurrency exchange in Southeast Asia, established in Thailand in 2018. According to analytical information, the exchange attracted over 600,000 users, after which it announced possible global expansion plans with the Bitazza Global platform. The daily turnover at the exchange is USD 10 million, with over 80 coins on its listing. The turnover is distributed relatively evenly with no clear leaders with a large margin, which is an advantage. ВТС and SAND account for the higher turnover – 6-10% each.
How to Apply for the Bitazza Rewards Credit Card
You can apply for the Bitazza Rewards credit card via the Bitazza website. You'll see a link to "Get your card" on the homepage.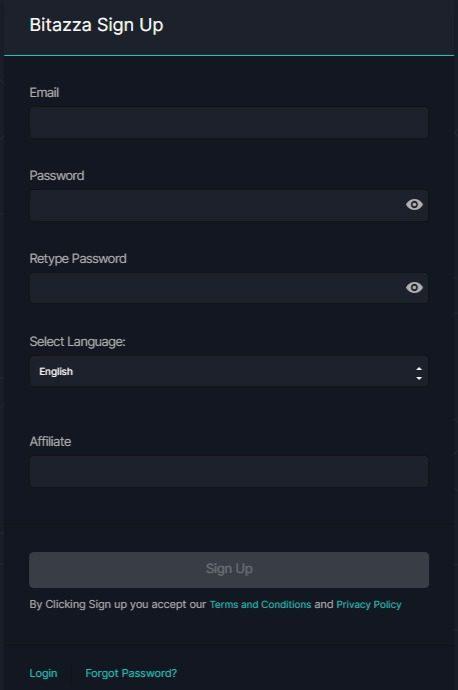 The first step to apply for your card is to sign up for Bitazza. You can do this by providing your full name, a password and confirming that you're over 18.
Rewards and Features
Bitazza Affiliate Program
There is no detailed description of the affiliate program on the website of the exchange, but it does exist. Its profitability can be increased through investing in BTZ. For example, an investor who bought 50,000 coins will receive 25% revenue share of the referrals. The maximum reward is 40%.
Mobile App
Easily apply for the Freedom card with 0 documents required. Top up your card via mobile app anytime, anywhere. Receive up to 9% rebate, a world of rewards with no annual fees.
Market
Buy, sell and trade your favorite cryptocurrencies on a secure and regulated platform.
Visa Card
The Visa card that gives you the freedom to top-up from your Bitazza Card account and enjoy a world of rewards & privileges.
Expand your reach with crypto payment solution
Take your business global by giving your customers the freedom to pay with crypto through our crossborder payment solution.
Ecosystem
BTZ is native platform token designed with utility features. From fee discounts to exclusive rewards, BTZ holders gain a world of privileges on the Bitazza ecosystem.
The first crypto e-commerce platform
Through Bitazza Card Launchpad, Freedom Mall offers users a borderless shopping experience, enabling them to pay with cryptocurrencies.
Freedom Wallet
A blockchain-enabled web3 wallet that combines cashless solution and comprehensive loyalty reward program to suit any business. Freedom Wallet allows businesses to utilize tokens and NFTs, gives your customers access to exclusive experiences, and connects communities to a truly decentralized ecosystem.
Is the Bitazza Credit Card Safe?
Yes, Bitazza Card Visa is safe to use for investors worldwide. Although the rewards are managed by Bitazza , the card is issued by Evolve Bank & Trust. Cryptocurrency assets are held by regulated custodians.
How does a cryptocurrency debit card work?
A cryptocurrency debit card works by linking a user's cryptocurrency wallet to the card. When the user makes a purchase, the funds are automatically converted from their cryptocurrency holdings into the local currency.
Is a cryptocurrency debit card secure?
The security of a cryptocurrency debit card depends on the security measures of the card issuer. It's important to choose a reputable card issuer and to follow best practices for securing your cryptocurrency, such as using strong passwords and enabling two-factor authentication.
Can I use a cryptocurrency debit card internationally?
Yes, some cryptocurrency debit cards can be used internationally, but it's important to check with the card issuer for specific details and restrictions.