[adrotate banner="18″]
About Ooobtc.com
Ooobtc.com domicile country is unclear. This is not a red flag per se, but they recommend all visitors to be careful and form their own opinion on whether OOOBTC is a legitimate exchange our not.
Ooobtc.com have not been able to find any information stating that US-investors can't trade at this exchange. That doesn't necessarily mean that they can though. They urge any US-investors interested in trading here to form their own opinion on any issues arising from their citizenship or residency.
Ooobtc also has a referral program. Their are four steps in this referral program. Step 1: Get your link. This step is ordinary. Step 2: Invite friends. Also this step is ordinary. Step 3: Get OBX (the exchange's own token) as a reward. Now this is where it become a bit unusual. There are number of exchanges out there that provide their referral rewards in cryptocurrencies.
| | |
| --- | --- |
| Exchange name | Ooobtc |
| Customer Support | 24/7 |
| Deposit Fee | Free |
| Futures trading | Present |
| Transaction fee | 0.15% |
| Withdraw fee | 0.5% |
| Official site | https://www.ooobtc.com |
How To  Start With Ooobtc.com
To start trading with Ooobtc.com, Indian residents first have to sign up for an account by following the steps below.
Step 1. Click on the "Login/Signup" link on the top right hand corner of the Ooobtc.com website.
Step 2. In the form, fill in your first name, last name, mobile number, email ID and password.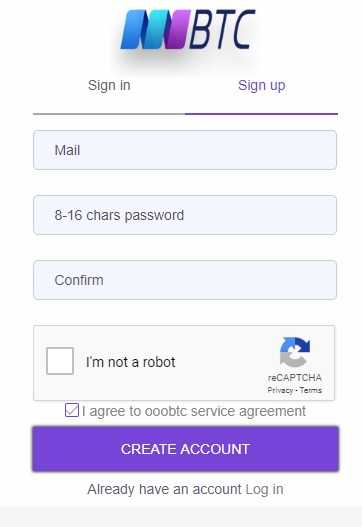 Step 3. If you have a referral code, enter the code while creating your account.
Step 4. Submit the form and wait for an activation email to be sent to you.
Step 5. Click on the "confirm email" link in the activation email.
Step 6. After your account is activated, you'll be sent a 6 digit one time password (OTP), which you have to enter after logging into your Ooobtc.com account.
Ooobtc Trading fees
Ooobtc.com trading venue doesn't charge different fees between takers and makers. Their fee model is something we normally call a "flat fee model". Their flat fee is 0.15%. This means that if you're a taker in an order, you pay 0.15%. If you're a maker in an order, you also pay 0.15%. 0.15% is generally lower than the global industry average.
Ooobtc Withdrawal fees
Ooobtc has a percentage based withdrawal fee, meaning that they charge you a percentage of the withdrawn amount when you withdraw. Their percentage charged is 0.50%. This is an unusual withdrawal fee model, but it is not unheard of. Most exchanges have a fixed withdrawal fee, regardless of the size of the withdrawn amount.
| | | | | |
| --- | --- | --- | --- | --- |
| Coin | Full Name | Deposit fees | Withdrawal fees | Trade fees |
| BTC | Bitcoin |  0.5% | 0.5% | 0.2% |
| ETH | Ethereum |  0 | 0.5% | 0.2% |
| DCR | Decred |  0 | 1% | 0.2% |
| SNT | Status |   0 | 0.5% | 0.2% |
| RHOC | Rchain |  0 | 1% | 0.2% |
Special features Of Ooobtc.com
Full Saftey
We've been taking variously careful measures like cold storage system, 2-factor authentication and encryption technology to encrypt your personal account information, which allow you to have assured protection of your fund.
Professioanl
Based on the precise and secure technology, our terminal is prepared to provide reliable and quality services which make sure you are able to trade any of the OOOBTC currency pairs free from all the worries.
No Transfer fees
Ooobtc.com says it does not charge deposit fees for cryptocurrencies and only charges the miners' fee for crypto withdrawals. In fact, this is more or less a standard practice for most exchanges, when it comes to cryptocurrency deposits.
Ooobtc.com Customer Support
You can get access to customer support at Ooobtc.com through a customised ticket system. To raise a query, enter your name, email address, write a brief description and one of the listed categories in a drop-down menu and submit the ticket.There is also a frequently asked questions (FAQ) section which addresses most basic queries. In addition, you can send an email at team@Ooobtc.com.