About Superex Exchange
Superex Exchange is the world's first Web 3.0 cryptocurrency exchange, creating the most intuitive user experience for everyone to trade cryptocurrencies. SuperEx's mission is to create Web 3.0-based business models and technology solutions that enable decentralization of user assets and transactions, decentralization of the platform team, and complete decentralization of rights, driving user community autonomy, and allowing billions of users to experience cryptocurrency first-hand and enter the Web 3.0 crypto world together.
Information Table
| | |
| --- | --- |
| Exchange Name | SuperEx Exchange |
| Exchange Service | Spot and futures trading |
| Exchange Launch Year | 2018 |
| Made In | N/A |
| Mobile App | Android & IOS |
| Fiat Option | Available |
| KYC | Required |
| 2FA Security | Available |
| Withdraw Fee | 0.2 BSC |
| Minimum Deposit | 0.4 BSC |
| Deposit Fees | Free |
| Support | Email & Live Chat Option Available |
| Official Website | Click Here To Visit |
How To Register At SuperEx Exchange ?
To register on SuperEx , click Register Now button at the top of the page. You can also start creating an account directly through.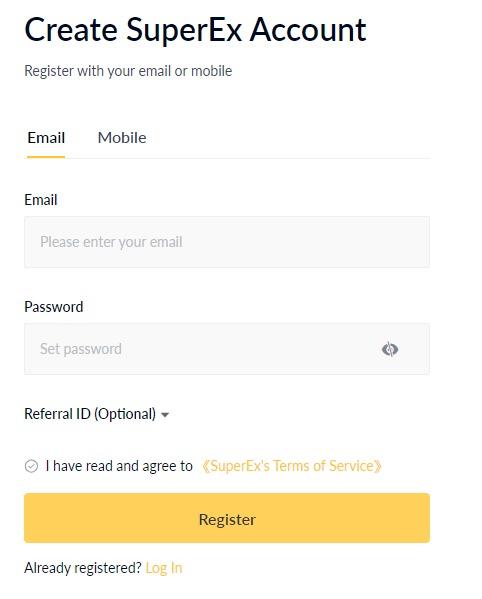 You only need to enter your e-mail and come up with a password. If there is a referral code, it is also entered at this stage. Password requirements: at least 8 characters, numbers, upper and lower case.
Click " Create Account " then go to your email to verify it. Enter the code you received and registration is complete. You can start replenishing your account.
How To Verify Your SuperEx Account ?
There is no mandatory verification at SuperEx , but you can pass it if you wish. At the moment, the only restriction imposed on unverified users is the withdrawal Fee of 0.001 BTC per day. In the future, depending on the actions of regulatory authorities, conditions may change.
For verification, you can use one of four documents to choose from: passport, driver's license, identity card or residence permit. Artificial intelligence is used to evaluate the authenticity of documents. This service is provided by the Onfido online identification service, already used by the Bitstamp, Revolut platforms.
How To Buy Crypto Or Deposit Crypto At SuperEx Crypto Exchange ?
There are two main options for topping up your balance on SuperEx Exchange. Firstly, you can buy cryptocurrency with a bank card – it's fast and convenient. Go to the " Buy crypto " -> " Buy crypto with a credit card " section.
Choose a cryptocurrency (currently there are 13 coins available for purchase in this way). Enter the amount and select the fiat currency to be used for payment.
Agree to the terms and confirm the transition to the site of the payment provider. Enter information about the card and its owner, confirm the transaction. Cryptocurrency will be credited to the exchange account within a few minutes.
Second Method
You can transfer digital assets to the balance of the exchange from any external crypto wallet. For this:
Go to the "Deposit" section from the "Assets" menu.
From the drop-down list, you can select the cryptocurrency you want to deposit into your account.
The wallet address will appear. You need to copy it and send funds to it from another wallet or exchange. Please note that only bitcoin can be sent to bitcoin addresses, similarly with other coins.
You can also click "Show QR code" – for transfers from a mobile wallet, this is a more convenient option.
How To Withdraw Crypto Asset From SuperEx Exchange ?
Having completed all the necessary trading operations, it's time to withdraw the received assets to an external wallet. Go to " Assets " -> " Withdraw ". Please note that the operation is only available after enabling two-factor authentication in the settings. This is for added security and requires less than a minute, so don't neglect this measure.
Select a cryptocurrency and enter the withdrawal amount. Each coin has its own withdrawal fee, for example, for BTC it is 0.00057 BTC. Click " Output ". By default, the exchange processes applications three times a day, however, hourly withdrawals are available for Premium users. Also, the time of receipt of the cryptocurrency is affected by the workload of the blockchain network.
How To Secure Your SuperEx Account ?
Also remember to go to the Security tab and activate two-factor authentication using the Google Authenticator app.
Fees
The platform is user-friendly, charges relatively low trading fees, and offers experienced investors a large variety of trading options and a set of advanced trading tools. SuperEx charges fees according to a tiered system, from regular users to VIP 9, in decreasing order.

Deposit/Withdraw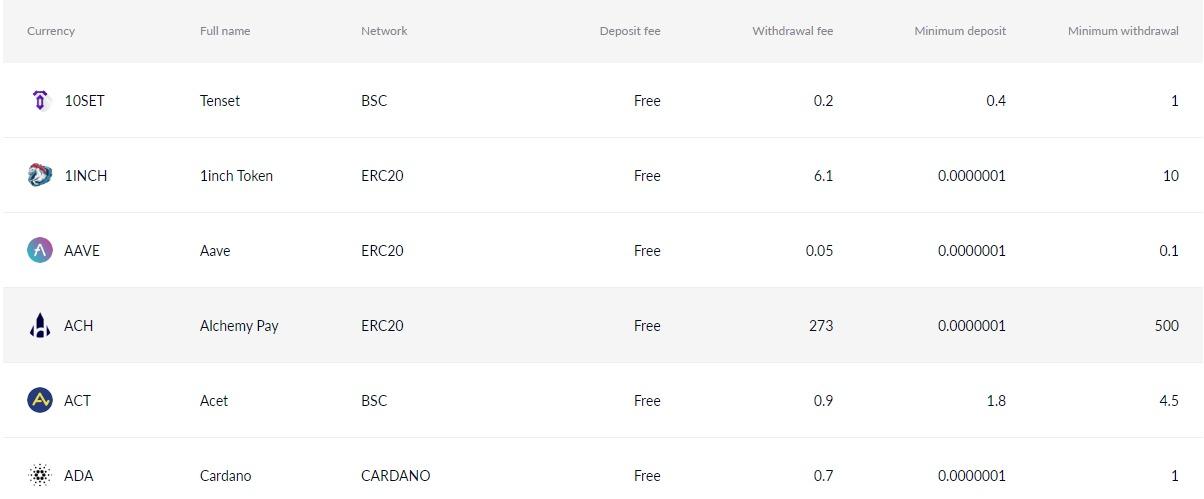 Features Of SuperEx Crypto Exchange
Zero security risk
Decentralized SuperWallet is integrated, and the private key is encrypted and stored on the user device. Not affected by code security, politics and other factors
No registration & KYC 
Wallet authorized transactions, no registration, no KYC, transaction settlements are completed on the chain, can not be tampered with, safe and transparent
Open system 
Allow users to interact with Dapp or smart contracts, by opening SuperWallet, users can be authorized to participate in Meta, DeFi and NFTs
Space Fund
Space Fund is used for human exploration of space or to fund institutions or individuals that have made significant contributions to human exploration of space.
A Secure and easy-to-use Exchange
Download the SuperEX mobile app to keep an eye on the markets and make trades at the perfect moment.
Mind Blowing Design
They've done a great job with making the homepage easy to navigate. The only drawback is that, with the white background, it can be hard on your eyes. Other than that, you'll find their charts and trade tools easy to use if you're already familiar with BTSE .
24/7 Customer Support
SuperEX Crypto Exchange offers 24/7 customer support to help users with any questions or issues they may have. The support team is knowledgeable and responsive, and can be reached via email or live chat.
Conclusion SuperEx
The SuperEx Exchange is a good trading platform that offers traders a good user experience. The exchange has a variety of cryptocurrencies available for trading and it also provides services such as KYC verification, HTLC system, multi-level firewall protection and cold wallet storage. The security measures of SuperEx include server isolation technology, multi-level firewall protection and cold wallet storage. SuperEx Exchange is easy to use and accessible through websites, mobile apps ( Android and iOS ) and HTML5 Web Trader. There are no deposit fees charged by SuperEx but withdrawal fees vary as per the cryptocurrency being withdrawn.