About Vdollar
Vdollar Is The World's Leading Cryptocurrency Contracts Exchange. Headquartered In Usa.
Vdollar Exchange Ltd Is Registered In Colorado, Usa, And Has The Registration Of Msb. It Is Under The Jurisdiction Of The United States And Has Three Business Sectors, Digital Currency Exchange (Vdollar.io), Ultra-circular Digital Currency Wallet (Vdollarwallet .com) And New Trading Is Mining Coins (Vdollar.org).
Vdollar Created A New Trading Is Mining Mechanism, 100% Transaction Fee Is Put Into The Urp (Usdt Reserve Pool) As The Underlying Asset, Every Vdollar Is Pegged To The Urp, The Ipo Will Be Issued At A 1:1 Corresponding To Urp To Ensure That Each Vdollar Is Anchoring Solid Underlying Asset, The Issuance Cap Is 10 Million ,every Phrase It Is Halved.
| Basic | Information |
| --- | --- |
| Exchange Name | VDOLLAR |
| Exchange Fee | Makers 0.2% Takers 0.2% |
| Deposit Method | Cryptocurrency |
| Supported Language | English,Chinese |
| Currency Available | 100+ |
| Average Affiliate Commission | Update Soon |
| Support Desk | Available |
| Headquartered | USA |
| Listed Date | 25/06/2021 |
| Official Website | Official Website |
How To Sign Up At Vdollar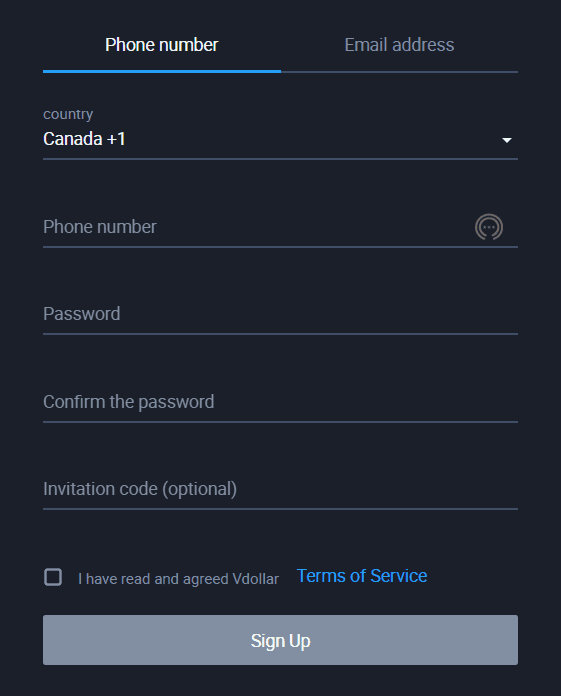 To Start Trading With VDOLLAR First Have To Sign Up For An Account By Following The Steps Below.
Step 1. Click On The "Login/Signup" Link On The Top Right Hand Corner Of The Vdollar Website.
Step 2. In The Form, Fill In Your First Name, Last Name, Mobile Number, Email ID And Password.
Step 3. If You Have A Referral Code, Enter The Code While Creating Your Account.
Step 4.Mark Tick On I have read and agreed Vdollar Terms of Services
Step 5. Submit The Form And Wait For An Activation Email To Be Sent To You.
Step 6. Click On The "Confirm Email" Link In The Activation Email.
Step 7. After Your Account Is Activated, You'll Be Sent A 6 Digit One Time Password (OTP), Which You Have To Enter After Logging Into Your VDOLLAR Account.
VDOLLAR Token VS BNB Token
| | | |
| --- | --- | --- |
| Platform token | VDollar | BNB |
| Issuance Cap | 10 million | 200million |
| 100% of the transaction fees support Platform token | Yes | No |
| Diminishing output | Yes | No |
| Transparent & Verifiable | Yes | No |
VDOLLAR Better Than Other Exchange
The Exchange Is, As Desired, Very Easy To Use. There Is A Wide Range Of Cryptocurrencies To Trade With Leverage, And The Stop Loss/Take Profit Is Very Clear. This Is Helpful For Beginners To Learn Right Away To Mitigate Risks While Trading.
VDOLLAR Main Features:
New Trading Mining:100% of the transaction fees are put into the USDT Reserve Pool.
USDT Reserve Pool: On-chain address is published Transparent & Verifiable.
Perpetual Motion Machine: issuance Cap is 10 Million. For the first issuance, a VDollar will be mined for every 1USDT of transaction fee conversion.Every Phase is Halved.
Super representative generation mechanism:Super representatives are elected by voting, with 32 seats, never increasing.Users can also send in applications to become super representatives, by acknowledging that they have a sufficient user base
Availability Of Own VDOLLAR Exchange Token. Which Can Be Obtained For Registration And Active Trading. With This Token, You Can Pay Commissions, As Well As Receive Additional Income From Listings On The Exchange Of New Coins.
Transaction Fee
Since VDollar is a new trading mining mechanism, the mode of fee rates may differ from other digital assets trading platforms.
Exchange/Margin Transaction fee rates:
Makers 0.2% Takers 0.2%
Swaps transaction fee rates:
Makers 0.06% Takers 0.04%
The transaction fee rates: Non multi-level steps and fee rates are equal to all clients; it ensures all high-volume clients' mining efficiency while they are trading.
Regulation And Licensing
It May Be Also Worth Mentioning That VDOLLAR Is A Completely Legal Platform, The Corporate Has Several Different Licenses Received From Regulatory Authorities Of Various Countries, VDOLLAR Is Regulated And Licensed Under , USA's MSB From Financial Crimes Enforcement Network Which Belongs To United States Department Of The Treasury, Estonia's MTR And Australia's AUSTRAC. All Documents Are Often Checked By Clicking On The Links On The Official Website Of The Exchange.
Some Popular Features Of VDOLLAR
Affiliate Program
VDOLLAR Offers An Interesting Affiliate Program, With Which Up To 20% In Commission On Trading Fees Can Be Earned. This Is Of Particular Interest To Readers Who May Wish To Invite Friends Or Followers
2 Fa Setup Facility
VDOLLAR Offer 2 Fa Security For Your Account. 2FA Stands For Two-Factor Authentication Or Two-Step Verification. Two-Step Verification Is Exactly What The Name Says: Two Forms Of Identification Instead Of One. So Instead Of Just A Password, You Now Also Enter A Code That Will Be Sent To Your Mobile Phone.
How Do I Enable 2FA?
One Of The Most Common Forms Of 2FA On Cryptocurrency Exchanges Is The One With A 6-Digit Code Obtained Through A Free App. If You Have A Smartphone, We Advise You To Use Google Authenticator (Android, IOS) Or Authenticator (Windows Phone); Apps That Produce Offline Codes For Use When You Are Not At Home. Other Apps Like Authy Can Also Be Used. If You Are Using Another App, See The Instructions For That App For Help Setting Up The 2FA. Google Play Store Apple App Store.
Install Google Authenticator From The Play Store.
Install And Open The App.
Click On The Red Circle With A Plus In The Bottom Right Corner Of The Screen.
Then Click On "Scan A Barcode", The Camera Is Now Activated And The QR Code Must Be Visible On The Screen To Scan.
Now Bityard Will Come Into View Where A Unique Code Is Generated Every 30 Seconds.
Print / Save The Recovery Codes If Your 2fa Device Becomes Unavailable.
Very Easy For Setup
Friendly And Concise User Interface, Yet Convenient To Input Your Commands. Users Can Register An Account In 30 Seconds And Trade With As Little As 5 USDT. VDOLLAR Supports Both Mainstream Cryptocurrency And OTC.
Mobile App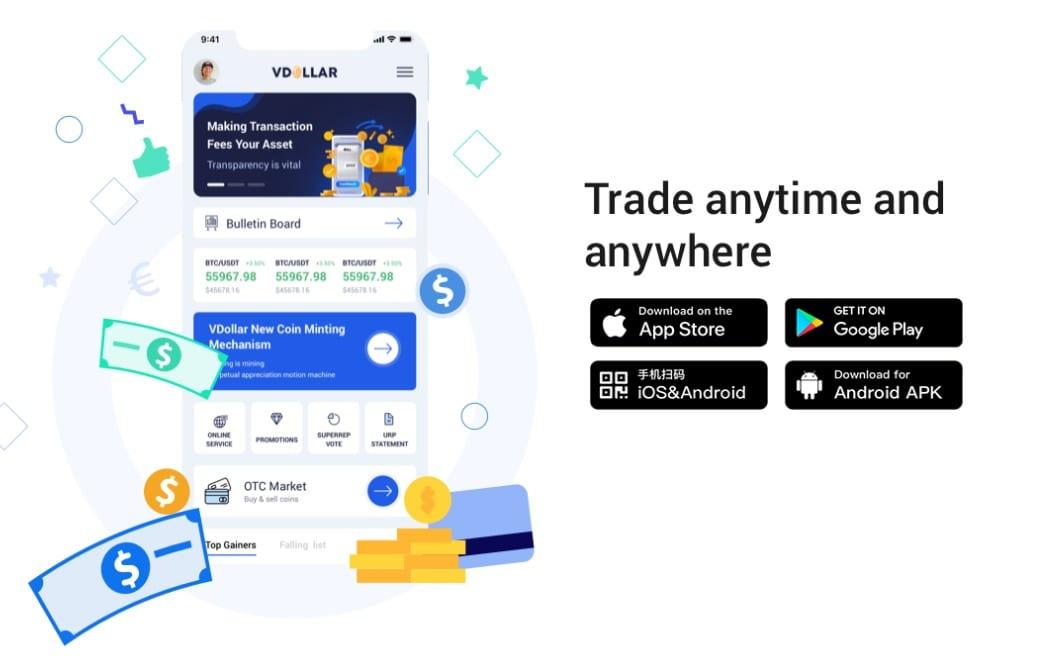 Just Like The Desktop Version, The Mobile App Is Also Easy To Use. The Fact That This Organization Has Managed To Get Multiple Licenses Radiates Confidence And Security, Which Is One Of The Most Important Requirements When Using An Exchange.
Very Fast Exchange System
VDOLLAR Exchange Has The Fastest Trading Engine In The Industry, Matching 1 Million Transactions Per Second. Users Can Flexibly Choose From 20x To 100x Leverage.
Social Media Channels:
Facebook: https://www.facebook.com/VDollar-103237518352042
Twitter:https://twitter.com/VDollar10
Medium:https://medium.com/@vdollarex
Instagram:https://www.instagram.com/VDollar_Global
Group:
Telegtam:https://t.me/VDollar_Family