What Is Joystick (JOY)?
Joystick is a next-generation gaming ecosystem that empowers people to earn money playing the games they love. This is accomplished by combining technology, content creation, esports, communities and education to bridge the gap between traditional and web3 gaming.
The gaming industry is currently valued at around $200 billion per year. This is based on consumer spending on games and in-game economies. However, there is a major shift happening in the gaming world away from the traditional Pay2Play (P2P) model to the blockchain-based Play & Earn (P&E) model, where users actually earn and own items from playing and engaging in these games.
As people shift their attention toward the metaverse, gaming is primed to act as the gateway that introduces billions to this new digital reality.
Joystick Coin is introducing GameFi as a Service (GaaS), improving upon the existing P2E model and delivering greater freedom to players. The platform will enable players to earn money doing what they love by providing access to lend or rent the most valuable NFT gaming assets on the blockchain.
Joystick Coin Storage Key Points
Vision
The Joystick vision is to empower and improve the lives of our token holders and community members by giving them access to the most exciting opportunities in the evolving gaming industry.
The unique approach makes us the most exciting gaming ecosystem in the world. We deliver the education, tools and resources for anyone to explore emerging opportunities within the web3 gaming and metaverse economies.
Joystick Coin thriving community members will gain access to all current and future Joystick ecosystem capabilities. This will allow members to capitalize on gaming and creative opportunities in the new world of decentralized blockchain and tokenized gaming economies.
Joystick has a very narrow set of goals that focus on making web3 gaming and content creation viable options for community members to take control and uplift themselves and their loved ones. The community promotes its own growth by supporting each other and sharing these benefits with new members.
Mission
Joystick aims to give maximum value to our community by embracing blockchain gaming, content creation, and web3 innovations. The mission can be broken down into the following key areas:
Education
To educate and introduce people to the benefits of web3, blockchain gaming, eSports, and content creation, while assisting them to take ownership in this new economy and uplift their lives.
Partnerships
To create mutually beneficial relationships with web3 gaming companies, and other blockchain projects, bringing maximum value to our community members and token holders. Also, to build partnerships with other gaming communities outside of web3, educating and bringing them into the ecosystem. And finally, partnering with real world brands who want exposure to the web3 gaming and metaverse economies.
Leverage Technology:
Joystick Coin build and acquire technologies that bring value to our community members and token holders in GameFi, Play & Earn gaming, and other web3 technologies.
Acquisition
To identify and invest in web3 gaming assets with a high value proposition and capacity for achieving large scale success.
Expand The Ecosystem
By creating value for community members, token holders, and partners, Joystick aims to improve and grow the entire web3 gaming, eSports and metaverse economies through education, access, and effective deployment of resources.
Operating Model
The rise of web3 gaming and the metaverse has created new and untapped potential in the digital economy. The model of Joystick is to bring value to communities around the world by utilizing economic concepts related to the metaverse and blockchain games, coupled with innovative growth strategies, technological development, education and community building. Joystick will acquire gaming assets, gaming guilds, early round token allocation, games and gaming studios.
Key Operations
Educate and train aspiring streamers, eSports and casual gamers to build their following
GameFi as a Service (GaaS) providing owners of P2E assets and players with no assets the ability to generate revenue through the use of Joystick
Acquiring, investing in, and creating gaming projects that will bring economic and strategic value to Joystick
Investing in NFT assets across multiple game platforms and across different chains
Revenue generation with all gaming NFTs owned by Joystick
Investing in gaming infrastructure companies & DAPPs
Value Generation
Joystick will generate value from the following sources
Revenue generation through NFT asset rental platform
Product collaborations
Brand sponsorships
Treasury and capital management
Acquisitions
Streaming ad revenue
Talent management
$JOY Token Utility
Members Discounts on NFT Rentals
Token holders will get membership access providing discounted NFT rentals on a sliding scale based on how many tokens they hold.
Members Only Premium Education Materials
Get access to top educational materials that empower players to earn more while playing the games that they love from the best content creators and educators on the planet.
Members Access to Limited Edition Collab Product Drops
Holders have access to exclusive Joystick creative collaboration product drops not available anywhere else!
Growth
Build Partnerships
Strategic partnerships will be a cornerstone for the ecosystem growth strategy. As such, the engine will put significant resources to creating partnerships that will advance the ecosystem's primary objectives.
Through creating valuable partnerships, Joystick will have access to the best and most lucrative opportunities for the ecosystem and its sponsors. The result of these partnerships will be a thriving community and increased value for $JOY holders.
Advancement
Joystick ecosystem growth strategies will benefit by building a stronger presence across multiple traditional and web3 games, social channels and content platforms.
Ongoing Asset Acquisition
Initially, Joystick will expand its asset rental program with assets in existing industry leading web3 games. Joystick will also seek additional opportunities in promising new upcoming games giving current and future users the best advantages.
Technology
$JOY Token
$JOY tokens will be ERC-20 tokens issued on the Ethereum network.
Game Agnostic Rental Technology
A suite of game agnostic rental management tools to provide scalable solutions for Joystick. Web3 games are not created to natively support rental programs. To allow seamless growth and management of rental programs across all games, Joystick will develop technology to optimize and track rental activities and yield generation, including: rental performance tracking and reporting, token swaps, yield generation activity tracking and reporting, yield optimization, AI and modeling, onboarding new players, managing in-game assets, and coaching and educating others.
Specific Technology
Joystick will create various technological solutions to facilitate the growth of the ecosystem, including: data analytics & management, NFT and in-game asset acquisition, new blockchain games and projects.
Tokenomics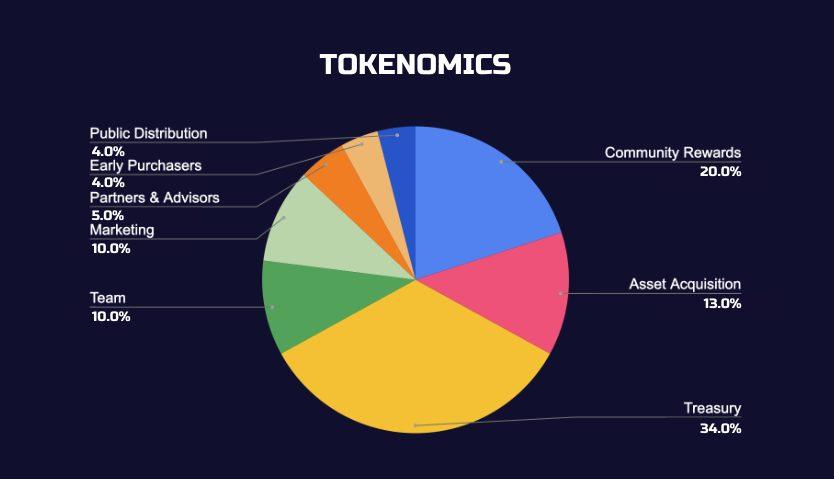 Security
Security Mechanisms
In order to achieve maximum security for Joystick and its stakeholders, we will be completely transparent with all actions and transactions made by Joystick. They will work closely with a trusted third-party auditor to ensure the highest level of security, transparency, and professional standards are maintained at all times.
Multi Signature Wallets
Multi-Sig wallets are another way they maintain safety and security of all assets under management. This is a risk-management mechanism they have implemented. The ecosystem's treasury assets are to be managed by multiple keyholders. Multiple private key signatures are required to send transactions. This will ensure security, integrity and trust of the engine treasury function.