Hello Guys Today We Talk About Where & How To Buy BitDAO(BIT). They Describe Everything In Details . Read Our Article Carefully . Please Note This Article Only For Educational Purposes Not Financial Advice .
BitDAO(BIT) can be purchased on a variety of cryptocurrency exchanges, including Binance, BitForex, and Gate.io. To purchase BIT, you will first need to create an account on one of these exchanges and link it to a payment method, such as a bank account or credit card. Once your account is set up, you can then search for BIT and place a buy order at the current market price or at a specific price you set.
What Is BitDAO(BIT)
BitDAO(BIT) is a decentralized autonomous organization that wants to level the playing field for every person in the world by building a decentralized token economy. This protocol is one of the world's newest and largest decentralized autonomous organizations focused on DeFi, and is managed by holders of BIT tokens.
One of the initiative's primary aims is to attract developer talent via token swaps and co-development efforts. The token swaps will enable the BitDAO treasury to accumulate a collection of the top crypto project tokens.
BitDAO's vision is open finance and a decentralized tokenized economy. BitDAO hopes to support a broad range of projects including DeFi, DAOs, NFTs and gaming. Support will be in the form of research and development, liquidity bootstrapping and funding.
Where To Buy BitDAO (BIT)? (Best BitDAO Exchange)
Gate.io
Gate.io is a centralized cryptocurrency exchange where users can find a large number of crypto coins and tokens to trade. The platform supports over 1400 cryptocurrencies with over 2500 trading pairs. The project occupies one of the leading positions in terms of trading volume (more than 12 billion dollars in trading volume daily) and supports spot and margin trading. It also expanded services to other markets, including options, futures, and derivatives for investors.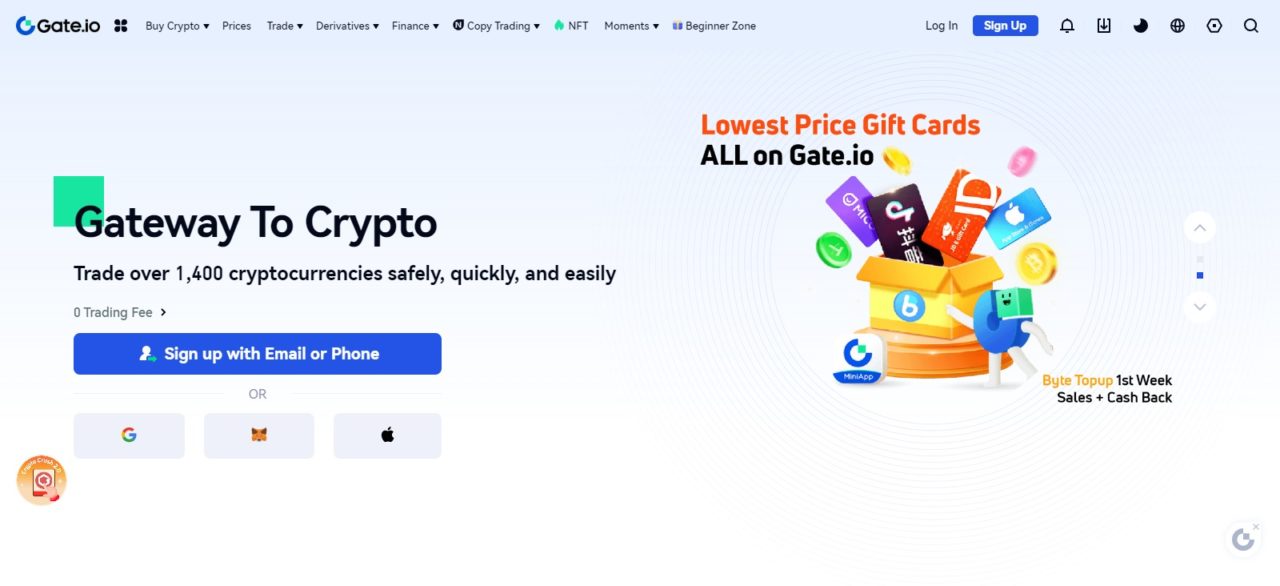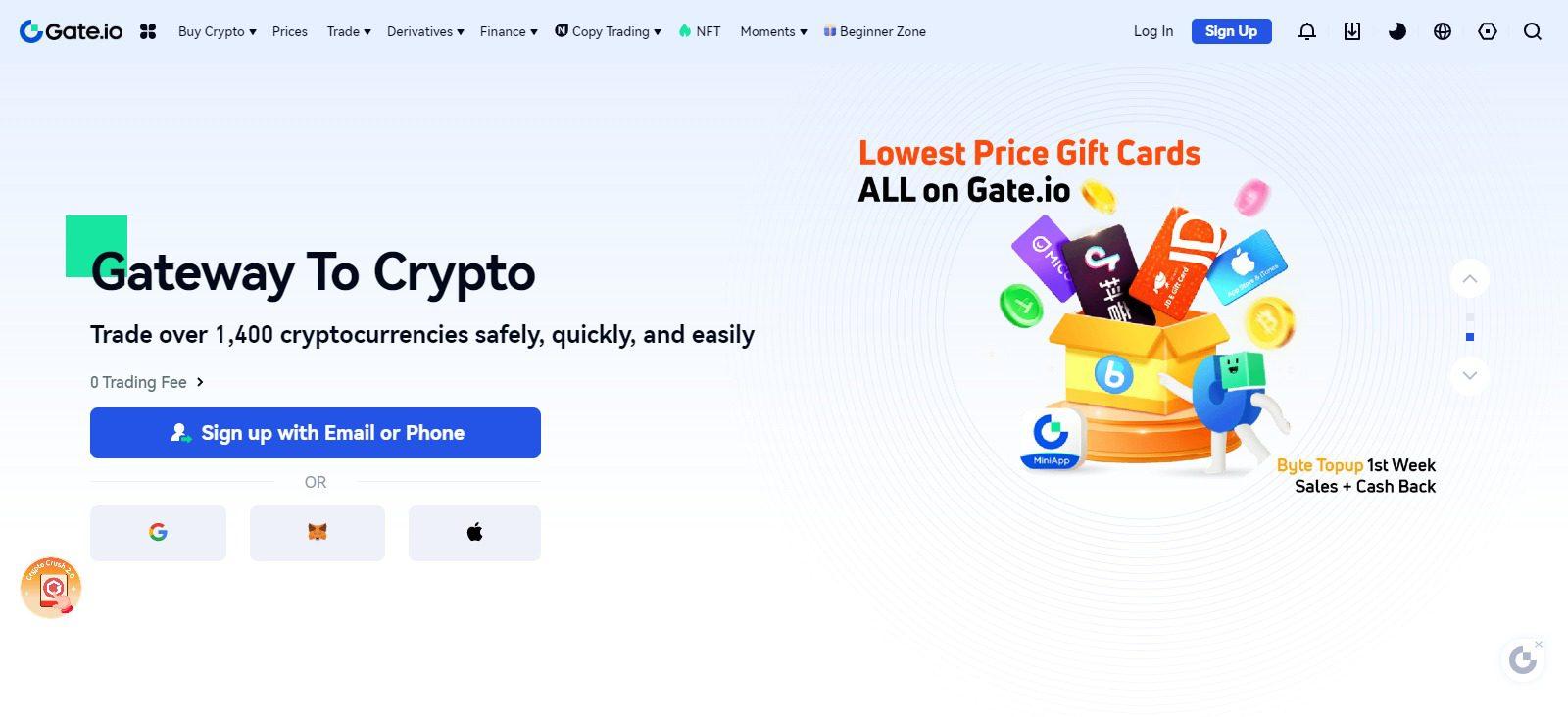 Launched in 2013, the platform claims to be "steady and reliable," offering a user-friendly platform with 24/7 customer support and a robust mobile app. However, the exchange is not highly regulated, and does not offer the option to withdraw fiat. In order to withdraw funds from accounts or deposit cryptocurrencies, users go through a mandatory KYC or "Know Your Customer" process.
Coinone
Coinone is a South Korean crypto exchange registered as Coinone Inc. The project was created with a focus on clients from Asian territories. It offers trading of digital assets, providing a wide range of tokens and trading pairs.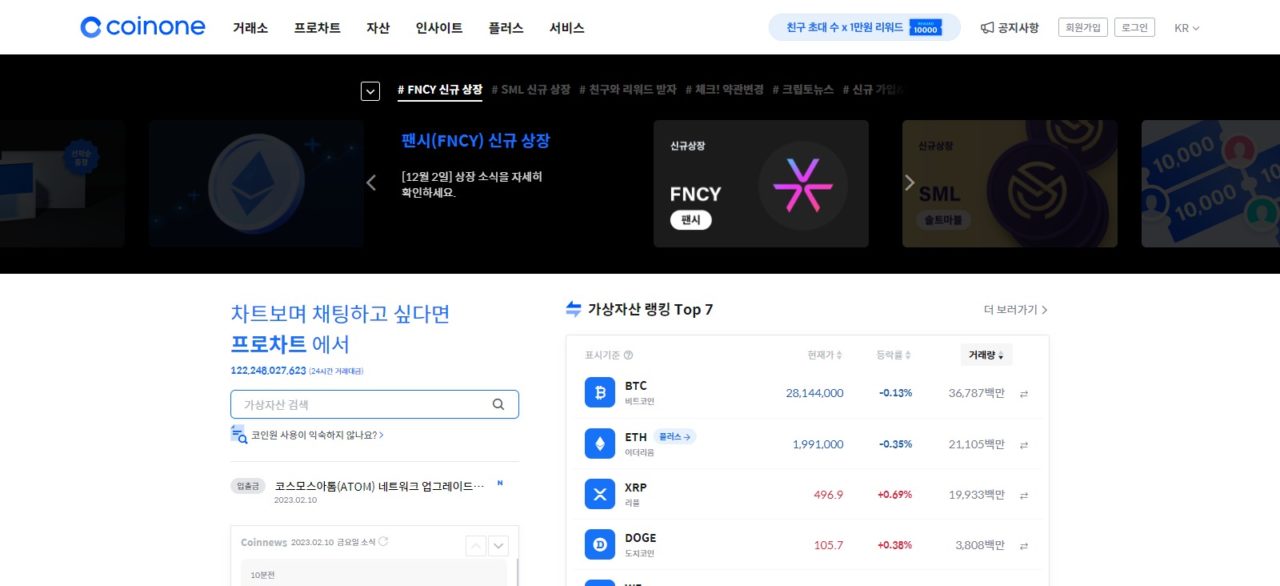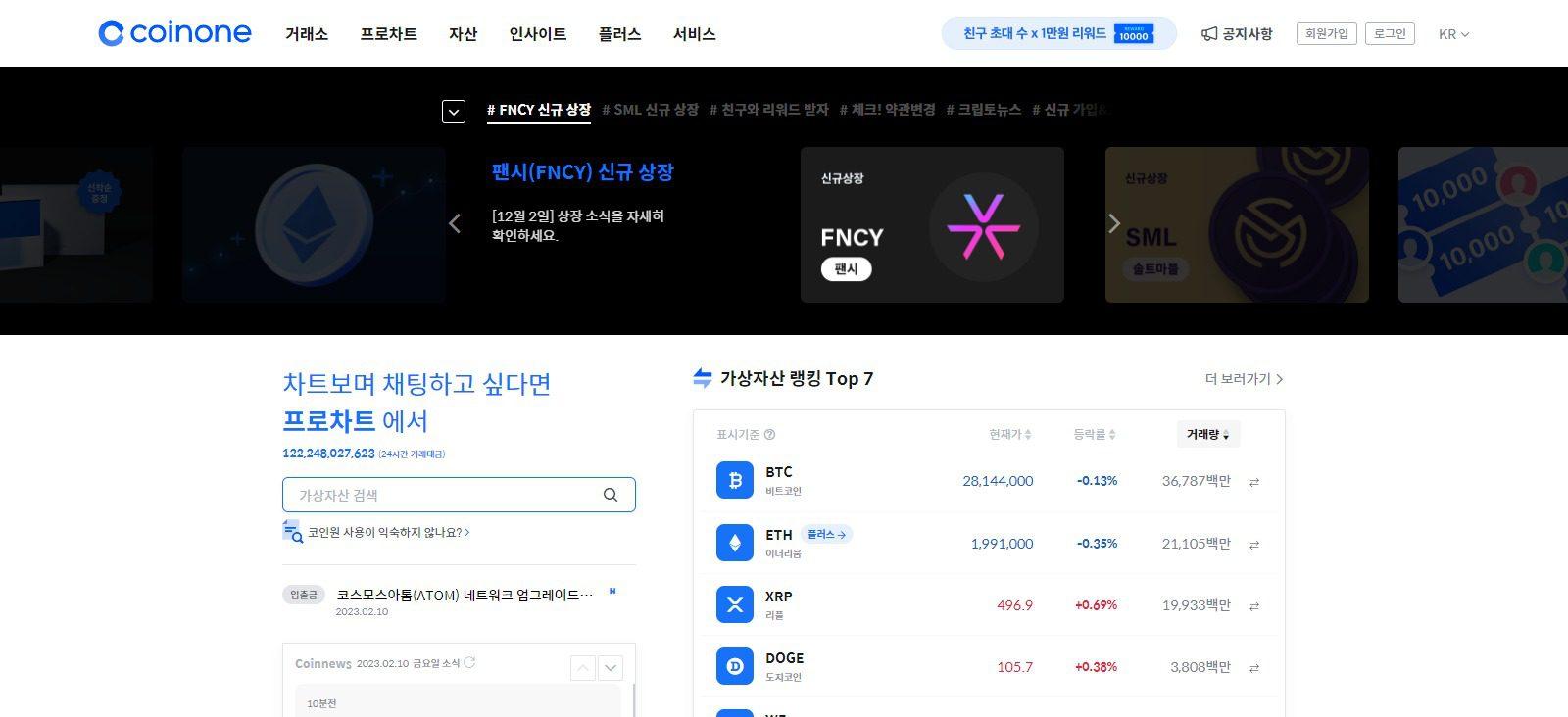 The main features of Coinone are convenient interface for efficient trading with tools for in-depth analysis of currencies; a wallet for storing coins, trading and client deposits; a payment method in the form of crypto deposits and fiat deposits via bank transfers; round-the-clock support service available by email or phone; security mechanisms such as a two-factor authentication scheme, multi-signature wallets and ID verification.
The platform offers its users three types of service: simplified, professional and lightning-quick. Investors also have the option of earning passive income through staking. The exchange does not have referral programs, demo accounts or educational materials. Coinone has been on the market for a long time, and is funded by Kakao Ventures.
Hotbit
Founded in 2018 and holding an Estonian MTR license, an American MSB license, an Australian AUSTRAC license, and a Canadian MSB license, Hotbit cryptocurrency exchange is known as a cryptocurrency trading platform that continues to develop and integrate various forms of businesses such as spot trading, financial derivatives, cryptocurrency investment, and DAPP into one platform.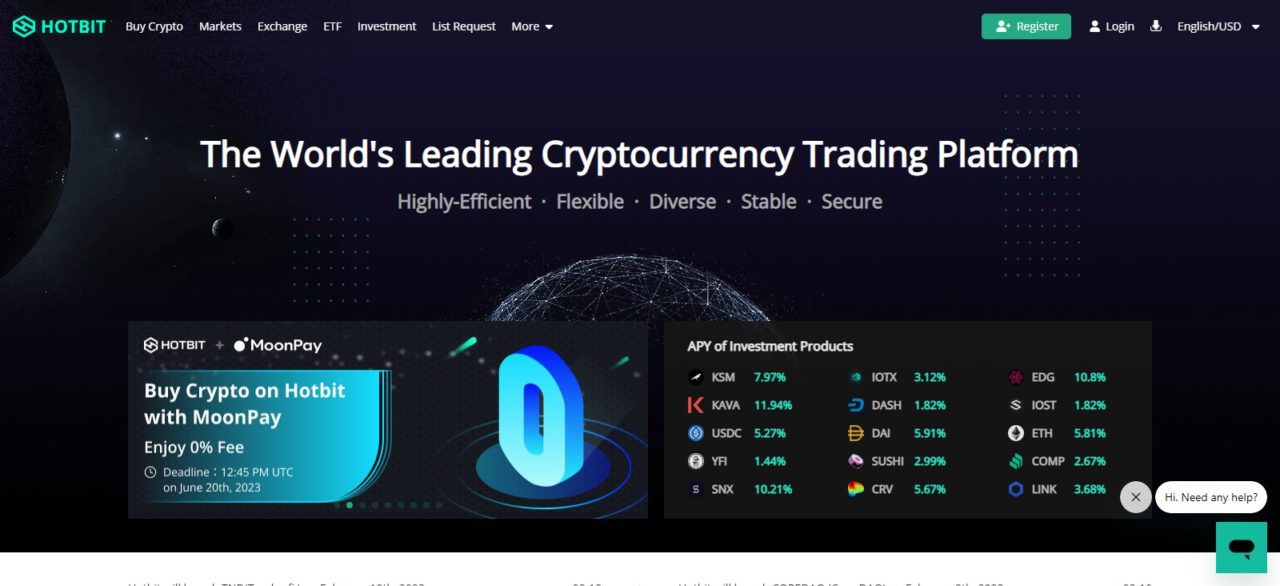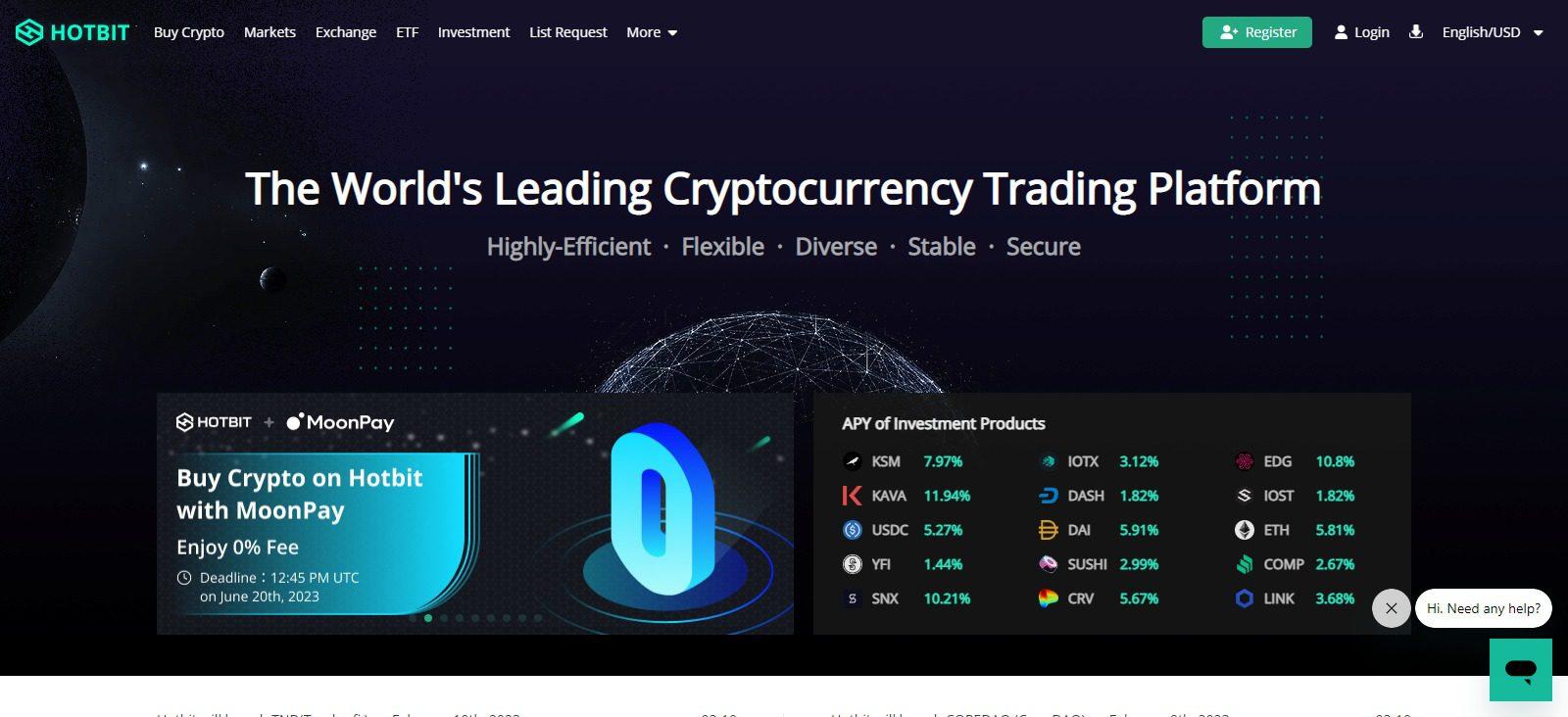 Currently, Hotbit's company covers more than 210 countries and areas. Based on its globalized and unified strategies, Hotbit continues to focus on the world's emerging markets such as Russia, Turkey, and southeastern Asia markets. It was ranked one of the top 3 most welcomed exchanges by Russian media in 2019.
Korbit
Korbit is a South Korean exchange, one of the oldest and largest in the industry. The platform claims to provide its clients with beneficial terms of cooperation, competitive fees, access to popular cryptocurrency markets, secure asset management, and a trading API that supports automated trading.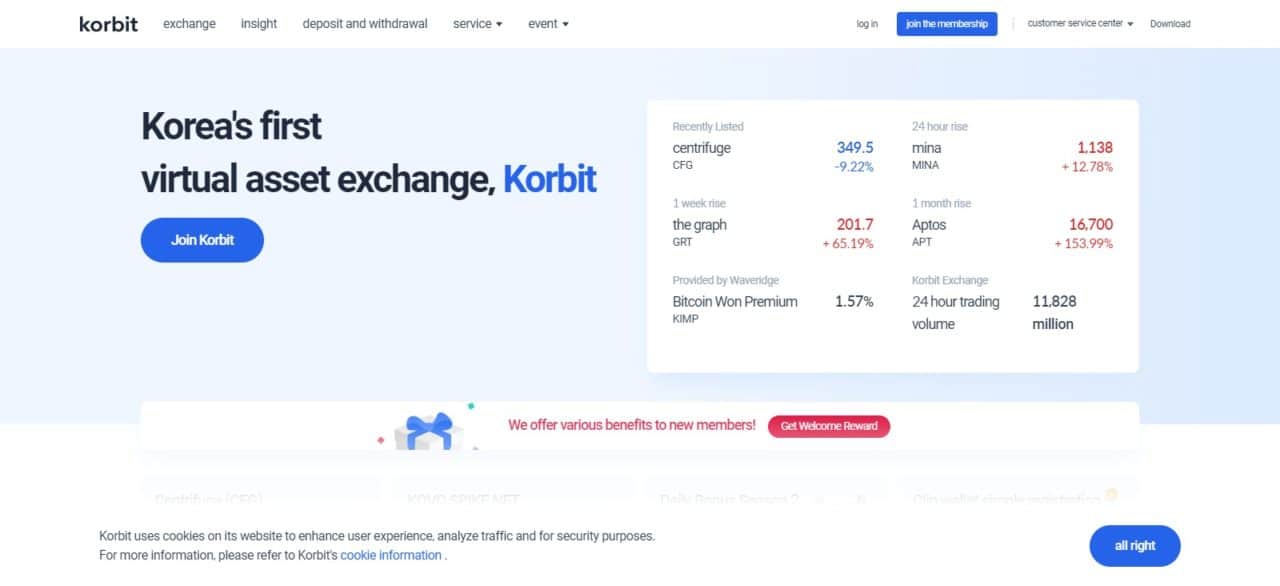 The centralized exchange is convenient for both beginners and skilled users. However, for international traders, the experience can be challenging as the platform is aimed at local players in the South Korean crypto market. It also grants access to ETH 2.0 staking and a NFT marketplace. Another feature is Korbit's virtual asset reward service aka Korbit piggy bank.
Korbit allows customers to use the local currency, Korean Won (KRW), for crypto transactions. The exchange provides a low entry threshold, a set of basic tools and functions for technical analysis, and a well-established trading terminal in the browser. The site has an optimized and comfortable interface.
Throughout its existence, the platform has reportedly never been hacked. It has a modern and advanced security system, and logins/withdrawals/deposits are protected by 2-factor authentication.
LBank
LBank is a Hong Kong-based centralized exchange (CEX) platform that was established in 2015, with offices in the British Virgin Islands, U.S., Australia and Canada. The platform allows users to buy and sell major crypto assets like Bitcoin (BTC) and Ethereum (ETH) in over 50 fiat currencies, with over 20 payment methods. The company has licenses from the National Futures Association, Australian Transaction Reports and Analysis Center and money services businesses in Canada.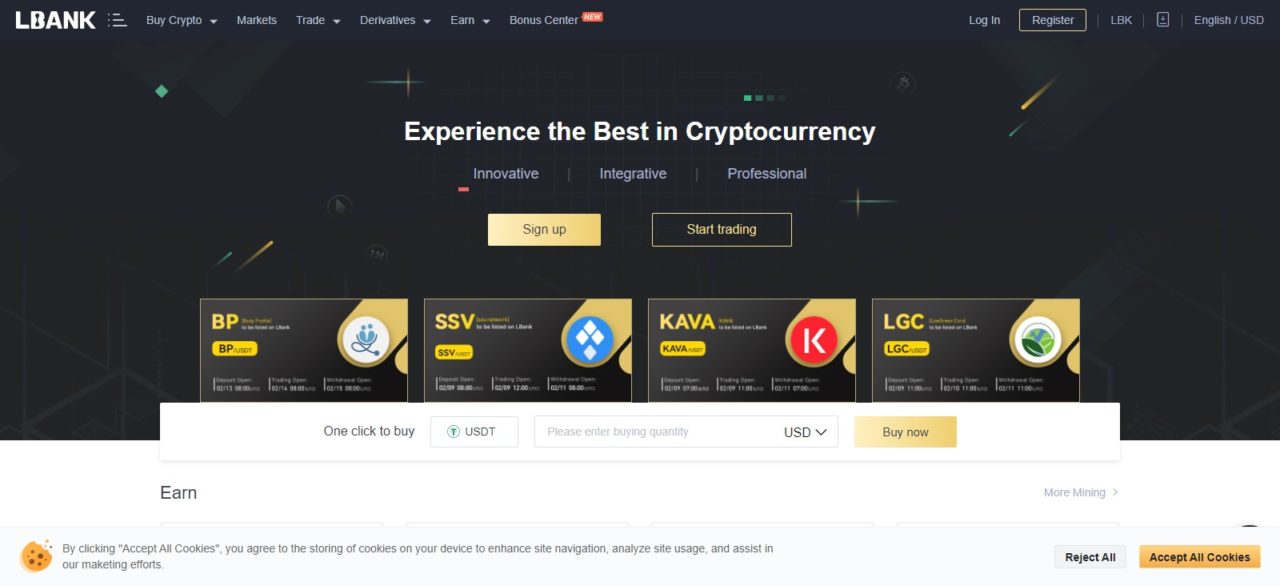 LBank products include: spot and margin trading, crypto futures and options, staking, non-fungible tokens (NFTs) and ETF trading of crypto assets. Other services include peer-to-peer (P2P) transactions, grid trading, and flexible and locked deposits.
How to Buy BitDAO
If you would like to buy BitDAO, here are the steps you can follow:
Sign up for an account on a cryptocurrency exchange that supports BitDAO. Some popular exchanges that support BitDAO include Binance, Huobi Global, and OKEx.
Verify your identity: Most exchanges will require you to complete a verification process before you can buy and sell cryptocurrencies. This may include providing personal information and a government-issued ID.
Add funds to your account: Once your account is verified, you will need to add funds to your account. This can typically be done using a bank transfer or a credit/debit card.
Buy BitDAO: Once you have funds in your account, you can buy BitDAO by placing an order on the exchange's trading platform. You can either place a market order or a limit order, depending on your preferred method of buying.
Store your BitDAO: After purchasing BitDAO, it's important to store your digital assets in a secure wallet. Most exchanges offer an in-built wallet, but you may also consider using a hardware or software wallet for additional security.
These are the general steps you can follow to buy BitDAO on a cryptocurrency exchange. However, it's important to note that the specific steps may vary between exchanges, so be sure to follow the exchange's instructions carefully.
BIT Price Live Data
The live BitDAO price today is $0.571131 USD with a 24-hour trading volume of $22,266,763 USD. They update BIT to USD price in real-time. BitDAO is down 2.87% in the last 24 hours. The current ranking is #43, with a live market cap of $1,194,204,750 USD. It has a circulating supply of 2,090,946,169 BIT coins and a max. supply of 10,000,000,000 BIT coins.
BitDAO Good For Investment Or Not ?
C98 is a relatively new and small project and it's not widely traded on many exchanges, which can make it more risky and volatile than more established cryptocurrencies. Additionally, it is important to consider the overall market conditions and the potential regulatory changes that could affect the value of CTSI and other cryptocurrencies.
BitDAO Wallet
A BitDAO wallet is a secure digital wallet that is used to store, manage, and protect your BitDAO tokens. BitDAO is an ERC-20 token, which means it runs on the Ethereum blockchain. Therefore, to store BitDAO, you need an Ethereum-compatible wallet.
There are several types of BitDAO wallets to choose from, including:
Hardware wallets: These are physical devices that are designed to provide a high level of security for your digital assets. Examples of hardware wallets include Ledger and Trezor.
Software wallets: These are digital wallets that run on your computer or mobile device. Examples of software wallets include MyEtherWallet and MetaMask.
Exchange wallets: Most cryptocurrency exchanges offer built-in wallets for storing digital assets. However, it's important to note that storing your tokens on an exchange is riskier than using a hardware or software wallet, as exchanges are often targets for hackers.
When choosing a BitDAO wallet, it's important to consider factors such as security, ease of use, and compatibility with other services. It's also a good idea to do your own research and compare different wallets before making a decision.
Once you have selected a wallet, you can transfer your BitDAO tokens to your wallet by following the wallet's instructions. This typically involves sending a transaction from your exchange account to your wallet's address.
Please Note
Cryptocurrency trading carries a high level of risk and may not be suitable for all investors. Before deciding to trade digital assets you should carefully consider your investment objectives, level of experience and risk appetite. The possibility exists that you could sustain a loss of some or all of your initial investment and, therefore, you should not invest money that you cannot afford to lose. You should be aware of all the risks associated with digital asset trading and seek advice from an independent financial advisor if you have any doubts.
BitDAO FAQ
What is BitDAO?
BitDAO is a decentralized autonomous organization (DAO) built on the Ethereum blockchain that provides a platform for decentralized financial services and products. BitDAO uses its own cryptocurrency, the BitDAO token, to incentivize and reward members for participating in the platform and contributing to its growth and development.
How does BitDAO work?
BitDAO operates as a decentralized autonomous organization, meaning that it operates without a central authority and is governed by its members. Members can participate in BitDAO by holding and using the BitDAO token, which gives them a say in the platform's decision-making process and allows them to earn rewards for contributing to its growth and development.