Best AI Email Assistants have revolutionized how we manage communications by offering unparalleled efficiency and organization. These sophisticated tools, using advanced natural language processing and machine learning algorithms, are designed to recognize context, tone and intent – ensuring every email written or responded to maintains a human touch.
These consultants assist email writers in creating engaging emails by providing suggestions for sentence structures, vocabulary enhancements, and subject lines. What sets apart the top AI email assistants is their ability to adapt over time based on user behavior and preferences, providing advice that fits seamlessly with individual writing styles.
These assistants help us prioritize, categorize and schedule emails efficiently allowing us to focus on meaningful interactions and tasks while remaining professional and effective with email communication.
What is AI Email Assistants?
AI email assistants are innovative software applications that use artificial intelligence technologies like natural language processing (NLP) and machine learning to help users manage their email communications more efficiently and effectively. These assistants aim to assist in writing emails more quickly by suggesting answers, automating certain tasks, and improving overall email experience.
How Do AI Email Writing Tools Work?
Here is List Of Best AI Email Assistants 
Mailbutler
SmartWriter
Lyne.ai
Boomerang
Flowrite
Missive
Superflows
7 Best AI Email Assistants 
1. Mailbutler
Mailbutler is an AI email assistant that has transformed how individuals and professionals manage their email communications. Packed with powerful features that streamline every aspect of email management, Mailbutler makes managing emails much simpler for individuals and professionals alike.
Users can utilize this tool to easily craft well-written emails by receiving suggestions on sentence structure and vocabulary usage; each message delivered will be polished and impactful. In addition, its reply suggestions allow them to respond swiftly with contextually relevant responses to emails that arrive quickly.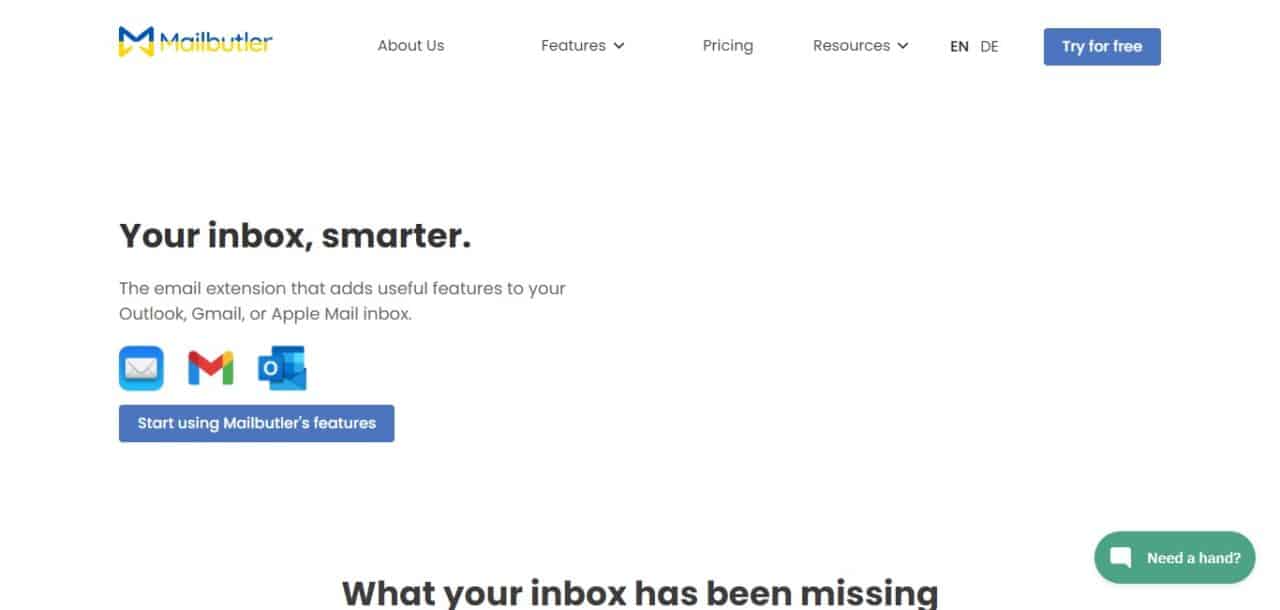 Mailbutler's email tracking feature also gives users insight into open rates and engagement, helping them evaluate the success of their communications. Mailbutler provides an effective solution for scheduling emails for later delivery and setting reminders for follow-up, to make sure that any important messages don't fall through the cracks.
Seamlessly integrated with Apple Mail and Gmail email clients, Mailbutler's versatile nature enhances productivity while improving organization and overall email user experience.
2. SmartWriter (Best AI Email Assistants)
SmartWriter is an advanced AI-powered writing assistant that has revolutionized content production. Utilizing sophisticated natural language processing and machine learning technologies, this revolutionary writing tool helps users produce high-quality and engaging written material. SmartWriter offers intelligent suggestions to enhance the sentence structure, grammar, and vocabulary usage of academic essays, professional documents, or creative pieces written for any occasion.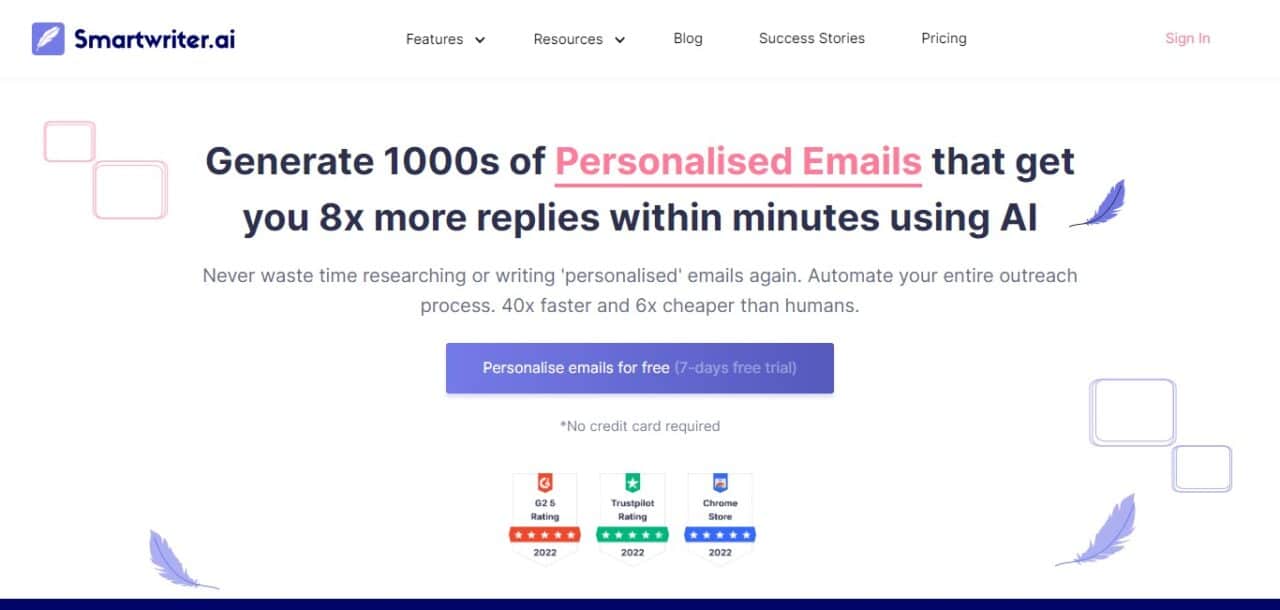 This tool goes beyond basic corrections by offering contextually relevant recommendations that improve clarity and coherence within text. SmartWriter serves as a reliable co-writer by adapting to various writing styles and expediting writing processes in order to elevate content quality, making SmartWriter an indispensable asset in terms of impactful communication across a range of domains.
3. Lyne.ai
Lyne AI is widely recognized as a top personalization solution due to its capacity to make personalized language and tone recommendations, automate sending and follow-ups, monitor campaign performance, and provide advanced campaign management tools, AI algorithms for crafting highly personalized sales emails and detailed analytics. Furthermore, Lyne integrates with popular CRM systems and marketing automation platforms – making it a versatile asset for sales and marketing professionals.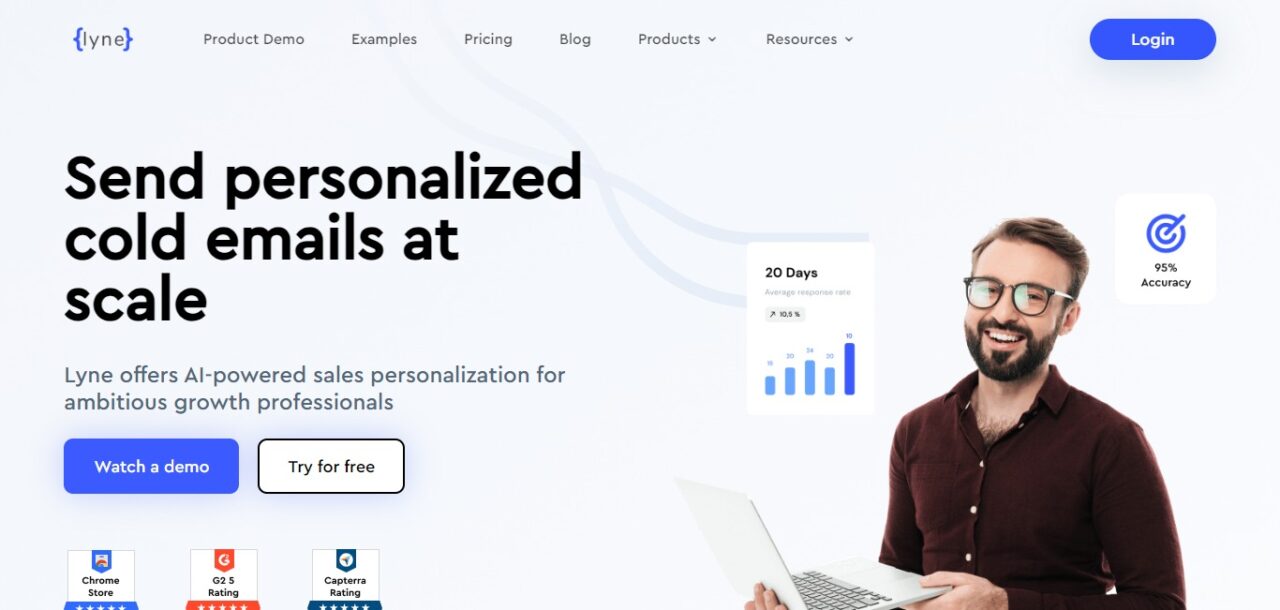 With this AI email assistant, you can craft unique and effective emails for more successful and efficient outreach efforts. Automating mundane tasks and providing reminders to manage to-do lists are just two ways AI email assistants help users save time and ensure important tasks don't get overlooked. Their scheduling features also allow users to plan emails to be delivered at later dates for optimal email management processes.
4. Boomerang (Best AI Email Assistants)
Boomerang is a versatile email productivity tool that has revolutionized how users manage their email correspondence. Boasting numerous powerful features, Boomerang enhances both effectiveness and efficiency in email communication. Boomerang's "Send Later" feature allows users to schedule emails for delivery at a later date, ensuring messages reach recipients at just the right time.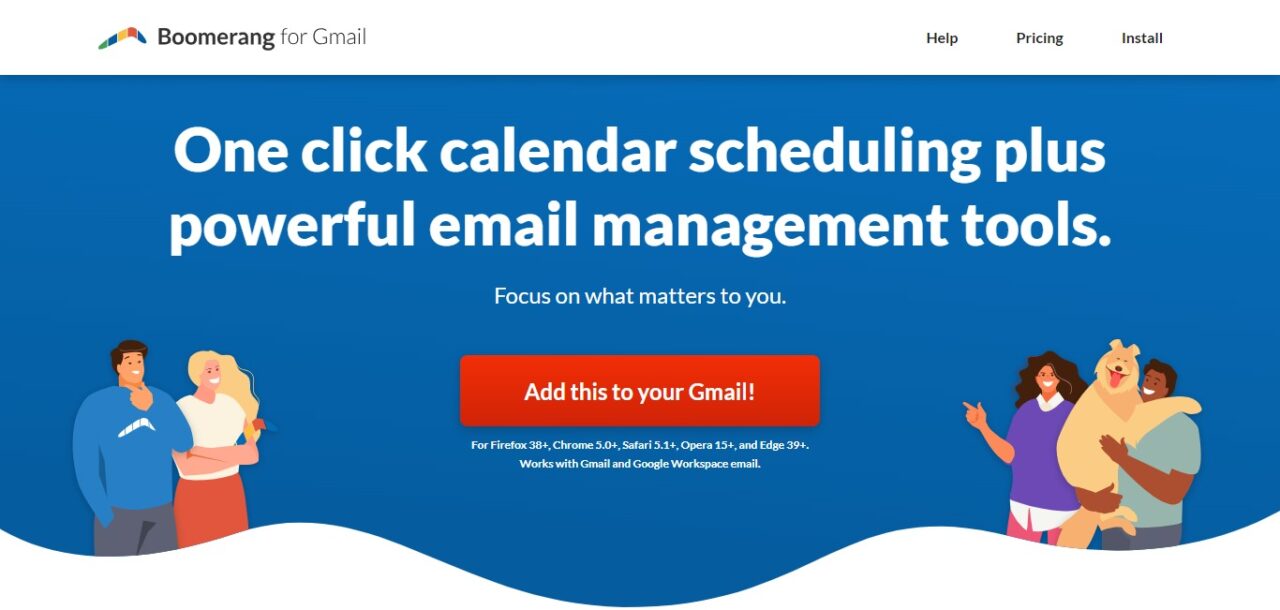 Plus, its email tracking capability offers insights into when emails are opened allowing for timely follow ups from users. Boomerang Reminders can also help users stay abreast of important conversations by returning emails to the top of their inbox at predetermined intervals.
Boomerang provides users with multiple functionalities that are key for optimizing email management, streamlining workflow, and maintaining effective communication. Its compatibility across email platforms makes Boomerang an essential companion for individuals and professionals looking to streamline email management while improving workflow efficiency and enhancing communication effectiveness.
5. Flowrite
Flowrite is an AI-powered writing assistant that has transformed content creation. Leveraging advanced natural language processing and machine learning technologies, Flowrite empowers users to produce high-quality written material quickly.
No matter whether it be emails, articles, reports or any other type of content creation Flowrite offers intelligent suggestions that enhance sentence structure, grammar and coherence – an indispensable aid when crafting any form of textual communication.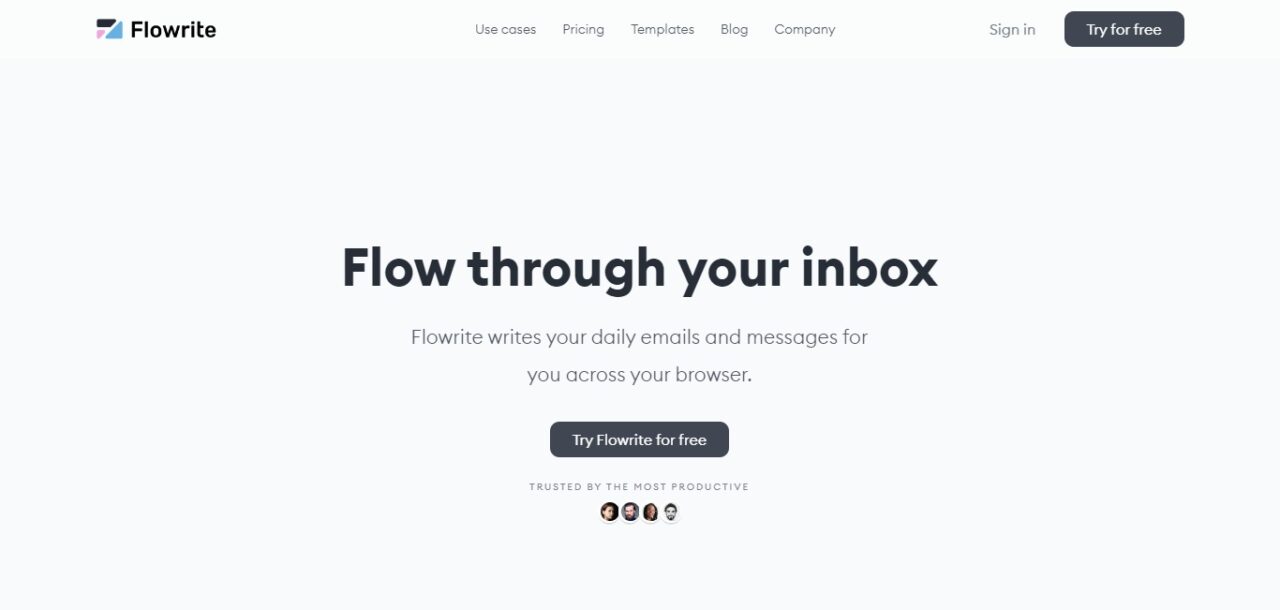 Flowrite's predictive and proposing capabilities not only accelerate writing but also ensure an engaging flow of text. Thanks to its adaptability to various writing styles and tones, Flowrite proves invaluable in producing polished and professional content quickly and efficiently. By streamlining writing processes and increasing output rates across various fields, Flowrite helps writers communicate more efficiently than ever.
6. Missive (Best AI Email Assistants)
Missive is an innovative collaboration and communication platform, reinventing how teams communicate via email conversations. Missive goes beyond traditional email clients by combining the convenience of email with real-time collaboration through chat, allowing teams to work seamlessly together on emails, tasks and projects.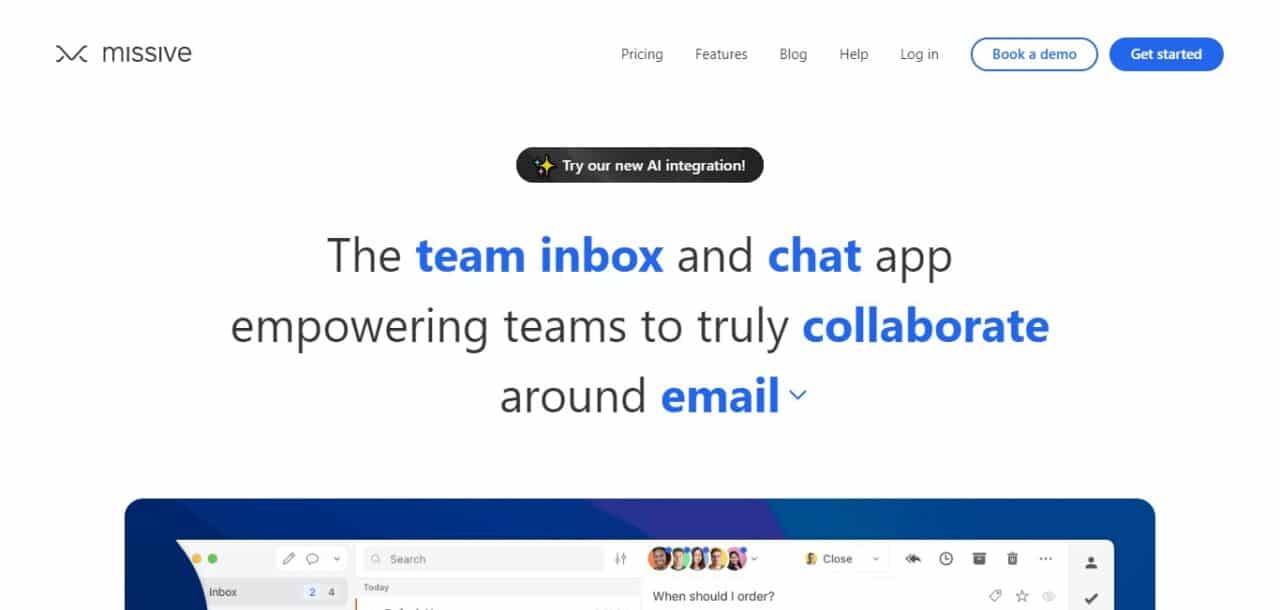 Missive transforms email threads into collaborative spaces where team members can discuss, delegate and make decisions without constantly forwarding or CC-ing messages. With features like shared conversations, real-time editing and assignment tracking, Missive offers features that enable team members to discuss, delegate and make decisions without resorting to forwarding emails back and forth between team members.
Missive promotes efficient teamwork by centralizing communication, streamlining workflows and making all relevant information easily available to all relevant parties. From client communication to project management or internal discussions, Missive stands out as an indispensable platform that boosts productivity, transparency and quality team communication.
7. Superflows
Superflows is an AI-powered email assistant that empowers users to more efficiently manage their inboxes by offering pre-written, contextually relevant responses at the click of a mouse. Users can access pre-written, intelligently created replies complete with calendar links and personalized information – saving both time and streamlining email interactions.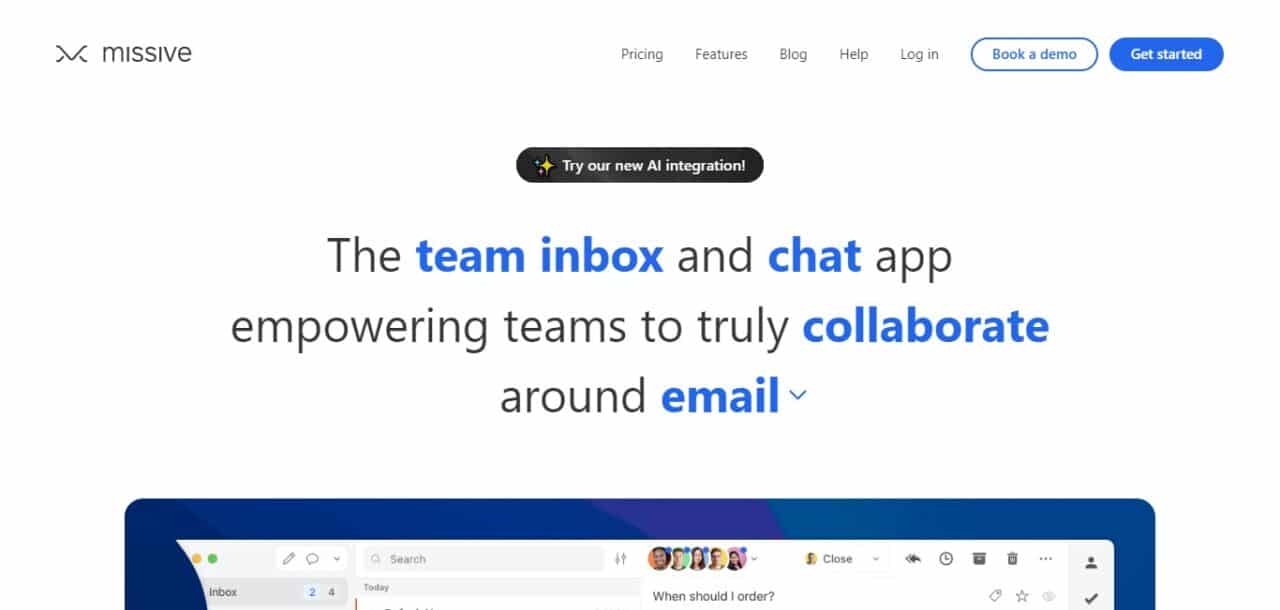 As an example, say sales representatives receive numerous inquiries from prospective clients, instead of having to compose individual responses from scratch they could simply access contextually relevant email templates with personalized details for quick and professional replies from Superflows instead.
What Are the Benefits of Using an AI Assistant When Writing Your Emails?
Applying artificial intelligence (AI) when writing emails offers many tangible advantages that can enhance communication efficiency and effectiveness:
Time Savings: AI assistants can speed up email writing by suggesting sentence structures, vocabulary words and even entire phrases for quicker email replies and replies to routine inquiries. This saves both time and energy when dealing with routine or routinely sent emails or replies.
AI assistants can identify and correct grammar and spelling errors in emails to enhance both quality and professionalism.
Consistency: AI assistants make email communication more consistent, giving your communication a polished image.
Enhance Clarity: AI assistants offer advice for clearer language and sentence structure improvements to make your messages more easily understandable and impactful.
Subject Line Optimization: AI assistants can offer invaluable advice when it comes to crafting captivating subject lines for emails that increase their likelihood of being opened and read.
Contextual Suggestions: AI assistants understand the context of your emails and provide pertinent suggestions that make responses more pertinent and meaningful.
Improved Productivity: AI assistants can automate follow-up reminders, scheduling, and categorization – helping you stay organized while remaining focused on more important tasks.
Reduced Writer's Block: AI assistants can assist writers to overcome writer's block by offering suggestions when you find yourself struggling to express a particular point in a clear manner.
Learning and Customization: AI assistants quickly adapt to your writing style and preferences, tailoring suggestions that reflect your unique voice.
Multiple Language Support: Many AI assistants can provide translations and suggestions in multiple languages, making communication with international contacts much simpler.
Email Management: Artificial intelligence assistants can assist in organizing your email inbox by categorizing emails, prioritizing messages and even archiving or deleting spam emails.
Analytics and Insights: Certain AI assistants offer analytics on email open rates, response times and engagement rates in order to enable you to refine your communication strategy.
Simply put, using an AI assistant when sending emails can streamline your workflow and enhance message quality while increasing communication effectiveness overall.
Best AI Email Assistants Conclusion
Conclusion – Artificial intelligence email assistants represent an unprecedented advancement in digital communications. Intelligent tools have elevated email management beyond traditional means, offering users benefits ranging from enhanced writing quality and time savings, through personalized recommendations and seamless organization. AI email assistants have proven invaluable for creating effective and impactful emails.
By understanding context, refining writing style, and even anticipating user intent, these machines have proven their value as indispensable partners in crafting impactful and efficient correspondences. Technology continues to advance, and personal assistants will likely play a more integral role in optimizing our communication processes, increasing productivity and guaranteeing meaningful interactions in an ever-evolving digital landscape.
Best AI Email Assistants FAQ
What is an AI email assistant?
An AI email assistant is a software application that utilizes artificial intelligence technologies, such as natural language processing and machine learning, to help users manage their email communications more effectively. It offers features like composing email drafts, suggesting improvements, automating tasks, and organizing emails.
How does an AI email assistant work?
AI email assistants analyze the text of emails and user behavior to understand context, intent, and writing style. They provide suggestions for composing emails, correcting grammar and spelling, and can automate tasks like scheduling, follow-ups, and categorization.
Can AI email assistants write emails for me?
Yes, AI email assistants can help you draft emails by suggesting sentence structures, vocabulary, and even full phrases. They enhance your writing but also allow you to maintain your personal touch.
How do AI email assistants help with productivity?
AI email assistants save time by offering writing suggestions, automating tasks like scheduling, and prioritizing emails. They also help reduce repetitive tasks, allowing you to focus on more important activities.