Coincheck is a cryptocurrency centralized exchange (CEX) with a global community and a key user base in Japan. One of the leading crypto platforms in Asia (in terms of liquidity, trading volume and traffic) is registered under Japanese authorities, regulated by Japan's Financial Services Agency (FSA) and audited by the Japan Blockchain Association.
The Japanese exchange supports 17 popular large-cap cryptocurrencies. The Japanese yen is the main currency, though the US dollar is also accepted. Users can make fiat deposits through bank transfers or bank cards, digital assets of a customer are stored in a cold wallet.
Coincheck's other products and services include: OTC (over-the-counter) trading, initial exchange offerings (IEOs), Coincheck Denki (pay electric bills with Bitcoin), Coincheck Gas (pay gas bills with Bitcoin), Coincheck Survey (answer surveys and earn crypto) and Lending. Furthermore, the platform also has a non-fungible token (NFT) marketplace and staking service in beta.
The platform serves more than 1.5 million clients and has a trading terminal (both a web version and a mobile app), as well as the main tools for trading assets on the global market.
1.Decentralized Exchanges (DEXs) ( Best Alternative To Coincheck)
Decentralized exchanges (DEXs) are a type of cryptocurrency exchange that operates on a decentralized blockchain network. Unlike centralized exchanges like Coincheck, DEXs do not rely on a central authority or intermediary to facilitate trades.
Below We Include Some popular DEXs Alternative To Coincheck Exchange
1- ApolloX ( Coincheck Alternatives Without Verification )
ApolloX is the biggest decentralized crypto derivatives exchange on BNB Chain shaping Web3 trading.
The platform offers – ApolloX Classic: Order book perpetual contracts for low slippage and fast trading – ApolloX Lite: Simpler trading interface offering both zero-slippage ALP perpetual contracts and order book perpetual contracts – ALP: Liquidity provider token representing a pool of assets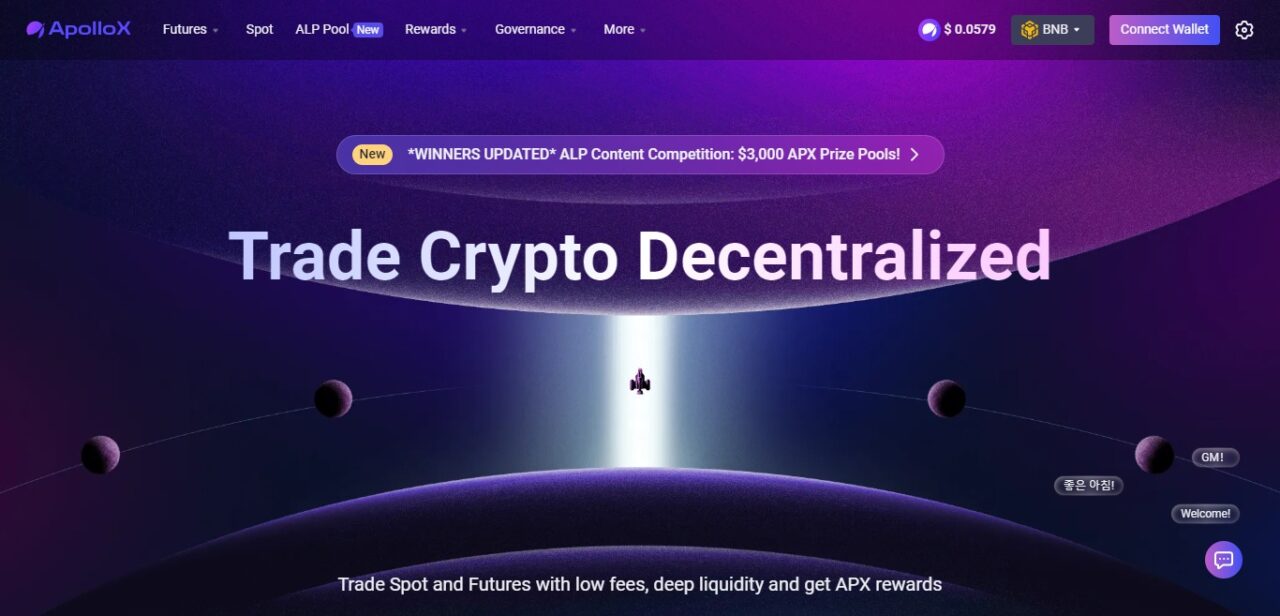 On ApolloX, users can trade over 70 perpetual contracts with leverage. Users can deposit up to 9 crypto as collateral to trade on ApolloX. Aside from crypto perpetual contracts, ApolloX also offers FOOTBALL and AI token index perpetual contracts.
APX is ApolloX's utility token which can be used as trading fees for perpetual trades, locked in DAO to earn voting Power and staking rewards, or used to mint ALP. ALP can also be staked to earn attractive yield.
For more information, visit ApolloX DEX: www.apollox.finance.
Kine Protocol
Kine Protocol provides a peer-to-pool derivative market, where "general purpose" liquidity pools — backed by collateral of major crypto assets across multi-chains — serves as the passive counterparty to traders of perpetual contracts (perps). It provides traders with zero-slippage execution, guaranteed liquidity, up to 100x leverage with cross margin.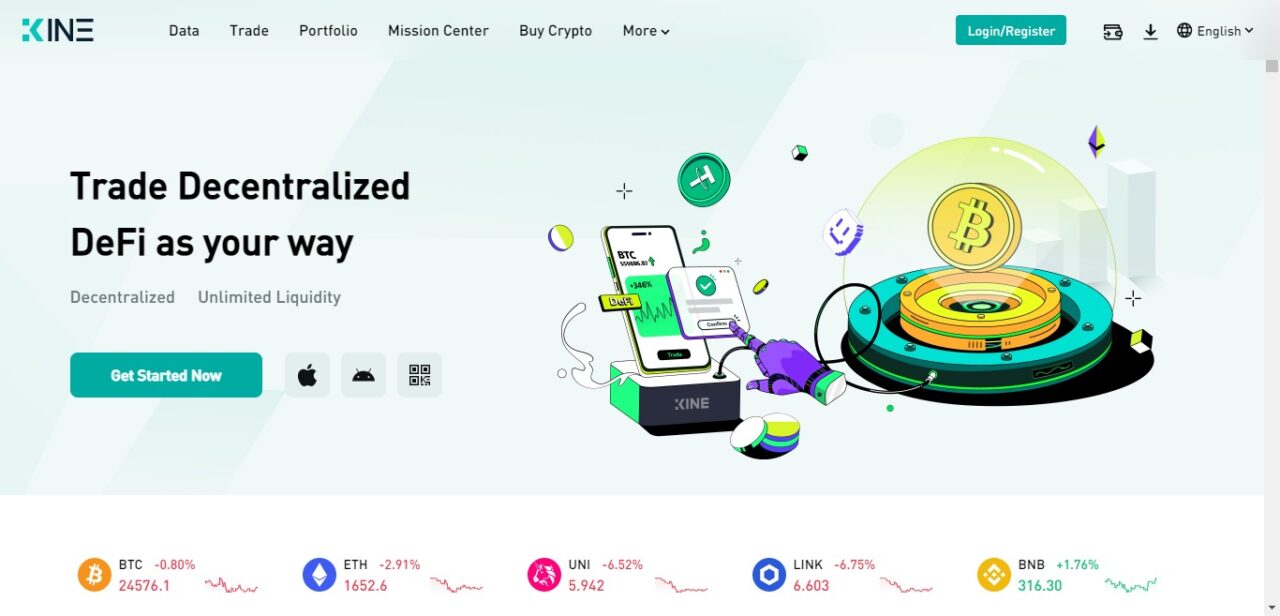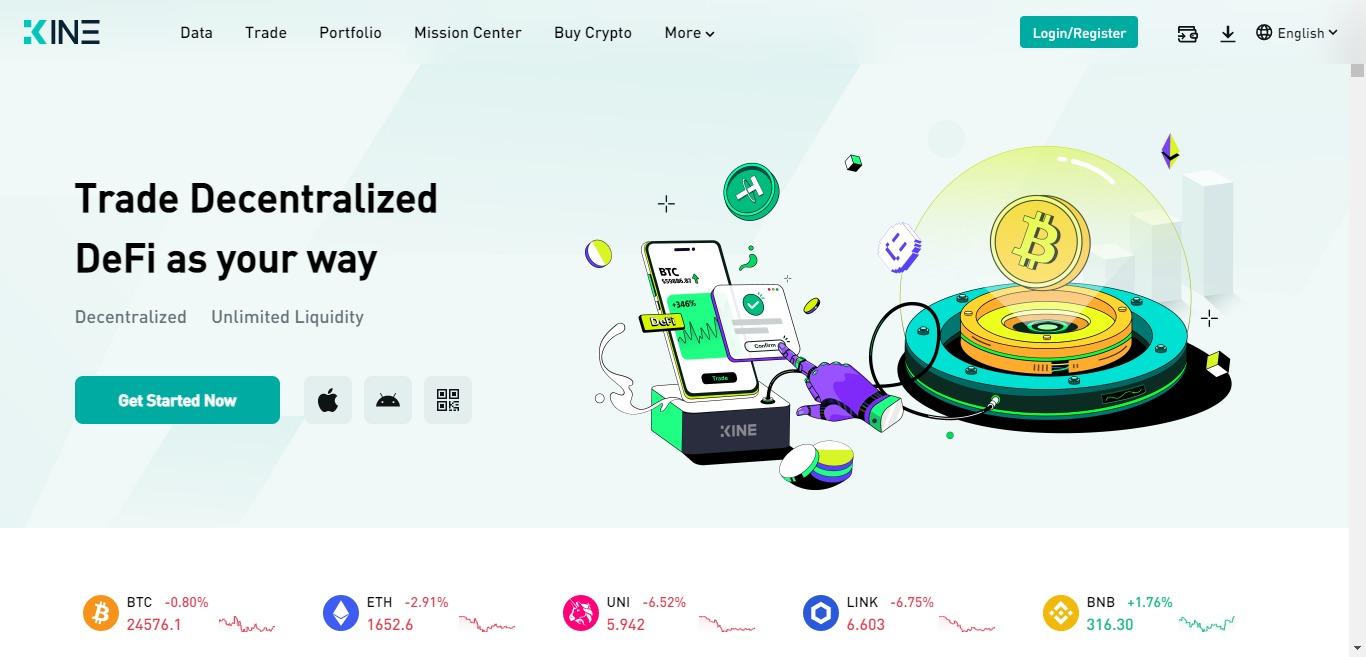 The protocol allows traders to put up collateral on Ethereum, BNB Chain, Polygon and Avalanche. There are three ways users can participate in the Kine Protocol ecosystem: as stakers, traders and liquidators.
Jupiter
As a liquidity aggregator on Solana, Jupiter aggregates the best token prices across different decentralized exchanges by connecting all DEX markets and AMM pools together, irrespective of the provider. This smart routing process also compares prices routed through an intermediary token, which allows the discovery of price inefficiencies and volatility in the markets. Jupiter also dynamically splits trades into smaller trade sizes to get better prices for larger size trades and trades with tokens that have shallow liquidity across several exchanges.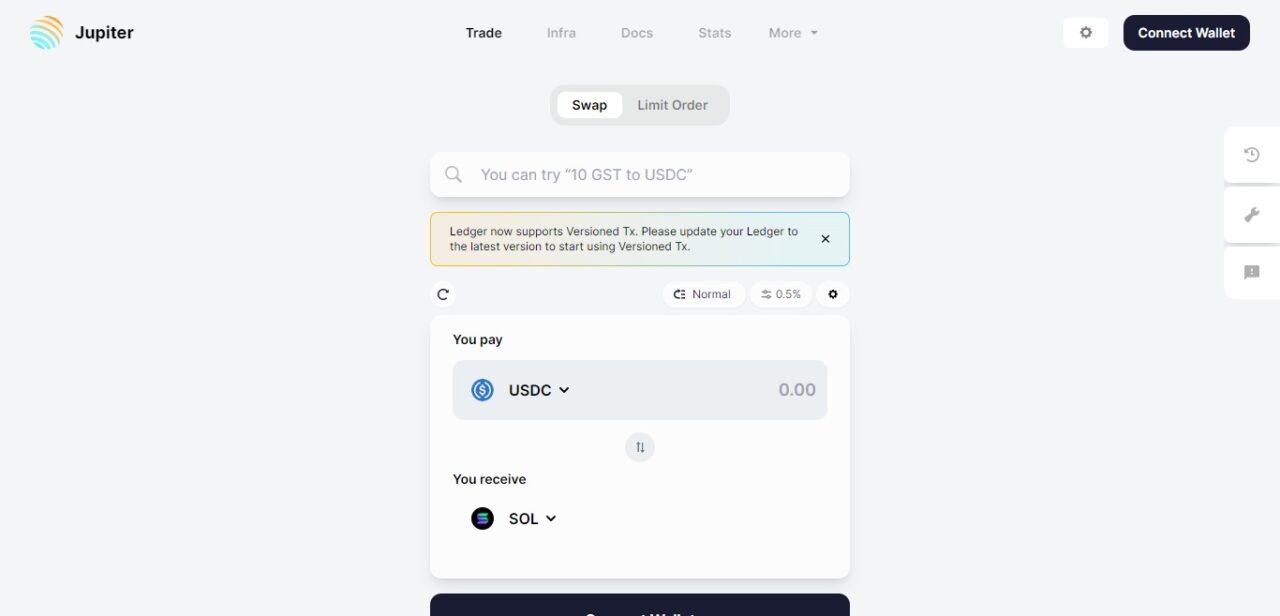 Other key features of Jupiter include the automatic listing of new markets as soon as they are launched on Solana, and token swaps in a single transaction without exceeding transaction limits and incurring high slippage. Users can simply enter the tokens and size they want to trade and the platform calculates all the possible routes for the token trade. Furthermore, its API is a way for developers to access liquidity on Solana: the liquidity is provided as a wrapped token, enabling liquid swaps across all tokens, including wrapped versions of other protocol tokens.
Best Centralized Exchange Of Coincheck Alternative
1 Bitfinex
Bitfinex is one of the oldest cryptocurrency exchanges, founded in 2012 and operated by the Hong Kong-based company iFinex Inc. Tether (USDT), the largest stablecoin by market cap, is also owned by iFinex Inc. The centralized exchange (CEX) platform was designed for professional traders and institutions, with support for both fiat and crypto. The exchange is considered one of the most liquid for BTC pairs and other major altcoins like ETH and XMR. To protect user assets, the platform offers both two-factor authentication and IP address monitoring.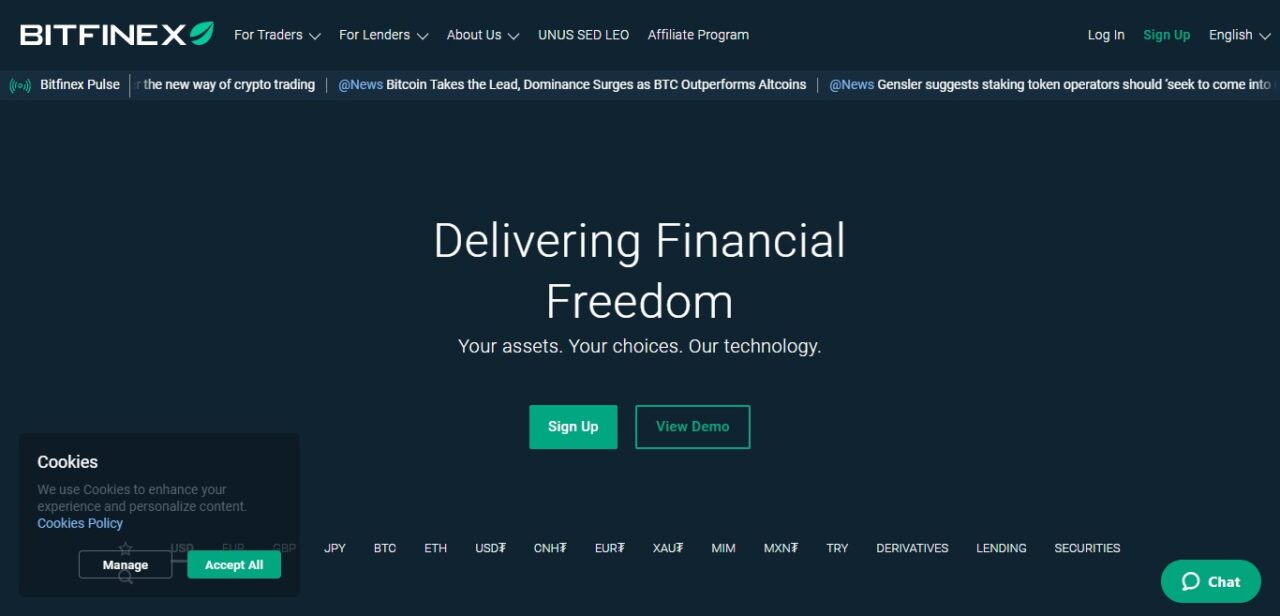 The exchange focuses on professional traders and investors with experience, offering platform users the ability to engage in margin lending, margin funding, paired trading, over-the-counter (OTC) trading and more. Besides spot and margin trading, Bitfinex also offers various other products, such as: Bitfinex Borrow, Bitfinex Pay, Bitfinex Pulse, Affiliate Program, API and its native utility token — UNUS SED LEO, amongst others.
2 BitMart
BitMart is a centralized exchange that provides crypto asset trading and investment services to over 9 million users around the globe. The trading platform offers numerous features for its clients, including staking, lending, savings products, derivative contracts, and expanded spot trading options. For advanced crypto enthusiasts, BitMart provides futures trading and margin trading that allow them to use leverage.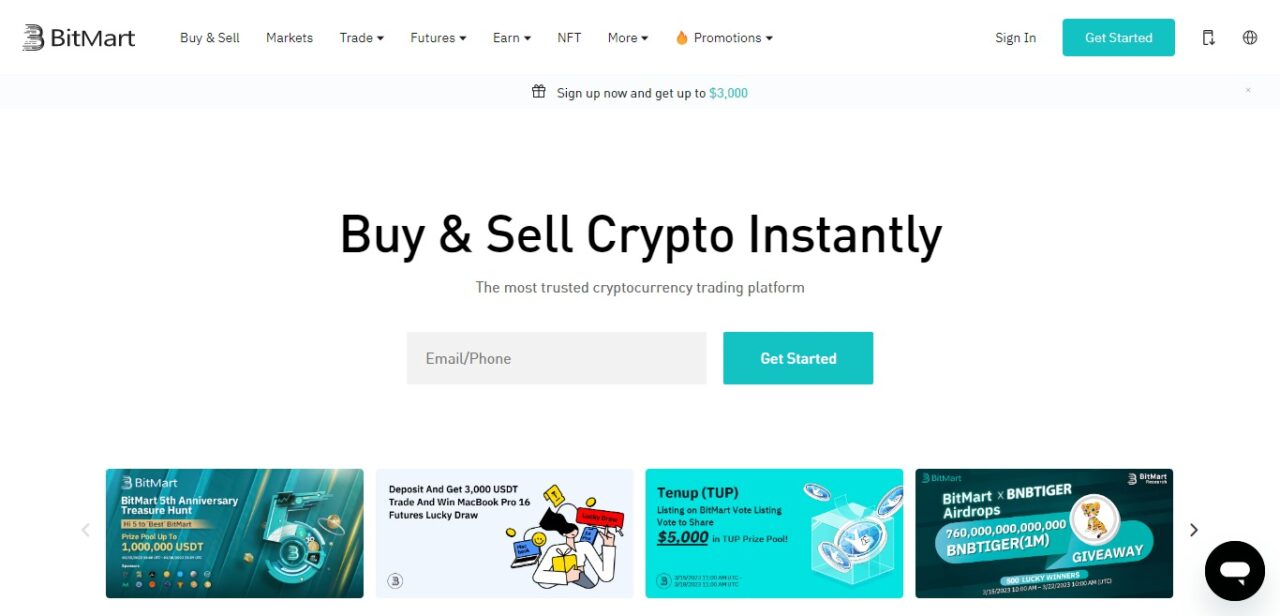 Users also have access to major cryptocurrencies, a user-friendly and straightforward interface, a comprehensive knowledge base, a secure wallet, a well-designed mobile app, and an NFT marketplace.The BitMart network is committed to security, stability, and scalability, which is why it adopted an advanced multi-layer and multi-cluster system architecture. A year after its founding, in 2018, the exchange launched its investment token BMX, built on an ERC-20 standard.
3 KuCoin
KuCoin is a cryptocurrency exchange built with the mission to "facilitate the global free flow of digital value." It claims to have an emphasis on intuitive design, simple registration process and high level of security. The platform supports futures trading, a built-in P2P exchange, the ability to purchase cryptocurrencies with a credit or debit card, and instant exchange services.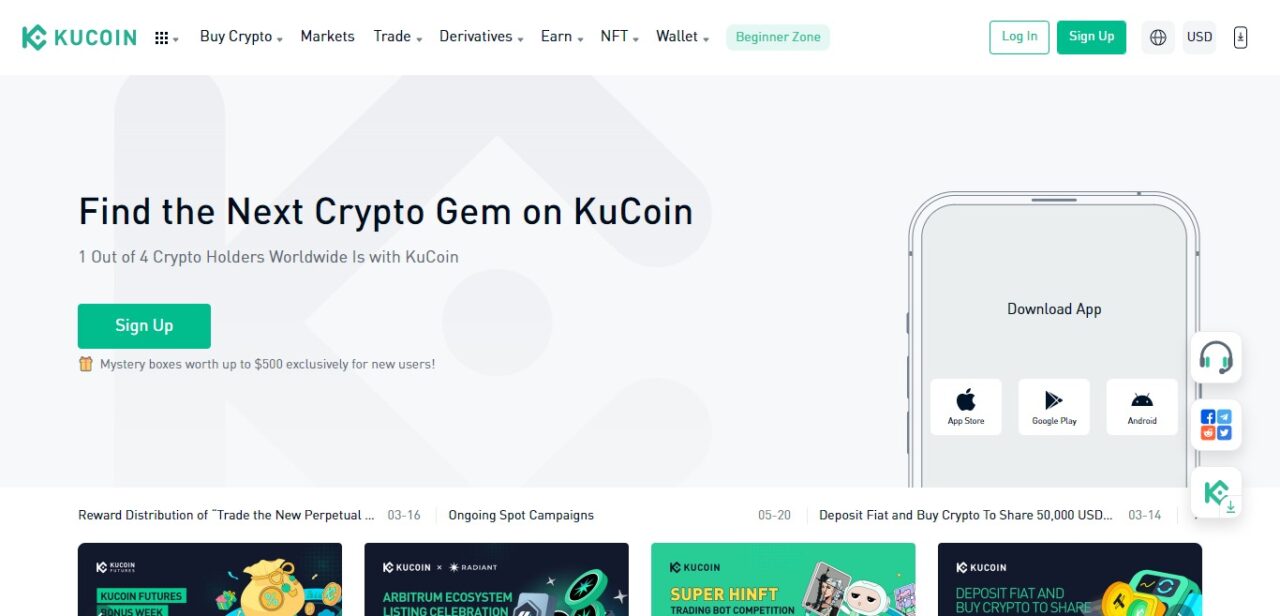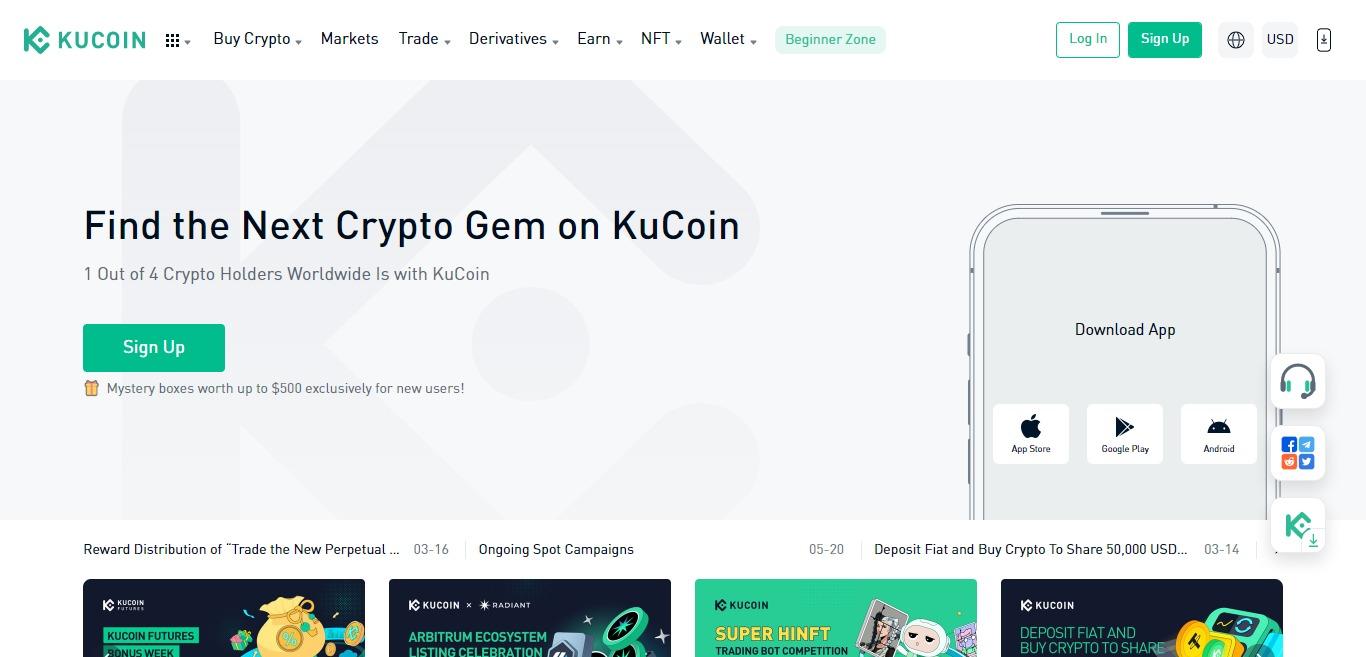 Also known as "people's exchange", the platform facilitated 1.2 trillion in lifetime trading volume and supports over 20 million users worldwide. The company claims to offer technology-driven trading products and the KuCoin ecosystem, which encompasses the KuCoin community and is built around the KuCoin token (KCS).
4 Huobi
Huobi Global is an international digital asset exchange with a presence in over 100 countries. Founded in China in 2013, the platform works with global clients and provides trading and investment services to users around the world, handling over $4 billion in daily trading volume.
The centralized exchange (CEX) supports initial coin offering (ICO) tokens and offers an extensive list of cryptocurrencies, with over 500 assets and 300 trading pairs listed on the platform. An insurance policy is available for users to protect their assets, and there is also 24/7 access to several channels for contacting the support service.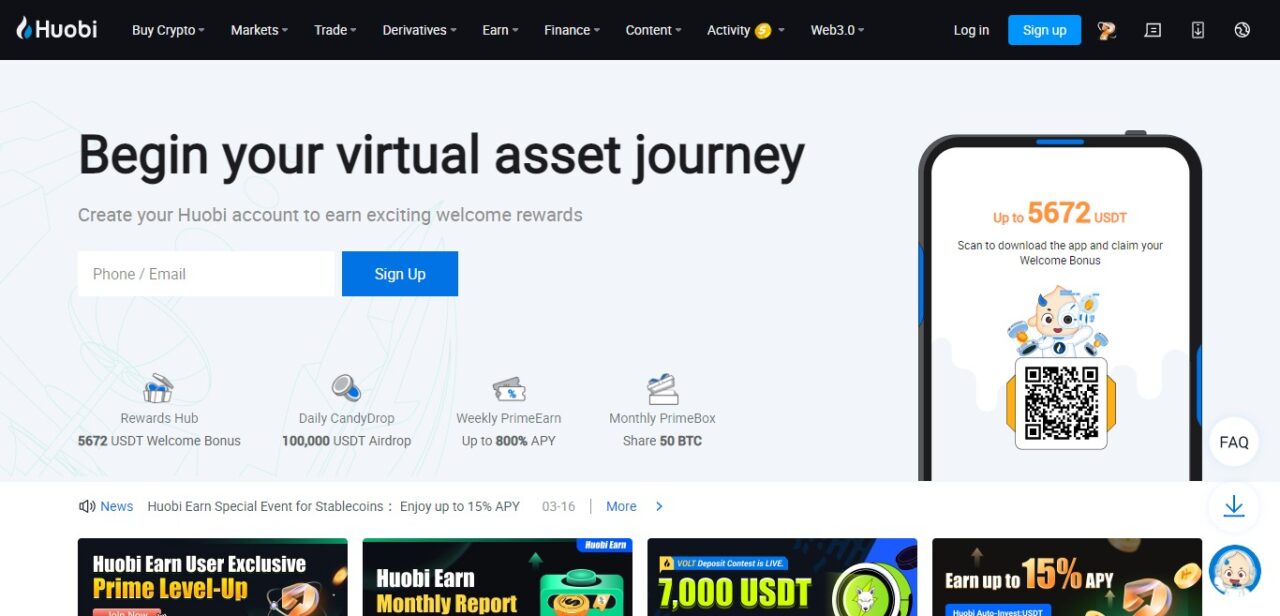 The ecosystem includes spot trading, margin trading, futures trading, derivatives trading, staking, crypto loans and more. Active traders and investors have the opportunity to enter OTC trading platforms and gain access to custom trading instruments.
About Crypto Exchange
A crypto exchange is an online platform that allows individuals to buy, sell, and trade cryptocurrencies such as Bitcoin, Ethereum, Litecoin, and others. Crypto exchanges work similarly to traditional stock exchanges, but instead of buying and selling stocks, users trade digital assets.
On a crypto exchange, users can create an account, deposit funds in the form of fiat currency or cryptocurrency, and use those funds to buy or sell cryptocurrencies at the current market price. The exchange acts as a middleman between buyers and sellers, matching buy and sell orders and executing trades.
There are various types of crypto exchanges, including centralized exchanges, decentralized exchanges, and peer-to-peer exchanges. Centralized exchanges are the most common type and are operated by a centralized entity, while decentralized exchanges operate on a blockchain network and are not controlled by any central authority. Peer-to-peer exchanges allow users to trade directly with one another without the involvement of a middleman.
Crypto exchanges play a vital role in the cryptocurrency ecosystem, providing a convenient and accessible way for individuals to enter and participate in the market. However, it's important to note that cryptocurrency investments come with risks, and users should do their due diligence and research before investing in any digital asset.
Why Coincheck Popular
Coincheck is a popular cryptocurrency exchange based in Japan. Here are a few reasons why it has gained popularity:
Security: Coincheck has implemented several security measures to protect its users' funds. For instance, it stores most of its users' cryptocurrency holdings in offline cold storage wallets, which are much more secure than online hot wallets. Additionally, it employs two-factor authentication (2FA) for account logins and withdrawals to prevent unauthorized access.
Range of Supported Cryptocurrencies: Coincheck offers a wide range of cryptocurrencies for trading, including Bitcoin, Ethereum, Ripple, Bitcoin Cash, Litecoin, and more. This makes it a convenient platform for users who want to trade multiple cryptocurrencies in one place.
User-Friendly Interface: The exchange has a user-friendly interface that is easy to navigate, making it ideal for beginners who are new to cryptocurrency trading.
Good Reputation: Coincheck has been in operation since 2014 and has established a good reputation within the Japanese cryptocurrency community. It has also obtained regulatory licenses from Japan's Financial Services Agency, which adds to its credibility.
Mobile App: Coincheck offers a mobile app that allows users to trade cryptocurrencies on the go. This feature is convenient for users who want to monitor their trades and make transactions from their mobile devices.
Why Coincheck Not Good Choice For Some Users
While Coincheck is a popular cryptocurrency exchange, it may not be the best choice for some users for the following reasons:
Limited Geographic Coverage: Coincheck is a Japanese-based exchange and primarily caters to users in Japan. It has limited coverage outside of Japan, and some users may not be able to access its services.
Limited Payment Options: Coincheck only supports a few payment options, such as bank transfers, credit cards, and cryptocurrencies. This limited payment options may not be suitable for some users who prefer other payment methods.
High Trading Fees: Coincheck charges relatively high trading fees compared to other exchanges. This may not be suitable for users who want to make frequent trades or have a limited budget.
Limited Customer Support: Some users have reported poor customer support from Coincheck. This can be frustrating for users who need assistance with their accounts, transactions, or other issues.
Security Incidents: In January 2018, Coincheck suffered a major security breach in which hackers stole $530 million worth of NEM cryptocurrency from its users' accounts. While Coincheck has since improved its security measures, this incident may still be a concern for some users.
How to Choose best crypto exchange?
Choosing the best cryptocurrency exchange can be a daunting task, as there are many factors to consider. Here are some tips to help you select the best exchange for your needs:
Security: Security is one of the most critical factors to consider when choosing a cryptocurrency exchange. Look for an exchange that uses advanced security measures such as two-factor authentication, cold storage, and encryption to protect users' funds.
Reputation: Check the exchange's reputation in the crypto community by reading user reviews and feedback on forums and social media. Choose an exchange that has a good reputation for reliability, transparency, and customer service.
Supported cryptocurrencies: Different exchanges support different cryptocurrencies. Choose an exchange that supports the cryptocurrencies you want to trade or invest in.
Fees: Consider the exchange's fees, including trading fees, deposit and withdrawal fees, and other charges. Choose an exchange that has reasonable fees and doesn't charge exorbitant rates.
Payment Options: Look for an exchange that supports payment methods that you are comfortable using, such as credit cards, bank transfers, or PayPal.
User Interface: Choose an exchange that has an easy-to-use and intuitive user interface, especially if you're a beginner.
Customer Support: Look for an exchange that provides good customer support, with multiple channels for support such as email, chat, and phone.
Regulatory Compliance: Choose an exchange that is licensed and regulated in your jurisdiction, as this provides some level of protection and accountability.
Overall, take the time to research and compare different cryptocurrency exchanges to find the one that best fits your needs and preferences.
Coincheck Alternative Conclusion
Coincheck is a popular cryptocurrency exchange in Japan, but it may not be the best choice for everyone due to its limited geographic coverage, payment options, high fees, and limited customer support. If you're looking for alternative exchanges, here are a few options to consider:
Ultimately, the best exchange for you depends on your individual needs and preferences. It's essential to research and compare different exchanges to find the one that best suits your needs in terms of security, supported cryptocurrencies, fees, user interface, customer support, and regulatory compliance.