Best Crypto Tracking Tools In 2024 In the fast-paced, constantly-changing world of cryptocurrencies, it's imperative to keep up with market developments and practice good digital asset management. A number of excellent cryptocurrency tracking programs have surfaced to meet the requirements of both inexperienced and seasoned investors. CoinMarketCap, a comprehensive platform offering real-time statistics on prices, market capitalization, and trading volumes for a wide range of cryptocurrencies, is among the best in the sector. CoinGecko is another noteworthy tool that provides a user-friendly interface along with comprehensive insights into a coin's development, community involvement, and fundamentals.
With features like portfolio tracking, price notifications, and news aggregation, Blockfolio and Delta stand out for consumers looking for a more individualized experience. With the aid of these tools, users can confidently traverse the challenging cryptocurrency world, track their assets with ease, and make well-informed decisions. These tracking tools are essential for enabling investors to understand the nuances of the digital asset area as the bitcoin market develops.
How To Choose Best Crypto Tracking Tools?
To manage and analyze your bitcoin investments successfully, you must select the best crypto tracking tools. When choosing the appropriate tools, keep the following things in mind:
Interface for users (UI) and Experience for users (UX): Select tools that offer a great user experience and an intuitive UI. Navigating and comprehending your portfolio may be made simpler with a simple and user-friendly design.
Accepted Cryptocurrencies and Exchanges: Make sure the tracking tool is compatible with the cryptocurrency you own and the exchanges you trade on. Certain tools might only handle a small number of coins or might not cover all exchanges.
Updates and Data in Real Time: Select instruments that offer price updates in real-time or almost real-time. Because of the extreme volatility of cryptocurrency markets, fast information is essential for making wise decisions.
Features of Portfolio Tracking: Seek for solutions that provide thorough portfolio tracking capabilities so you can keep an eye on your assets, transaction history, profits, losses, and portfolio's general performance.
Privacy and Security: Tools that use robust security measures to safeguard your private financial information should be given priority. Verify whether they have a solid reputation for protecting user data, employ encryption, and require two-factor authentication.
Warnings and Announcements: Select tools that let you configure notifications and price alerts for noteworthy changes in the market or in your portfolio. By doing this, you may avoid continuously checking the app and keep informed.
Here is List of The Best Crypto Tracking Tools In 2024
CoinTracker
CoinStats
The Crypto App
Delta Investment Tracker
CoinGecko
CoinMarketCap
Altrady
Kubera
Coinigy
CoinTracking
10 Best Crypto Tracking Tools In 2024
1.CoinTracker (Best Crypto Tracking Tools In 2024)
In 2024, CoinTracker stands out as one of the best crypto tracking tools, offering an unparalleled solution for individuals and businesses navigating the dynamic world of cryptocurrencies. With an intuitive interface and robust features, CoinTracker enables users to effortlessly monitor their digital asset portfolios, providing real-time insights into market fluctuations and portfolio performance. Its advanced tracking capabilities cover a wide range of cryptocurrencies, ensuring comprehensive visibility into diverse investment portfolios.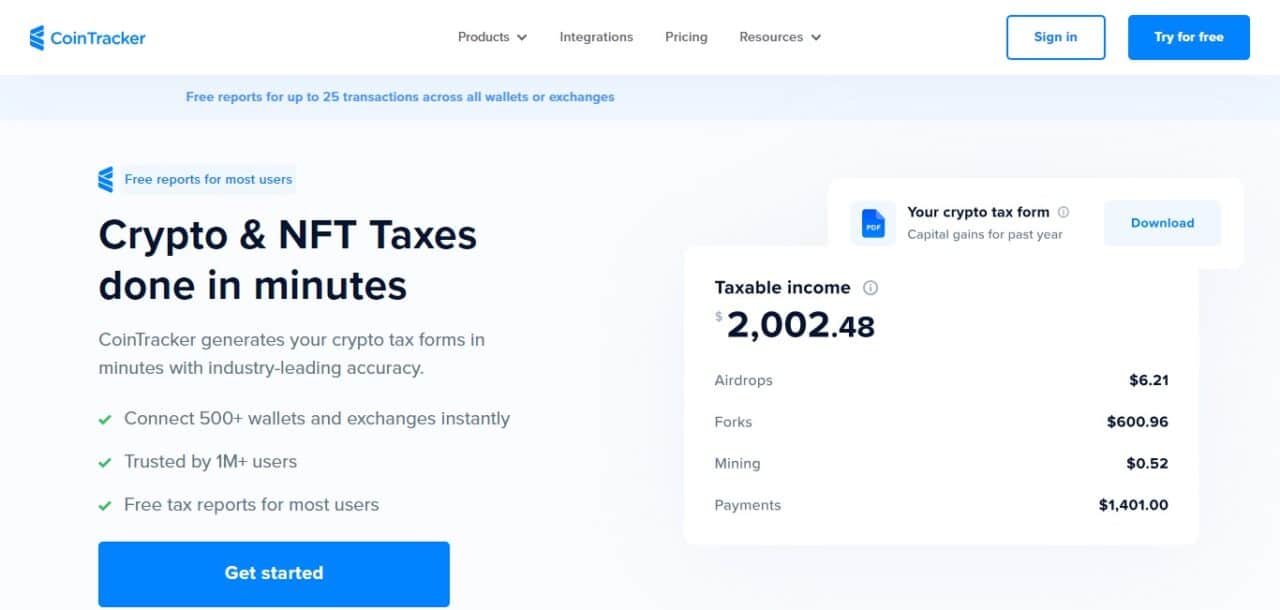 CoinTracker also excels in tax reporting, simplifying the often complex process of calculating and filing cryptocurrency taxes. The platform's integration with various exchanges and wallets streamlines data import, saving users valuable time and effort. In an era where cryptocurrency plays an increasingly integral role in financial strategies, CoinTracker proves indispensable for anyone seeking a reliable, user-friendly, and comprehensive tool for managing their crypto assets in 2024.
2.CoinStats
By giving consumers a thorough and intuitive platform to watch their digital asset portfolios, CoinStats remains one of the top cryptocurrency tracking tools even in 2024. Investors can stay updated about the constantly shifting cryptocurrency market using CoinStats' user-friendly interface and real-time updates. The platform's sophisticated capabilities, which enable users to base their judgments on a deep comprehension of market trends, including portfolio management, price alerts, and historical data analysis. In order to allow customers to track their whole portfolio in one convenient spot, CoinStats also supports a large variety of cryptocurrencies.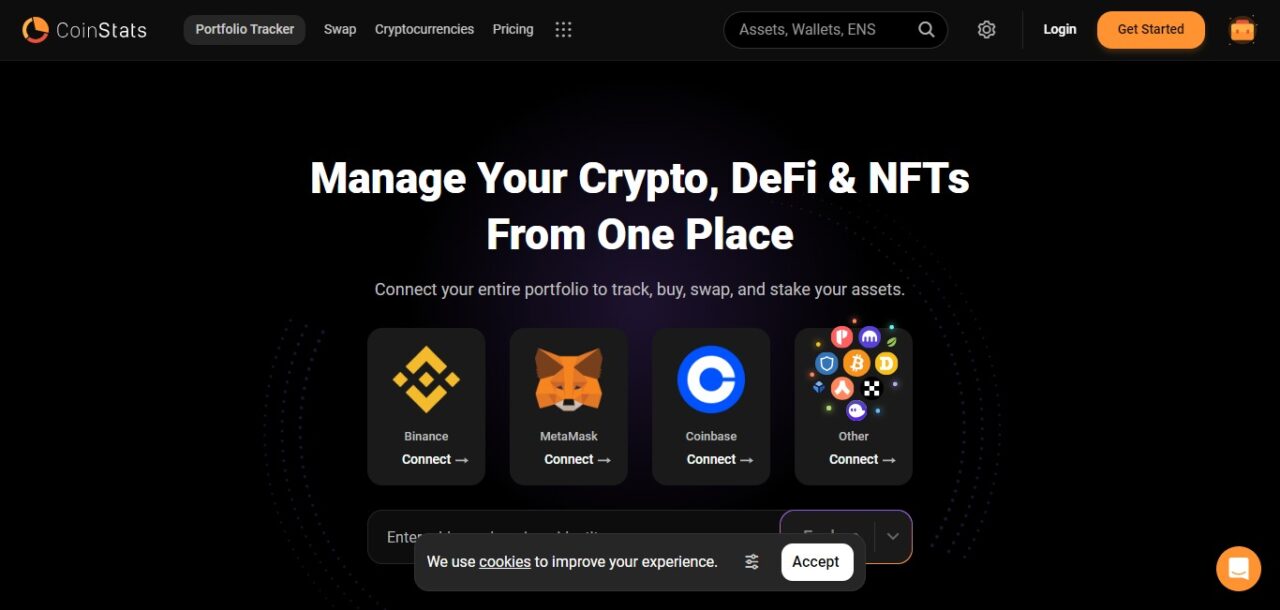 Additionally, the platform's news and market insights section keeps users up to date on the most recent advancements, enabling them to confidently traverse the unstable cryptocurrency landscape. For both new and seasoned cryptocurrency aficionados looking for a dependable and effective tool for tracking and managing their digital assets, CoinStats is the go-to choice in 2024.
3.The Crypto App (Best Crypto Tracking Tools In 2024)
As a leading platform in 2024, The Crypto App provides a plethora of innovative solutions for both investors and cryptocurrency fans. This all-inclusive cryptocurrency tracking tool has developed into a vital tool for managing the dynamic and quickly changing world of digital assets. The Crypto App gives users the tools they need to make wise decisions in the erratic cryptocurrency market thanks to its real-time price updates, user-friendly portfolio management capabilities, and thorough market analyses.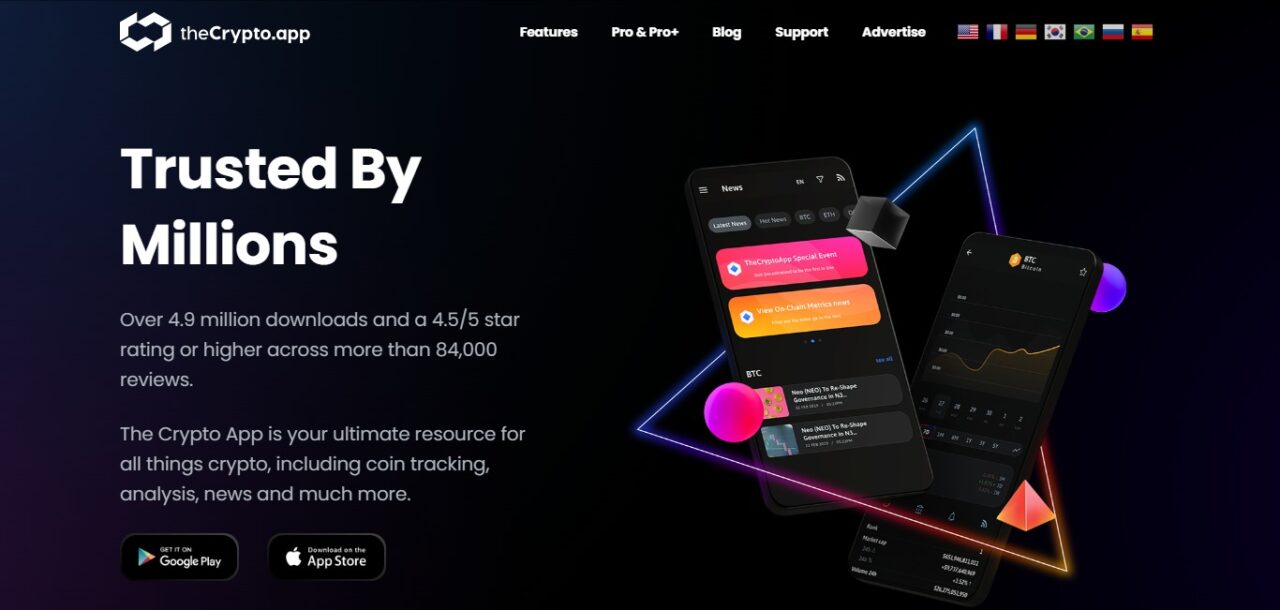 Users can easily track market trends, keep track of investing activities, and remain up to date on the most recent developments in the cryptocurrency world thanks to its intuitive interface, which offers a smooth experience. With its extensive feature set and dedication to providing the most recent information, The Crypto App maintains its standing as the go-to option for experienced and new traders alike, even in the face of growing demand for advanced crypto monitoring tools.
4.Delta Investment Tracker
Among the top cryptocurrency tracking tools in 2024 is Delta Investment Tracker, which provides an unmatched user experience and an extensive feature set for investors and enthusiasts. The challenging chore of keeping an eye on and managing bitcoin portfolios is made easier with Delta's user-friendly interface. Users can easily follow the market movements of a wide variety of digital assets thanks to the platform's real-time price updates. Delta stands out for its ability to sync with many exchanges without any issues, giving customers a centralized view of their whole cryptocurrency portfolio.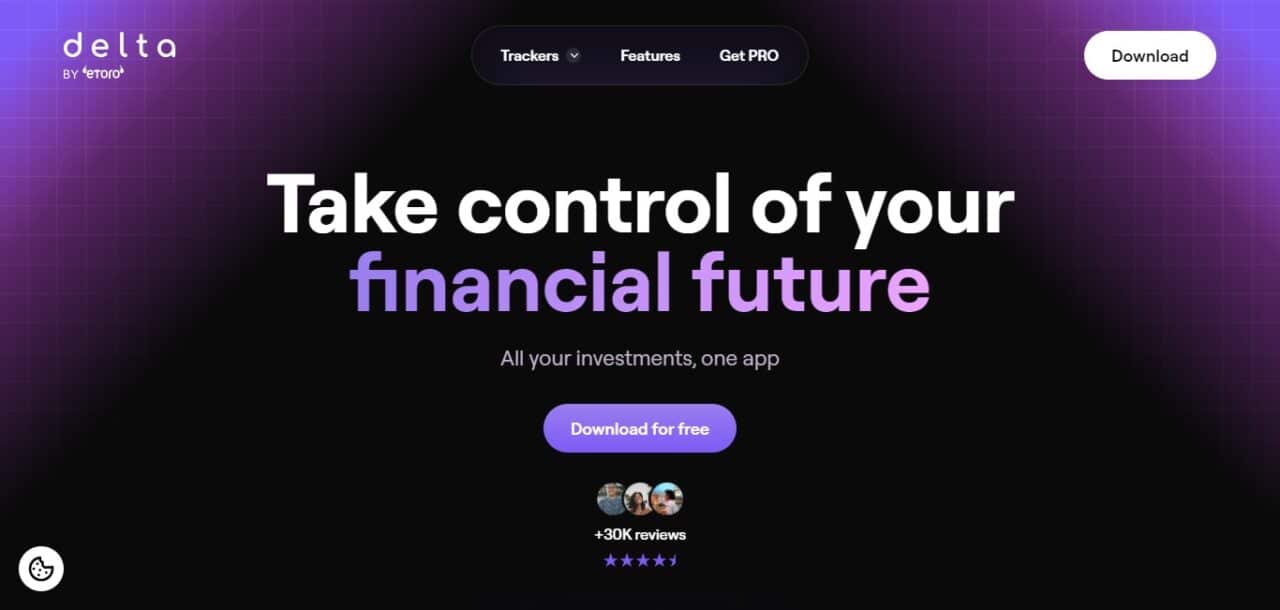 By providing information about the performance of their portfolio, including gains, losses, and asset allocation, the sophisticated analytics tools enable investors to make wise decisions. Additionally, Delta's cutting-edge features—like price notifications and news aggregation—keep users up to date on the most recent advancements in the cryptocurrency market. For anyone navigating the intricacies of the cryptocurrency world, Delta Investment Tracker continues to be a dependable and necessary tool in a market that is constantly changing.
5.CoinGecko (Best Crypto Tracking Tools In 2024)
As one of the best cryptocurrency tracking tools in 2024, CoinGecko gives consumers complete and current information on the ever-changing cryptocurrency market. With so many features and an easy-to-use interface, CoinGecko is still a valuable tool for both new and seasoned investors. Users are guaranteed access to real-time data, such as price charts, market capitalization, trading volume, and historical trends, thanks to the platform's dedication to truth and openness. With its cutting-edge measurements and statistics, CoinGecko gives users the power to make wise decisions by providing insights into market sentiment and new trends.
By including new coins and blockchain projects as the industry changes, CoinGecko stays true to its roots as a dependable and trustworthy resource for cryptocurrency aficionados. CoinGecko remains the platform of choice for cryptocurrency lovers looking for a thorough and user-friendly tracking experience in 2024, whether they are monitoring the performance of well-known cryptocurrencies or investigating the possibilities of new tokens.
6.CoinMarketCap
Even in 2024, cryptocurrency aficionados looking for thorough and current information on the constantly changing world of digital assets still turn to CoinMarketCap as their go-to source. CoinMarketCap, well-known for its intuitive layout and up-to-date market data, is still a vital resource for traders, investors, and scholars alike. The portal offers a wide range of functions and offers in-depth information on historical data, trade volumes, market capitalization, and price fluctuations for a large number of cryptocurrencies. Because of its dedication to truthfulness and openness, CoinMarketCap has established a solid reputation as a reliable source in the cryptocurrency industry.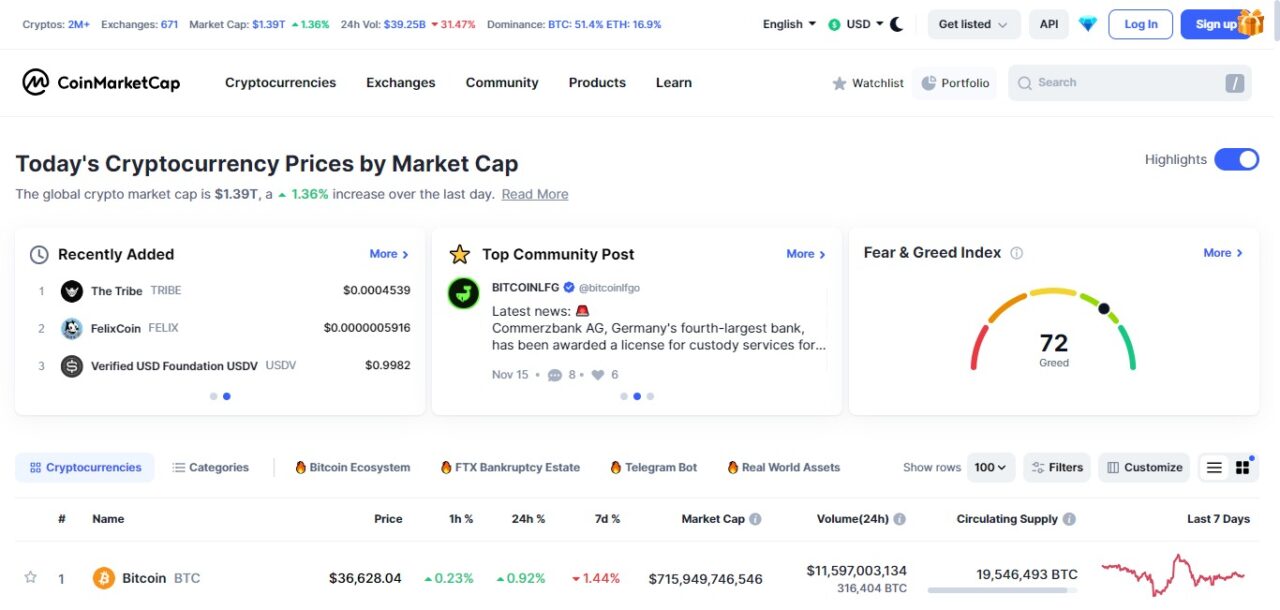 CoinMarketCap's cutting-edge tracking tools, like its sophisticated charting capabilities and portfolio management features, enable users to make informed decisions in a dynamic and fast-paced environment as the cryptocurrency market gets more and more complicated. CoinMarketCap is a beacon that leads fans through the complexities of the digital financial world with accuracy and dependability as the ecosystem for cryptocurrencies grows.
7.Altrady (Best Crypto Tracking Tools In 2024)
As one of the best cryptocurrency tracking platforms in 2024, Altrady provides a wide range of services for both inexperienced and seasoned traders. Altrady excels at providing real-time data and analytics, enabling users to make informed decisions in light of the constantly changing nature of the cryptocurrency market. A wide range of users can utilize the platform because of its user-friendly interface, which makes sophisticated trading techniques simpler. Its portfolio management features assist in tracking and optimizing asset allocations, and its sophisticated charting tools allow users to conduct in-depth technical analysis.
Furthermore, the incorporation of automated trading bots improves efficiency through the implementation of pre-established methods. Security is still of utmost importance, and Altrady has put strong safeguards in place to guard user money and private data. With its extensive toolkit, Altrady is positioned as a dependable and cutting-edge option for both day traders and long-term investors in the ever-changing world of cryptocurrency trading in 2024.
8.Kubera
One of the greatest cryptocurrency tracking tools available as of 2024 is Kubera, which provides investors with an extensive and easy-to-use interface for managing and keeping an eye on their portfolios. With the help of Kubera's sophisticated features, customers may access real-time data on a variety of digital assets and remain up to date on price fluctuations, market trends, and portfolio performance. Both inexperienced and seasoned investors may access and analyze their holdings with ease because to the platform's user-friendly layout. Beyond simple monitoring, Kubera provides customers with tailored warnings, customisable visualizations, and comprehensive statistics to enable them to make wise decisions.
Kubera prioritizes security and uses strong encryption techniques to protect user information, creating a reliable and safe environment for handling cryptocurrency assets. In 2024, Kubera's cutting-edge features and intuitive interface will make it an excellent option for managing cryptocurrency portfolios, regardless of experience level.
9.Coinigy (Best Crypto Tracking Tools In 2024)
As one of the best cryptocurrency tracking tools in 2024, Coinigy offers consumers a thorough and user-friendly platform for managing their digital assets. With a growing list of exchanges it supports and a plethora of strong features, Coinigy continues to lead the cryptocurrency business. Real-time price tracking, sophisticated charting tools, and seamless portfolio management are all available to traders and investors through a single, user-friendly interface.
Users are reassured by the platform's strong security protocols, which guarantee the security of their private data and valuables. By integrating cutting-edge technologies, Coinigy demonstrates its dedication to innovation by providing users with market trends insights and enabling well-informed decision-making. As the cryptocurrency market develops, Coinigy keeps improving and adjusting, securing its place as a vital resource for anybody navigating the ever-changing world of digital assets in 2024.
10.CoinTracking
As one of the best cryptocurrency tracking tools in 2024, CoinTracking provides customers with an extensive and easy-to-use platform for managing their cryptocurrency assets. CoinTracking stays ahead of the curve in the constantly changing digital asset market by offering real-time tracking, research, and reporting tools. With just one single location, users can easily keep an eye on their different cryptocurrency holdings, which include Bitcoin, Ethereum, and a wide variety of altcoins. Investors are empowered to make well-informed decisions by the platform's sophisticated analytics and user-friendly interface, which are based on historical data, market trends, and portfolio performance.
The tax reporting features of CoinTracking ease the frequently difficult process of computing and filing bitcoin taxes while ensuring compliance with regulatory standards. The platform's easy integration with well-known exchanges and wallets further expedites the tracking procedure, making it a vital tool for both inexperienced and seasoned cryptocurrency aficionados to navigate the ever-changing world of digital assets. CoinTracking is still a trustworthy partner for anyone looking for accuracy, ease, and effectiveness when handling their bitcoin holdings as the market develops.
Conclusion Best Crypto Tracking Tools In 2024
In conclusion, given how quickly the world of digital assets is changing, CoinTracking stands out as one of the greatest crypto tracking tools as of 2024. Its extensive feature set, intuitive UI, and reliable operation make it a valuable tool for both new and seasoned bitcoin investors.
Consolidating and organizing data from several exchanges, wallets, and platforms with ease is one of CoinTracking's main advantages; it gives customers a cohesive and understandable picture of their cryptocurrency portfolio. Users may optimize their investment strategies, make well-informed decisions, and maintain an advantage in the ever-evolving cryptocurrency market by utilizing the platform's real-time tracking and reporting tools.
CoinTracking's constant improvements and upgrades show how dedicated it is to keeping up with the rapidly evolving cryptocurrency market. Its interaction with well-known exchanges and support for a large variety of cryptocurrencies guarantee that customers have access to the most recent data on their whole portfolio. In a setting where security is crucial, CoinTracking's strong security measures add to the platform's dependability by guaranteeing the security of users' private financial information.
FAQ Best Crypto Tracking Tools In 2024
Why should use crypto tracking tools?
By offering historical data, real-time price updates, and other crucial information, cryptocurrency tracking tools assist you in keeping an eye on and managing your portfolio of cryptocurrencies. They make it possible to make wiser choices and approach your cryptocurrency investments with greater knowledge.
What are the key features to look for in a crypto tracking tool?
Seek for solutions that support a variety of cryptocurrencies and provide real-time price tracking, portfolio management, configurable alerts, and news aggregates. Security features and user-friendly interfaces are also essential.
Are there free crypto tracking tools available?
Indeed, a lot of crypto tracking apps include free versions with limited functionality. However, you might need to sign up for premium plans if you want more sophisticated features and thorough portfolio management.
Which tools support a wide range of cryptocurrencies?
CoinMarketCap, CoinGecko, Coinlore, and other well-known resources usually support a large number of cryptocurrencies. Make sure the tool you select is compatible with the particular assets you want to track.
How do crypto tracking tools help with portfolio management?
With the help of these tools, you can enter and monitor your cryptocurrency holdings, determine their current worth, and examine the success of your portfolio over time. To make things easier during tax seasons, some tools even have tax reporting functions.