Best Cryptocurrency Invoice Platforms Numerous cryptocurrency invoice platforms have emerged as industry leaders for providing smooth and secure transactions between businesses and individuals alike. These platforms provide an array of features designed to make invoicing and payment processing efficient and transparent. Businesses often incorporate multiple cryptocurrencies, enabling them to serve a global clientele while simplifying payment methods and processes.
These platforms prioritize security through advanced encryption and decentralized ledger technology, protecting sensitive financial data. Furthermore, these solutions offer user-friendly interfaces and customizable invoicing templates, streamlining the invoicing process while improving overall user experience.
Real-time tracking and reporting capabilities enable businesses to easily keep an eye on payment statuses and oversee financial operations. As digital economies continue to flourish, cryptocurrency invoice platforms serve as an essential intermediary between traditional finance and cryptocurrency, offering a glimpse into an era of seamless, borderless transactions.
What is Crypto invoice?
A cryptocurrency invoice (or crypto invoice, in short) is an electronic document used as a formal request for payment in cryptocurrency form. Like traditional invoices used with fiat currency transactions, crypto invoices outline essential transaction details like amount owed and type of cryptocurrency required (such as Bitcoin or Ethereum) as payment; their designated wallet address or QR code for receiving payment and any relevant additional details.
As soon as they receive a crypto invoice, payers can initiate the transaction by either sending the specified amount of cryptocurrency directly to their wallet address or scanning its QR code using their cryptocurrency wallet app.
Once a transaction has been verified on the blockchain, both parties typically receive notifications or confirmations, ensuring transparency and security during payment processes. Crypto invoices utilize blockchain technology's benefits by offering fast and safe cross-border transactions while contributing to wider cryptocurrency adoption in various commercial contexts.
9 Best Cryptocurrency Invoice Platforms
Blockonomics Crypto Invoice
Triple-a.io Crypto Invoice
Request Network Crypto Invoice
Aurpay Crypto Invoice
Coinspaid Crypto Invoice
Basenode Crypto Invoice
Gilded Finance Crypto Invoice
Coinbase Crypto Invoice
Payscript Crypto Invoice
9 Best Cryptocurrency Invoice Platforms
1. Blockonomics Crypto Invoice
Blockonomics is an award-winning cryptocurrency invoice platform renowned for its user-friendly interface and efficient invoicing solutions, suitable for businesses as well as individuals. Serving both businesses and individuals alike, Blockonomics allows users to generate invoices using various cryptocurrencies and receive payments in various amounts through this secure payment method. Featuring customizable invoice templates to meet individual branding and communication preferences.
Blockonomics stands out among other platforms with its seamless integration into popular e-commerce platforms like WooCommerce and Shopify, making it simple for online businesses to integrate cryptocurrency payments seamlessly into their checkout process. This expands usability while giving merchants a gateway into tapping the growing cryptocurrency user market.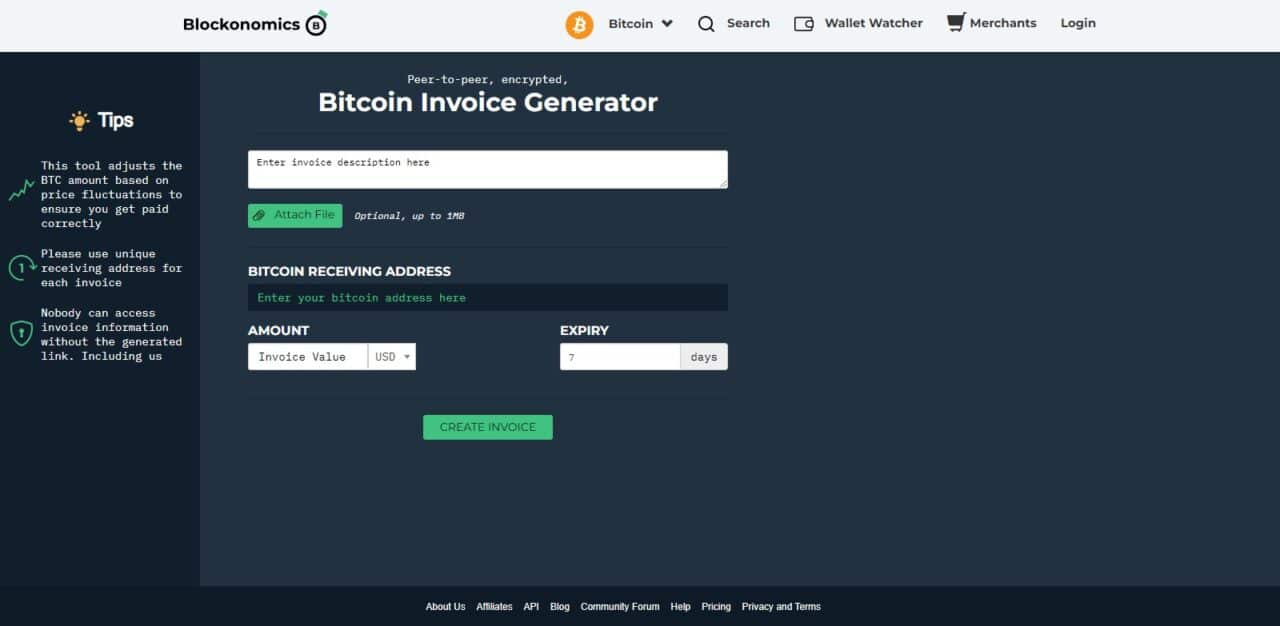 Security in cryptocurrency transactions is of utmost importance, and Blockonomics addresses this through decentralized payment solutions such as Bitcoin's Lightning Network to ensure fast and safe transactions while mitigating potential risks associated with traditional payment gateways.
Blockonomics offers real-time tracking and reporting tools, enabling users to track the status of invoices and payments in real time, for efficient record keeping and financial management. Furthermore, integration of cryptocurrency wallets makes the payment process even simpler for both payers and recipients.
2. Triple-a.io Crypto Invoice
Triple-A is a licensed crypto payment gateway that helps businesses increase their revenue by enabling crypto payments and payouts, giving them access to the spending power of the fast-growing 420m+ cryptocurrency users.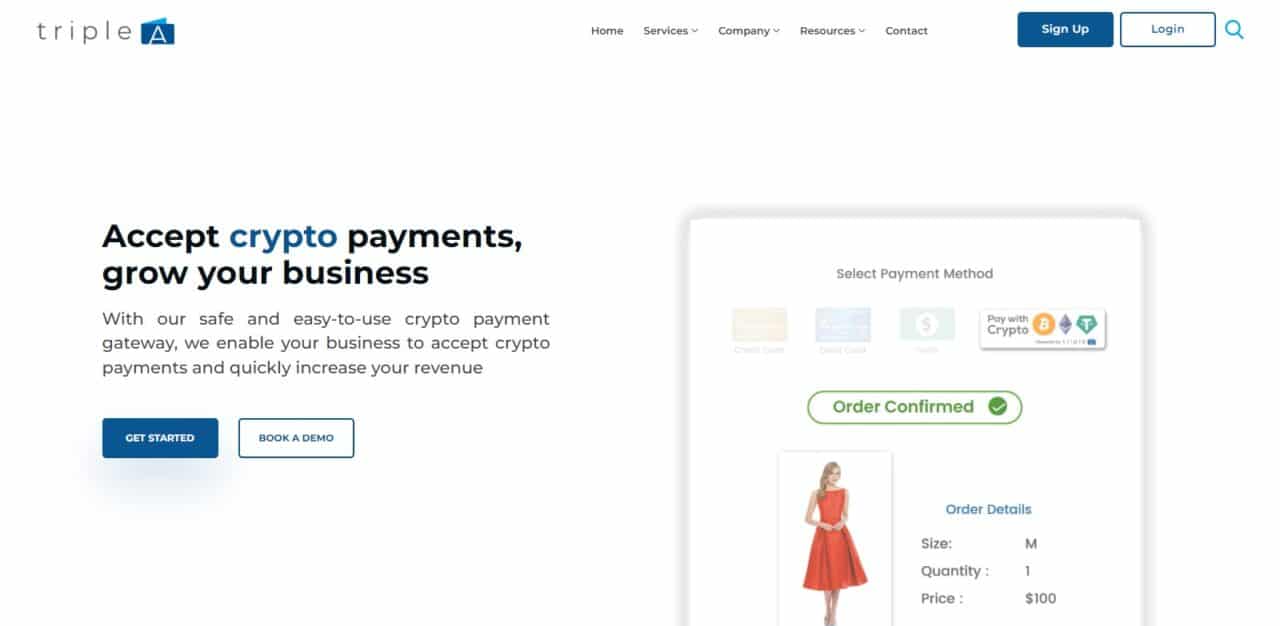 Triple-A's white label crypto payments allow businesses from all industries to leverage the benefits of the growing crypto market without being exposed to volatility risk or having to handle or convert digital currencies. Their solutions are compatible with all wallets, easy to integrate and offer instant confirmation, locked-in exchange rates and chargeback protection.
Licensed by the Monetary Authority of Singapore (MAS) and trusted by over 15,000 businesses, Triple-A makes accepting crypto payments simple for businesses across the globe.
3. Request Network Crypto Invoice
Request Network is a blockchain-powered platform designed to deliver efficient and secure invoicing and payment solutions for both businesses and individuals. Built on Ethereum, Request Network enables users to generate invoices in various cryptocurrencies for seamless cross-border transactions.
Request Network is distinguished by its ability to handle both cryptocurrency and fiat currency invoices, giving businesses greater flexibility when catering to various customers and partners regardless of payment preference. Furthermore, Request Network supports various cryptocurrencies and integrates seamlessly with wallets, making the experience convenient for both payers and receivers.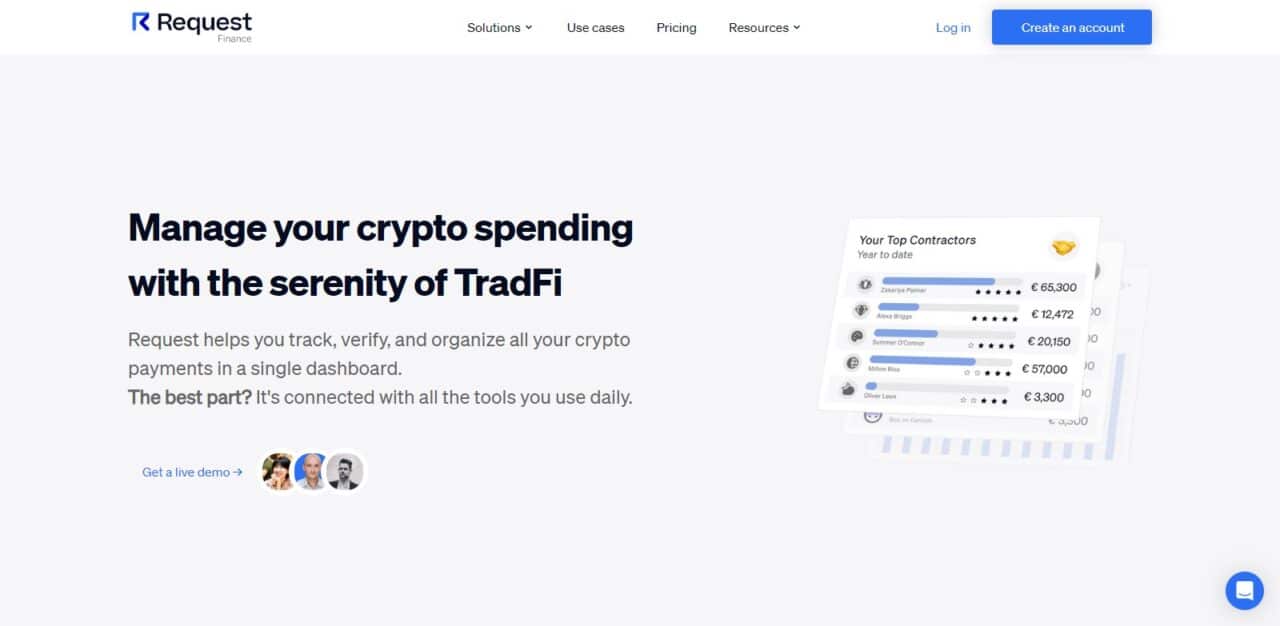 Request Network places the highest importance on security. Their platform employs decentralized technology and cryptographic encryption to protect both financial data privacy and integrity, as well as smart contracts running on Ethereum blockchain to automate invoicing process without intermediaries and minimize errors.
Request Network offers businesses several additional features, including automated payment reconciliation and real-time tracking, to simplify financial operations while decreasing administrative overhead. Businesses can easily monitor invoices and payments to streamline financial operations while decreasing administrative overhead costs.
4. Aurpay Crypto Invoice
With the further recognition of blockchain technology and cryptocurrency in the global business and policy environment, more and more merchants who wish to use blockchain technology or access crypto market are surging; at the same time, application scenarios of cryptocurrency are gradually increasing. Payment, as an infrastructure in e-commerce overall ecology, has great development prospects.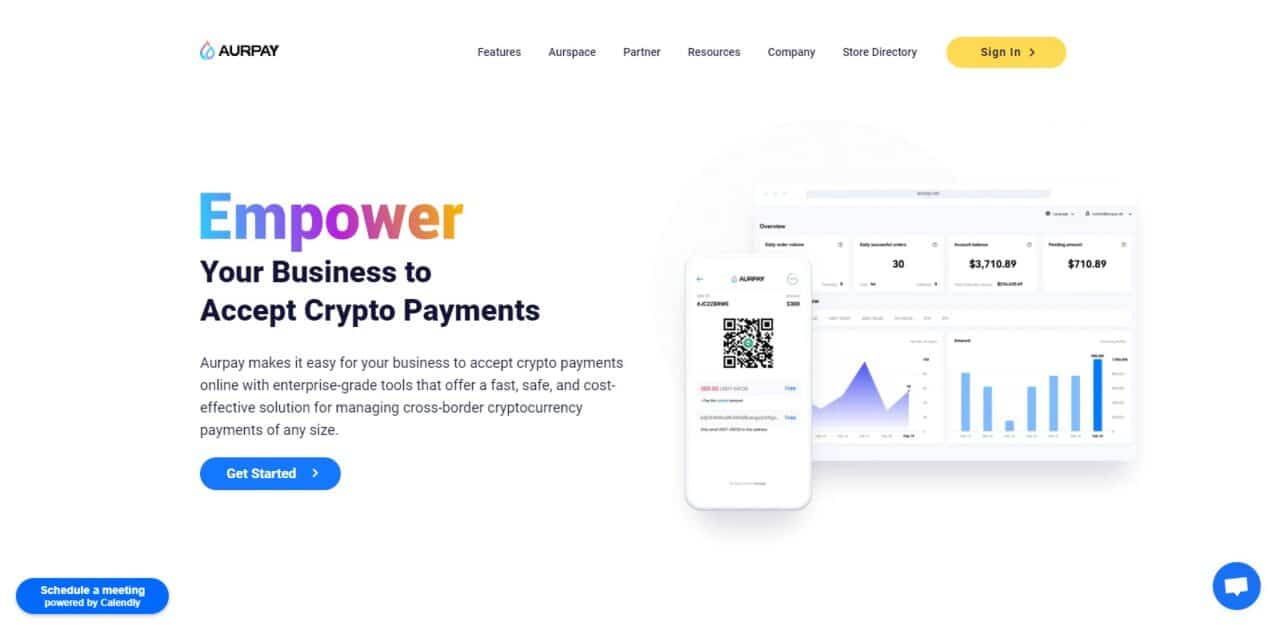 Aurpay is a global blockchain technology firm that enables businesses of all sizes to access enterprise grade cross-border crypto payments, via our advanced platform or API. Businesses can accept payments and send payouts globally in one single platform. Aurpay seamlessly connects any business, anywhere.
5. Coinspaid Crypto Invoice
CoinsPaid is a robust cryptocurrency payment processing platform designed to provide businesses with a safe, straightforward means for invoicing and accepting payments in various cryptocurrencies. The user-friendly interface enables businesses to effortlessly generate and send invoices to customers, streamlining transaction management.
Furthermore, it supports multiple cryptocurrencies, giving customers more choice in choosing their payment method. Real-time tracking of invoices and payments enables businesses to effortlessly monitor transaction statuses and maintain accurate financial records.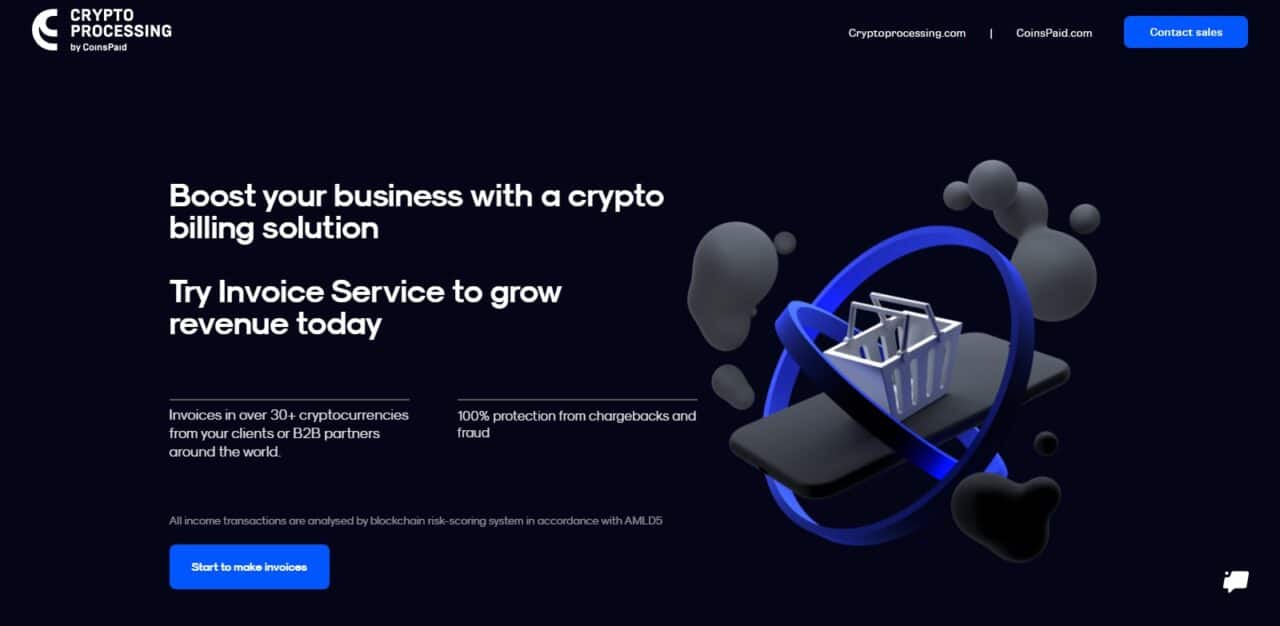 CoinsPaid's integration as a payment gateway enables e-commerce platforms and websites to offer cryptocurrency payment options during checkout, further enriching customer experiences. Security features offered by this platform such as encryption, two-factor authentication and cold storage are testament to its commitment to safeguarding users' assets.
CoinsPaid gives businesses the flexibility to settle in both fiat currencies and cryptocurrencies, giving them the ability to select their preferred settlement method. For those with more technical needs, CoinsPaid also provides API integration as a complete cryptocurrency invoice management and payment solution.
6. Basenode Crypto Invoice
At basenode.io, The mission is to eliminate the gap between traditional accounting and blockchain-based accounting. Basenode.io is the first token-based accounting solution that offers seamless fiat-to-crypto invoicing. They provide a self-explanatory user interface with a clean and modern look, that naturally supports your workflow. Furthermore, they will integrate support for the most popular networks like Bitcoin, Ethereum, Binance Smart Chain, Polygon, Fantom, and Ronin chain.
Basenode.io provides crypto freelancers worldwide with an all-in-one solution to manage their crypto activities, including cryptocurrency invoicing. basenode.io puts you in the middle to give you more time on what matters most – your business.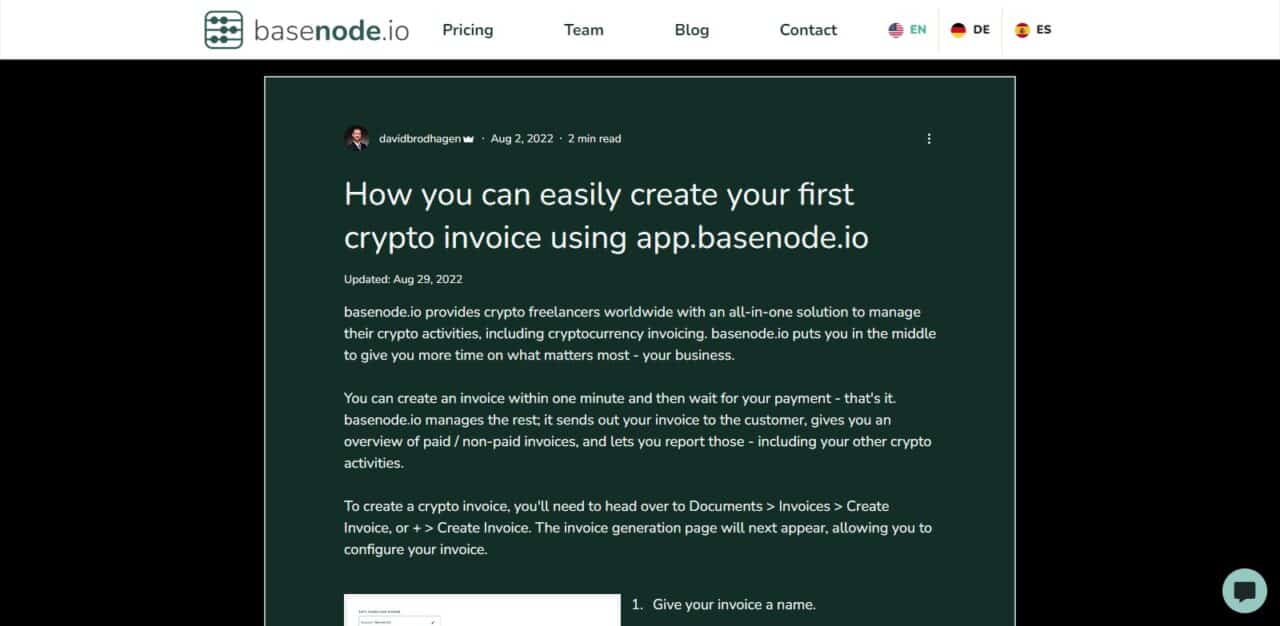 You can create an invoice within one minute and then wait for your payment – that's it. basenode.io manages the rest; it sends out your invoice to the customer, gives you an overview of paid / non-paid invoices, and lets you report those – including your other crypto activities.
To create a crypto invoice, you'll need to head over to Documents > Invoices > Create Invoice, or + > Create Invoice. The invoice generation page will next appear, allowing you to configure your invoice.
7. Gilded Finance Crypto Invoice
Gilded Finance is a cryptocurrency-specific platform offering invoicing and payment solutions tailored to meet the needs of businesses and freelancers operating in the cryptocurrency and blockchain space. Specializing in streamlining cryptocurrency invoicing, payment processing, and financial management.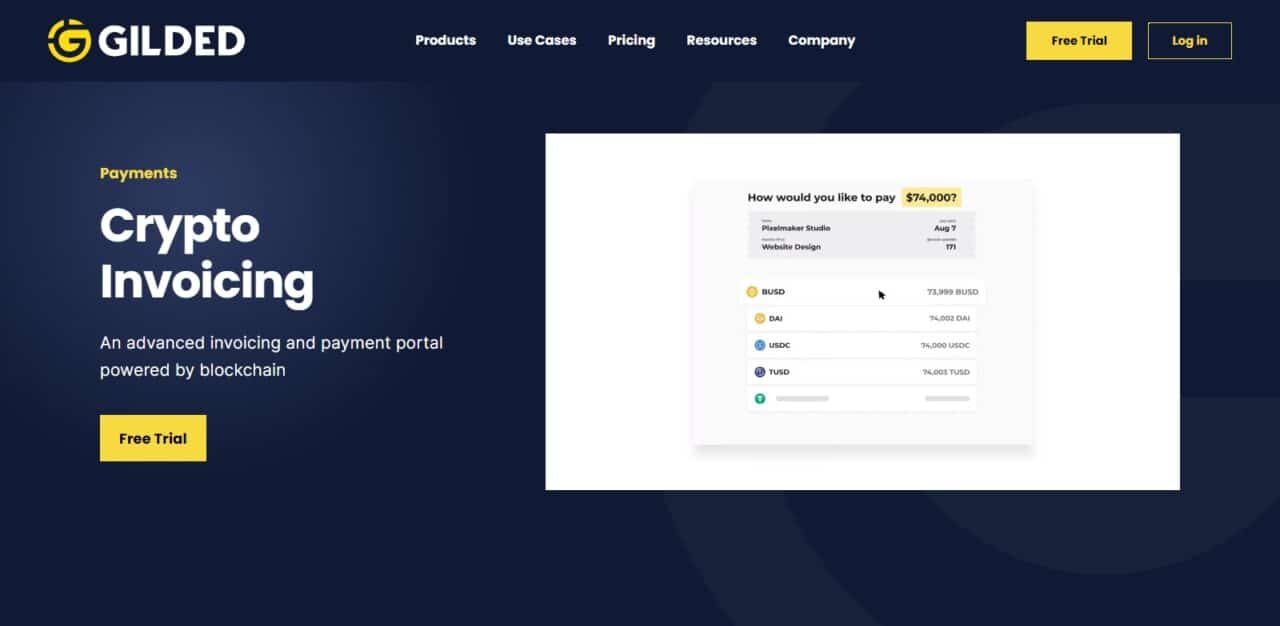 Gilded Finance allows users to easily generate professional invoices denominated in various cryptocurrencies, providing an intuitive user experience and user-friendly interface to customize invoice details and branding. Both businesses and individuals can create invoices in no time at all, specifying amount, currency and additional notes as required – this feature being especially beneficial when transacting with clients or partners who prefer cryptocurrency payments.
8. Coinbase Crypto Invoice
Coinbase, a renowned cryptocurrency exchange and wallet service, provides an easy platform for buying, selling and storing various cryptocurrencies. Coinbase's primary mission is facilitating cryptocurrency transactions and wallet management; however, Coinbase Commerce also offers businesses the option of accepting crypto payments for goods and services offered.
Coinbase Commerce makes it simple and seamless for merchants to integrate cryptocurrency payment options into their online stores or websites, offering them payment requests which specify both cryptocurrency type and amount – creating an invoicing-like payment experience for users.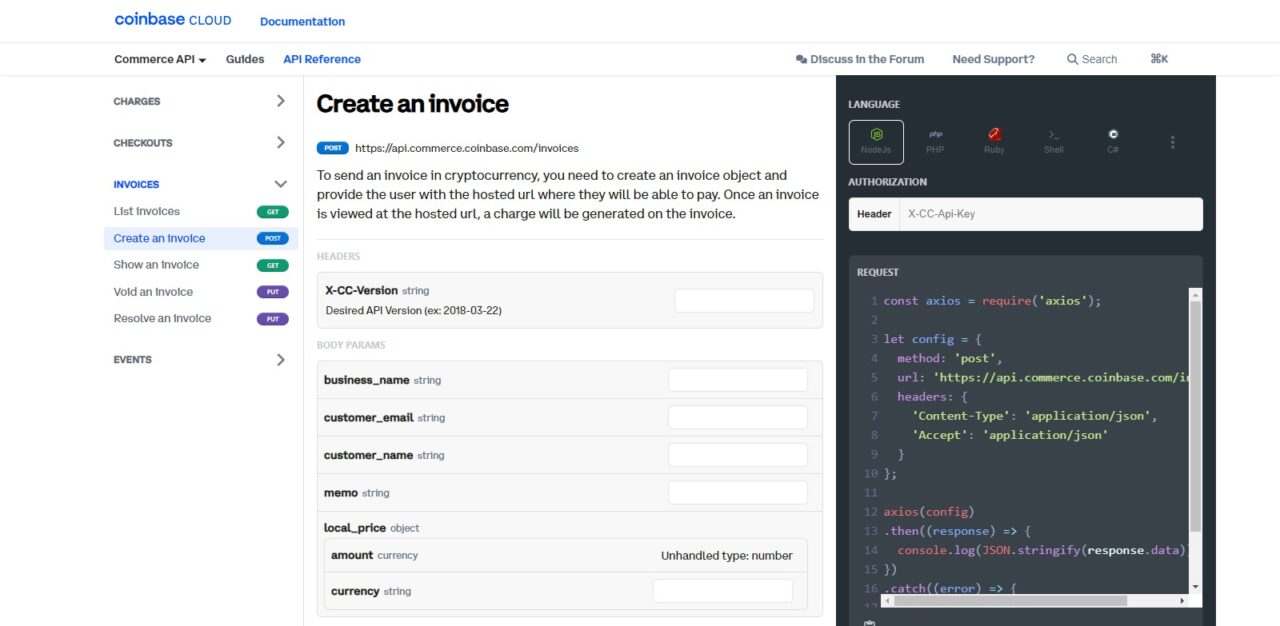 Customers can make payments either by sending their cryptocurrency directly to a payment address provided or scanning a QR code. Coinbase Commerce immediately notifies merchants when their cryptocurrency payment has been verified on the blockchain, ensuring efficient and secure transaction processing.
Coinbase Commerce can serve as an effective alternative to crypto invoices for businesses, providing businesses with all of the advantages of cryptocurrency payments while still providing customers with a seamless and user-friendly payment experience. For up-to-date information regarding their services and features, it is advised to visit Coinbase's official resources.
9. Payscript Crypto Invoice
After extensive research on consumer preferences and market analysis, Payscript has been developed and designed to be a payment gateway that makes cryptocurrency payments and transactions effortless.
The platform aims at bridging the gap between the merchants accepting cryptocurrencies and the owners of cryptocurrencies. Payscript offers thoughtful benefits and perks to both; merchants and owners.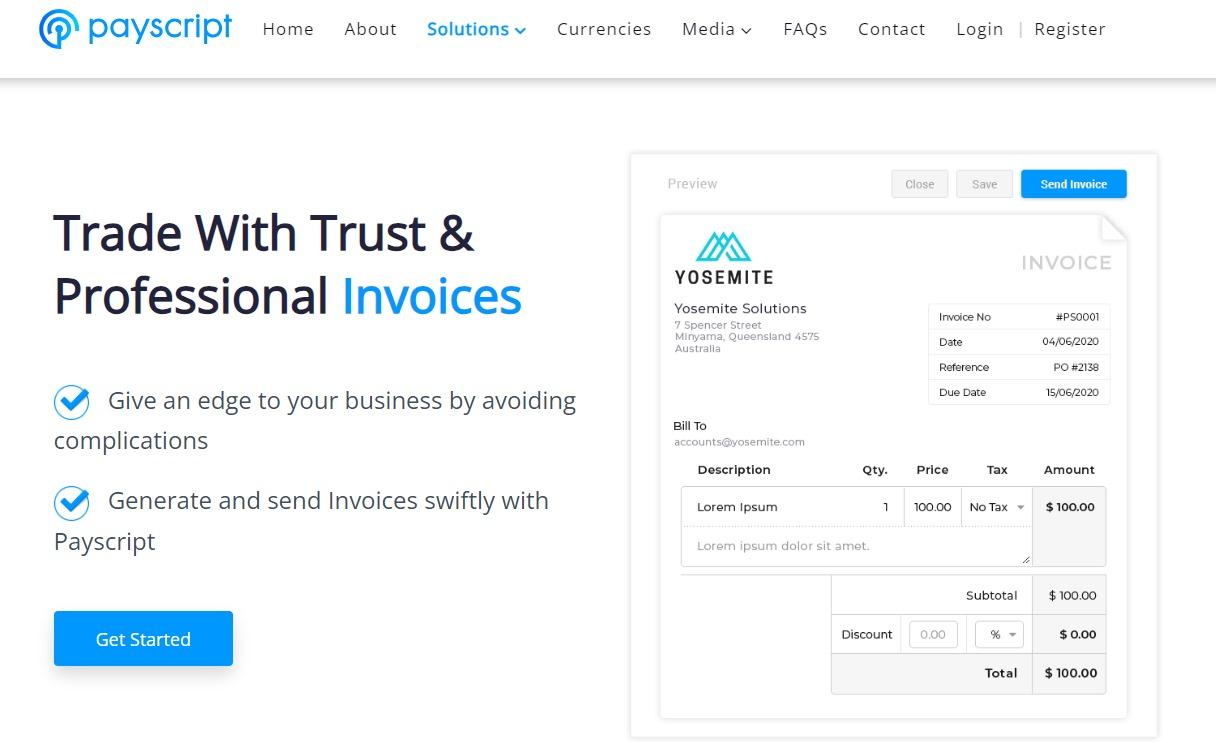 The cryptocurrency owners can make use of their crypto coins/tokens for any service or product from the merchant by making a purchase effortlessly through Payscript. Whereas the merchants can readily accept crypto-payments and generate invoices promptly with Payscript.
Moreover, merchants using Payscript can even look out for vendors who are ready to accept cryptocurrency payment gateways and get them to integrate Payscript in their payment reception interface or POS.
Payscript can act as your one-stop platform for purchasing retail products, eCommerce services, bill payments, and donations much more. Contact us right now to learn more about Payscript and its services.
How To use Crypto invoice?
Using a cryptocurrency invoice involves creating a payment request for a specific amount of cryptocurrency, which you then share with the payer. This process allows individuals or businesses to request and receive cryptocurrency payments for goods, services, or other transactions. Here's a general guide on how to use a crypto invoice:
Choose a Crypto Invoice Provider: Start by selecting a reputable cryptocurrency invoice platform that suits your needs. Research various options and consider factors such as supported cryptocurrencies, user interface, security features, and integration with your business operations.
Sign Up and Create an Account: Register an account on the chosen crypto invoice platform. Provide any required information to set up your account.
Generate a New Invoice:

Log in to your crypto invoice platform account.
Look for an option to create a new invoice or payment request.
Specify the details of the invoice, which may include the cryptocurrency type, the amount due, a description of the product or service, and any additional notes.

Receive the Payment Request:

After creating the invoice, the platform will generate a unique payment address or QR code associated with the invoice.
This payment address or QR code is what you'll share with the payer.

Share the Invoice:

Communicate the payment details to the payer. This can be done through email, messaging apps, or by displaying the QR code on your website or point-of-sale system.

Payer's Actions:

The payer receives the payment request and uses their cryptocurrency wallet to send the specified amount of cryptocurrency to the provided payment address or by scanning the QR code.

Confirmation and Notification:

Once the cryptocurrency transaction is confirmed on the blockchain, both you and the payer may receive notifications or updates from the crypto invoice platform, confirming the successful payment.

Reconciliation and Record-Keeping:

Keep track of incoming payments and match them to the corresponding invoices on the crypto invoice platform.
Use the platform's reporting and analytics tools to manage your financial records and track transaction history.

Optional: Integration with Business Operations:

Some crypto invoice platforms offer integration with e-commerce websites, point-of-sale systems, or accounting software, which can streamline the invoicing and payment process.

Secure Your Funds: Consider transferring received cryptocurrency payments to a secure wallet if you're not planning to hold them on the invoice platform for an extended period. This helps enhance security.
Always prioritize security and verify the credibility of the crypto invoice provider before using their services. Additionally, stay informed about the latest developments in the cryptocurrency space, as the features and functionalities of these platforms may evolve over time.
Why Crypto invoice Different Form Normal invoice?
Crypto invoices and traditional invoices share the basic function of seeking payment for goods or services rendered, yet differ significantly due to cryptocurrency's unique properties. Here's how crypto invoices differ from standard (traditional) ones:
Payment Method: Crypto Invoices: For payments using cryptocurrency, invoices provide wallet addresses or QR codes where users can send the specified amount. Once their wallet has received the cryptocurrency they must then transfer it directly.
Normal Invoice: Normal invoices generally state conventional payment methods such as bank transfers, credit or debit card payments or checks as their preferred forms of payment.
Currency Type: Crypto Invoices are denominated using specific cryptocurrencies such as Bitcoin (BTC), Ethereum (ETH) or others as their base unit of account.
Normal Invoice: Ordinary invoices typically utilize fiat currencies like US dollars (USD), euros (EUR), and local currencies as their basis.
Decentralization and Security: In general, decentralized and secure invoices tend to feature the following features.
Crypto Invoice: Crypto invoices take advantage of blockchain technology for both transparency and security, with payments verified on a decentralized ledger to reduce fraud risk while providing traceability and traceability of all transactions.
Normal Invoice: Conventional invoices rely on financial institutions and payment processors to process payments and validate payments.
Global Transactions: Its Crypto Invoice: These electronic invoices allow businesses and individuals to conduct global payments without currency conversion costs or international banking intermediaries being required.
Normal Invoice: Regular invoices may include currency conversion fees, international transfer delays and potential fluctuations in exchange rate fluctuations.
Speed and Accessibility: Crypto Invoice: Crypto payments may often be faster than traditional banking methods for international transactions as they don't rely on intermediaries or clearinghouses for processing purposes.
Normal Invoice: Due to intermediary banks, processing times, and potential delays within the traditional banking system, regular invoice payments may take more time.
Volatility of Crypto Invoice: Cryptocurrencies are notorious for their price volatility, meaning their value may shift substantially between when an invoice is created and payment confirmation.
Normal Invoice: Traditional fiat currencies tend to be more secure in value compared to cryptocurrencies.
Crypto Invoice: Cryptocurrency transactions may incur gas fees depending on network congestion and your chosen cryptocurrency, these costs could differ based on current state of blockchain networks.
Normal Invoice: Payment methods that incur transaction fees such as credit card processing fees or bank wire transfer fees also need to be kept track of and reconciled for record keeping purposes. Record Keeping and Reconciliation:
Crypto Invoice: Crypto invoices and transactions are stored on a blockchain, providing a permanent, transparent record that makes reconciliation and auditing simpler.
mes Normal Invoice: Traditional invoices may require manual record keeping and reconciliation processes for reconciliation.
Conclusion
Conclusion Cryptocurrency invoice platforms have created a revolution in efficiency, security and global accessibility for businesses and individuals seeking seamless payment solutions. By harnessing blockchain technology and cryptocurrency tokens to make payments simpler than ever, these platforms have revolutionized traditional invoicing methods – revolutionized payment processing with real-time tracking capabilities as well as user-friendly interfaces that offer multi-currency support, real-time tracking functions and robust security measures that offer global accessibility for payments of any amount anywhere in the world.
The best platforms also support multiple currencies for invoice payments while offering multicurrency support as well as user-friendly user-interfaces real-time tracking features as well as integrations with e-commerce platforms as well as robust security measures to prevent payments of any size from fraudsters or scammers attempting fraudulent charges of any sort.
Blockonomics, Request Network and CoinsPaid have quickly emerged as leaders in this domain, providing businesses with tools they need to navigate the digital economy. These platforms act as intermediaries between traditional finance and the emerging cryptocurrency landscape – facilitating borderless transactions while lowering transaction fees, offering transparent records and maintaining immutability records.
FAQ
What is a cryptocurrency invoice platform?
A cryptocurrency invoice platform is a digital service that allows businesses and individuals to create, send, and manage invoices denominated in cryptocurrencies. It enables streamlined payment processing and facilitates transactions using various digital assets.
Why use a cryptocurrency invoice platform?
Cryptocurrency invoice platforms offer several benefits, including faster cross-border transactions, reduced fees compared to traditional payment methods, increased security through blockchain technology, and the ability to cater to a global customer base.
How do cryptocurrency invoice platforms work?
These platforms enable users to generate invoices, specifying the cryptocurrency, amount, and other details. The platform generates a unique payment address or QR code associated with the invoice. Payees send the specified cryptocurrency to this address, and once the transaction is confirmed on the blockchain, both parties are notified.
Which cryptocurrencies are supported by these platforms?
The best cryptocurrency invoice platforms typically support a wide range of cryptocurrencies, including popular options like Bitcoin (BTC), Ethereum (ETH), Litecoin (LTC), and others. The specific cryptocurrencies supported may vary from platform to platform.
Can cryptocurrency invoice platforms integrate with e-commerce websites?
Yes, many platforms offer integration with e-commerce platforms, enabling businesses to seamlessly incorporate cryptocurrency payments into their online stores. This feature enhances the customer checkout experience and expands payment options.
Are cryptocurrency invoice transactions secure?
Yes, these platforms prioritize security by utilizing blockchain technology, cryptographic encryption, and decentralized networks. This ensures the privacy and integrity of financial data and reduces the risk of fraud.