Best Documentaries On Netflix offers an impressive selection of thought-provoking and captivating documentaries that cover a wide range of topics. Some of the best documentaries on Netflix delve into gripping subjects such as true crime, environmental issues, human rights, and more. Whether you're intrigued by "Making a Murderer," a true-crime series that explores a controversial murder case,
"The Social Dilemma," which examines the impact of social media on society, Netflix's documentary library has something for everyone. These documentaries not only entertain but also educate, offering a deeper understanding of our world and the issues that shape it. So, if you're in search of compelling, real-life stories, Netflix's documentary collection is a treasure trove worth exploring.
Here is List Of Best Documentaries On Netflix
"Making a Murderer" (2015)
"The Social Dilemma" (2020)
"13th" (2016)
"Our Planet" (2019)
"American Factory" (2019)
"Blackfish" (2013)
"Icarus" (2017)
– A short documentary about volunteer rescue workers in Syria.
"The Ivory Game" (2016)
"Won't You Be My Neighbor?" (2018)
"The Great Hack" (2019)
"Jiro Dreams of Sushi" (2011)
"RBG" (2018)
"Winter on Fire
"The Act of Killing" (2012)
"The Keepers" (2017)
"Minimalism
"The Death and Life of Marsha P. Johnson" (2017)
"The Vietnam War" (2017)
"Wild Wild Country" (2018)
20 Best Documentaries On Netflix
1. "Making a Murderer" (2015)
"Making a Murderer" is a gripping true crime documentary series that captivated audiences with its in-depth exploration of the criminal justice system and the complex case of Steven Avery and Brendan Dassey. The series, which was released in 2015, delves into the life of Steven Avery, a Wisconsin man who was wrongfully convicted of a crime and spent 18 years in prison before being exonerated by DNA evidence. However, the story takes a dark turn when Avery finds himself at the center of another criminal investigation, this time for murder.
The documentary raises critical questions about the fairness of the legal system, the role of law enforcement, and the potential for miscarriages of justice. "Making a Murderer" is a thought-provoking and emotionally charged series that challenges viewers to consider the complexities and flaws within the criminal justice system, making it a must-watch for those interested in true crime and legal issues.
2. "The Social Dilemma" (2020) Best Documentaries On Netflix
"The Social Dilemma" is a compelling and thought-provoking documentary that was released in 2020. Directed by Jeff Orlowski, the film explores the impact of social media and technology on society, shedding light on the hidden, manipulative mechanisms that drive these platforms. It features interviews with former employees of major tech companies and social media platforms who reveal how algorithms, data collection, and persuasive design are used to capture and retain the attention.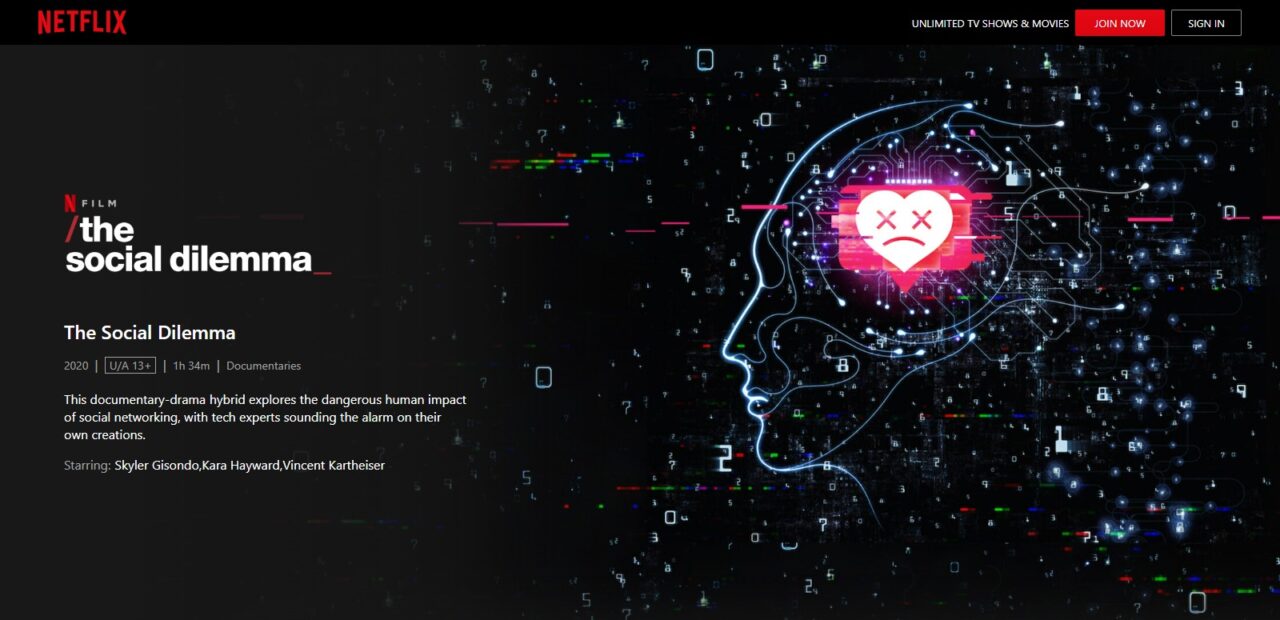 The documentary highlights the detrimental effects of social media on mental health, democracy, and society as a whole, emphasizing the spread of fake news, political polarization, and addiction to digital devices. "The Social Dilemma" serves as a wake-up call, encouraging viewers to be more conscious of their online behavior and the consequences of living in an increasingly connected, digitally-driven world. It's a must-watch for anyone interested in the ethical and societal implications of modern technology.
3. "13th" (2016)
"13th," released in 2016, is a powerful and eye-opening documentary directed by Ava DuVernay that delves into the deeply ingrained racial inequality within the United States criminal justice system. The film's title refers to the 13th Amendment of the U.S. Constitution, which abolished slavery except as a punishment for a crime.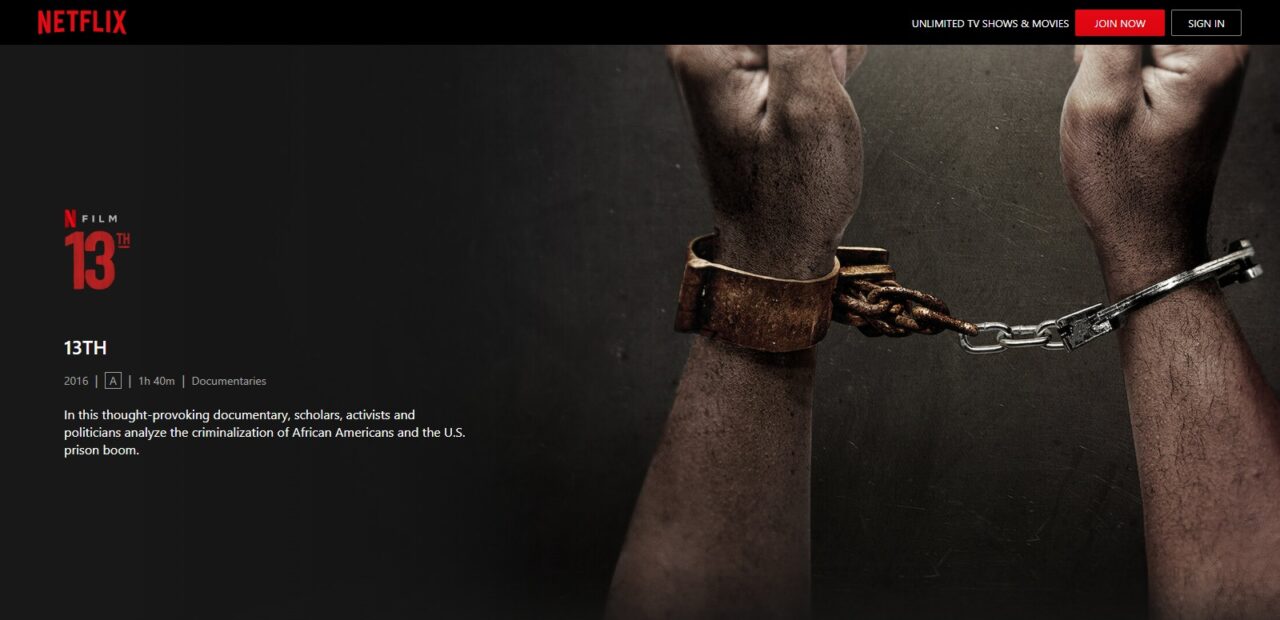 Through a combination of historical footage, interviews, and powerful narration, "13th" explores the systemic racism and discrimination that has persisted throughout American history, from the era of slavery to the modern-day mass incarceration of Black Americans.
The documentary exposes the disturbing patterns of racial profiling, harsh sentencing, and the for-profit prison industry, shedding light on how these factors have perpetuated a cycle of oppression and inequality. "13th" serves as a poignant and essential examination of the racial injustices deeply rooted in the U.S. criminal justice system and calls for critical reflection and action to address these issues.
4. "Our Planet" (2019) Top Documentaries On Netflix
"Our Planet" is a breathtaking nature documentary series that was narrated by the legendary Sir David Attenborough and released in 2019. This visually stunning series takes viewers on a mesmerizing journey around the world, showcasing the planet's most awe-inspiring and diverse ecosystems. With a focus on both the beauty and fragility of Earth's natural wonders, "Our Planet" uses cutting-edge technology to capture wildlife and their habitats in remarkable detail.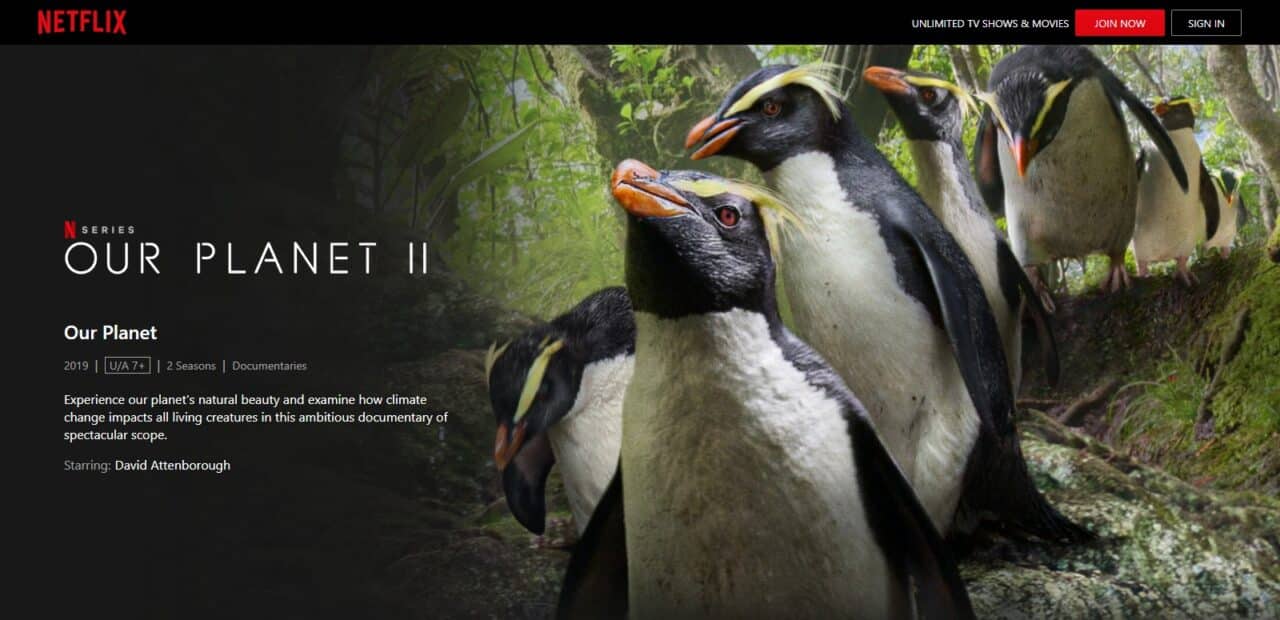 The series also highlights the urgent need for conservation and environmental protection, addressing issues such as climate change, habitat destruction, and the extinction of species. "Our Planet" not only offers a captivating and educational experience but also serves as a call to action, encouraging viewers to appreciate the Earth's incredible biodiversity and take steps to preserve it for future generations.
5. "American Factory" (2019)
"American Factory" is a thought-provoking and critically acclaimed documentary released in 2019. Directed by Steven Bognar and Julia Reichert, the film offers a compelling exploration of the challenges faced by American and Chinese workers in a manufacturing plant in Ohio. The documentary provides an intimate look into the clash of cultures, labor practices, and economic forces as a Chinese company takes over a former General Motors factory in the United States.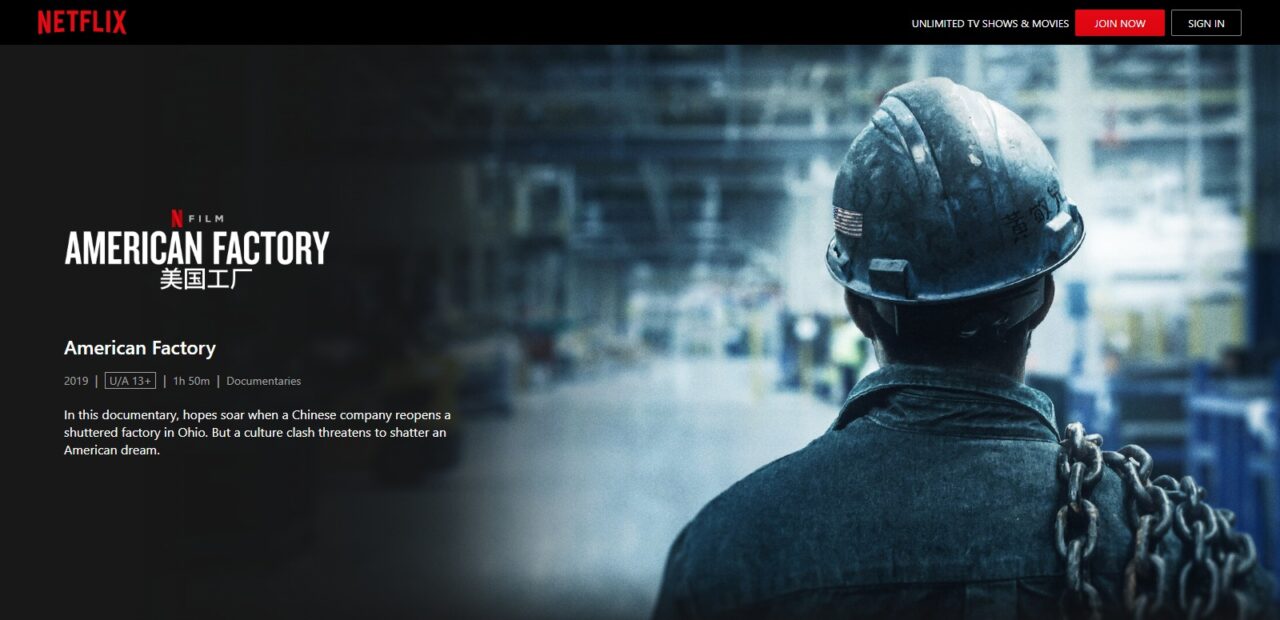 "American Factory" delves into themes such as globalization, automation, and the impact on workers and their communities. It offers a nuanced and human perspective on the complexities of industrial and economic shifts, shedding light on the hopes and struggles of individuals affected by these changes. The film won the Academy Award for Best Documentary Feature and serves as an insightful reflection on the broader issues of labor, industry, and globalization in the modern world.
6. "Blackfish" (2013) Best Documentaries On Netflix
"Blackfish" is a compelling and controversial documentary that was released in 2013. Directed by Gabriela Cowperthwaite, the film focuses on the treatment of killer whales in captivity, particularly those held at SeaWorld and other marine parks. "Blackfish" tells the story of Tilikum, a captive orca that was involved in the deaths of several trainers, shedding light on the ethical and safety concerns associated with keeping such intelligent and powerful animals in captivity for entertainment.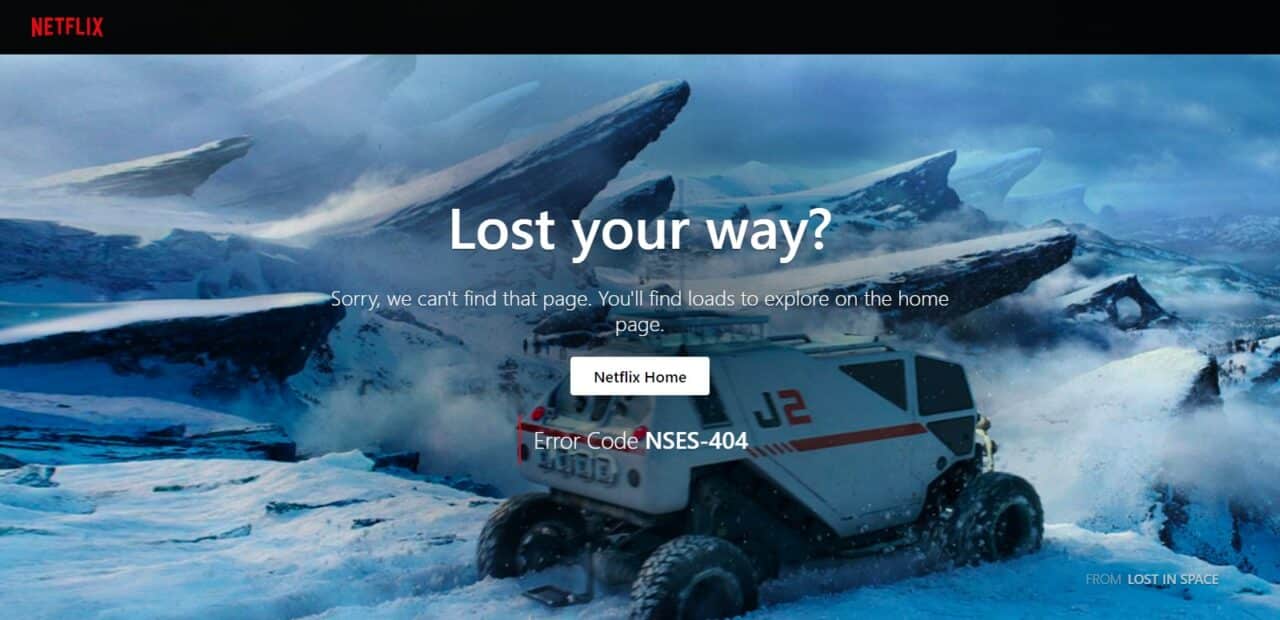 The documentary raises important questions about the morality of capturing and confining these marine mammals, their physical and psychological well-being, and the consequences of keeping them in close proximity to humans. "Blackfish" had a significant impact on public perception and led to increased scrutiny and backlash against the captivity of killer whales. It serves as a powerful reminder of the importance of animal welfare and the need for responsible treatment of wildlife in captivity.
7. "Icarus" (2017)
"Icarus" is a fascinating and critically acclaimed documentary film released in 2017. Directed by Bryan Fogel, the film initially starts as a personal experiment where Fogel, an amateur cyclist, attempts to investigate the use of performance-enhancing drugs in the world of competitive cycling. However, it takes an unexpected and gripping turn when he becomes entangled with a Russian scientist who was at the center of the Russian doping scandal.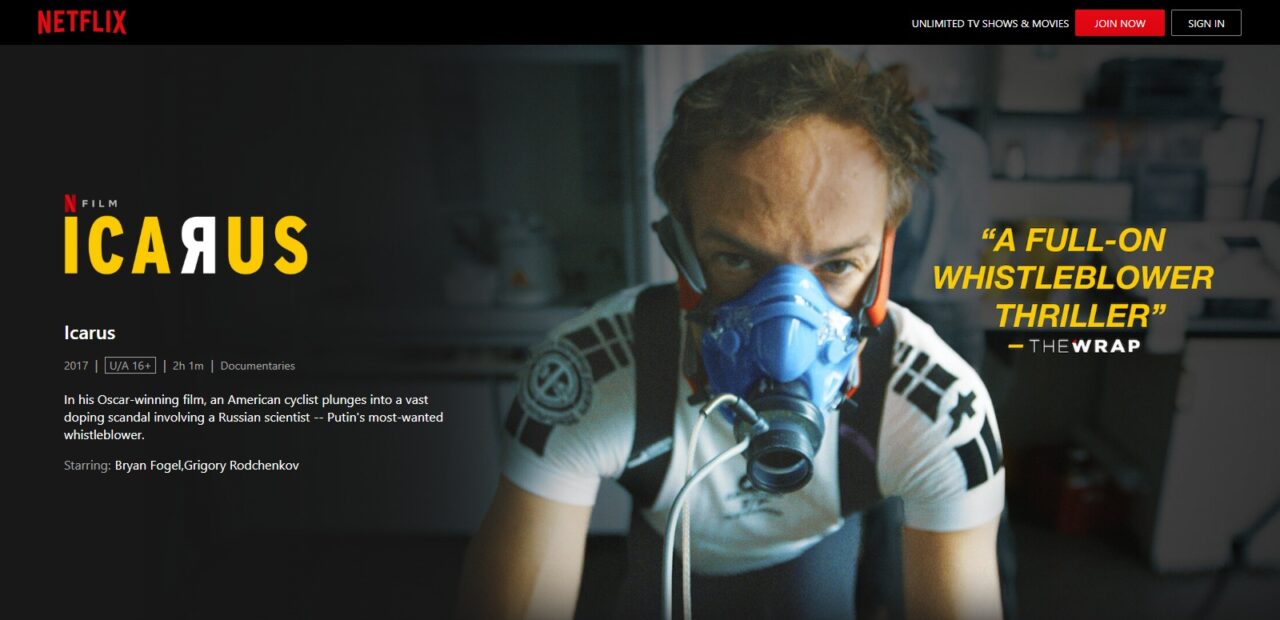 The documentary unfolds as a real-life thriller, providing a firsthand account of the doping scandal that rocked the 2014 Sochi Olympics. "Icarus" explores the far-reaching consequences of state-sponsored doping, the dangers faced by whistleblowers, and the intricate web of deception in international sports.
It is a powerful and eye-opening exposé that not only sheds light on the issue of doping in sports but also reveals the extent to which politics and corruption can infiltrate the world of competitive athletics. The film won the Academy Award for Best Documentary Feature and remains a must-watch for those interested in the intersection of sports, politics, and ethics.
8. "The White Helmets" (2016) Top Documentaries On Netflix
"The White Helmets" is a compelling and poignant documentary short film that was released in 2016. Directed by Orlando von Einsiedel, the film offers a glimpse into the lives and heroic efforts of the White Helmets, officially known as the Syria Civil Defence. This volunteer organization operates in war-torn Syria, where they risk their lives to rescue civilians affected by bombings, chemical attacks, and other disasters.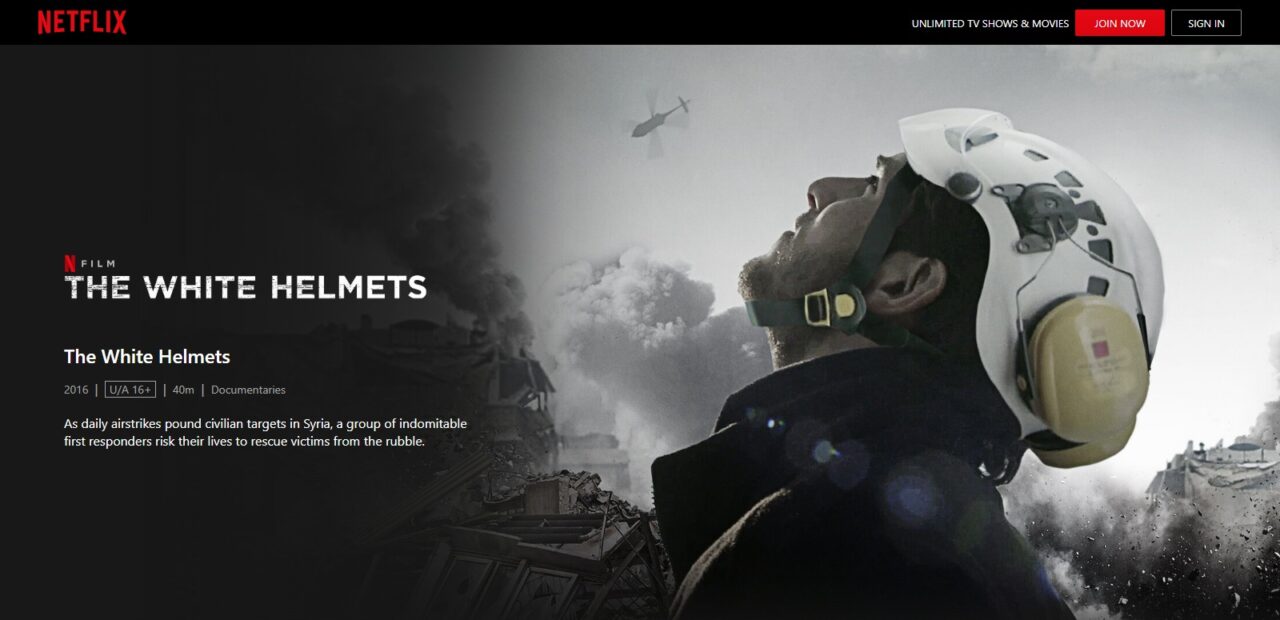 The documentary provides a deeply human perspective on the Syrian conflict, showcasing the courage and dedication of the White Helmets as they work tirelessly to save lives amid the chaos of war. "The White Helmets" was awarded the Academy Award for Best Documentary (Short Subject) in 2017 and has been recognized for its powerful portrayal of these selfless individuals who put their own lives on the line to provide aid and hope in one of the world's most dangerous and devastating conflicts.
9. "The Ivory Game" (2016)
"The Ivory Game" is an eye-opening and compelling documentary released in 2016 by Kief Davidson and Richard Ladkani that tackles illegal ivory trade and its effect on African elephants, exploring its complex network of poachers, traffickers, and those working against illegal wildlife trade.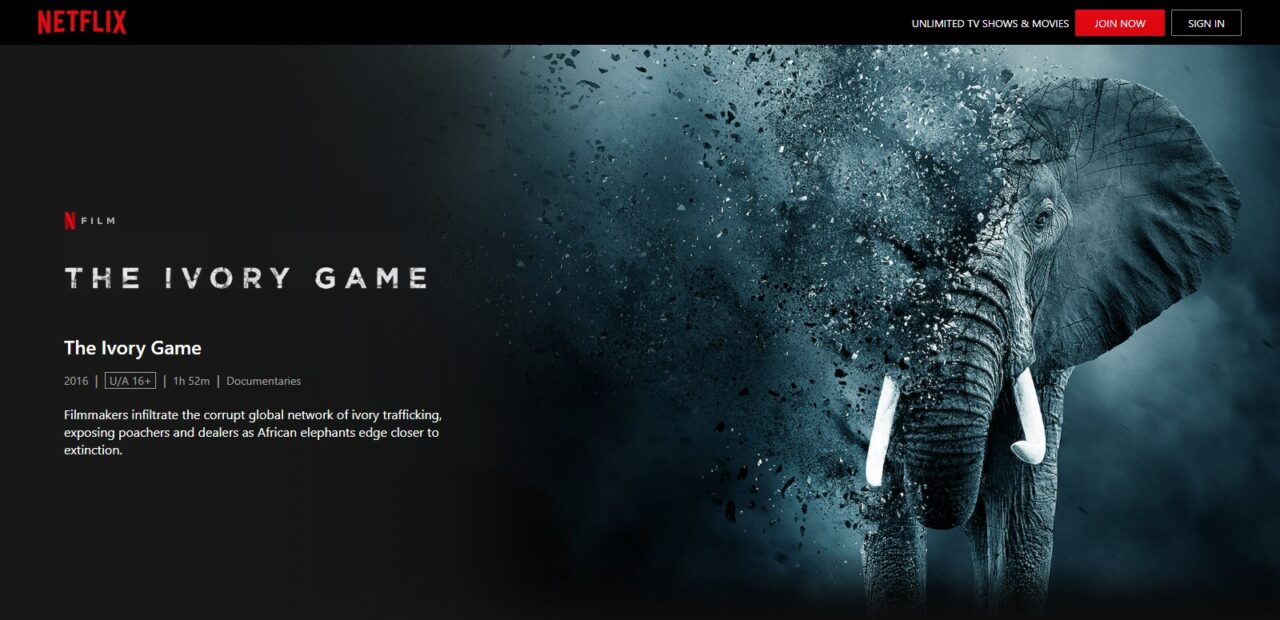 "The Ivory Game" shines light on the high-stakes battle to save these magnificent creatures from extinction and exposes the corrupt global networks driving demand for ivory. The documentary serves as a call-to-action to safeguard these endangered animals while also considering environmental and ethical ramifications of ivory trade – it serves as an eye-opener that underlines conservation efforts as they face relentless poaching and illegal trafficking of wildlife.
10. "Won't You Be My Neighbor?" (2018)
"Won't You Be My Neighbor?" is a heartwarming and deeply moving documentary released in 2018, directed by Morgan Neville. The film pays tribute to the life and work of Fred Rogers, the beloved host of the iconic children's television program "Mister Rogers' Neighborhood."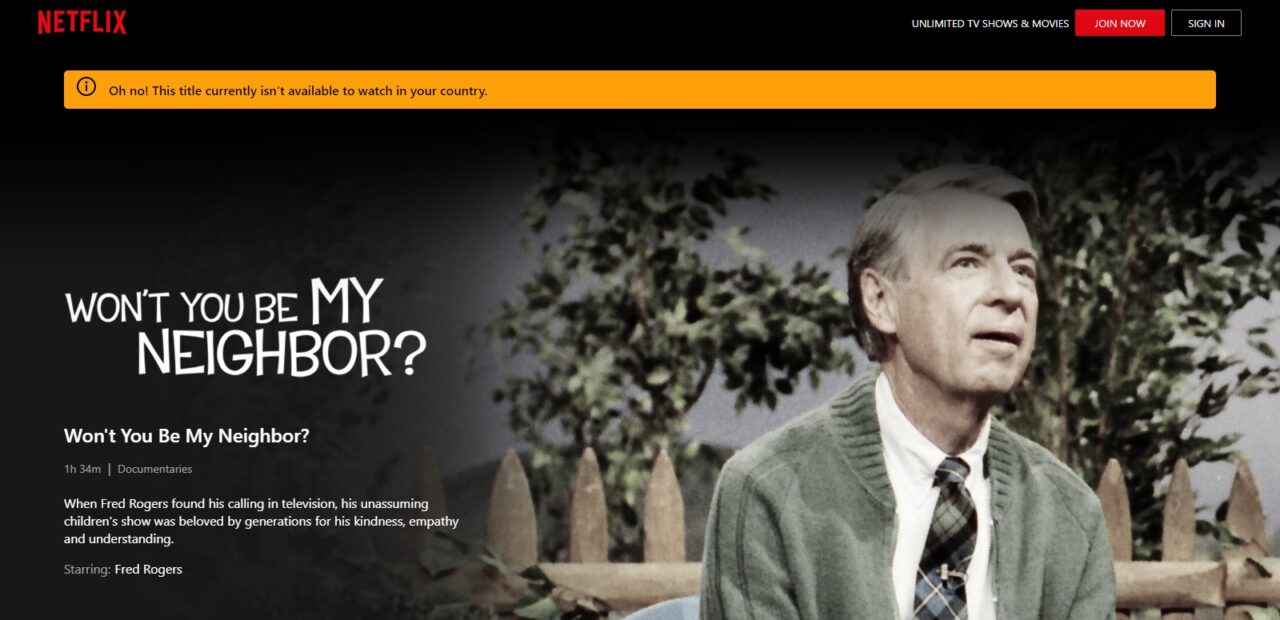 The documentary offers an intimate and touching portrayal of Fred Rogers, highlighting his dedication to using television as a means to provide a safe and nurturing space for children. It explores his gentle and compassionate approach to teaching important life lessons, promoting kindness, and addressing complex topics in a way that resonated with generations of viewers.
"Won't You Be My Neighbor?" not only serves as a touching homage to Fred Rogers but also emphasizes the enduring impact of his work on children's education and the values of empathy and understanding. It's a beautiful and inspiring film that reminds viewers of the power of kindness and the positive influence one person can have on the world.
11. "The Great Hack" (2019) Best Documentaries On Netflix
"The Great Hack," released in 2019 and directed by Karim Amer and Jehane Noujaim, offers an engaging and thought-provoking documentary film exploring how data and social media play an impactful role in political events such as 2016 US Presidential election or Brexit campaigns.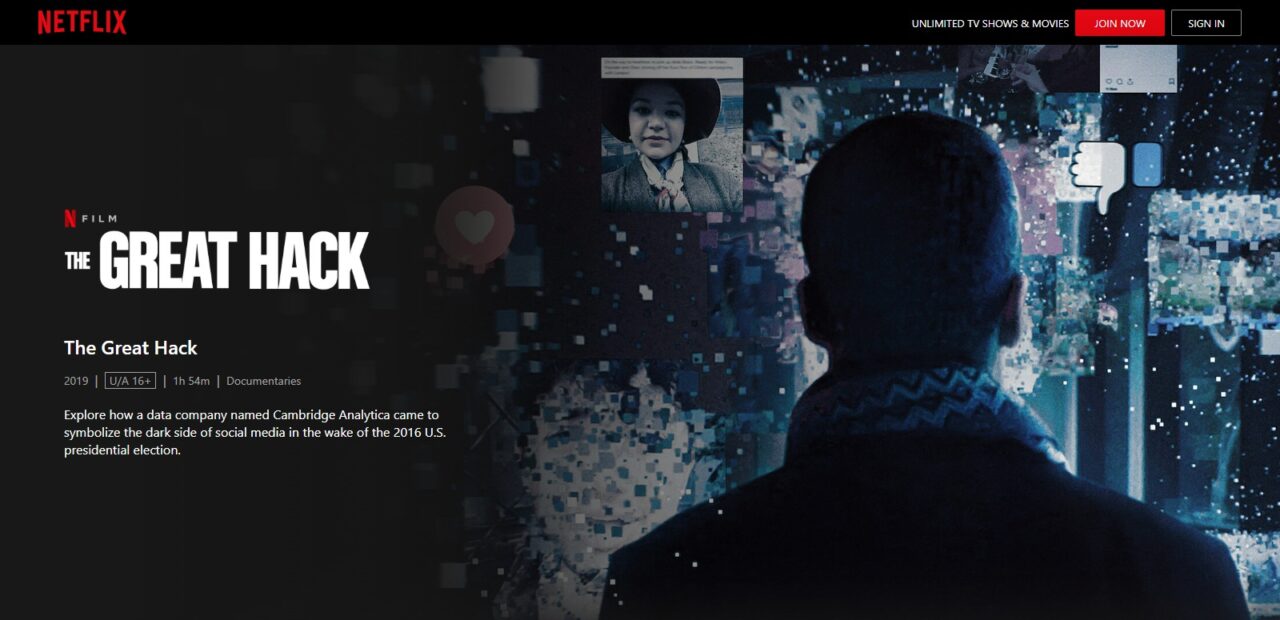 This film examines Cambridge Analytica's massive data mining and manipulation efforts to target voters, raising important ethical considerations surrounding data harvesting, privacy breaches, and possible political influence through social media platforms.
"The Great Hack" offers a cautionary tale for digital life, drawing attention to the profound role that data has on shaping our understanding of our world and making decisions for political candidates. It is an eye-opening documentary which emphasizes the need for greater regulation over data usage practices in our modern era.
12. "Jiro Dreams of Sushi" (2011)
"Jiro Dreams of Sushi" is a captivating and contemplative documentary film released in 2011, directed by David Gelb. The film offers an intimate portrait of Jiro Ono, an 85-year-old sushi master in Tokyo, Japan, who is considered one of the world's greatest sushi chefs.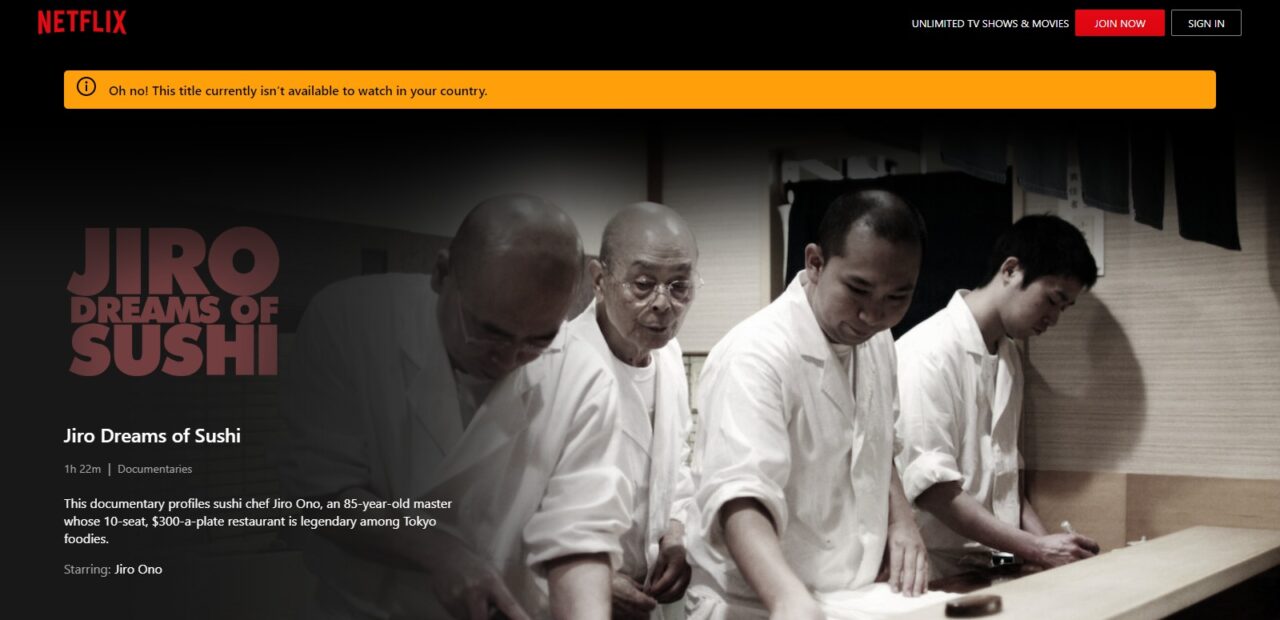 The documentary follows Jiro's lifelong dedication to the art of sushi, showcasing his relentless pursuit of perfection in every aspect of his craft. It provides a glimpse into the meticulous process of selecting and preparing the finest ingredients, as well as the precise techniques required to create sushi that is renowned for its simplicity and quality.
"Jiro Dreams of Sushi" is not just about the culinary world but also delves into themes of family, tradition, and the pursuit of excellence. It's a beautiful and meditative film that offers a profound exploration of the nature of expertise, passion, and the relentless pursuit of one's dreams.
13. "RBG" (2018)
"RBG", directed by Betsy West and Julie Cohen in 2018, provides an engaging and captivating documentary depicting Ruth Bader Ginsburg's extraordinary life and career in an intimate yet comprehensive way.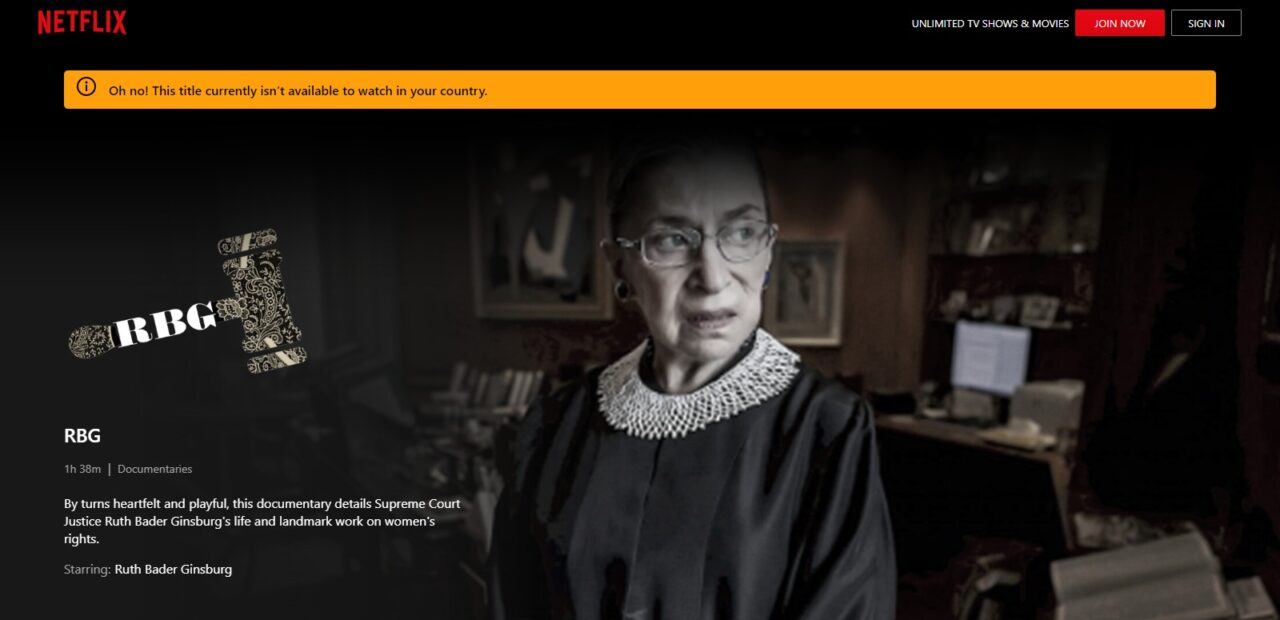 "RBG" explores Justice Ginsburg's remarkable journey from her early days as a brilliant law student through her groundbreaking work as a women's rights activist and her eventual appointment to the Supreme Court. This documentary also details her legal legacy, her tireless fight for gender equality, and her role as an icon among feminists.
"RBG" captures Ginsburg on a personal level as well, depicting her wit, determination and intimate bond with late husband Martin Ginsburg – not only celebrating their life and achievements as trailblazing jurists but also acting as an inspiration to all those advocating for social justice and equality.
14. "Winter on Fire Best Documentaries On Netflix
"Winter on Fire", directed by Evgeny Afineevsky and released in 2015, offers an engaging and in-depth account of the Ukrainian Euromaidan protests that occurred at Kyiv's Maidan Nezalezhnosti during winter 2013-14.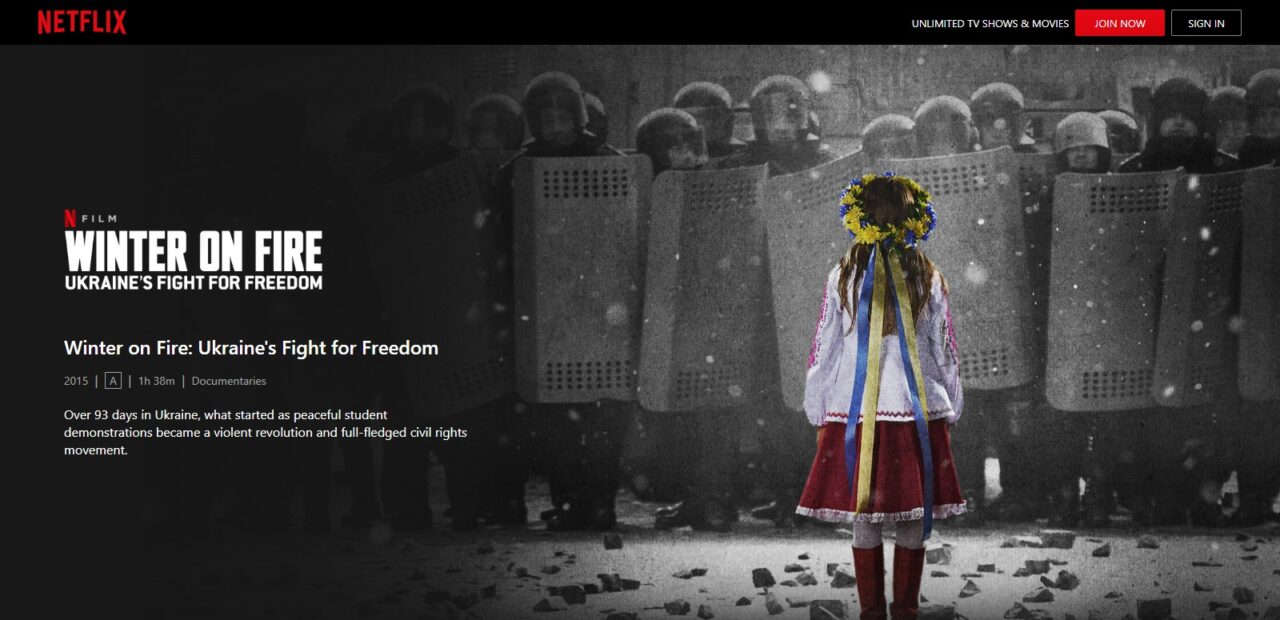 The film captures the intensity and escalation of protests as Ukrainian citizens demonstrated against government corruption, authoritarian rule and Russia. It provides a firsthand account of protestors' courage and resolve in braving extreme cold and violent clashes with security forces; including interviews with activists, journalists and ordinary citizens that provide a compelling and emotional story of freedom and democracy fought for by their nation.
"Winter on Fire" provides not only an in-depth historical account of the Ukrainian Revolution but also highlights how people persevere in fighting for their rights in spite of oppression. For anyone passionate about political activism and democratic ideals alike, "Winter on Fire" should not be missed!
15. "The Act of Killing" (2012)
"The Act of Killing," directed by Joshua Oppenheimer and released in 2012, is an unconventional documentary exploring Indonesian mass killings of the mid-1960s in their entirety – rather than traditional historical reconstruction or interviews, this documentary uses real perpetrators reenacting their actions cinematically through various cinematic styles.
"The Act of Killing" offers an unsettling examination of the individuals responsible for mass killings, uncovering their sense of pride while at the same time feeling disconnected from what they committed. The documentary questions fiction/reality lines while trying to comprehend these killers' mindset.
This film serves as a chilling reminder of humanity's capacity for cruelty as well as consequences of historical amnesia – it challenges viewers to confront troubling aspects of humanity and history through its haunting imagery and provocative dialogue.
16. "The Keepers" (2017)
"The Keepers," directed by Ryan White and released in 2017, is an engaging and provocative true crime documentary series that investigates the murder of Sister Catherine Cesnik – a nun and high school teacher from Baltimore – and any potential cover-ups.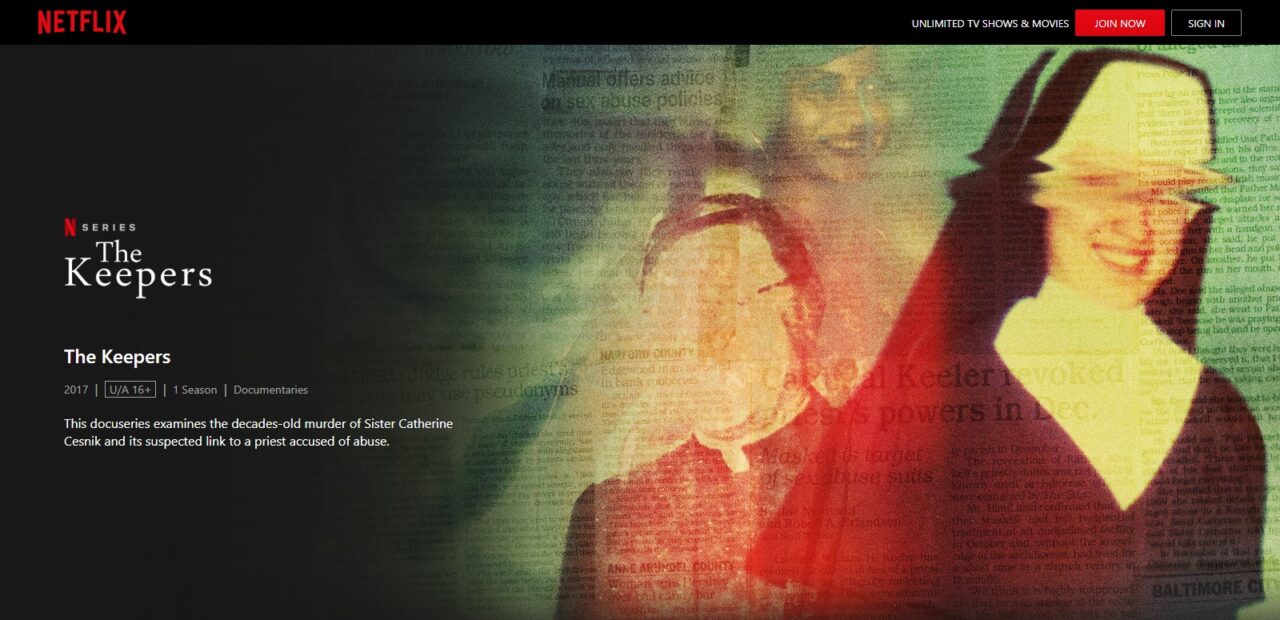 "The Keepers" documentary series weaves interviews with former students, journalists, and those close to Sister Cathy into one narrative to uncover the truth about her murder. Additionally, this documentary looks into sexual abuse allegations within Catholicism as possible causes for Sister Cathy's demise – including whether knowledge of these abuses played any part in causing it.
"The Keepers" serves as both an emotional journey to uncover the truth, as well as an examination of systemic abuse and secrecy in the Catholic Church. Not only does the series tell Sister Cathy's tragic murder story but it also showcases those fighting for accountability for survivors of abuse.
17. "Minimalism Best Documentaries On Netflix
"Minimalism: A Documentary About the Important Things" is an insightful 2015 documentary directed by Matt D'Avella that delves deep into minimalism's growing movement, encouraging individuals to live with less possessions while keeping focused on what truly matters in life.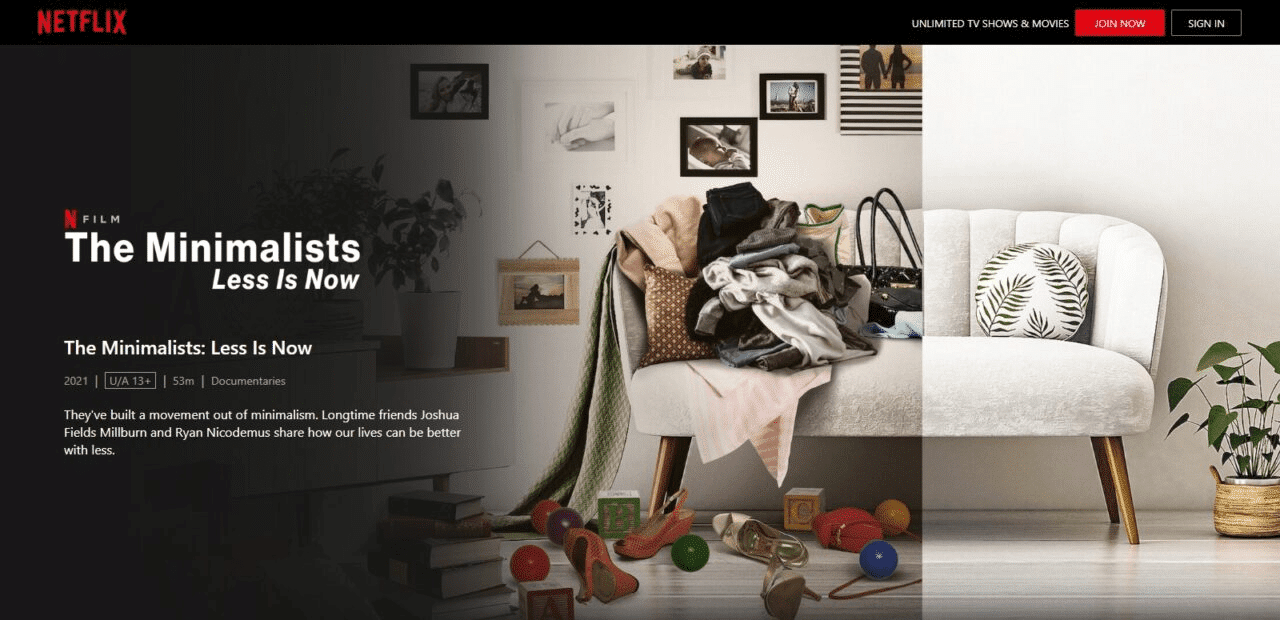 "Minimalism" follows Joshua Fields Millburn and Ryan Nicodemus, better known as The Minimalists, through their personal journey of simplifying their lives in search of greater happiness. Additionally, this documentary includes interviews with various experts and individuals who have adopted minimalism, showing how this lifestyle choice can lead to reduced stress levels, more freedom and an overall more fulfilling existence.
"Minimalism" encourages viewers to reevaluate their priorities, consumerist habits and the pursuit of happiness through material possessions. It explores the benefits of living more intentionally while challenging the conventional idea that more is always better – making it an engaging watch for anyone looking to simplify their lives and find more contentment.
18. "The Death and Life of Marsha P. Johnson" (2017)
"The Death and Life of Marsha P. Johnson", directed by David France, is an engaging documentary released in 2017 that delves deep into the life and mysterious death of Marsha P. Johnson – an integral figure within the LGBTQ+ rights movement.
Marsha P. Johnson was an iconic transgender activist and drag queen who played an essential part in advancing early LGBTQ+ rights movements – particularly following the Stonewall Riots of 1969. This documentary follows Marsha through her life and activism efforts with Gay Liberation Front (GLF) and Street Transvestite Action Revolutionaries (STAR).
Documentary "The Death and Life of Marsha P. Johnson" delves deeply into the circumstances surrounding Marsha Johnson's death in 1992 – initially classified as suicide but widely suspected to be murder. Additionally, this film explores efforts to seek justice on Marsha's behalf as well as wider issues of violence and discrimination against transgender people. As such, "The Death and Life of Marsha P. Johnson" serves both as an homage to this pioneering LGBTQ+ advocate as well as a call to address their struggles and injustices faced today by transgender people worldwide.
19. "The Vietnam War" (2017) Best Documentaries On Netflix
"The Vietnam War," directed by Ken Burns and Lynn Novick and released in 2017, provides a thorough examination of one of the most consequential periods in American history–the Vietnam War.
The documentary series provides a multifaceted account of the conflict, featuring interviews with veterans, civilians and political leaders from both Vietnam and America. It meticulously chronicles its origins to its devastating consequences on individuals, families and nations alike.
"The Vietnam War" explores the complex socio-political, cultural, and emotional ramifications of this war through topics like anti-war efforts, soldier experiences on the ground, lasting effects and lasting legacy of conflict. With over 17 hours of content to consume, it provides a thorough look into Vietnam War's impactful legacy for both nations involved and beyond.
20. "Wild Wild Country" (2018)
"Wild Wild Country," directed by Chapman and Maclain Way and released in 2018, explores the bizarre and dramatic events surrounding the establishment of Rajneeshpuram commune in Oregon in the 80s.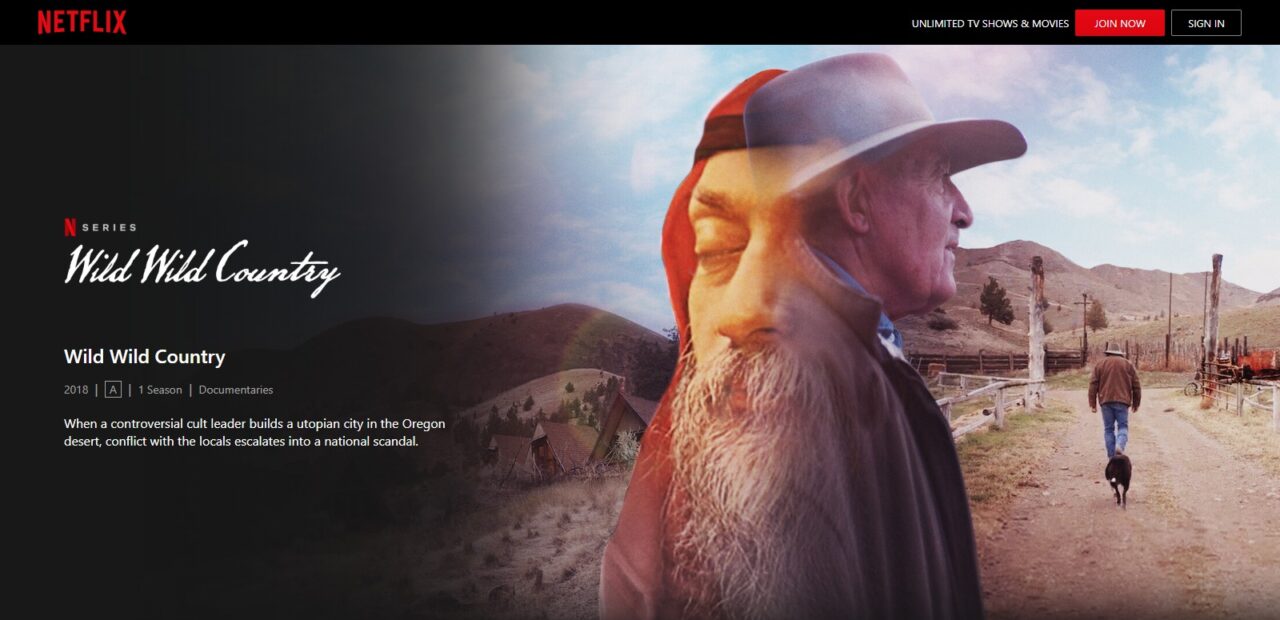 This documentary follows the rise and fall of the Rajneesh movement led by charismatic guru Bhagwan Shree Rajneesh (later known as Osho) and Ma Anand Sheela – ultimately unravelling tension and conflicts that emerged between its commune members and local residents that eventually led to allegations of criminal activity such as immigration fraud and bio-terror attacks.
"Wild Wild Country" presents an engaging narrative that raises difficult questions about religious freedom, power and toleration in American society. It offers a vivid portrait of events and individuals involved that offers viewers a striking look into utopian ideals and the realities of communal living.
Conclusion
Netflix offers a comprehensive library of outstanding documentaries that cover an array of interests and preferences. No matter your interests – be they true crime, environmental issues, social justice or compelling real-life stories – Netflix offers something for every taste and budget. From fascinating investigations of racial inequality (the "13th" to heartwarming profiles of beloved figures like Fred Rogers in "Won't You Be My Neighbor? " and eye-opening investigations like data manipulation ("The Great Hack")
These documentaries offer insight into different parts of our world and humanity as a whole. Netflix remains an invaluable source of knowledge, challenging perspectives and entertaining real stories that enthrall. Netflix documentary collections stand as testaments to non-fiction storytelling while at the same time reinforcing our curiosity and empathy to better comprehend our complex world.
FAQ
What are the best documentaries currently available on Netflix?
The best documentaries on Netflix can vary depending on your interests, but some popular choices include "Making a Murderer," "The Social Dilemma," "13th," "Our Planet," "American Factory," "Blackfish," and many more.
How often does Netflix update its documentary selection?
Netflix regularly adds and removes content, including documentaries. The frequency of updates can vary, but it's common for new documentaries to be added each month while others may be removed due to licensing agreements or other factors.
Are there any must-watch true crime documentaries on Netflix?
Yes, Netflix has a range of gripping true crime documentaries, including "Making a Murderer," "The Keepers," and "The Act of Killing," among others.
Can I find environmental and nature documentaries on Netflix?
Yes, Netflix offers a variety of documentaries focused on environmental issues and nature, such as "Our Planet" and "The Ivory Game."
Are there documentaries that explore social and political topics on Netflix?
Absolutely, you can find documentaries that examine social and political issues like "The Social Dilemma," "13th," "The Great Hack," and "Winter on Fire."
How can I find documentaries on Netflix that suit my interests?
You can search for documentaries in the "Documentaries" category on Netflix, or use the search bar to look for specific topics, directors, or titles that interest you.