Best Metaverse Development Tools has brought with it many groundbreaking tools designed to assist creators in crafting immersive virtual universes. Unreal Engine has long been considered one of the premier industry platforms, renowned for its advanced graphics capabilities and ability to create lifelike environments.
Unity remains an impressive option, offering an intuitive user interface and comprehensive asset libraries to make game development quicker. Decentraland's SDK and A-Frame framework were specifically created for web-based metaverse experiences, providing developers with tools to easily construct virtual spaces that can be accessed through browsers.
Blender is an incredible open-source 3D creation suite that remains essential to creating intricate models and animations. OpenXR helps ensure seamless integration across VR/AR devices – giving visionaries the power to shape the metaverse landscape while pushing digital innovation ever forward.
What is Metaverse Development Tools?
Metaverse development tools refer to software, frameworks, libraries and platforms that enable developers to construct virtual worlds, interconnected spaces and immersive digital experiences within the concept of the metaverse. The metaverse is a virtual universe comprising numerous three-dimensional virtual spaces where users can socialize, work, play and engage in various forms of activities.
Metaverse development tools encompass a diverse selection of technologies and resources that facilitate the creation of virtual environments, including game engines (such as Unreal Engine and Unity), 3D modeling/animation software such as Blender, virtual reality/augmented reality/web framework development kits (like A-Frame),
Blockchain/ cryptocurrency integration for virtual asset ownership as well as numerous others. These tools allow developers to design, code, visualize and deploy digital landscapes that offer users unique and immersive experiences within the metaverse.
Reasons Why You Must Use Metaverse Building Tools
Utilizing metaverse building tools presents numerous compelling arguments for creators and developers to adopt this technology:
Immersive Experiences: Metaverse building tools allow the creation of immersive virtual environments that engage users on an emotional level and foster an immersive sense of presence and interactivity that traditional platforms don't offer.
Interconnectivity: These tools allow you to create interconnected worlds and spaces, providing seamless transitions and interactions among virtual experiences. Their interconnected nature fosters collaboration, networking, and shared experiences – which all help strengthen collaboration, networking and shared experiences.
Creative Expression: Metaverse tools provide an avenue for you to realize your creative dreams. You can design unique landscapes, characters, objects and interactions that reflect your imagination – giving users experiences they won't find elsewhere.
Monetization Opportunities: The metaverse offers entrepreneurs and businesspeople alike new monetization opportunities. Many building tools include features for monetization that enable you to sell virtual assets, experiences or services within its ecosystem.
Metaverse Development Tools Have Many Applications: Metaverse development tools have numerous uses beyond gaming, from education and training to virtual events, architecture, art therapy and therapy – providing endless solutions that meet various industry demands.
Innovation and Future-Proofing: Engaging with metaverse building tools places you at the forefront of an ever-evolving digital landscape, giving early adopters access to groundbreaking trends and technological breakthroughs.
Community Building: Metaverse environments create communities of like-minded individuals who share common interests and passions. By building in the metaverse, you can help facilitate this growth while simultaneously creating spaces for interaction.
Customized Experiences: Metaverse tools enable personalized user experiences. By tailoring interactions, content, and environments to each individual preference you can increase user satisfaction and engagement, thus increasing user engagement.
Integration: Metaverse development often includes integrating cutting-edge technologies like virtual reality (VR), augmented reality (AR), blockchain and AI into its development process, which provides valuable opportunities to increase skill set while opening doors to new ventures.
Global Reach: Thanks to its non-physical nature, the metaverse allows you to connect with users from across the world – widening your potential audience while improving diversity.
Here Is List of Best Metaverse Development Tools
1. Amazon Sumerian
Amazon Sumerian is an effective design tool for developing browser-based 3D, AR and VR applications. With it you can build realistic scenes using Babylon.js, an open-source JavaScript library compatible with Three.js that creates stunningly realistic scenes which you can integrate seamlessly into existing or new web pages.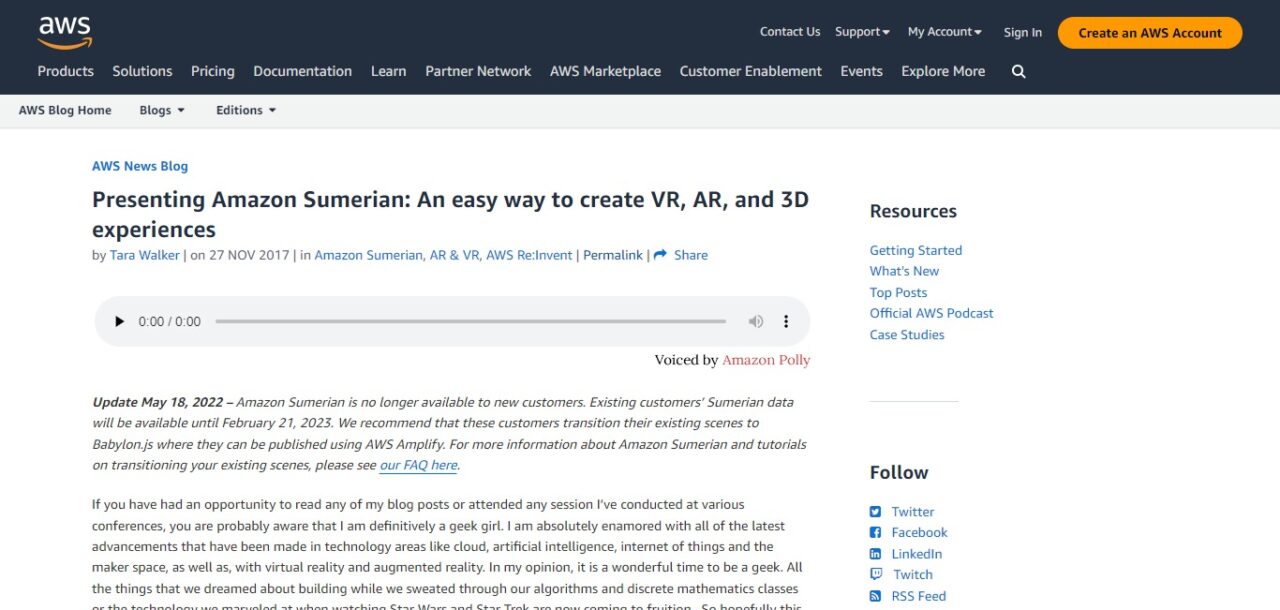 On Github you will find numerous open source hosts designed specifically to work with Babylon.js and Three.js applications when using Amazon Sumerian.
Allowing for fast integration and customization of immersive application projects, this platform makes creating realistic virtual experiences simple without writing code from scratch.
2. JanusWeb (Best Metaverse Development Tools)
JanusWeb is an open-source web framework designed for creating virtual reality social experiences. By using JavaScript and HTML, this framework enables developers to build immersive 3D environments for desktop, mobile and VR devices (Oculus Rift, Cardboard, Vive, GearVR and Daydream). Not only can users build complex worlds using JanusWeb but the tool can also transform an existing two dimensional website into three dimensions.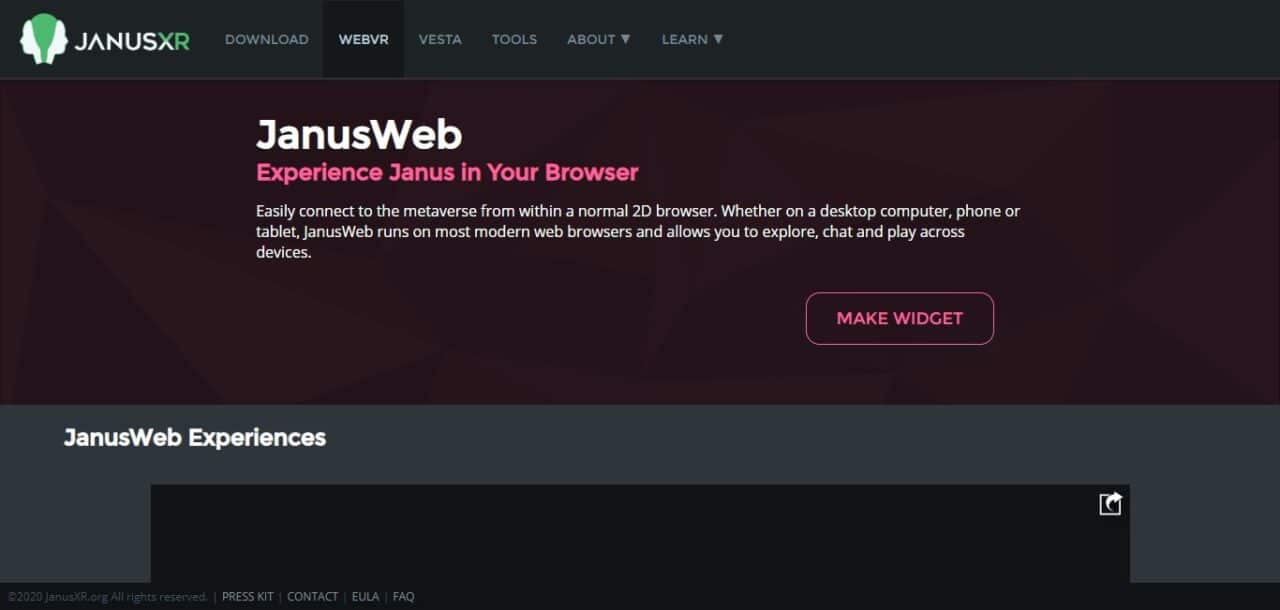 JanusWeb provides many features, such as procedural generation, dynamic lighting/shadowing systems, streaming audio/video playback from popular services like YouTube and Twitch, real-time physics simulation with cannon.js integration and custom model import formats like FBX, OBJ and GLTF support.
3. Blender
Blender is one of the premier Metaverse Development Tools. As an open-source 3D creation suite, it features various tools and features for building 3D models, environments, and animation sequences.
Blender allows users to build immersive virtual worlds, interactive simulations, and complex game levels. In addition to its traditional sculpting and modeling functions, this virtual 3D tool supports physically-based rendering (PBR) effects which enable more realistic simulations of lighting and materials for their projects.
Blender has quickly become the go-to software in metaverse development space due to its user-friendly interface, robust feature set, and growing library of tutorials.
4. reNFT (Best Metaverse Development Tools)
ReNFT is an innovative metaverse development tool that makes tokenizing digital artwork simple and efficient. Creators can use reNFT to quickly tokenize and sell their art on various NFT marketplaces across the metaverse – setting their rates quickly while safely transacting with collectors.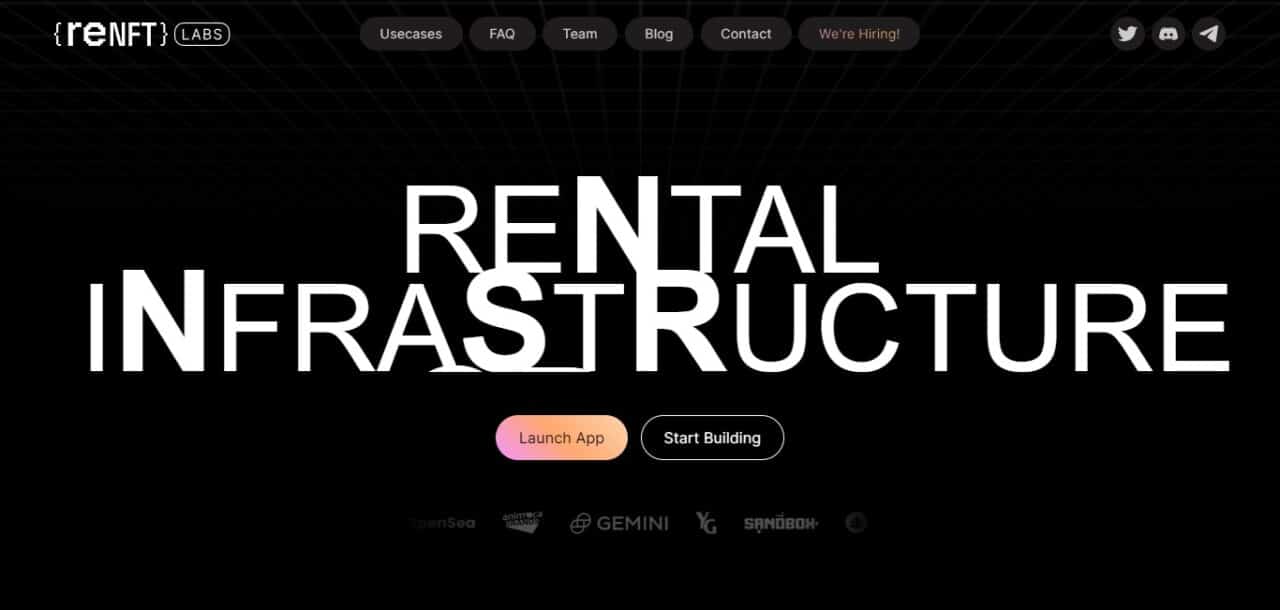 Blockchain technology enables a fair system for artists and peace of mind for collectors purchasing digital assets. Furthermore, users gain access to a transparent system which tracks purchases from beginning to end.
5. Engine
Engine is an open-source metaverse framework designed to enable developers to create innovative, immersive applications in the metaverse. It features several tools and features for 3D world creation, voice/video communication capabilities, complete world editing tools, user management systems and much more.
With Engine's advanced toolsets and vast resources libraries, developers can easily craft custom avatars, games, virtual worlds and other cutting-edge experiences in the metaverse.
6. HyperCube (Best Metaverse Development Tools)
HyperCube is a blockchain-powered tool that enables developers to easily create metaverse applications, virtual reality (VR), augmented reality (AR) experiences, and artificial intelligence (AI).
HyperCube utilizes Rust as its basis and the PoD consensus – an hybrid consensus comprising Proof of Work (ETHash) and Proof of Stake – as its method to establish network accounting privileges. Furthermore, HyperCube's protocol offers high performance computing power as well as data storage capacities.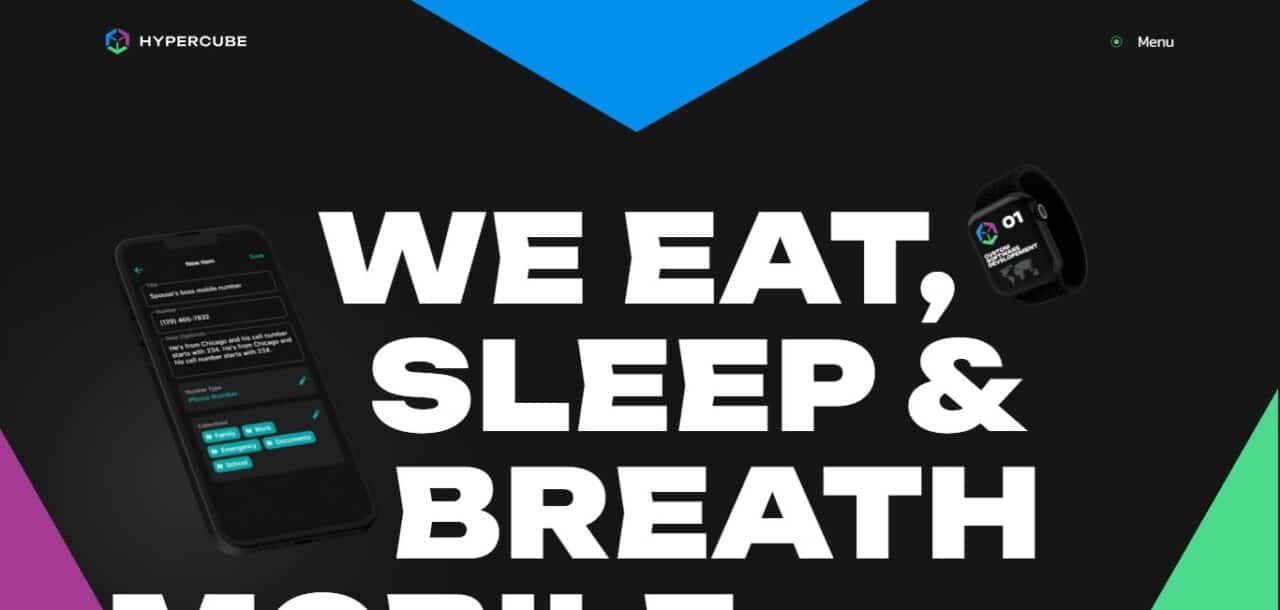 Metaverse offers the perfect environment for creating digital assets like non-fungible tokens, giving developers easy access to building projects within it without fear of security concerns or scaling issues. Giving them infinite possibilities when it comes to digital creation.
7. Colyseus Arena
Colyseus Arena is an essential platform for developers wishing to create and host multiplayer games in the Metaverse. This platform enables programmers and game engine creators to utilize different programming languages and game engines when crafting their games, as well as offering scalable infrastructure support to host and manage these titles.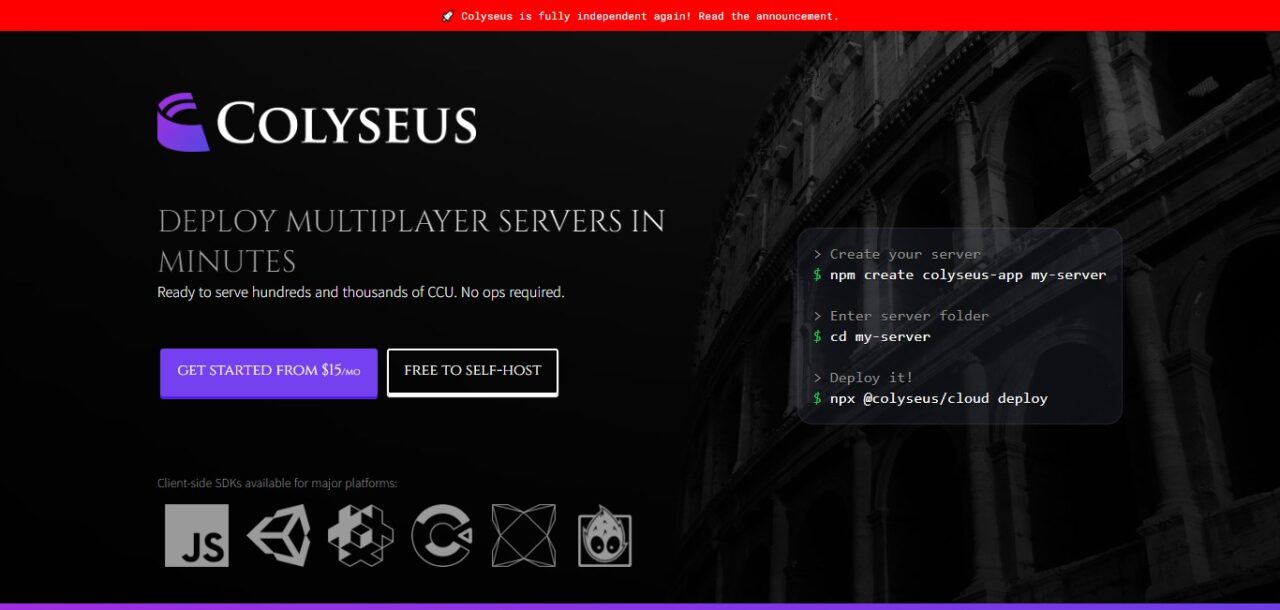 Colyseus Arena allows gamers from across the world to access a single game instance and compete against each other live! This tool is an indispensable resource for those hoping to leave an imprint in the Metaverse!
Benefits of Using Metaverse Development Tools
Metaverse development tools offer numerous advantages for creators and developers who venture into virtual worlds and immersive experiences:
Engaging User Engagement: Metaverse development tools enable the creation of immersive virtual environments that engage and delight their users, offering experiences that feel authentic and captivating.
Creative Expression: These tools enable creators to bring their visions to life with great detail, including the designing of landscapes, characters, objects, and interactions for unique and personalized creative expression.
Experiences Interconnected by Technology: Metaverse development tools enable the creation of interconnected virtual world spaces, providing seamless movement and interactions among various parts. This connectivity fosters collaboration and socialization among users.
Monetization Opportunities: The metaverse offers various monetization avenues for creators, such as selling virtual assets, experiences, services or virtual real estate to generate additional revenues streams. Creators can take advantage of these tools and capitalize on new income sources within this vast universe.
Multi-Platform Compatibility: Metaverse development tools often boast cross-platform compatibility between VR headsets, AR glasses, desktop computers and mobile devices – thus expanding your audience reach.
Metaverse development tools offer applications beyond gaming, from education and training simulations to virtual events, art installations, architecture visualization, and beyond.
Community Building: The metaverse provides an ideal setting for creating vibrant virtual communities of like-minded individuals to come together, and developers can facilitate this growth by designing engaging virtual spaces to host them and provide platforms for sharing experiences.
Data-Driven Insights: Metaverse tools typically offer analytics and data tracking capabilities, allowing creators to gain insight into user behavior, preferences, and engagement patterns – this data can then help inform iterative improvements to the experience.
Innovation and Skill Development: By engaging with metaverse development tools, developers gain exposure to cutting-edge technologies like VR, AR, AI and blockchain – providing opportunities for continuous learning and skill enhancement. This facilitates continuous growth.
Global Reach: The metaverse allows creators to connect with users from all around the globe, expanding cultural exchange and diversity.
Future-Proofing: With the metaverse evolving at such an rapid rate, engaging with these tools places developers at the forefront of digital innovation – providing insight into emerging trends and technologies.
Environmental Benefits: Metaverse spaces offer eco-friendly alternatives to physical spaces, possibly cutting travel and resource use costs and saving energy and materials in the process.
Metaverse development tools offer creators numerous creative, technical and economic advantages. They allow creators to craft immersive virtual experiences that engage users on multiple levels while opening doors to innovative opportunities and revenue streams.
Best Metaverse Development Tools Conclusion
Utilizing the finest metaverse development tools is key to unlocking endless possibilities in virtual innovation. These tools give creators the power to construct immersive worlds that defy traditional boundaries, weaving a tapestry of experiences that transcend physical constraints.
Metaverse development tools offer an opportunity for creativity to thrive – from 3D models that allow for complex landscapes to cutting-edge game engines that enable interactions that spark innovation.
Create personalized worlds while inviting users into realms where reality and imagination collide. As they push further into the digital frontier, these tools become not merely tools of creation; they serve as conduits through which a vibrant tapestry of art, culture, commerce and collaboration will emerge, forever altering human experiences and interactions.
Best Metaverse Development Tools FAQ
What are metaverse development tools?
Metaverse development tools encompass a range of software, platforms, frameworks, and technologies used by creators and developers to design and build immersive virtual worlds, interconnected spaces, and experiences within the metaverse.
What is the metaverse?
The metaverse is a collective virtual shared space, merging physical and digital realities. It comprises interconnected 3D virtual environments where users can interact, socialize, work, and engage in activities similar to the physical world.
What are some popular metaverse development tools?
Notable metaverse development tools include Unreal Engine and Unity (game engines), Blender (3D modeling and animation software), A-Frame (web-based framework), OpenXR (for cross-device VR/AR development), and blockchain technologies for virtual asset ownership.
How do metaverse development tools enhance creativity?
These tools empower creators to design and customize virtual environments, characters, objects, and interactions, enabling unique and immersive creative expression that can't be easily achieved in the physical world.
What kind of experiences can be created with metaverse tools?
Metaverse tools can be used to create a diverse range of experiences, including virtual events, social gatherings, gaming environments, educational simulations, architectural visualizations, art installations, and more.`