Best Rewards Credit Card can be transformative for consumers looking to maximize their everyday spending. With multiple cards on offer in the market, finding their ideal card will depend upon personal preferences and lifestyle considerations. An exceptional rewards credit card typically offers generous cashback, points or miles on every dollar spent, in addition to generous sign-up bonuses such as travel insurance, airport lounge access and no foreign transaction fees.
Redeem your earnings with any number of options ranging from travel expenses and statement credits to merchandise and gift cards; giving cardholders maximum freedom in tailoring their rewards exactly to their individual needs and desires. So whether you enjoy traveling, dining out frequently, cashback rewards or simply cashback on everyday purchases, the right rewards credit card could unlock a world of financial benefits that make spending even more satisfying!
What Is Credit Card?
A credit card is a financial tool that enables individuals to make purchases or pay for services on credit. It is typically a plastic card issued by a financial institution, such as a bank or credit card company, and it comes with a predefined credit limit. This credit limit represents the maximum amount of money that the cardholder can borrow from the issuer. When a person uses a credit card for a transaction.
They are essentially borrowing money from the card issuer, with the understanding that they will repay the borrowed amount later, often with interest if not paid in full by the due date. Credit cards offer convenience and flexibility for making purchases, and they are widely accepted at various merchants and online platforms, making them a popular choice for managing everyday expenses and building credit history.
How Do Rewards Credit Cards Work?
Reward credit cards offer many rewards; however, redemption options vary for each Rewards credit card. Some cards allow for redemption against anything while others have specific categories for Reward Point redemption. It is also important to remember that earning 10 Reward points per Rs 100 spent does not guarantee you more points than spending Rs 100 with another card that offers 5 points instead.
One reason is that the value of one Reward Point can differ across cards; let's say in one card providing 10 Reward Points (1 RP= Re. 0.20 and in another (1 RP= Re. 0.50). Thus, with rewards credit cards you may gain even greater benefit, as with those offering less Reward Points; moreover they often come with welcome benefits such as bonus reward points or milestone bonuses when spending certain amounts within a specific timeframe.
Advantages of Rewards Credit Cards
Reward credit cards can be more beneficial than they seem if used wisely and carefully. Below is a list of benefits associated with having one:
Everyone can easily afford rewards credit cards as many come with low/no annual fees.
Every time you make purchases with your card, you can save significant sums (except in a few transactions).
Rewards credit cards provide exciting welcome and renewal bonuses that can be redeemed against various categories, such as shopping, travel bookings, vouchers and cash back offers.
Rewards credit cards not only offer reward points but can provide additional enticing perks such as movie & dining offers, travel privileges, insurance benefits, fuel discounts and many others.
Here is List Of Best Rewards Credit Card
Cashback SBI Card
Axis Bank Magnus Credit Card
Axis Ace Credit Card
Standard Chartered Bank EaseMyTrip Credit Card
SBI Card ELITE
BPCL SBI Card Octane
Flipkart Axis Bank Credit Card
HDFC Diners Club Privilege
Axis Vistara Signature Credit Card
Amazon Pay ICICI Credit Card
10 Best Rewards Credit Card
1. Cashback SBI Card
The Cashback SBI Card has swiftly become a rising star in the realm of cashback credit cards, particularly appealing to online shoppers. What sets this card apart is its straightforward approach to rewards, offering an impressive 5% cashback on online transactions without any restrictive merchant limitations.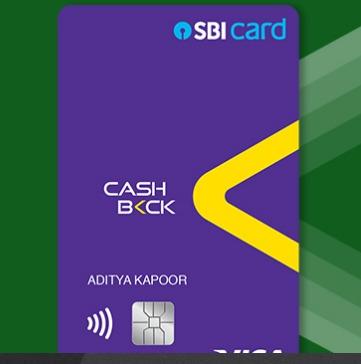 In a landscape where many shopping credit cards confine their benefits to specific merchants or spending categories, the Cashback SBI Card stands out as a must-have for its unparalleled versatility. Its ability to provide substantial cashback on a wide range of online purchases makes it a valuable tool for individuals looking to maximize their savings in an uncomplicated manner.
2. Axis Bank Magnus Credit Card (Best Rewards Credit Card)
Axis Bank Magnus Credit Card represents luxury and exclusivity, designed for high-net-worth individuals seeking an exceptional credit card experience. This card offers unparalleled benefits, such as access to airport lounges worldwide, complimentary rounds at premier golf courses, and a dedicated concierge service that assists with reservations and travel arrangements.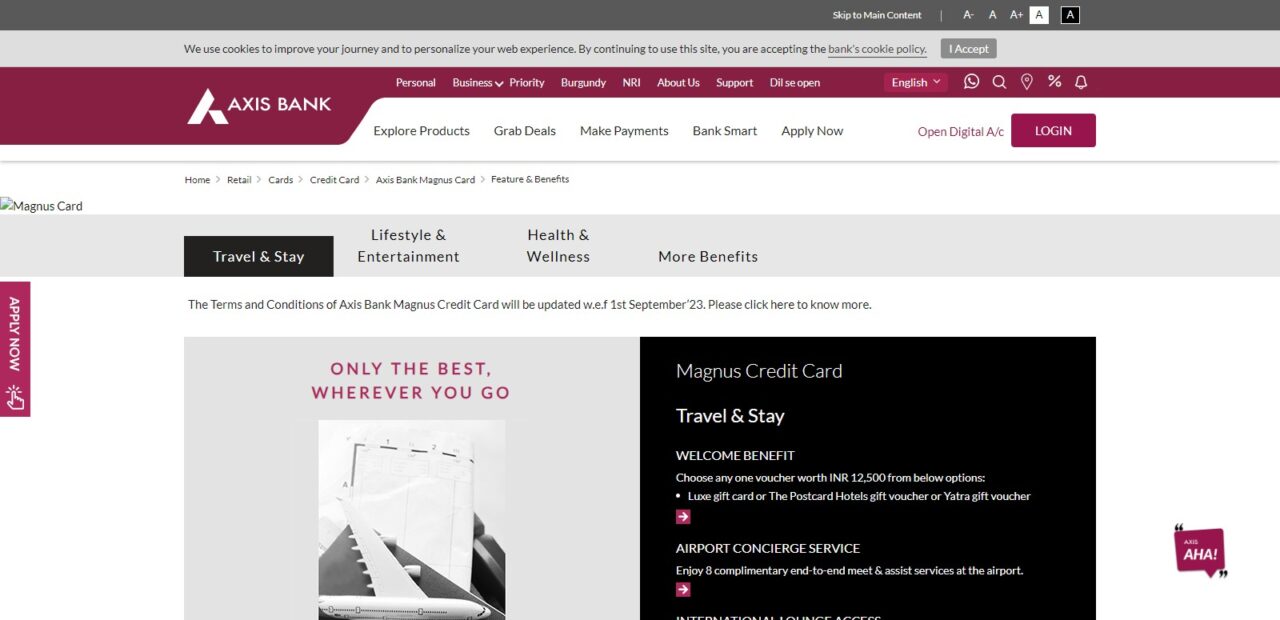 Cardholders also take pleasure in reaping accelerated rewards on their purchases, which they can then redeem for travel bookings, premium merchandise and more. Focused on providing premium services and exclusive privileges, the Axis Bank Magnus Credit Card makes for the ideal solution for those who appreciate luxurious spending with ease.
3. Axis Ace Credit Card
The Axis Bank Ace Credit Card offers newcomers to credit cards an ideal cashback program without incurring high annual fees. Potentially earning up to 5% cashback on bill payments and online food deliveries, it provides substantial savings. Besides cashback earnings, additional benefits like airport lounge access and dining discounts further enhance its overall value proposition.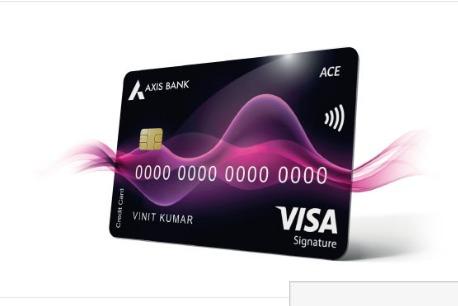 In particular, what sets this card apart is its lack of an upper limit for cashback earnings so cardholders can maximize savings and rewards potential to their fullest extent possible – an especially helpful feature if newcomers enter this world of credit cards! For those starting out on this journey, Axis Bank Ace presents an appealing and user-friendly choice to introduce them into this world of plastic money!
4. Standard Chartered Bank EaseMyTrip Credit Card
The Standard Chartered Bank EaseMyTrip Credit Card is a co-branded credit card that seamlessly blends travel benefits with everyday spending rewards. Catering to both travel enthusiasts and individuals seeking everyday savings, this card offers a range of perks. Cardholders can enjoy discounts and offers on flights and hotel bookings through EaseMyTrip, making travel planning more cost-effective.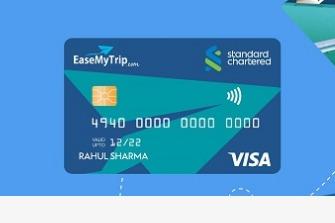 Additionally, the card provides cashback on various categories of spending, including fuel, dining, and groceries. Its dual focus on travel and everyday rewards makes it a versatile option, appealing to those who appreciate both travel-related benefits and financial incentives for their daily expenses. Whether you're booking a vacation or simply doing your regular shopping, the Standard Chartered Bank EaseMyTrip Credit Card aims to make every transaction a bit more rewarding.
5. SBI Card ELITE (Best Rewards Credit Card)
The SBI Card ELITE is a premium credit card offering a plethora of exclusive benefits and privileges for the discerning cardholder. Designed for individuals who appreciate the finer things in life, this card provides access to premium airport lounges, complimentary golf rounds at select golf courses, and a dedicated concierge service for assistance with travel bookings and reservations.

Cardholders also have the opportunity to earn reward points on their everyday spending, and these points can be redeemed for a wide range of options, including travel bookings, merchandise, and gift vouchers. With its comprehensive travel and lifestyle benefits, along with its focus on rewarding spending, the SBI Card ELITE is an ideal choice for those who value luxury, convenience, and personalized service in their credit card experience.
6. BPCL SBI Card Octane
BPCL SBI Card Octane is a co-branded credit card designed specifically to meet the needs of those who frequently refuel at Bharat Petroleum Corporation Limited (BPCL) petrol stations, offering various advantages tailored specifically for automobile enthusiasts and frequent travelers. Cardholders can earn accelerated rewards and cashback on fuel purchases, making this card ideal for those who spend a considerable amount on this expense.

Furthermore, the card may provide discounts at partner establishments including dining and shopping outlets. With its emphasis on fuel-related benefits and the convenience of cashless transactions at BPCL outlets, the BPCL SBI Card Octane provides individuals with a way to maximize savings and rewards on their fuel expenses while taking advantage of additional perks.
7. Flipkart Axis Bank Credit Card (Best Rewards Credit Card)
Flipkart Axis Bank Credit Card is an ideal entry-level card designed to enhance their online shopping experience. With its competitive cashback rate and focus on popular brands such as Flipkart, Uber, PVR, Tata SKY and Swiggy – this co-branded card provides tangible savings and rewards across daily purchases.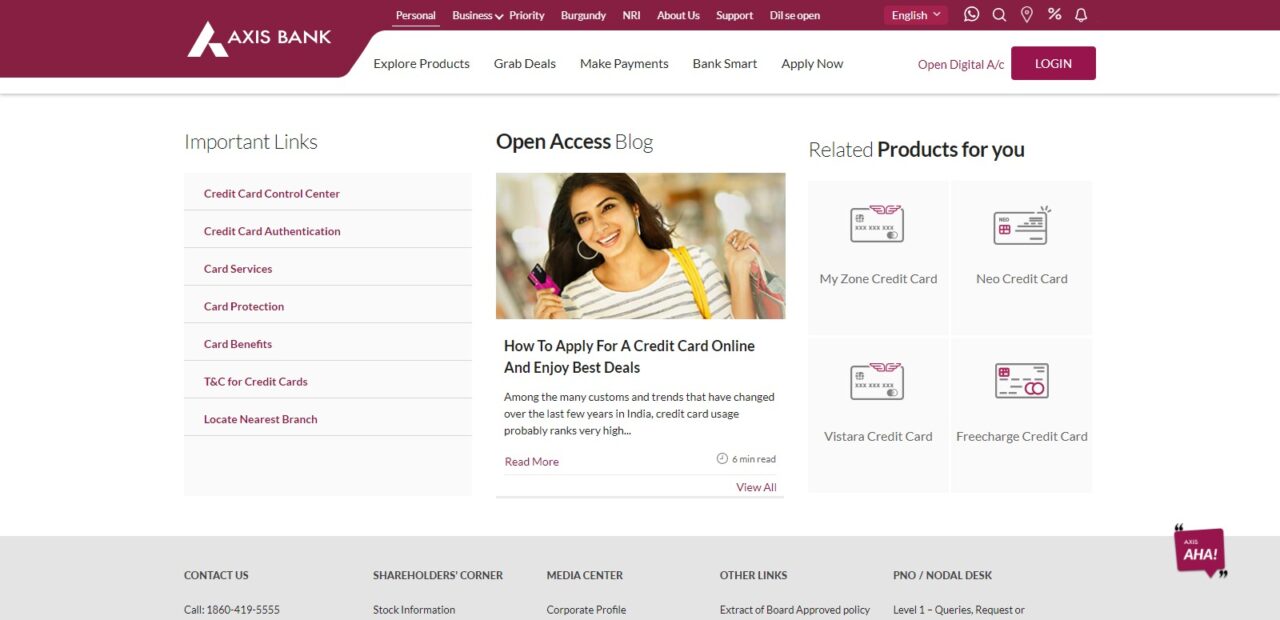 No longer limited to being associated with iconic brands, its primary function as a cashback credit card makes it suitable for a range of spending needs. Cardholders find the Flipkart Axis Bank Credit Card an invaluable companion when shopping e-commerce – offering simple yet rewarding rewards on all expenditures made online.
8. HDFC Diners Club Privilege
The HDFC Diners Club Privilege credit card is an elite offering that blends luxury and lifestyle benefits with exceptional rewards, making it perfect for the discriminating customer. Offering benefits such as airport lounge access, golf privileges and concierge services – as well as excellent rewards – the card caters specifically to its target demographic.

Cardholders can also take advantage of dining and travel benefits, including discounts at premium restaurants and access to the Club Marriott program. What sets this card apart is its distinctive reward system, offering increased points on dining and travel expenses – an attractive feature for foodies and frequent travelers alike.
Redeem these reward points for various options such as air miles, hotel stays or premium merchandise to add extra value to each purchase. Designed specifically to bring luxury dining and travel together in one seamless experience, the HDFC Diners Club Privilege credit card makes a wonderful complement for individuals seeking an elevated lifestyle while reaping rewards of their spending habits.
9. Axis Vistara Signature Credit Card
The Axis Vistara Signature Credit Card is a premium co-branded credit card tailored specifically for frequent travelers who choose Vistara as their airline of choice. Boasting exclusive benefits and privileges, this card aims to elevate the travel experience. Cardholders typically receive an attractive welcome bonus in the form of Vistara Club Vistara (CV) Points that can be redeemed against flights and upgrades offered by Vistara.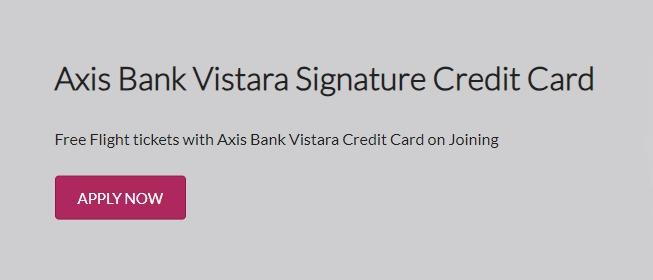 Cardholders using their Axis Vistara Signature Credit Card for everyday expenses can earn CV Points with each transaction, quickly adding up into a valuable resource for future travel plans. A travel card also gives access to priority services, including expedited check-in and boarding at select airports as well as complimentary lounge access – making the journey more pleasant overall.
With features such as discounts on Vistara flights, insurance coverage, and fuel surcharge waivers, this credit card meets the needs of frequent travelers and loyal Vistara customers – making it an appealing and rewarding option for travel.
10. Amazon Pay ICICI Credit Card (Best Rewards Credit Card)
For devoted Amazon shoppers, the Amazon Pay ICICI Credit Card emerges as the ultimate cashback credit card, offering a remarkable 5% cashback on all Amazon expenditures. What truly sweetens the deal is the fact that this card comes with a zero annual fee, making it an accessible and cost-effective choice for a wide range of consumers.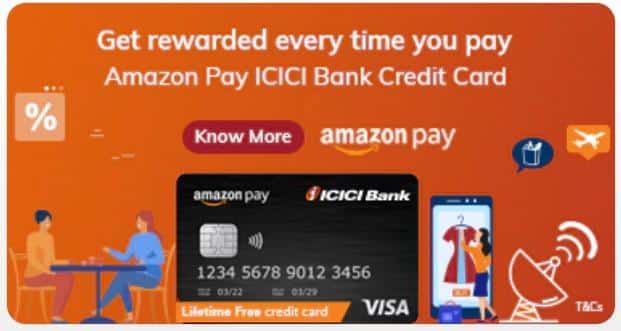 As Amazon reigns supreme as a leading e-commerce destination for all conceivable shopping needs, this card becomes a top recommendation for everyday purchases. With its competitive cashback rate and the convenience of earning rewards on Amazon spends, it's the perfect financial companion for those who can't resist the allure of the world's largest online marketplace.
How Can You Select an Appropriate Reward Credit Card for You?
Before choosing a Rewards Credit Card, it is important to keep several factors in mind:
An analysis of your spending behaviors should include an investigation of which categories represent your highest levels of expenditures, since different cards offer increased Reward points on different categories – selecting one with the greatest Reward points could help ensure maximum savings!
Compare fees & charges of various credit cards before selecting one that will meet your needs with minimal expenses.
As it would make little sense if you accumulated thousands of points but couldn't redeem them against anything you required, it is extremely important that you check which credit cards allow for redeeming of reward points.
Reward Points may have an expiration date and maximum rewards you can accumulate are subject to caps. Please ensure your reward points remain valid in order to maximize their earning potential.
Best Rewards Credit Card Conclusion
In conclusion, the search for the best rewards credit card ultimately depends on individual preferences and lifestyle. There's no one-size-fits-all answer, as the ideal card may vary from person to person.
The best rewards credit card for one individual might be one that offers generous travel perks, while another might prioritize cashback on everyday purchases. It's essential to assess your spending habits, financial goals, and the specific rewards or benefits that align with your needs.
Whether you're after travel miles, cashback, or other incentives, the key is to find a credit card that maximizes your rewards potential while providing additional perks that enhance your overall financial experience. So, before making a choice, take the time to compare options, read the fine print, and select the rewards credit card that best aligns with your personal financial objectives.
Best Rewards Credit Card FAQ
What is a rewards credit card, and how does it work?
A rewards credit card is a type of credit card that offers incentives, such as cashback, points, or miles, for every purchase made using the card. These rewards can be redeemed for various benefits, including travel, merchandise, or statement credits.
How do I choose the best rewards credit card for my needs?
To choose the best rewards credit card, consider your spending habits, preferred rewards type (cashback, travel rewards, etc.), annual fee, and any additional perks or benefits offered by the card. Compare different options to find one that aligns with your financial goals and lifestyle.
What are the different types of rewards offered by credit cards?
Rewards can come in various forms, including cashback, travel miles or points, discounts, gift cards, and merchandise. Some cards also offer special perks like lounge access, concierge services, or travel insurance.
Are there any fees associated with rewards credit cards?
Many rewards credit cards come with an annual fee, but some offer no-annual-fee options. It's essential to consider the annual fee in relation to the rewards and benefits you'll receive to determine if the card is worth it for you.
How can I maximize my rewards with a credit card?
To maximize your rewards, use your credit card for everyday expenses, pay your balance in full and on time to avoid interest charges, take advantage of bonus categories or promotions, and consider combining multiple rewards cards for different spending categories.