About Brokoli Ico
Brokoli Ico is a play-to-earn & play-to-impact NFT metaverse where climate impact makes you money. Your DeFi transactions on The plant NFT Trees: a tradable asset that earns passive income. This is the ultimate sustainability layer of multi-chain DeFi. The merges DeFi and GameFi to incentivize users to make, own, and trade their positive impact. The project has three interconnected parts that all serve a single purpose: to rapidly grow Brokoli's user base and offset DeFi's carbon footprint.
Brokoli's core: Environmentally friendly gateway into the most popular DEXs and dApps.
API: Any blockchain platform (centralised or decentralised) can implement our API to allow users to opt-in to a small climate fee that offsets their transaction's footprint.
Digital Forest / Brokoli Impact Credits: Users receive NFTs based on trees they have funded the planting of by using our products and completing daily quests. Digital NFT forests will be tradable as Brokoli Impact Credits: Corporate Social Responsibility standard loosely pegged to real forests and purchased by corporate partners.
Token Basic Information
Core Features
The First Climate-Positive Decentralised Exchange + dApps
Brokoli's Decentralised Exchange will enable carbon offsets to be part of every trade seamlessly and without damaging user experience. The DEX builds upon the more capital efficient model of trading enabled by Uniswap v3: slippage fees will be used for climate positive action: renewable energy project finance, planting trees, waste collection and recycling.
Because of the volatility and rapid price movements, liquidity providers are not usually able to execute the trade at an agreed price. Slippage is the difference between the expected price of a trade and the executed price of that trade. It is more likely to happen when there is a higher level of volatility, such as breaking news that forces unexpected trends in the market. This condition can make it extremely unlikely for DEXs to be able to execute any trades at the expected price.
Digital Forest: Play-to-Earn NFTs for Planting Trees
Brokoli Ico will introduce elements of Play-to-Earn by issuing digital trees (comprising forests) as fractionalized NFTs, enabling users to own their impact. Digital Forests will function as a tradable asset, whereby users will be able to buy and sell their impact peer-to-peer or to a third party (companies, charities, NGOs, influencers).
Front-end dApps integration and API
They will build personalized embedded solutions that enable climate action in every DeFi transaction. In practice, any DeFi / blockchain platform will be able to implement our integration into their website. The integration will automatically calculate the carbon footprint based on the transaction and offer to offset your carbon footprint. With 1-click, a user on any digital asset marketplace, exchange, or a wallet will be able to make their transfer climate positive.
With seamless integration, crypto platforms will get the all-in-one climate toolkit – software equipped to offer their customers climate options at check-out, in-app, or anywhere they meet their customers. Brokoli's API will work closely with blockchain platforms to integrate carbon offsetting into modern, market-leading customer experiences.
Ways to receive digital trees and build your forest:
1. Use DEX, lending, investment platform, yield farming layer -> receive digital trees (based on climate fees collected from the use of those platforms);
2. Complete daily quests (e.g. reply to a tweet about Brokoli Ico ) -> receive digital trees (based on verified completion of tasks);
3. Refer a friend (Revolut referral model) -> Receive a share of trees your referred friend gets during the first month of the platform use;
4. If you're a verified influencer, share news about Brokoli on Instagram, TikTok, and other social media platforms -> receive digital trees on influencer-exclusive daily tasks
Green DEX
Participate in climate action with every token swap – Brokoli finds the best trading paths across DEXs.
Green Investments
Make investments that combine financial return and impact for the planet. Track your impact real-time on the dashboard.
Green NFTs
Make direct donations and plant trees – every $1 dollar plants 2 trees. You'll get a green NFT to show off your impact.
Green Lending
Brokoli Ico Provide loans that generate positive return for both you and the planet.
Green Yield Farming
Put your assets to work with proven hedge fund strategies. Your investment plants trees and generates return directly to your wallet.
Green Integrations
Any DeFi platform can implement our chain-agnostic API to allow you to opt-in to a small climate fee that offsets your transaction's footprint.
Price Efficiency Climate Positivity
Brokoli's fees are distributed via a token holder vote: 90% of the fees go to the planet, and 10% of the fees go back to the community.
Navigate forests of other users
1 Grow your forest and compete on the real-time leaderboard
2Buy and sell digital forests from other users with $BRKL token
3Customize and level up your Brokoli avatar – as you advance, more outfits, hairstyles, facial features and other perks will become available to purchase
$BRKL Token
With the $BRKL token, Brokoli Network will be governed by a decentralized autonomous organization (DAO). With that, token holders will be able to cast their vote to decide the choice of renewable energy projects, e-waste collection and recycling programmes, and partners for planting trees.
On top of that, we will introduce instant governance: a new kind of governance where the community can participate, benefit and vote for specific protocol settings without any barrier to entry. This will make the Brokoli Network fully community governed, efficient, user-friendly and transparent, where members can propose changes to how our system works. The community will be carried out using Snapshot: an off-chain gasless multi-governance client with easy to verify and hard to contest results.
Brokoli Ico will receive Climate Fees from DEX, direct donations from companies and individuals, and API-collected Climate Fees in native tokens. Native tokens are then used to buy $BRKL tokens and distributed to $BRKL token holders that stake and participate in the community vote via airdrop.
The Cool Climate Company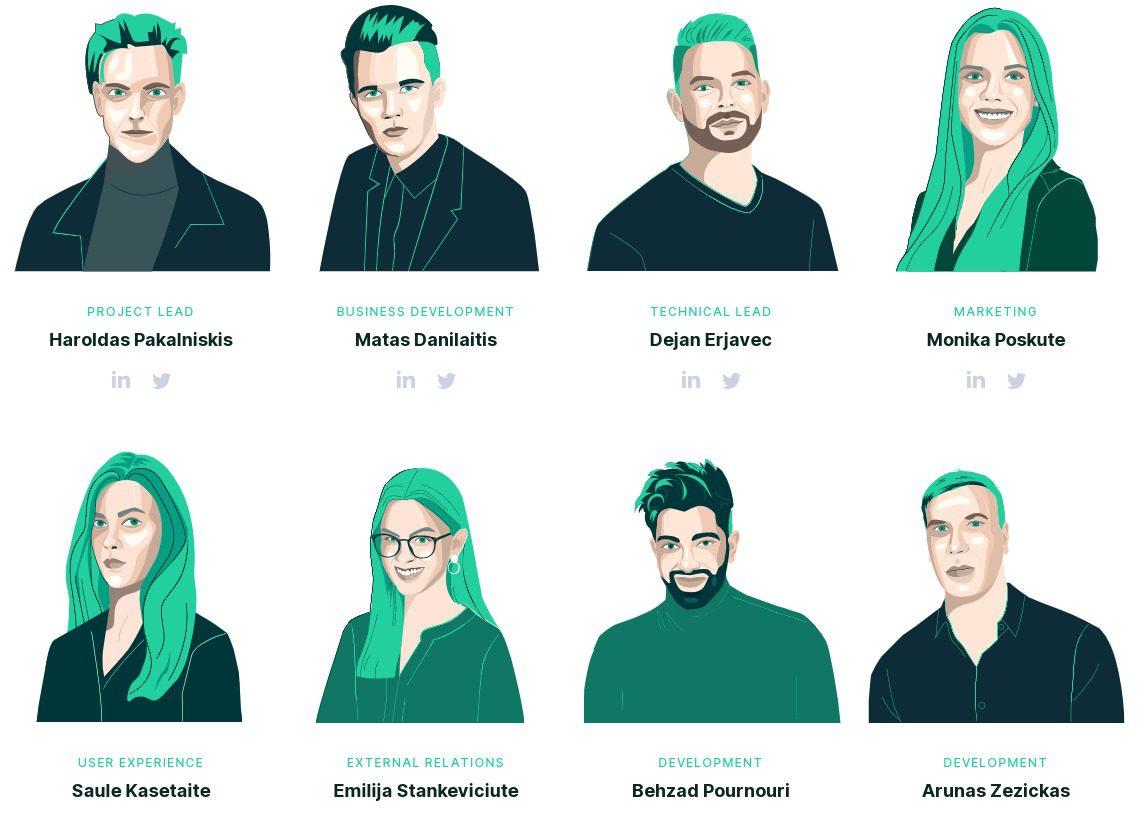 Disclaimer:
Not All The Websites Which Listed In Top List Are 100% Safe To Use Or Investment. they Do Not Promote Any Of Those. Due Diligence Is Your Own Responsibility. You Should Never Make An Investment In An Online Program With Money You Aren't Prepared To Lose. Make Sure To Research The Website. So Please Take Care Of Your Investments. And Be On The Safe Site And Avoid Much Losing Online.