Coinstash : In this article, we cover a detailed review of Coinstash Crypto Exchange. How does Coinstash Crypto Exchange work & Are important features?
About Coinstash
A cryptocurrency exchange called Coinstash offers users a simple and user-friendly platform to trade with cryptocurrencies without any issues. It might be regarded as one of the world's most straightforward platforms. Ripple, Ethereum, DogeCoin, Bitcoin, and other cryptocurrencies are available for investment and trading on Coinstash.
For people who are just beginning to learn about cryptocurrency holdings, Coinstash provides a very user-friendly and intuitive platform. Over 50,000,000 worth of trades have been completed on the exchange, which has thousands of users.
After passing a verification process, users can sign up for the site and begin trading, moving their account to Tier 2. Additional user information, such as a photo ID, etc., are required throughout the verification process. As of the time this article was being written, the exchange only supported the Australian dollar as a fiat currency.
Information Table
| | |
| --- | --- |
| Exchange Name | Coinstash Exchange |
| Exchange Service | Spot and futures trading |
| Exchange Launch Year | 2017 |
| Made In | Brisbane, Australia |
| Mobile App | Android & IOS |
| Fiat Option | Available |
| KYC | Required |
| 2FA Security | Available |
| Withdraw Fee | Free |
| Transactions Fees | 0.85% |
| Deposit Fee | Free |
| Support | Email & Live Chat Option Available |
| Official Website | Click Here To Visit |
How To Register At Coinstash Exchange Crypto ?
To register for an account on Coinstash, follow these steps: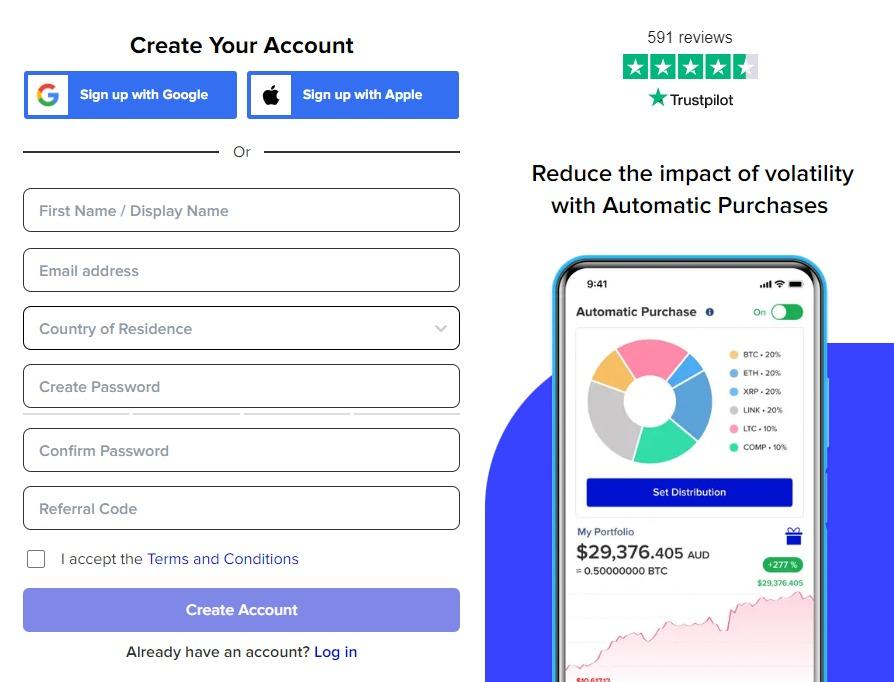 Go to the Coinstash website at https://coinstash.com.au/ and click on the "Sign Up" button in the top right corner of the page.
Enter your email address and create a password for your account.
Agree to the Terms and Conditions and Privacy Policy by ticking the boxes.
Click on the "Register" button.
Check your email inbox for a verification email from Coinstash. Click on the verification link in the email to activate your account.
Log in to your account and complete the verification process by providing your personal details, such as your name, address, and date of birth.
Provide additional identity verification documents, such as a driver's license or passport, as required by Coinstash's Know Your Customer (KYC) process.
Once your account is verified, you can deposit funds into your account and start trading cryptocurrencies.
How To Verify Your Coinstash Account ?
There is no mandatory verification at Coinstash, but you can pass it if you wish. At the moment, the only restriction imposed on unverified users is the withdrawal Fee of 0.001 BTC per day. In the future, depending on the actions of regulatory authorities, conditions may change.
For verification, you can use one of four documents to choose from: passport, driver's license, identity card or residence permit. Artificial intelligence is used to evaluate the authenticity of documents. This service is provided by the Onfido online identification service, already used by the Bitstamp, Revolut platforms.
How To Buy Crypto Or Deposit Crypto At Coinstash Crypto Exchange ?
There are two main options for topping up your balance on SuperEx Exchange. Firstly, you can buy cryptocurrency with a bank card – it's fast and convenient. Go to the " Buy crypto " -> " Buy crypto with a credit card " section.
Choose a cryptocurrency (currently there are 13 coins available for purchase in this way). Enter the amount and select the fiat currency to be used for payment.
Agree to the terms and confirm the transition to the site of the payment provider. Enter information about the card and its owner, confirm the transaction. Cryptocurrency will be credited to the exchange account within a few minutes.
Second Method
You can transfer digital assets to the balance of the exchange from any external crypto wallet. For this:
Go to the "Deposit" section from the "Assets" menu.
From the drop-down list, you can select the cryptocurrency you want to deposit into your account.
The wallet address will appear. You need to copy it and send funds to it from another wallet or exchange. Please note that only bitcoin can be sent to bitcoin addresses, similarly with other coins.
You can also click "Show QR code" – for transfers from a mobile wallet, this is a more convenient option.
How To Withdraw Crypto Asset From Coinstash Exchange ?
Having completed all the necessary trading operations, it's time to withdraw the received assets to an external wallet. Go to " Assets " -> " Withdraw ". Please note that the operation is only available after enabling two-factor authentication in the settings. This is for added security and requires less than a minute, so don't neglect this measure.
Select a cryptocurrency and enter the withdrawal amount. Each coin has its own withdrawal fee, for example, for BTC it is 0.00057 BTC. Click " Output ". By default, the exchange processes applications three times a day, however, hourly withdrawals are available for Premium users. Also, the time of receipt of the cryptocurrency is affected by the workload of the blockchain network.
How To Secure Your Coinstash Account ?
Also remember to go to the Security tab and activate two-factor authentication using the Google Authenticator app.
Fees for Trading Coinstash
The trading fees have been maintained low and extremely competitive in the market as one of the top cryptocurrency exchanges in Australia that only deals with one fiat currency and concentrates on a small user base. Low trading fees encourage more frequent trading because there is no need to worry about having to pay huge fees for various transactions, in addition to attracting customers from more expensive platforms. For the variety of services and ease it offers, the cost has been seen to fluctuate about 0.85%, which is unquestionably more than fair. In addition, the platform does not impose any additional or hidden fees.
Deposit and Withdrawal Method for Coinstash
The ability to use Coinstash as a wallet is another feature that allows users to keep their newly acquired or traded cryptocurrency. Users may easily deposit and withdraw money with this finest cryptocurrency wallet.
One thing to bear in mind is that users must first finish the verification process prior to making a withdrawal; only then can money be withdrawn out of the site. Withdrawals and deposits made in Australian dollars are free of charge, but depending on the currency, withdrawals made in cryptocurrencies may incur a minor fee.
Features Of Coinstash Crypto Exchange
User-Friendly Interface
Coinstash offers an easy-to-use interface that is intuitive and user-friendly, making it the perfect trading platform for both new and seasoned traders.
Secure Platform
To guarantee the protection of its users' money and personal information, Coinstash places a high priority on security and makes use of industry-standard safeguards.
Wide Variety of Cryptocurrencies
Bitcoin, Ethereum, Litecoin, Bitcoin Cash, and a number of other cryptocurrencies are supported by Coinstash.
Low Trading costs
Coinstash offers dealers a cost-effective option by having some of the lowest trading costs in the market.
Rapid and Reliable Transactions
Deposits and withdrawals are normally done in a matter of minutes using Coinstash's rapid and reliable transaction processing.
Mobile App
Users may trade while on the go with Coinstash's mobile app, which is available for both iOS and Android devices.
Customer service
Live chat, email, and other methods are all available for receiving outstanding customer service from Coinstash.
Sophisticated Trading Tools
For seasoned traders, Coinstash also provides sophisticated trading tools including stop-loss orders and leveraged trading.
Coinstash Cryptocurrency Exchange Pros & Cons
Pros:
User-friendly platform: Coinstash features a platform that is simple to use and intuitive, making it appropriate for newcomers.
Safe: To secure user funds and data, Coinstash uses industry-standard security procedures.
Wide range of cryptocurrencies: Many different cryptocurrencies are supported by Coinstash, making it simple for users to diversify their investments.
Low fees: Coinstash offers trading at a reasonable price because it has some of the lowest fees in the market.
Fast transactions: Transactions that are executed swiftly on Coinstash often involve deposits and withdrawals.
Mobile app: Users may trade while on the go with Coinstash's mobile app, which is available for both iOS and Android.
Cons:
Limited trading pairs: Compared to other exchanges, Coinstash currently has a small number of trading pairs, which may restrict users' trading options.
Limited customer support: Limited customer assistance is available, although several users have complained about Coinstash's lengthy response times.
No margin trading: Margin trading is not currently available on Coinstash, in contrast to several other exchanges.
Limited geographic coverage: Only available in Australia, Coinstash has a limited geographic reach and may not be suited for users in other areas.
Fewer deposit options: At the moment, Coinstash only accepts bank transfer or POLi deposits, which may not be practical for many users.
Conclusion
Coinstash is one of the greatest sites to utilize for trading digital currency or managing your holdings of crypto assets for people residing in Australia who are not searching for particularly advanced and specialist features or crypto assets. It also helps the platform become a platform that is a solid recommendation for beginners and somewhat experienced users with the anticipated addition of more payment options and a more diverse range of cryptocurrencies.
Before placing all of their eggs in Coinstash's basket, users are recommended to deposit a small sum of money on the platform and utilize it extensively, despite the possibility that the lack of a mobile application should be taken into account.