About Dcent Wallet
IoTrust is founded by tech specialist & security experts with over 20 years of security know-how and engineering experience in development of deeply embedded security solutions. Dcent Wallet mission is to protect the customer's digital assets through D'CENT Hardware Wallet, a combination of Software and Hardware Security solutions born from the experience in 2018.
IoTrust Co., Ltd. was founded in 2017 with seed investment from Jiran Security, a KOSDAQ listed company. In 2018, Korea Investment Partners (Korea's premier venture capital group) invested in IoTrust for the company's recognition in core technology and capacity to deliver the world's best hardware wallets.
Year 2018 – Commercial launch of D'CENT Biometric Wallet
Year 2019 – Global Certifications (KC, FCC, CE, ROHS, TELEC, UL)
Year 2019 – Commercial launch of D'CENT Card Wallet
Year 2019 – Klaytn Partnership for Hardware Wallet
Mission
At IoTrust, the main mission is to provide secure connectivity solutions that the customers can trust. Following are the 3 main business areas:
1. Digital asset protection
2. Financial services
3. Authentication solutions
Focus
Dcent Wallet place the highest priority on protecting customers' digital assets and cover the following business areas:
· Digital asset cold storage
· Secure private key storage
· Secure transaction execution
They demonstrated the first passion for digital asset protection with the introduction of D'CENT Hardware Wallet in 2018. They expect to play the following roles in the financial services sector:
· Secure payment and exchange solutions
· Peer-to-peer remittance solutions
· Peer-to-peer payment and loans
· Secure transfer of intellectual property
The most advanced cryptocurrency hardware wallet
D'CENT Wallets are a new generation of über convenient cold storage. They bring peace of mind by taking worry out of managing digital asset wealth. D'CENT Card-type Hardware Wallet allows you to manage cryptocurrency assets with a simple touch. It is a cold wallet in the form of a credit card that uses a secure chip used in the financial sector to exchange and manage NFTs such as game items. Ethereum Card Wallet and Klaytn Card Wallet are supported.
Multiple cryptocurrency support
Supports Bitcoin, Bitcoin Cash, Litecoin, XRP, Ethereum, ERC20, DigiByte, Binance, Klatyn and many more. Continuously adding new assets.
Biometrics Authentication
Built-in fingerprint scanner adds convenience and enhanced security for access control and fast transaction signing.
Secure Private Key Management
Unlike other products on the market, D'CENT supports secure private key generation from the device without connecting to additional software program.
State of the art Security
Multi-IC architecture provides the strongest protection for privacy and private key.
Large OLED Display
128×128 pixel display allows comprehensive view of your full transaction details and accounts.
Back Up & Restoration
In case of lost, stolen, or wiped to factory setting, wallet recovery process is optimized for easy and fast recovery.
Easy to use with "Tap to Verify" Transaction Card Wallet
Simply touch the card with an NFC-capable smartphone to manage crypto assets
from Wallet App. Securely store and manage your cryptocurrency assets in a card type hardware wallet.
How does it work?
Creating a backup of the original card wallet works by encrypting the wallet data with user's password. The encrypted data is transferred to the Backup Card and original data is decrypted to create an exact copy of your original card wallet.
Specifications
NFC Support
Dcent Wallet Card type wallet works in tandem to your mobile phone through NFC communication.
The card type wallet offers the simplest way of using hardware wallet by Tagging.
Security Chip
The card type wallet has a bank-grade certified security chip which offers highest security for protecting your private keys.
Factory PIN
This is the factory(default) PIN for the hardware wallet. Factory PIN is concealed by ribbon masking for protection and scratch it off to reveal.
To use the Card type Wallet, you must first update this factory PIN to your own password.
Wallet Address
– You can manage coins, tokens, and NFTs with one address.
– Ethereum card wallets can manage Ethereum, ERC20, and ERC721 tokens.
– KLAY and KCT can be managed with Klaytn Card Wallet.
Address in QR Code
Wallet address can be scanned using the QR scanner. You can present the code to your sender and receive your coin without the D'CENT mobile app.
Meet The Team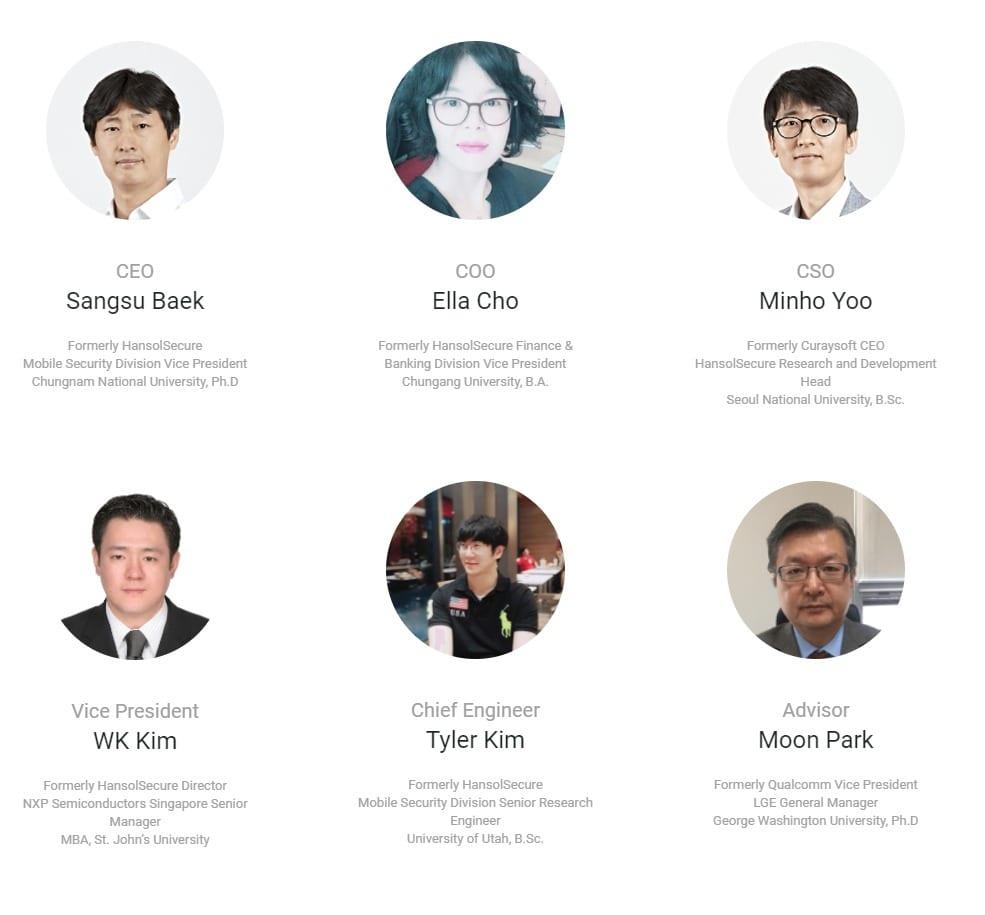 3 Wallets in one APP
Biometric wallet, Card type wallet, and Software wallet can all be managed from a single mobile app.
D'CENT Wallet allows you to safely store your cryptocurrencies and conveniently access blockchain-based services such as DeFi and game item management. With a single D'CENT Mobile App, you can link with a hardware wallet or use it as a software wallet without hardware.
D'CENT Mobile App offers the following features:
1. Cryptocurrency portfolio management: visualization of assets with pie charts, real-time market price information
2. Dapp Service: access blockchain services such as DeFi, Staking, and games through the built-in Dapp browser
3. Hardware Wallet management: manage which D'CENT hardware wallet to synchronize with the Mobile App.
4. Software Wallet: offers wallet services without hardware wallet
5. Naming address: through ENS(Ethereum Name Service) or RNS(RIF Name Service), you can send and receive cryptocurrencies with simple names such as website addresses instead of complex cryptocurrency addresses.
Supported Coins

Bitcoin(BTC), Ethereum(ETH), ERC20, Rootstock(RSK), RRC20, Ripple(XRP), Monacoin(MONA), Litecoin(LTC), BitcoinCash(BCH), BitcoinGold(BTG), Dash(DASH), ZCash(ZEC), Klaytn(KLAY), Klaytn-KCT, DigiByte(DGB), Ravencoin(RVN), Binance Coin(BNB), BEP2, Stellar Lumens(XLM), Tron(TRX), TRC10, TRC20, Ethereum Classic(ETC), BitcoinSV(BSV), Dogecoin(DOGE), Bitcoin Cash ABC(BCHA), Luniverse(LUX), XinFin Network Coin(XDC), XRC-20
* New coins are added regularly.
D'CENT Biometric Hardware Wallet
Dcent Wallet Biometric cold wallet is a hardware wallet designed based on a secure chip architecture to store cryptocurrency keys securely. Device is mounted with a smart card that has obtained the security level required by the financial sector, and Secure OS is built into the microprocessor to provide a secure execution environment to isolate/process private keys and data. The fingerprint is enrolled through the fingerprint scanner and it is used to verify the owner at the signing stage of trading cryptocurrency. In addition to fingerprint, the device supports password (PIN) function.
Tips for securely storing your Dcent Wallet
Do your own research. Before sending any coins or private data to a wallet, make sure you have researched the wallet provider to make sure everything is above board. Keep an eye out for scam wallets, such as those using URLs only slightly different to the URLs of legitimate wallet providers, and check out some independent reviews for all the pros and cons.
Back it up. Maiar.com use of your wallet's back-up and restore facility so that if something ever goes wrong with your wallet, you'll be able to recover your funds.
Set a strong password. Now is not the time to be lazy when creating a password; take your time to create a strong and uncrackable code.
Make use of all available security features. Make the most of all the security features your wallet offers, such as two-factor authentication or multi-signature transactions. It'll offer increased protection for your funds and greater peace of mind for you.
Update your antivirus software. Maiar.com care to regularly update the antivirus protection and anti-malware software on any device you will be using to access your wallet.
Keep your private keys private. Last but not least, don't underestimate the importance of your private keys. Store them somewhere safe and don't share them with anyone else.
Disclaimer:
Not all the websites Which listed in Top List are 100% safe to use or investment. We do not promote any of those. Due diligence is your own responsibility. You should never make an investment into any online program with money you aren't prepared to lose. Make sure to research about the website. So Please take care of your investments. and be in the safety site and avoid much losing online.