Planetix Game is a play-to-earn NFT-based strategy game that utilizes the Polygon network with its NFTs and cryptocurrency, IXT. In Planet IX players will play on a virtual copy of planet Earth, by collecting NFT lands they will restore the planet to its former green and blue glory and monetize their earnings.
Planet IX is a new decentralized gaming platform that lets players control their gaming experience. The platform runs on blockchain technology and uses non-fungible tokens (NFTs) to give players actual ownership of their digital assets.
Planetix Game team believes decentralization will allow for a fair and sustainable gaming ecosystem. The platform aims to be interoperable with other systems, establishing a standard in the gaming industry. In this digital world, players can earn rewards for their contributions to the community.
How to Singup with The Planetix
For now, The Planetix only offers an experience through its free builder tool. Using it to get acquainted with the game is free. 
Buying Planetix Game tokens is possible with an in-wallet swap. They also offers trading and swapping services for this asset. Bidding for and buying Planetix assets is done through the Planetix browser app. In the future, new experiences and types of play will be added. 
Game Overview
The main goal of the game is to redevelop the desolate Earth to its former self. Players will do this by collecting NFT lands known as PIX that come in a total number of 1.6 billion.
These PIX are divided into different classifications and tiers depending on where they're located and some are rarer than others. They are basically landscapes ranging from common tier PIXs such as deserts or arctic tundras to legendary NFTs such as capital cities. The map works as a player's both gameplay and search function in their journey to acquire PIX lands.
The goal for all Planetix Game players is to collect as many PIX as possible next to each other and create and form coherent land territories on the map. Players can either make an initial NFT land investment to begin earning and growing their territory, or they can engage in automated missions through Mission Control to earn in-game rewards and IXT tokens to acquire lands in the future.
Planetix RoadMap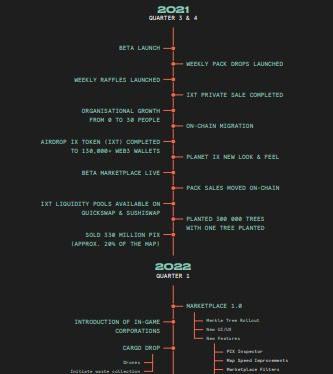 Team Behind Planetix
Before learning more about the project's details, it is fundamental to understand the team's vision. The game's developers want to create a platform serving as the bedrock for next-generation gaming platforms and the emerging metaverse.
With this in mind, they focus on developing tools to decentralize and empower the gaming community. Additionally, they aim to help individuals use their passion and skill to play and build businesses within the virtual world.
Features Of Planetix Gaming Platform
The Planet Consists
The Planetix Game map consists of 1.6 billion PIX, all being individual NFTs that you can collect. The PIX are acquired using own ERC-20 utility token called IX Token (IXT) which was launched on November 20, 2021. Today, the game has a dedicated community with high engagement, with 550k+ unique players and 400+ million NFTs sold.
Earn these NFT Lands
Players will need to spend tokens in order to earn these NFT lands, they can do so through the marketplace or by earning in-game resources and IXT tokens by performing in-game activities.
Numerous Opportunities.
Planet IX is a new sci-fi game on Polygon that can provide players with numerous opportunities. With a focus on decentralization, the game comes with several benefits, including fairness and transparency as well as an opportunity to earn as you play. Additionally, the team has grown quickly and reached more players.
Governance
The Planetix Game will follow a DAO structure and this is the governance token. Holders of the token can take part in key decision-making regarding the future of the platform. Such key issues include Foundation grant attributions to content and game creators and feature prioritization on the platform Roadmap. The owners can also delegate voting rights to other players of their choice.
Security and Immutability
Powered by blockchain technology, the NFT gaming assets are secured and immutable. Each asset can be tokenized and traded in the crypto marketplace with security as opposed to the non-crypto game where scarcer items are prone to fraud or theft.
FAQ Of Planetix
What does Play-to-earn mean?
Play2Earn (play-to-earn) games refer to the concept of gaming in which a platform provides its players with a chance to earn any form of in-game assets that can be transferred to the real world as a valuable resource.
What does Free-to-play mean?
Planet IX allows it's players to participate without investing any funds through game mechanics. Instead, time will be the source of "investment" for those who do not wish to invest any funds.
What is Mission Control?
It is the hub that gives each A.O.C an overview of their in-game assets. Through this view, players will be able to stake and unstake assets with ease and perform various in-game functions.