About Poloniex Exchange
Established in 2104, Poloniex Exchange is a cryptocurrency exchange that was established by an individual by the name of Tristan D'Agosta. Based in San Francisco, California.
Poloniex caters mainly to U.S based cryptocurrency traders. Nevertheless, the exchange is also proving to be extremely popular among cryptocurrency traders from all over the world. This is hardly surprising as the Poloniex exchange offers a diverse range of altcoins which can be traded on Bitcoin.
Information Table
| | |
| --- | --- |
| Exchange Name | Poloniex |
| Exchange Service | Spot and futures trading |
| Exchange Launch Year | 2014 |
| Made In | Wilmington |
| Mobile App | Android & IOS |
| Fiat Option | Available |
| KYC | Required |
| 2FA Security | Available |
| Trading Fees | Fees are charged on a per-trade basis |
| Leverage | Up to 100x |
| Currency Supported | USD, EUR, AUD, CAD, CHF, CZK, DKK, GBP and few more |
| Support | Email & Live Chat Option Available |
| Official Website | Click Here To Visit |
How To Register At Poloniex Exchange ?
To register on Poloniex , click Register Now button at the top of the page. You can also start creating an account directly through the form on the main page.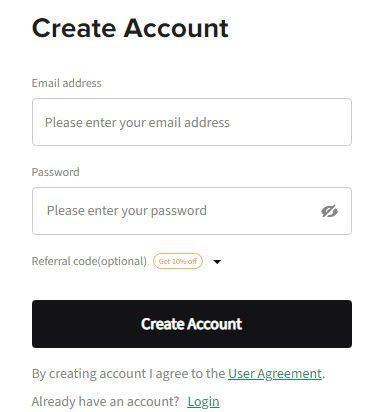 You only need to enter your e-mail and come up with a password. If there is a referral code, it is also entered at this stage. Password requirements: at least 8 characters, numbers, upper and lower case.
Click " Create Account " then go to your email to verify it. Enter the code you received and registration is complete. You can start replenishing your account.
How To Verify Your Poloniex Account ?
There is no mandatory verification at Poloniex , but you can pass it if you wish. At the moment, the only restriction imposed on unverified users is the withdrawal limit of 2 BTC per day. In the future, depending on the actions of regulatory authorities, conditions may change.
For verification, you can use one of four documents to choose from: passport, driver's license, identity card or residence permit. Artificial intelligence is used to evaluate the authenticity of documents. This service is provided by the Onfido online identification service, already used by the Bitstamp, Revolut platforms.
How To Buy Crypto Or Deposit Crypto At Poloniex Crypto Exchange ?
There are two main options for topping up your balance on Poloniex . Firstly, you can buy cryptocurrency with a bank card – it's fast and convenient. Go to the " Buy crypto " -> " Buy crypto with a credit card " section.
Choose a cryptocurrency (currently there are 13 coins available for purchase in this way). Enter the amount and select the fiat currency to be used for payment.
After that, you will need to select a payment channel: each of them has conditions. You can choose between Simplex, Mercuryo, Banxa and Moonpay. Click " Buy " next to the appropriate option.
Agree to the terms and confirm the transition to the site of the payment provider. Enter information about the card and its owner, confirm the transaction. Cryptocurrency will be credited to the exchange account within a few minutes.
Second Method
You can transfer digital assets to the balance of the exchange from any external crypto wallet. For this:
Go to the "Deposit" section from the "Assets" menu.
From the drop-down list, you can select the cryptocurrency you want to deposit into your account.
The wallet address will appear. You need to copy it and send funds to it from another wallet or exchange. Please note that only bitcoin can be sent to bitcoin addresses, similarly with other coins.
You can also click "Show QR code" – for transfers from a mobile wallet, this is a more convenient option.
How To Withdraw Crypto Asset From Poloniex Exchange ?
Having completed all the necessary trading operations, it's time to withdraw the received assets to an external wallet. Go to " Assets " -> " Withdraw ". Please note that the operation is only available after enabling two-factor authentication in the settings. This is for added security and requires less than a minute, so don't neglect this measure.
Select a cryptocurrency and enter the withdrawal amount. Each coin has its own withdrawal fee, for example, for BTC it is 0.00057 BTC. Click " Output ". By default, the exchange processes applications three times a day, however, hourly withdrawals are available for Premium users. Also, the time of receipt of the cryptocurrency is affected by the workload of the blockchain network.
How To Secure Your Poloniex Account ?
Also remember to go to the Security tab and activate two-factor authentication using the Google Authenticator app – this is the most reliable way to prevent unauthorized access to your accoun.
Fee Schedule
Spot Trading
| Tier | 30 DAY TRADING VOLUME | TRX BALANCE | MAKER / TAKER FEE | TRX MAKER / TAKER FEE |
| --- | --- | --- | --- | --- |
| 1 | < $50K | < $49 | 0.1450%/0.1550% | 0.1015%/0.1085% |
| 2 | < $50K | > $49 | 0.1150%/0.1250% | 0.0805%/0.0875% |
| 3 | $50K – $1M | N/A | 0.1050%/0.1200% | 0.0735%/0.0840% |
| 4 | $1M – $10M | N/A | 0.0700%/0.1150% | 0.0490%/0.0805% |
| 5 | $10M – $50M | N/A | 0.0500%/0.1100% | 0.0350%/0.0770% |
| 6 | $50M+ | N/A | 0.0200%/0.1000% | 0.0140%/0.0700% |
| Poloniex Plus Silver | Silver | Apply Here | 0.0000%/0.0600% | 0.0000%/0.0420% |
| Poloniex Plus Gold | Gold | Apply Here | 0.0000%/0.0400% | 0.0000%/0.0280% |
| Poloniex Market Maker | MARKET MAKER | We set up custom fee schedules for Market Makers. If you're interested, please Contact Support and we'll be in touch. | | |
Every 24 hours, your 30 day trading volume and current TRX balance will be calculated and your fee tier will be dynamically updated according to the structure above. TRX must be held in your exchange account to be eligible for Fee Tier 2. The USD equivalent of your TRX balance is calculated based on the daily average TRX-USD price.
Poloniex Withdrawal Fees
Poloniex account charges its users with withdrawal fee of approx. 0.0005 BTC per BTC – Withdrawal, which is way below the average industry withdrawal fee of approx. 0.0008 BTC per BTC – withdrawal.
Poloniex Deposit Fees
In terms of Deposits, Poloniex Currency Exchange does not charge it users or traders with Deposit Fees i.e. No order book charges for customer deposits on the platform. Although, It has 'No Deposit Fee' feature, but at the same time it also does not have the facility for users to deposit Fiat money directly or for that matter even it does not have facility of withdrawing or purchasing Fiat money on the platform, Instead users can use Fiat money pegged stable coins in their trades in place of Fiat money. The Deposit acceptance process is slightly different on Poloniex crypto exchange as compared to most other platforms.
Features Of Poloniex Crypto Exchange
Highly-rated mobile app
Crypto exchange apps can be hit or miss. Poloniex has a quality mobile app with high ratings in both the App Store and Google Play. The app has most of the same features as the web platform and is a convenient way to access your crypto on your phone or tablet.
Earn staking rewards
Poloniex offers crypto staking, a way to put your funds to work and earn rewards on them. There are several different cryptocurrencies you can stake, and there's no lockup period required. You can deposit and withdraw your crypto at any time.
Secure and Stable
They provide a trusted and intuitive platform for users, of all experience levels, to trade how they want.
VIP Service
Poloniex offers high rate limit, and low latency API for you with good overall liquidity; friendly for institutional traders.
Customer Support
The customer support service at Poloniex isn't one of its strengths. You can only contact the support team through an email ticket system. Unfortunately, the response time for the ticket is rather long. Although there is an FAQ that you can refer to, it only covers basic questions and doesn't contain many details.
Get Commission Easily
Share your code
Share your referral code/link to your friends or the community.
Referral sign up for trading
Earn from every sign up through your referral for trading.
Start earning
Up to 60% commission waiting for you to unlock while your friends enjoy 10% rebate.
Mind Blowing Design
They've done a great job with making the homepage easy to navigate. The only drawback is that, with the white background, it can be hard on your eyes. Other than that, you'll find their charts and trade tools easy to use if you're already familiar with Tradingview.
Conclusion
The Poloniex exchange is listed on sites like CoinGecko and CoinMarketCap. You'll find high trading volumes, especially for futures. With a premium account, you can save a lot of money when buying it for one year; at the same time, all commissions for spot-trading will be waived. If you're unsure about anything, there's always a test platform that offers virtual assets. On Phemex, the user doesn't have to go through any verification; however, we recommend it if you want full functionality and many bonuses.