Best Crypto & Blockchain Conferences Staying ahead in the rapidly evolving realm of cryptocurrency and blockchain technology requires engaging with industry's thought leaders and experts; that is where top cryptocurrency and blockchain conferences come into play. These events provide invaluable opportunities for networking, learning and collaboration. Annual conferences like Consensus bring together an array of professionals ranging from blockchain developers and entrepreneurs to investors and policymakers.
These conferences focus on cutting-edge topics like decentralized finance (DeFi), non-fungible tokens (NFTs), and blockchain scalability – providing a forum to share knowledge, discuss emerging trends, foster partnerships that drive the industry forward, and gain insights. No matter if you are new to cryptocurrency or an experienced crypto enthusiast looking for insights – these conferences offer an immersive experience into this ever-evolving realm of blockchain and cryptocurrency technology.
What Is Crypto & Blockchain?
Cryptocurrency, commonly referred to as crypto, is a digital form of currency which uses cryptography for security. Unlike fiat currency issued by governments, cryptocurrencies operate through decentralized networks such as Blockchain technology. Blockchain is a distributed and immutable digital ledger which records transactions or data as blocks linked together in an unbroken chain of blocks, each linked back to its predecessor.
Blockchain technology ensures transparency, security, and decentralization, providing the foundation for digital currencies such as Bitcoin and Ethereum as well as innovative applications in finance, supply chain management, voting systems and beyond. Crypto and blockchain represent a dramatic paradigm shift in how we interact with money, data, trust and trustworthiness online – with far reaching implications across industries and economies worldwide.
Here Is List of Best Crypto & Blockchain Conferences
The Blockchain Event
Blockchain Economy London Summit
Blockchain Life
Miami Web3 Week
Future Digital Finance
Blockchain Economy Dubai Summit
Blockchain Africa Conference
Crypto Expo Europe
Paris Blockchain Week
WOW Summit
Consensus
Blockchain Economy Istanbul Summit
Blockchain Expo
Block 3000
NFT Show Europe
Coinfest Asia
BlackSeaChain
Permissionless 2023
TOKEN2049
Blockchain Expo Europe 
Zebu Live
ETHMilan
Degafemi
European Blockchain Convention
Paris Blockchain Summit IV
25 Best Crypto & Blockchain Conferences in 2023
1. The Blockchain Event
The Blockchain Event was organized to help decision-makers gain an understanding of what blockchain can bring to their businesses and understand its value through case studies, panel discussions and keynote addresses.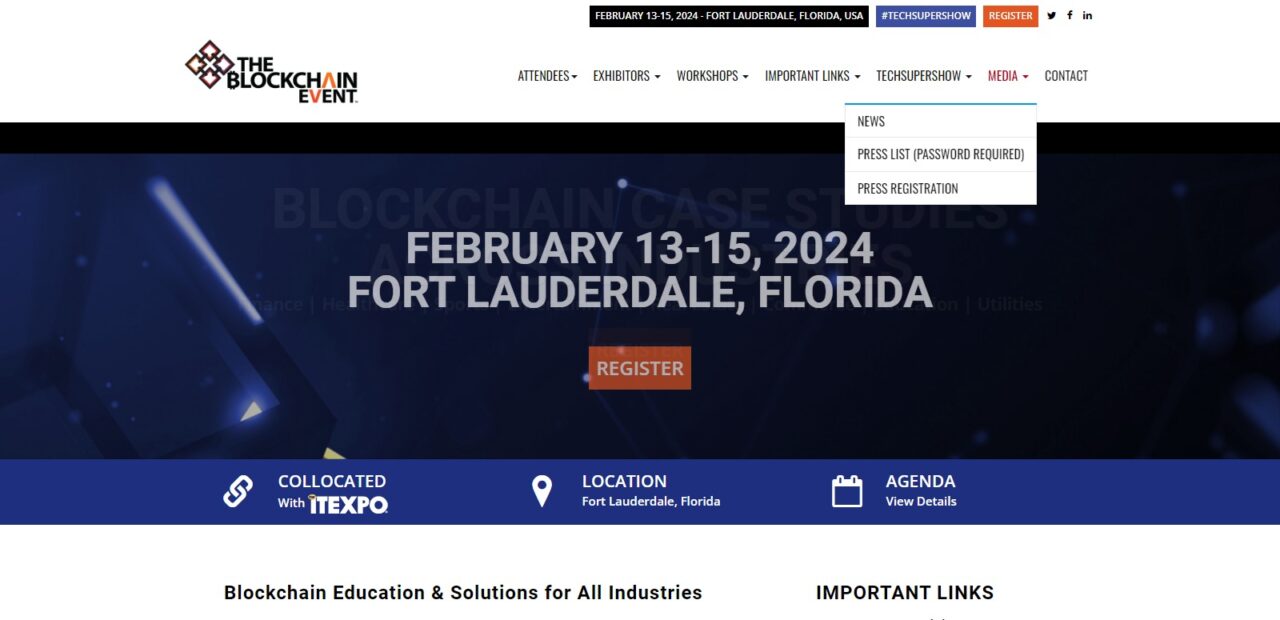 This event is proudly supported by some of the leading names in blockchain technology. Through their sponsorship and organization of this event, its organizers hope to see more businesses adopting blockchain tech across various industries.
Early Bird rates are available until February 13, 2017 on website.
2. Blockchain Economy London Summit
The Blockchain Economy London Summit is the premier blockchain event in the UK. Now in its sixth edition, this event has attracted crypto experts and enthusiasts from all around the globe. The Blockchain Economy London Summit serves as an excellent opportunity to learn about finance's future!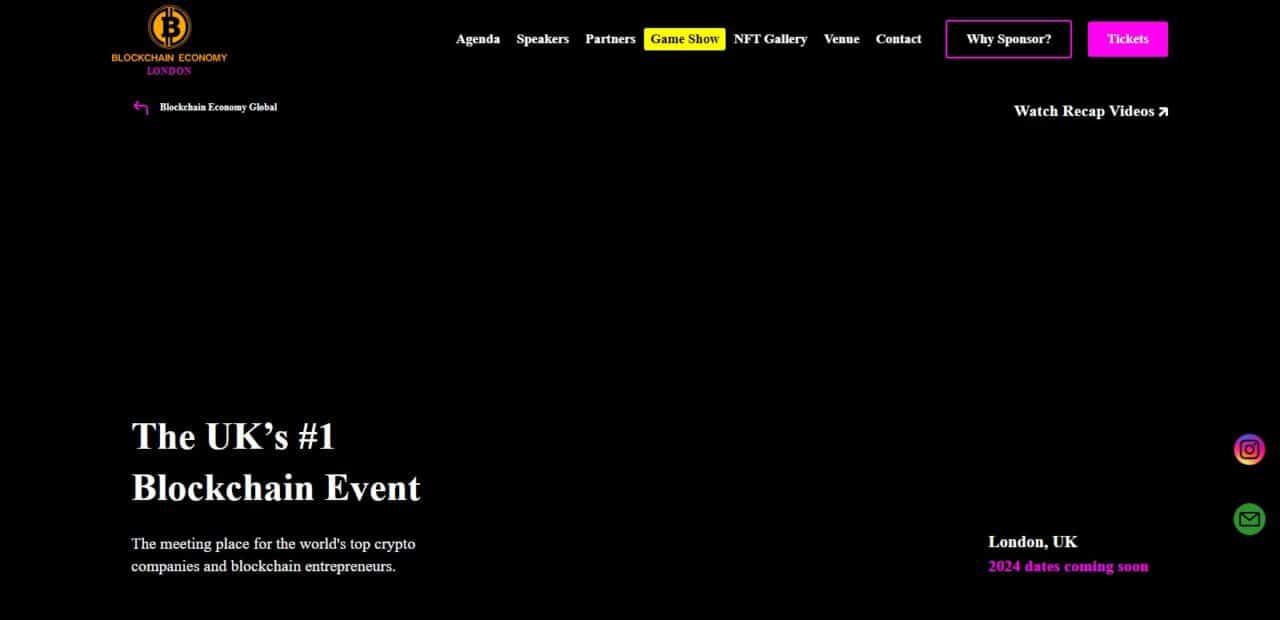 Over 20 speakers will present during this sixth edition, including representatives from Microsoft, BitMEX, the UK Parliament, Alibaba, Vodafone, Crypto Busy Saitama BitBoy Crypto and more.
Not only will there be speakers at this event, but there will be partners and attendees from various blockchain companies as well – making this event one of the largest crypto networking events you can attend with over 3,000 attendees from 65 different nations in attendance last time!
3. Blockchain Life (Best Crypto & Blockchain Conferences)
Blockchain Life, an internationally acclaimed crypto forum in Dubai, is currently celebrating its 10th edition as an unforgettable international crypto forum. Attended by both industry professionals and beginners looking to broaden their understanding and make new contacts within the blockchain community.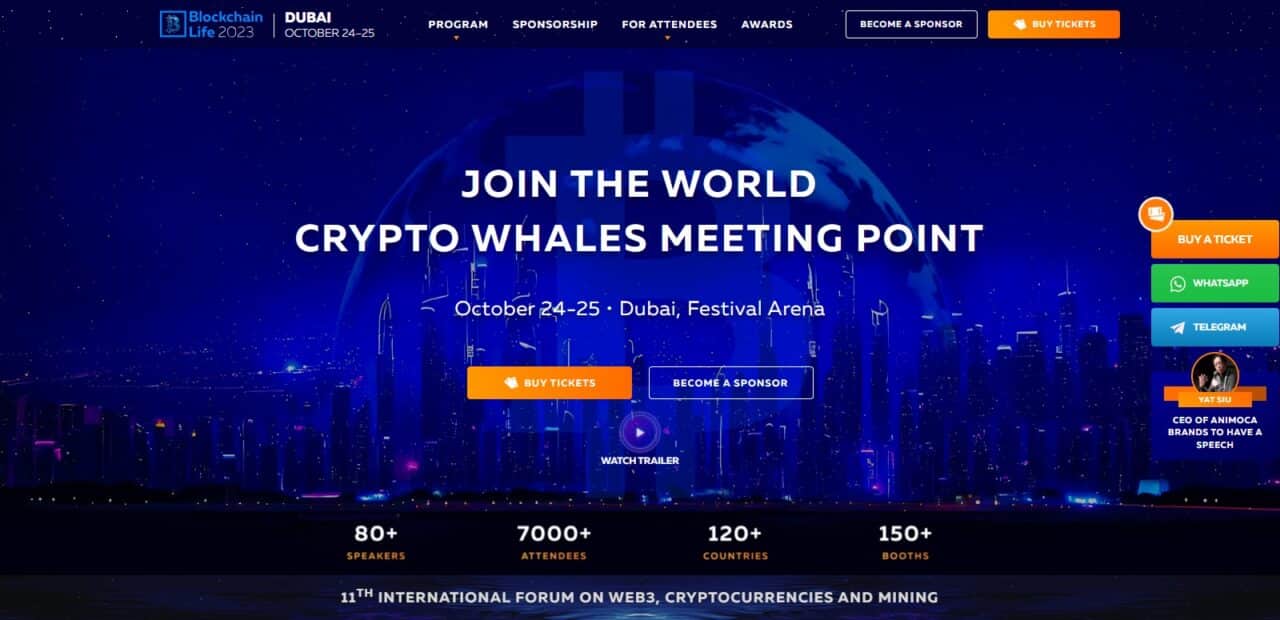 Every year, over 4,000 participants gather at this event. You'll see startups, investors, government officials, traders, developers, business owners and miners- all with an interest in crypto and blockchain industries – at once!
Speakers at this event included heads and founders from companies such as Polygon, Animoca Brands, Cypher Capital, TON Play, KuCoin, MMCrypto and Crypto Lawyer – to name just a few.
4. Miami Web3 Week
Miami Web3 Week is an event series organized by the City of Miami designed to bring together some of the brightest minds in blockchain and Web3 technology.
Expoverse is a New York-based company with the mission of creating unique, lively, and dynamic spaces that foster educational and professional opportunities.
Attended by over 15,000 attendees each year and offering 25 immersive activations experiences, participants also learn from over 150 speakers from companies like Gala Games, Fantom Fireside Kilt Blockbytes etc.
5. Future Digital Finance (Best Crypto & Blockchain Conferences)
Finance is rapidly shifting with digital technology's impact on traditional models of financial planning. Future Digital Finance provides finance professionals an opportunity to learn about digital currencies and blockchain's role in this rapidly digitizing sector of the industry.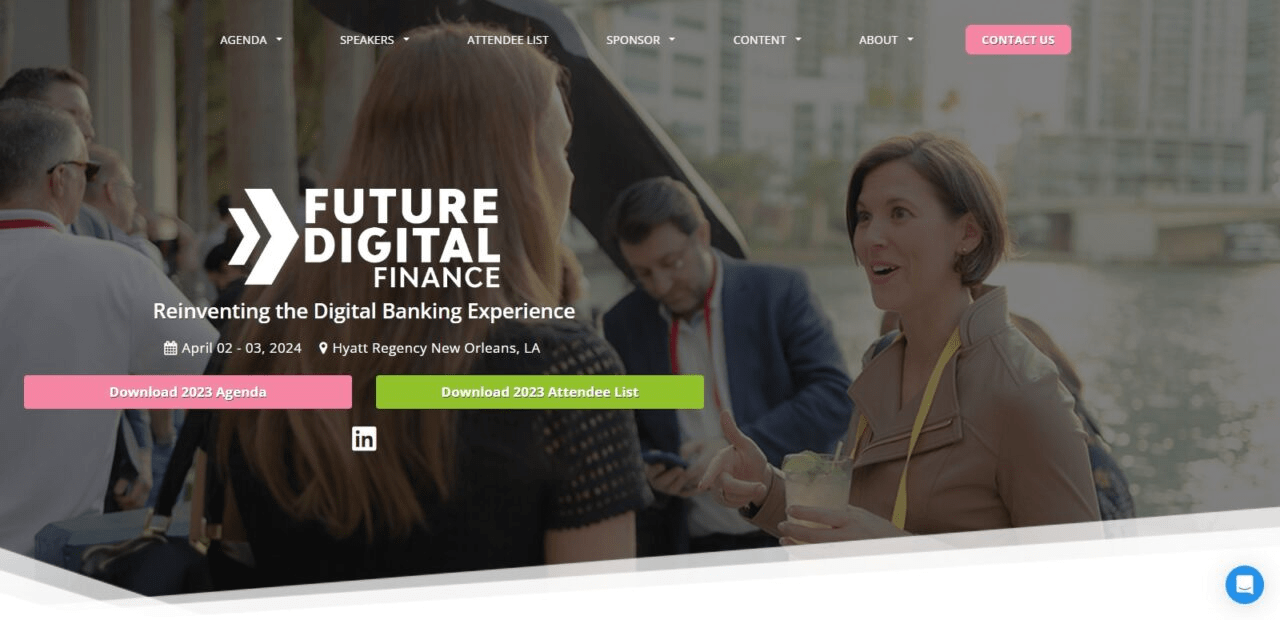 Participants of this conference can gain insights for developing digital strategies to delight customers and stay ahead of the competition. Listen to speakers from the Navy Federal Credit Union, Alliant Credit Union, People's United Bank, Citi and First Horizon Bank as they discuss these strategies with attendees.
Connect with professionals from the finance and banking industries who understand your challenges and hurdles as an entrepreneur.
6. Blockchain Economy Dubai Summit
Blockchain Economy Dubai Summit, now in its 7th run in Dubai, brings together some of the biggest names from across the crypto and blockchain industries and attracts blockchain entrepreneurs and enthusiasts.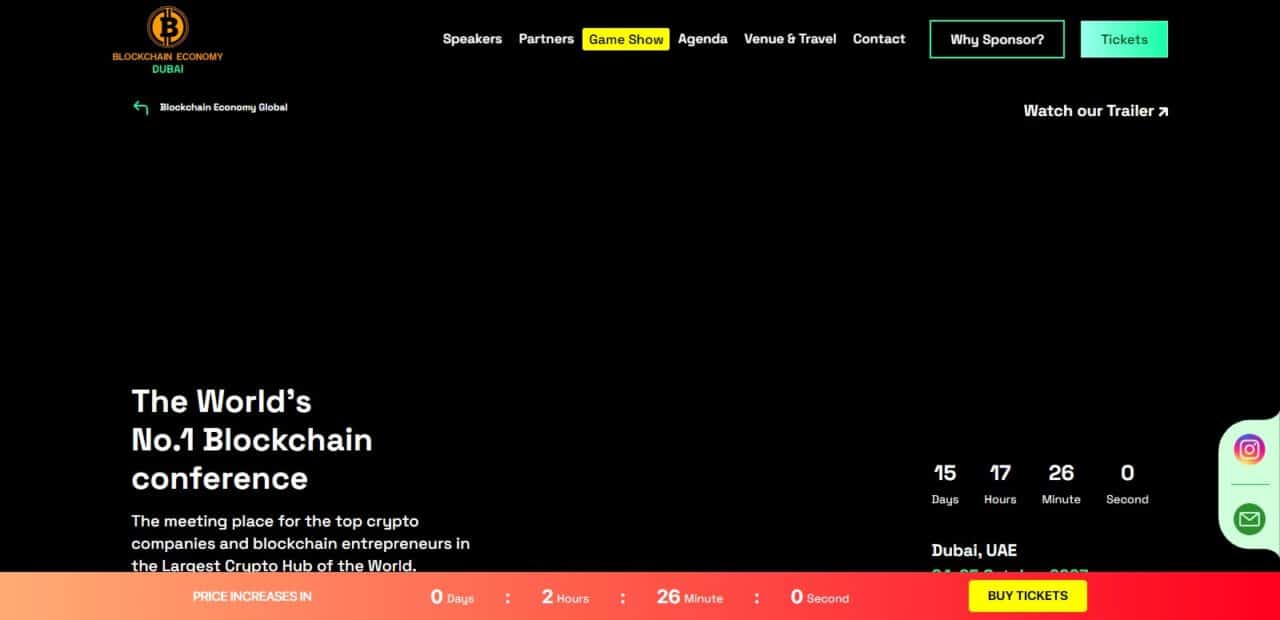 Participants at this conference can gain a wide-ranging knowledge of financial technologies from world-renowned speakers from Forbes, DMCC, Blockready, Chingari, NAGA and beyond. In 2022 alone featured speakers came from Forbes, DMCC, Blockready, Chingari and NAGA among many others.
Dubai continues to be at the heart of the crypto revolution, making this event essential for anyone interested in keeping abreast of current blockchain trends.
7. Blockchain Africa Conference (Best Crypto & Blockchain Conferences)
Now in its 9th edition, Blockchain Africa Conference stands as the flagship event of Bitcoin Events. Attendees can expect insights into blockchain use cases, crypto regulation issues and challenges from over 45 speakers at this year's conference.
Blockchain Africa Conference provides attendees with networking and exhibition opportunities on groundbreaking crypto and blockchain projects. The event will take place both physically and virtually.
8. Crypto Expo Europe
Crypto Expo Europe is the largest crypto and blockchain conference in Eastern Europe with over 3,000 attendees over its three-day conference and exhibition.
This event features keynote addresses by over 100 guest speakers and offers over 50 international exhibitors in its 5,000 sqm exhibition area. Additionally, over 80 workshops and seminars have been designed to deepen attendees' blockchain knowledge.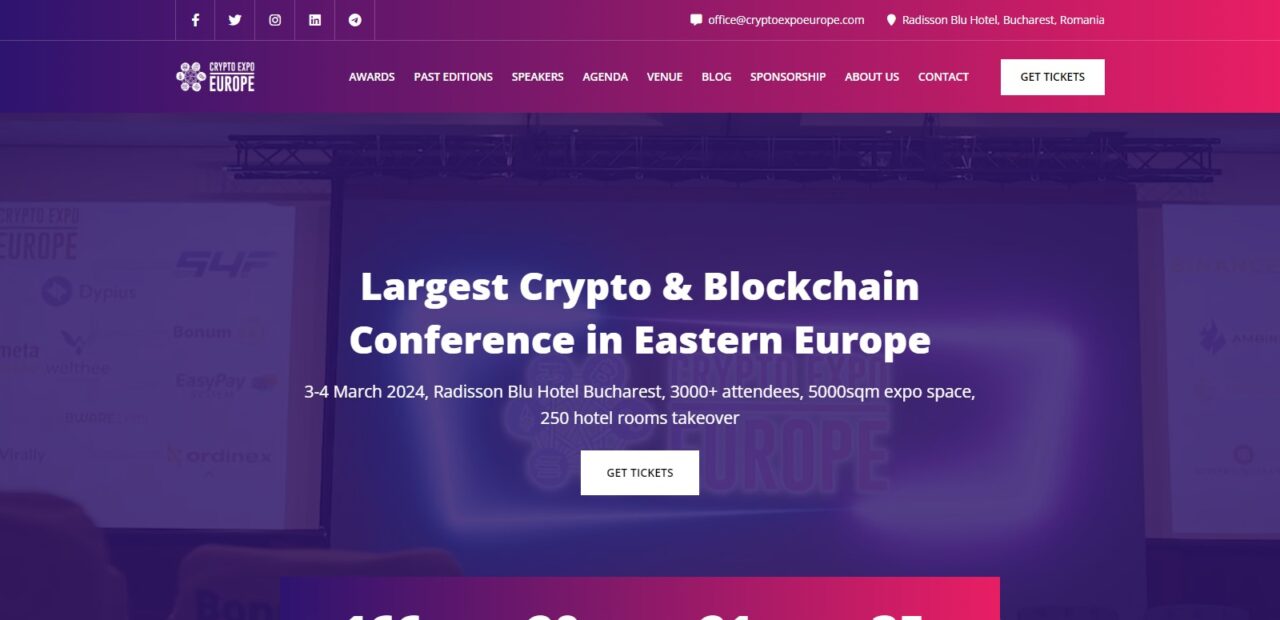 Experience top industry speakers such as Binance, Gemini, Nasdaq, OKX, KuCoin, Motion Software and Current C Power in person during one of their networking events – private dinners, parties or an awards gala will make up this fantastic conference!
Romania boasts a high rate of crypto adoption, and this event in Romania seeks to capitalize on it by tapping into this expanding market.
9. Paris Blockchain Week (Best Crypto & Blockchain Conferences)
Paris Blockchain Week features an exciting line-up of events in France's storied capital. Over 10,000 attendees, composed mainly of C-level executives, will gather for this annual gathering, learning from over 400 speakers from leading companies such as Outblaze, Meta, Goldman Sachs Animoca Brands Aleph VC Ripple Reddit etc.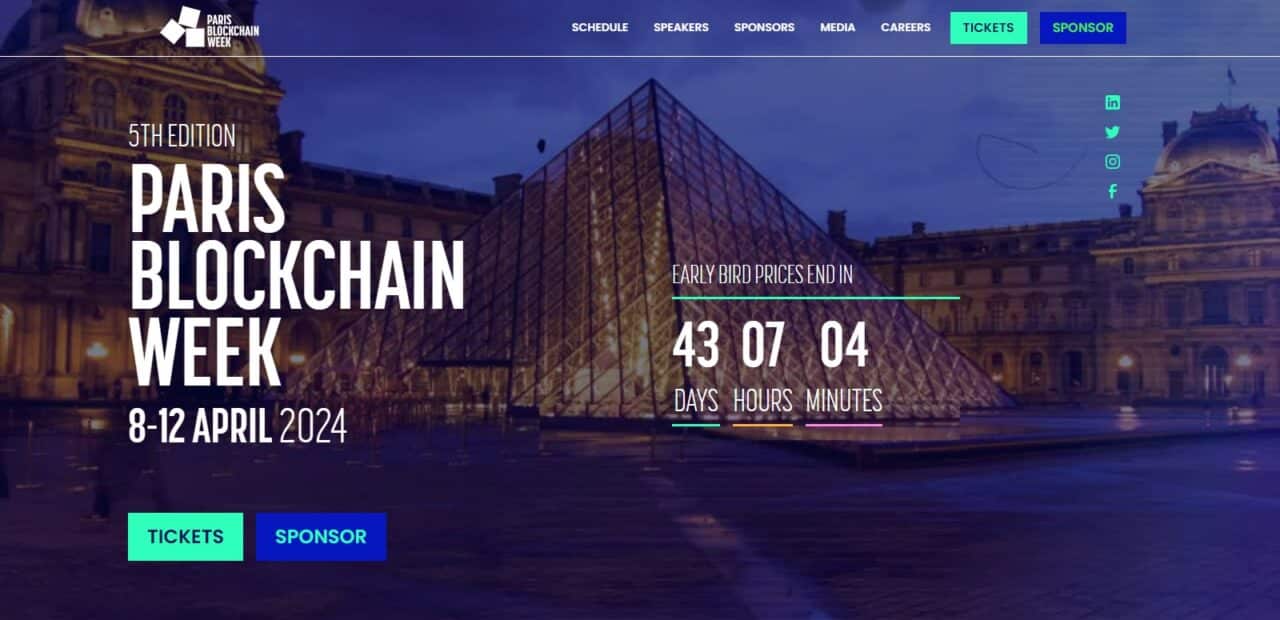 Participants can interact with government officials, investors and business stakeholders who share an interest in taking blockchain technology forward.
2022 saw leading figures discuss the most pressing issues and challenges confronting the blockchain industry, while participants gained insights on overcoming them. 2023 is set to be an even larger event where disruptors will discuss what lies ahead for the blockchain space.
10. WOW Summit
WOW (World of Web3) Summit provides a platform for global NFT and DeFi leaders, businesses, government representatives, investors, visionaries and developers to come together in networking, collaboration and shaping the future.
With Web3 still at an early stage, there are ample opportunities to shape its development and lead its development forward. Individuals and organizations with visionary leadership could seize this chance to make big strides forward.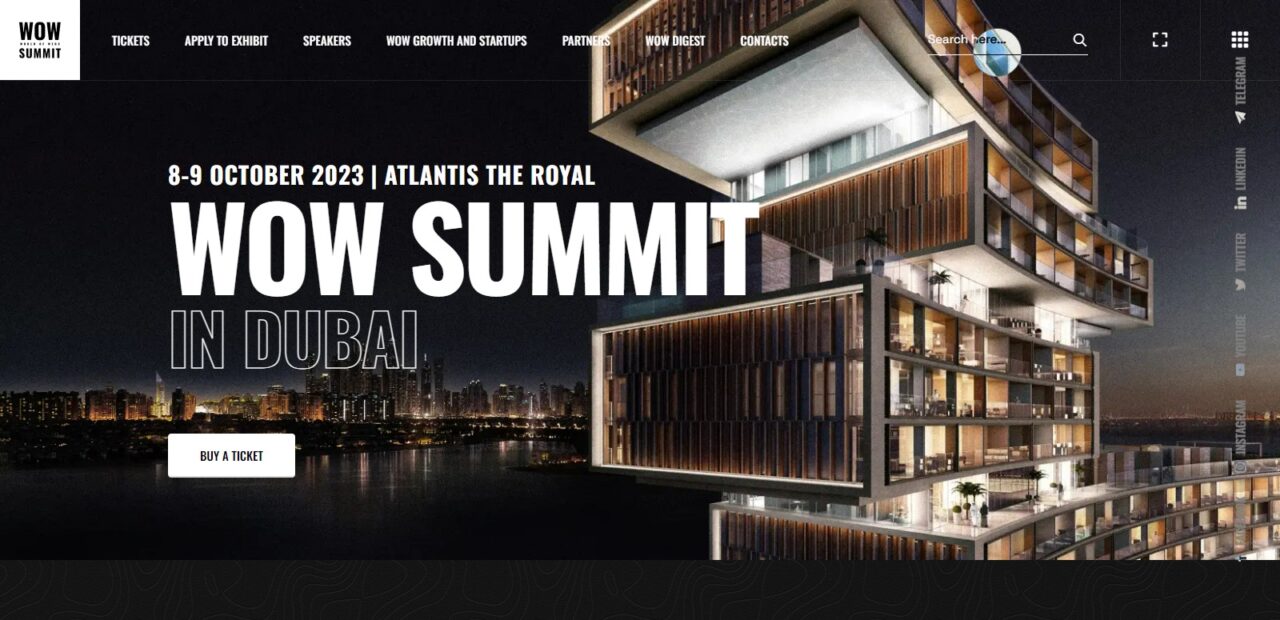 WOW Summit seeks to do just that. After successfully hosting over 5,000 attendees across Lisbon and Dubai runs, WOW Summit organizers hope that Hong Kong will receive similar enthusiastic reception.
Already featured speakers include Yat Siu (Animoca Brands), Dave Chapman (BC Group), Angelina Kwan (Stratford Finance Limited), Benedicte Nolens (HK Centre BIS) and Alessio Quaglini (Hex Trust).
WOW Summit promises to be an immersive experience where NFT and Metaverse artists and creators can show their masterpieces.
11. Consensus (Top Crypto & Blockchain Conferences)
Consensus is hosted annually by CoinDesk, an industry-leading cryptocurrency wallet used for trading multiple digital currencies. This event has become the longest-running gathering of blockchain, crypto, and Web3 enthusiasts.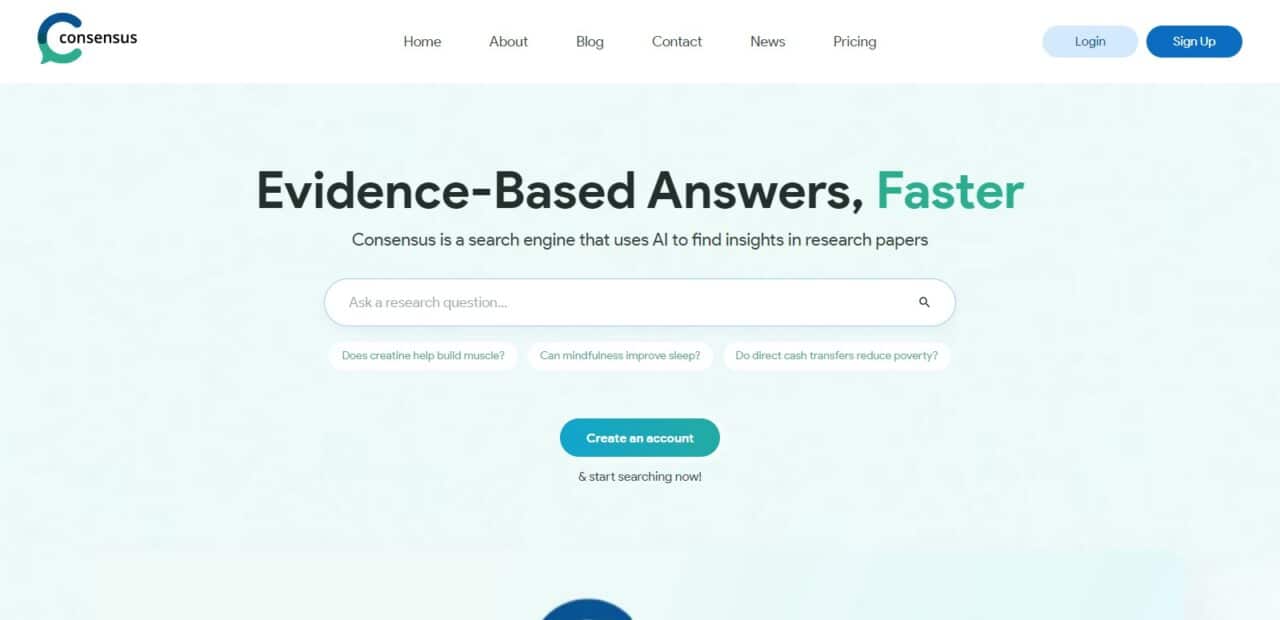 Beginning in 2015, this event provides a platform to refocus, collaborate, and find solutions to pressing issues within the blockchain industry. Furthermore, its purpose is to raise awareness among developers, investors, policymakers, brands, and brands so that transformative solutions can be developed that will benefit both blockchains and digital currencies.
Jenny Johnson from Franklin Templeton will be one of the featured speakers, as will Caitlin Long of Custodia Bank and Illia Polosukhin of Near Protocol as well as Catherine Stihler from Creative Commons. Students are welcome at this event and can apply for a student pass by submitting an application form.
12. Blockchain Economy Istanbul Summit
Blockchain Economy is known for organizing some of the premier blockchain events worldwide, with one such event being their annual Blockchain Economy Istanbul Summit right in Turkey's heart.
This summit brings together blockchain enthusiasts and entrepreneurs from more than 80 countries, to discuss and witness how blockchain and crypto are revolutionizing finance. Now in its seventh Edition, this summit attracts an average attendance of 3,000 per year.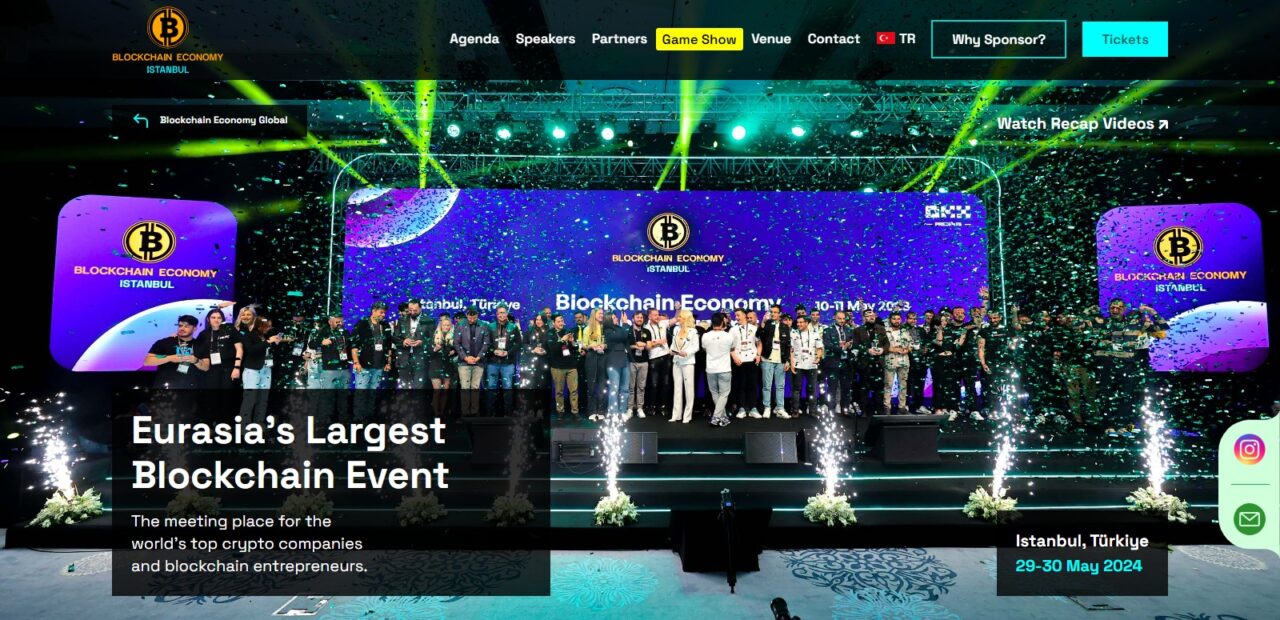 This year's speakers include the Managing Director of Financial Market at OKX, CMO at BIT.com, CEO at OneFootball Labs and Digital Innovation Lead from Turkish Airlines; so expect an engaging two-day summit that promises both fun and value! You are sure to make new contacts while gaining new perspectives!
13. Blockchain Expo Best Crypto & Blockchain Conferences
Blockchain Expo North America returns for another successful year in 2023! Leading digital experts will gather for this conference to explore critical blockchain technologies and approaches that will assist businesses in harnessing this emerging tech for business expansion.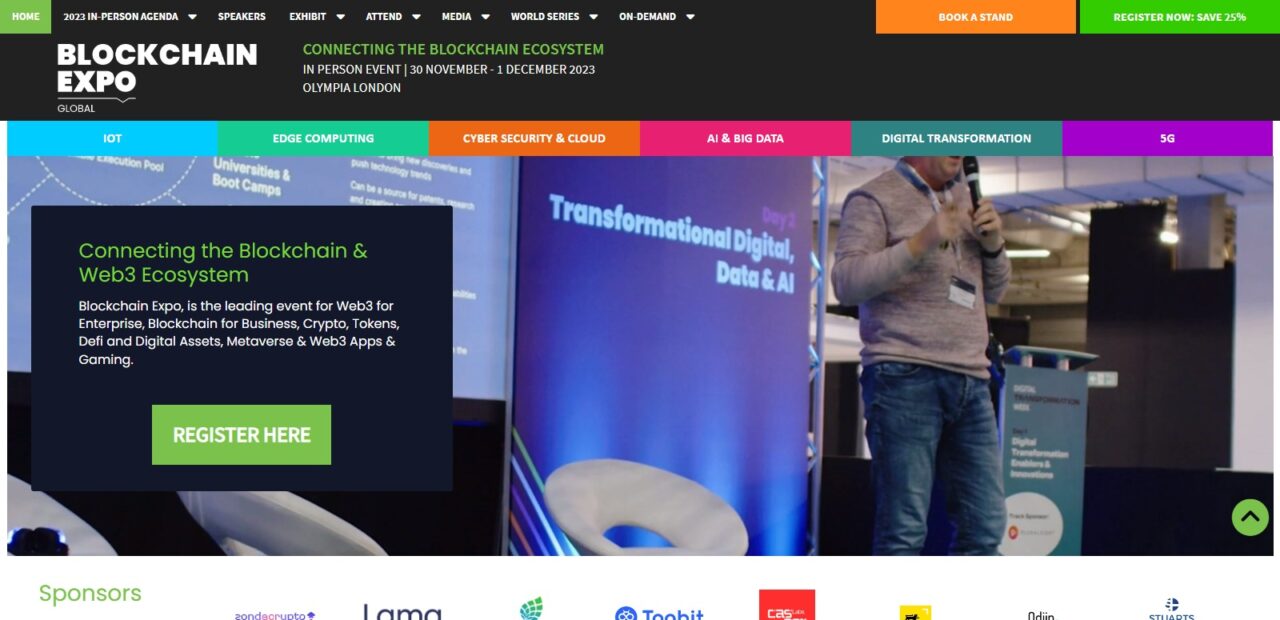 Watch as representatives from Visa, CVS Health, Change Healthcare, LinkedIn, Nestle, Sanofi J&J Kaiser Permanente discuss how blockchain is upending traditional operating models.
Participants can expect a stimulating networking event that will enable them to make new contacts in this rapidly expanding digital universe.
14. Block 3000
Block 3000 is the centerpiece of the Blockchain Battle — an event within a larger conference designed to find the "Best Blockchain Project of 2023." Expect visual presentations and debate as developers present their projects; investors and influencers will then provide their feedback after each presentation.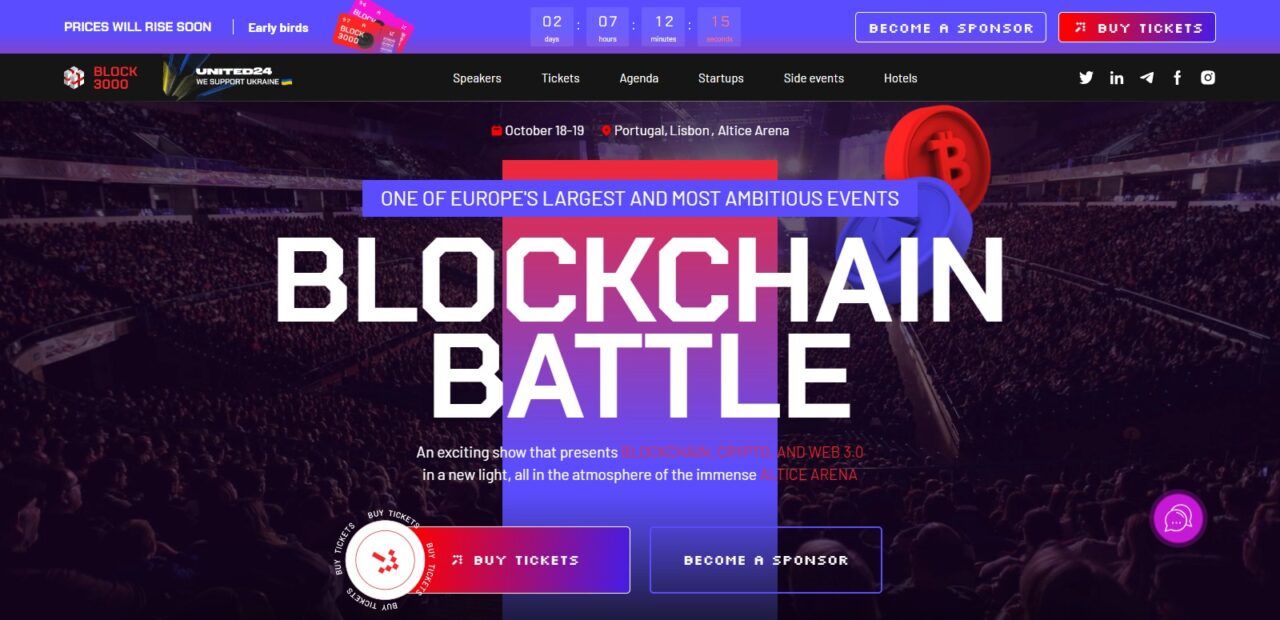 Block 3000 goes beyond the Blockchain Battle to bring attendees industry-leader keynote addresses and an exhibition space showcasing leading figures of the blockchain space. Discover emerging trends that will change how cryptocurrency operates despite current volatility – with speakers from Gemini, Solana, Babitskyi Capital Monte Crypto Binance Tron and beyond as speakers at Block 3000.
Block 3000 strives to become one of the largest and most widely discussed events in blockchain history, drawing in millions of attendees ranging from miners, traders, investors, startups, developers and business owners – as well as millions of influencers – from all areas. Participants can expect networking opportunities among this diverse crowd that includes miners, traders, investors, startups, developers and business owners among its ranks.
15. NFT Show Europe (Best Crypto & Blockchain Conferences)
The NFT Show Europe held in Valencia, Spain is the go-to meeting place for Web3, Blockchain, Digital Art, and Metaverse enthusiasts in Europe, offering multisensorial experiences by various NFT artists to delight participants.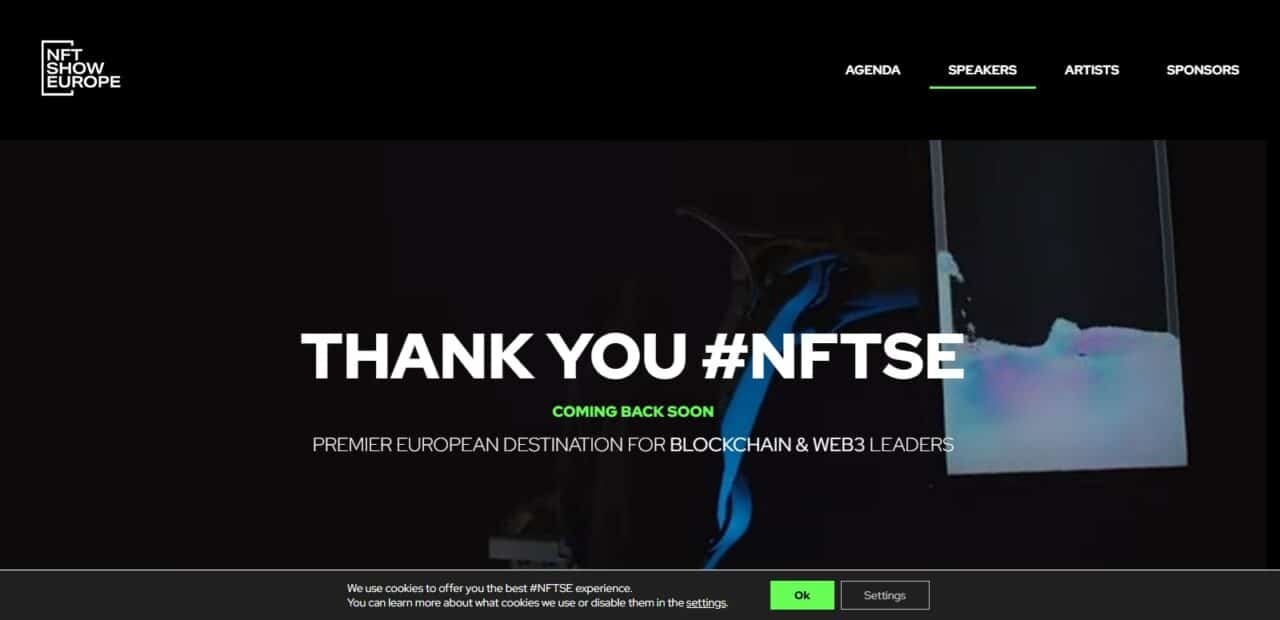 Notable speakers from industry leaders such as Polkadot, Niantic Labs, MetaTokyo, Metaverse HUB and Calle Crypto will join this event as speakers.
This year marks their second edition, and already all 10 series VIP tickets (VIP series) are sold out. Join their waitlist to gain regular ticket prices.
16. Coinfest Asia
Prepare to enter the intriguing world of Coinfest Asia, Asia's premier web3 festival! This exceptional event promises an immersive experience that unites the best from both Web 2.0 and Web 3.0 industries – as their lines become blurrier between each digital realm, Coinfest Asia provides a rare chance to explore their intersection.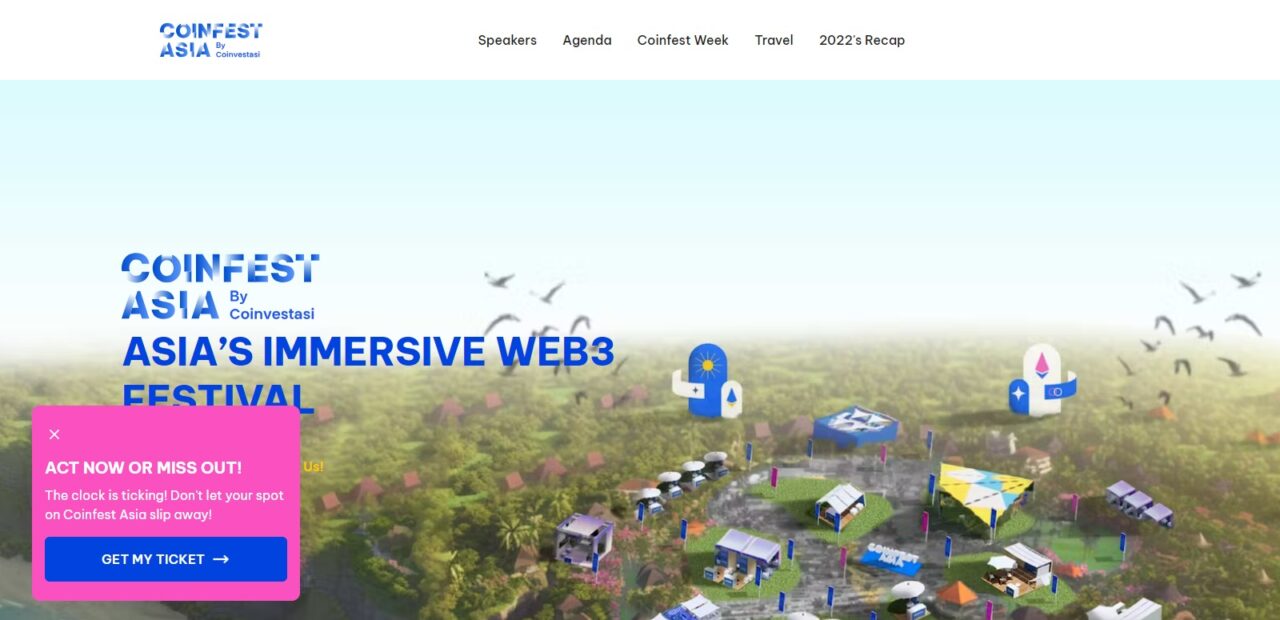 Coinfest Asia goes beyond the conventional conference format, providing attendees with opportunities to gain real-world insights and make invaluable connections. In its sixth annual edition, this festival showcases a remarkable convergence of ideas and technologies where Web 2.0 and 3.0 meet. If you want to stay ahead of the curve and gain deeper understanding of how digital landscape evolves while forging meaningful relationships within tech industry – Coinfest Asia should be on your calendar! Join us as we travel into an exciting journey of next-gen web technologies.
17. BlackSeaChain (Best Crypto & Blockchain Conferences)
BlackSeaChain quickly established itself as one of the premier gatherings for blockchain tech and business professionals who explored how decentralized finance and economy could power the future of commerce. After its inaugural run in 2022, 2023 immediately saw another run announced for this event.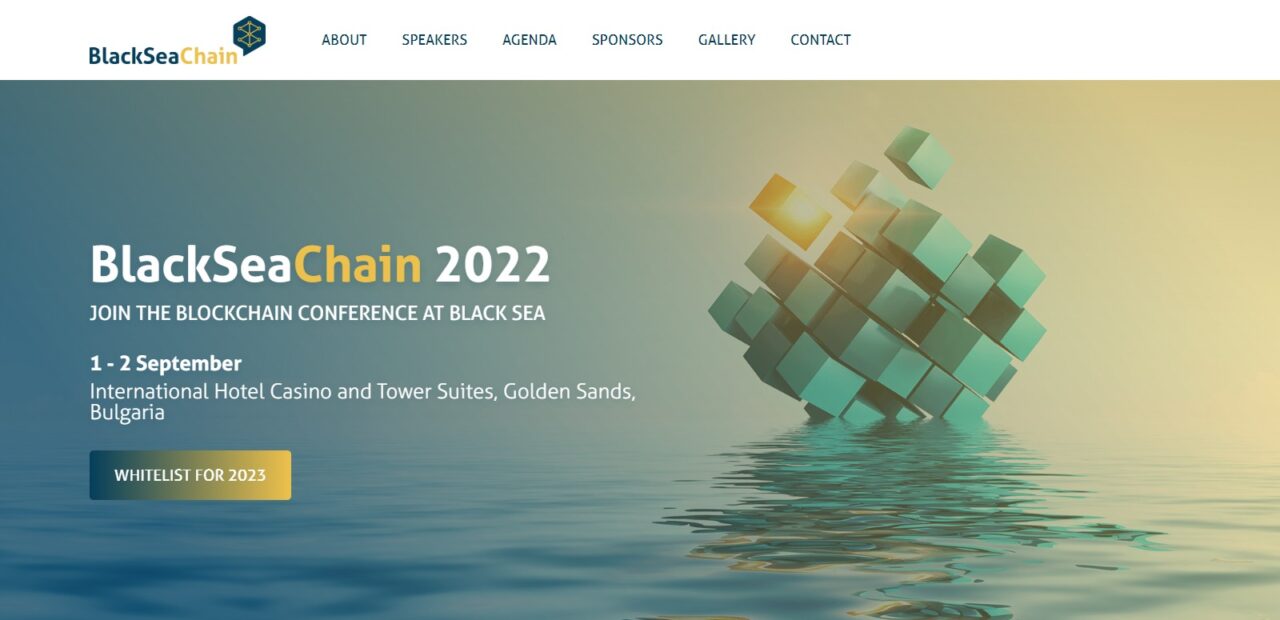 Participants looking forward to joining can already sign up to be on the waiting list and receive an early bird discount. This event features networking events and workshops as well as an exhibition floor and NFT gallery where like-minded individuals can mingle.
18. Permissionless 2023
Permissionless 2023 is hosted by two leading organizations that utilize blockchain technology, Blockworks and Bankless. First held in 2022, over 5,500 attendees attended making Permissionless the biggest DeFi conference to date.
Investors and builders can network at this event to form profitable partnerships that shape the future. While organizers have yet to announce a speaker list for 2023, in 2022 prominent speakers included Chris Dixon of Andreesen Horowitz, Justin Drake from The Ethereum Foundation, Mary-Catherine Lader from Uniswap Labs, Soona Amhaz from Volt Capital as well as others such as Mary-Catherine Lader from Uniswap Labs. Expectations are for an even bigger stage and wider variety of speakers than in 2023!
19. TOKEN2049
Token2049, Singapore's premiere annual crypto event, is attended by founders and executives from Web3 companies. At this event, thought leaders discuss how global events influence blockchain development.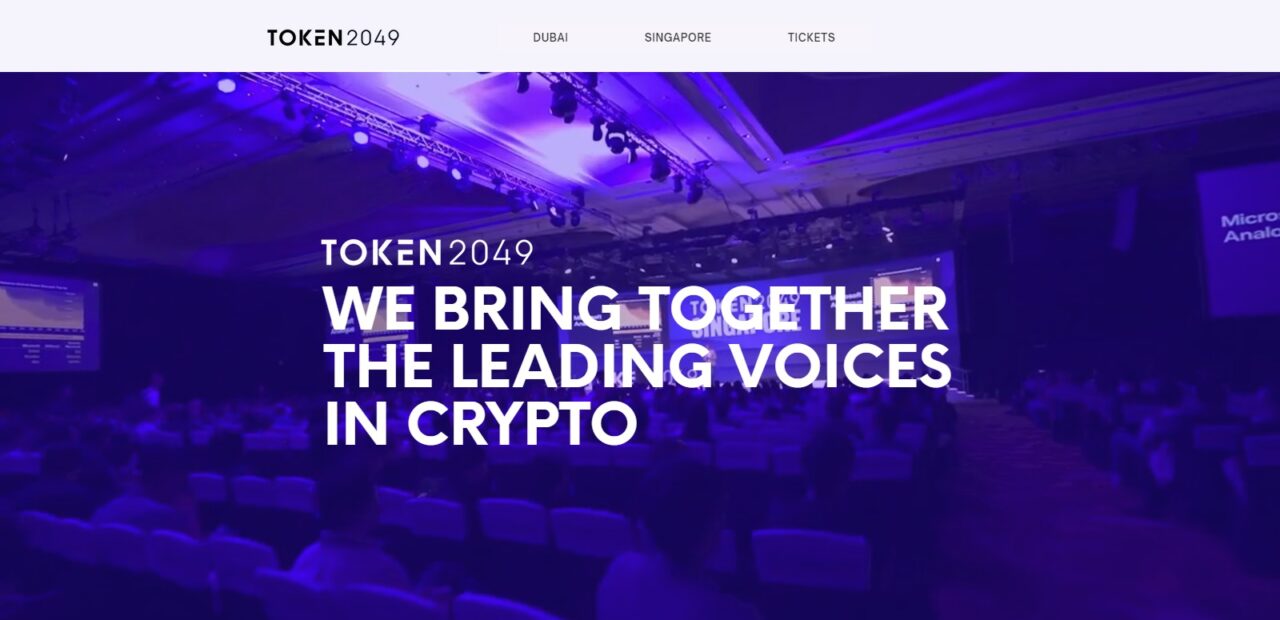 At this event, entrepreneurs, investors, industry insiders and developers come together for unparalleled networking and learning sessions. Influential figures also grace this event which is widely covered by global media outlets.
This year's Token Singapore coincides with Asia Crypto Week – an independently organized crypto event series. Participants can expect an energetic Singapore to host an impressive week-long crypto festival featuring networking, meetups, workshops and parties – not to mention plenty of activities!
20. Blockchain Expo Europe  (Best Crypto & Blockchain Conferences)
Welcome to Blockchain Expo Europe 2023 in Amsterdam, which promises an incredible event experience! This premier event brings together everything related to Web3 for Enterprise, Blockchain for Business, Crypto Tokens DeFi and Digital Assets.
Immerse yourself in this unparalleled digital universe, meet leading experts and entrepreneurs, discover opportunities for your business. Join us in Amsterdam at Blockchain Expo Europe 2023 – don't miss this unique chance to delve into Web3, which is revolutionising global economy and technology!
21. Zebu Live
Zebu Live provides an exciting two-day event to highlight key players driving the Web 3 revolution. We bring together experts from various sectors within this space in order to expand adoption of Web3 technology globally. Join us in London for engaging discussions and lively gatherings where over 3,000 professionals with expertise in Crypto, DeFi and NFTs from all around the globe can come together!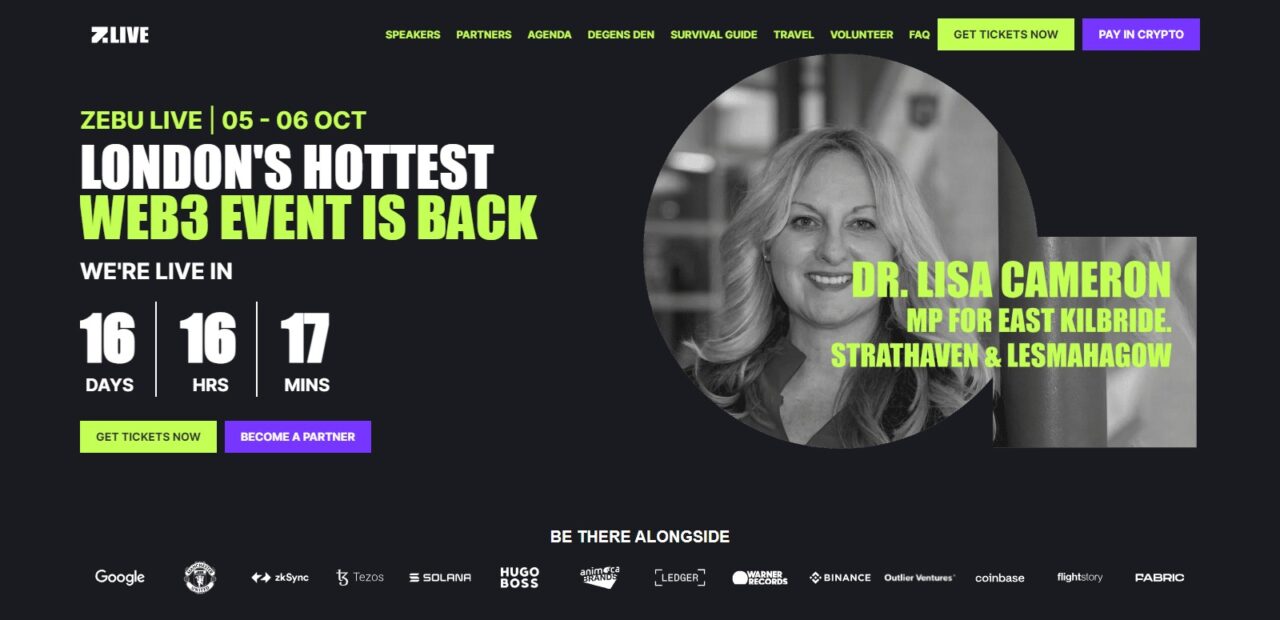 This event will showcase over 200 impactful speakers across three stages, representing prominent Web3 brands worldwide, traditional entities transitioning into web3, and startups pushing innovation boundaries. Topics covered at this conference will center around digital assets and ownership – from crypto assets through DeFi, NFTs, the Metaverse DAOs and Gaming.
The primary stage's proceedings will be broadcast live to an estimated worldwide audience of over 10,000 individuals via YouTube.
22. ETHMilan
At ETHMilan, experts, developers, investors and enthusiasts come together from around the globe to exchange insights into cutting-edge developments such as blockchain, decentralized finance, smart contracts privacy.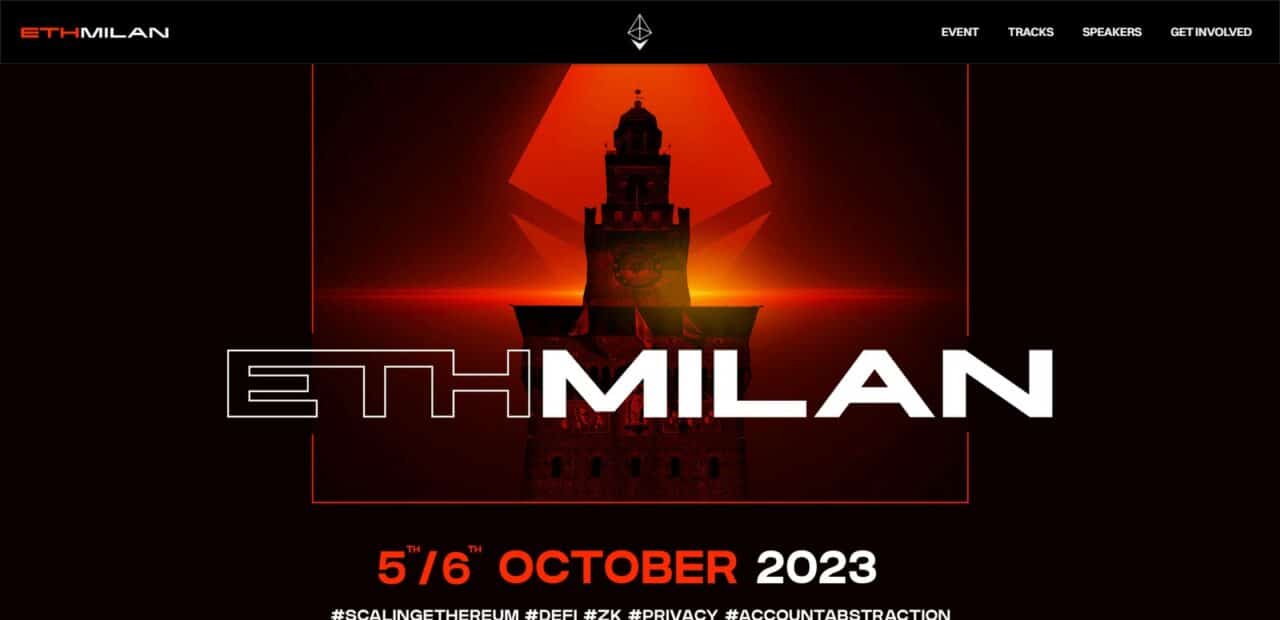 Attending ETHMilan provides you with an opportunity to gain knowledge from some of the finest minds in cryptocurrency and establish connections with like-minded individuals. The event features keynote presentations, panel discussions and networking breaks – not to mention some exciting surprises along the way!
No matter your experience in blockchain or your interest in exploring this dynamic field, ETHMilan offers an ideal setting to gain invaluable insight, pose inquiries and identify fresh opportunities.
23. Degafemi (Best Crypto & Blockchain Conferences)
Degamefi stands as the leading community with an emphasis on Web3. Each year, our agenda features activities like meetups, hackathons, tech talks, workshops, supplementary events and Web3 conferences that all focus around blockchain and cryptocurrency themes.
These initiatives aim to foster and encourage usage of these technologies within Georgia while uniting an international network of investors, entrepreneurs, founders and developers interested in DeGameFi, while contributing to creating an ideal WEB3 sector environment in Georgia.
24. European Blockchain Convention
Are You Prepared for Europe's Most Influential Blockchain Event? European Blockchain Conference (EBC) returns with even bigger and better events this year – boasting over 5,000 participants and 250 renowned speakers! Join us in Barcelona for three extraordinary days and connect with all aspects of Web3 ecosystem in one setting!
Soak in the unforgettable experience that encompasses three stages, an expansive exhibition area, startup competitions, lively parties and many other attractions – our last two editions sold out completely, so be sure to purchase your ticket before it sells out completely. Don't miss out – book it now to make sure you don't miss out!
25. Paris Blockchain Summit IV
Welcome to the Paris Blockchain Summit IV – one of the most anticipated events in the world of cryptocurrencies and blockchain! Taking place on November 25th, 2023, in the heart of Paris, this crypto conference promises to be an exciting and informative gathering, attracting top experts, innovators, and enthusiasts from the industry around the globe.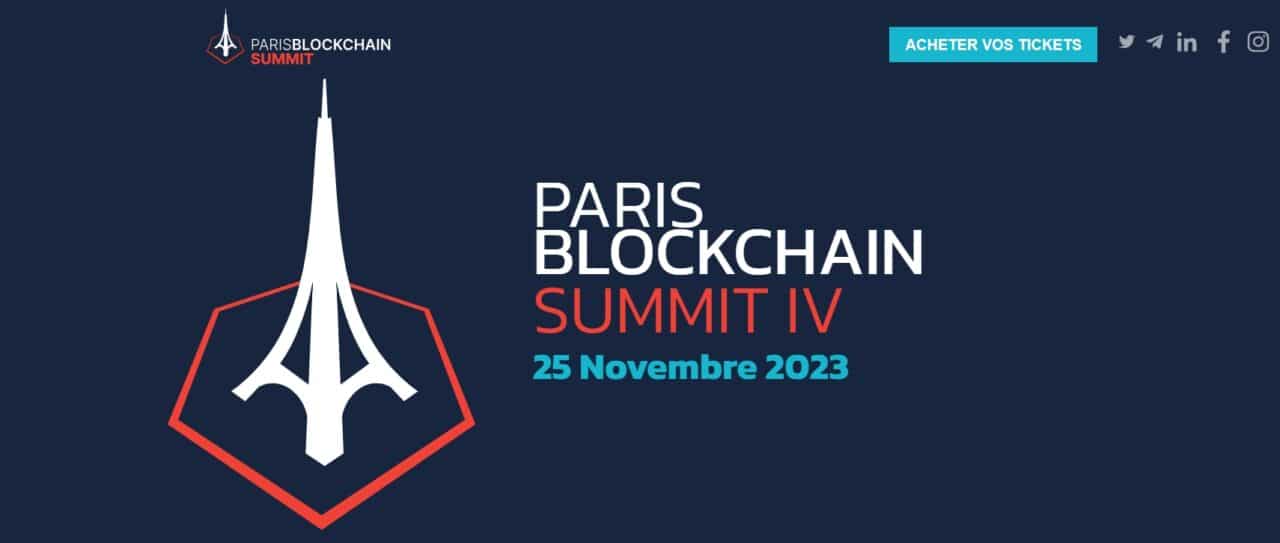 Paris Blockchain Summit IV will provide a unique platform for discussing the latest trends in blockchain, cryptocurrencies, and decentralized financial systems. Participants will have the opportunity to learn about cutting-edge technologies shaping the future of the financial industry and explore the potential integration of blockchain across various sectors, including finance, healthcare, logistics, and more.
Moreover, Paris Blockchain Summit IV will offer an excellent opportunity for networking, learning, and expanding business connections. You will be able to meet industry leaders, top developers, investors, and startups, gaining valuable insights into the current state and future prospects of blockchain technology. Don't miss the chance to be part of this exciting and inspiring conference in the heart of fashionable and historic Paris.
Conclusion
What are crypto and blockchain conferences?
Crypto and blockchain conferences are events that bring together professionals, enthusiasts, and experts in the cryptocurrency and blockchain technology fields. They provide a platform for networking, knowledge sharing, and discussions on the latest developments and trends.
Why should I attend a crypto and blockchain conference?
Attending these conferences allows you to stay updated on industry trends, learn from experts, make valuable connections, and explore potential investment opportunities. It's a great way to immerse yourself in the world of blockchain and cryptocurrency.
What are some well-known crypto and blockchain conferences?
Some popular conferences include Consensus, Devcon, Blockchain Summit, Crypto Finance Conference, and Paris Blockchain Week Summit, among others. These events vary in terms of size, focus, and location.
How can I find information about upcoming crypto and blockchain conferences?
You can find information about upcoming conferences on their official websites, through event listing platforms, social media, and industry news sources. Following relevant organizations and influencers in the field is also helpful.
What topics are typically covered at these conferences?
Topics covered at crypto and blockchain conferences range from blockchain technology, cryptocurrency adoption, decentralized finance (DeFi), non-fungible tokens (NFTs), security, regulatory developments, and emerging use cases like supply chain management and identity verification.