Best Cryptocurrency Ad Networks have revolutionized digital advertising by providing businesses and content creators a dynamic platform to reach their target audiences within the blockchain/cryptocurrency space. These networks utilize blockchain technology to ensure transparency, security and efficiency in the delivery of ads.
Their array of innovative ad formats includes native ads, display ads and video ads which help advertisers engage their target audiences more efficiently. cryptocurrency ad networks offer advertisers advanced targeting options and real-time analytics to optimize their campaigns for maximum return.
Content creators and publishers also reap benefits from cryptocurrency ad networks by earning cryptocurrency rewards for showing relevant ads on their platforms. As the crypto industry continually develops, cryptocurrency ad networks serve as vital links between businesses and crypto-savvy audiences, supporting growth and innovation within digital advertising landscape.
What is Ad Networks?
Ad networks play an essential part in the digital advertising ecosystem. They act as intermediaries between advertisers looking to promote their products or services with publishers who offer available ad space on websites, apps or other digital platforms. Ad networks simplify the ad buying and selling process by offering advertisers an open marketplace that enables them to bid on ad placements, target specific audiences, and monitor campaign results.
Publishers also benefit from ad networks by monetizing their online properties through relevant advertisements displayed by these networks, giving advertisers wider reach while simultaneously giving publishers additional revenue streams – making ad networks an essential component of digital advertising landscape.
Here is List Of Best Cryptocurrency Ad Networks
1. Coinzilla
Coinzilla is widely recognized as one of the premier cryptocurrency ad networks in the industry. Renowned for providing comprehensive advertising solutions tailored specifically to the cryptocurrency and blockchain niche, Coinzilla has established itself as an invaluable asset among advertisers and publishers alike.
Coinzilla provides advertisers with a selection of ad formats, including banner ads, native ads and pop-under ads that enable them to select the one best suited for their campaigns. They also offer advanced targeting options which enable advertisers to reach their intended audiences based on factors like geography or device type – making sure every advertisement reaches its desired target market effectively.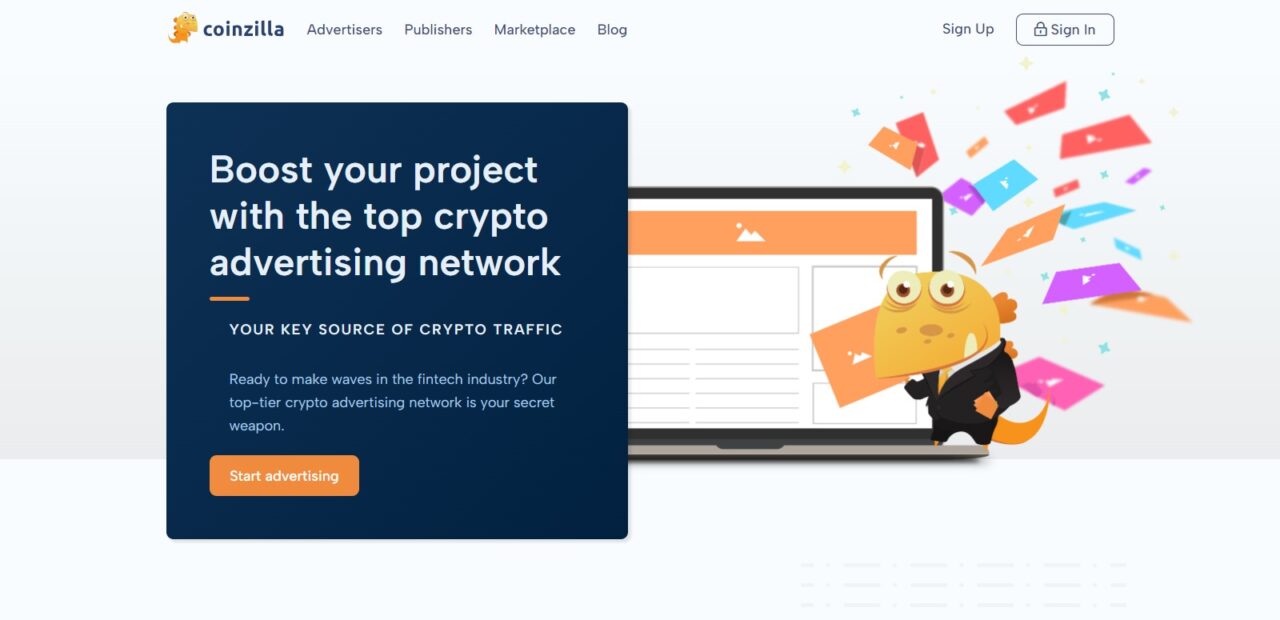 Coinzilla stands out with its commitment to transparency and security. They provide real-time statistics and analytics so advertisers can monitor and optimize their campaigns efficiently; furthermore they prioritize privacy and security for both advertisers and users by adhering to industry best practices.
Coinzilla provides publishers with competitive payouts and timely payments, making it an attractive option for those seeking to monetize cryptocurrency-focused websites or apps. Overall, Coinzilla's reputation, user-friendly interface, and focus on cryptocurrency niche make it a formidable cryptocurrency ad network – but advertisers and publishers must assess their individual needs and goals to determine if Coinzilla fits seamlessly into their advertising or monetization strategies.
2. Bitmedia (Best Cryptocurrency Ad Networks)
Bitmedia stands out as one of the leading cryptocurrency ad networks, making them one of the top choices for advertisers and publishers operating within cryptocurrency and blockchain spaces.
Bitmedia offers advertisers an array of targeting options, enabling them to effectively reach their desired audiences. Bitmedia also provides various ad formats – banner ads, native ads and pop-unders – giving campaign strategists more options in creating successful strategies. In addition, Bitmedia prioritizes quality and relevance ads so as to deliver positive user experiences.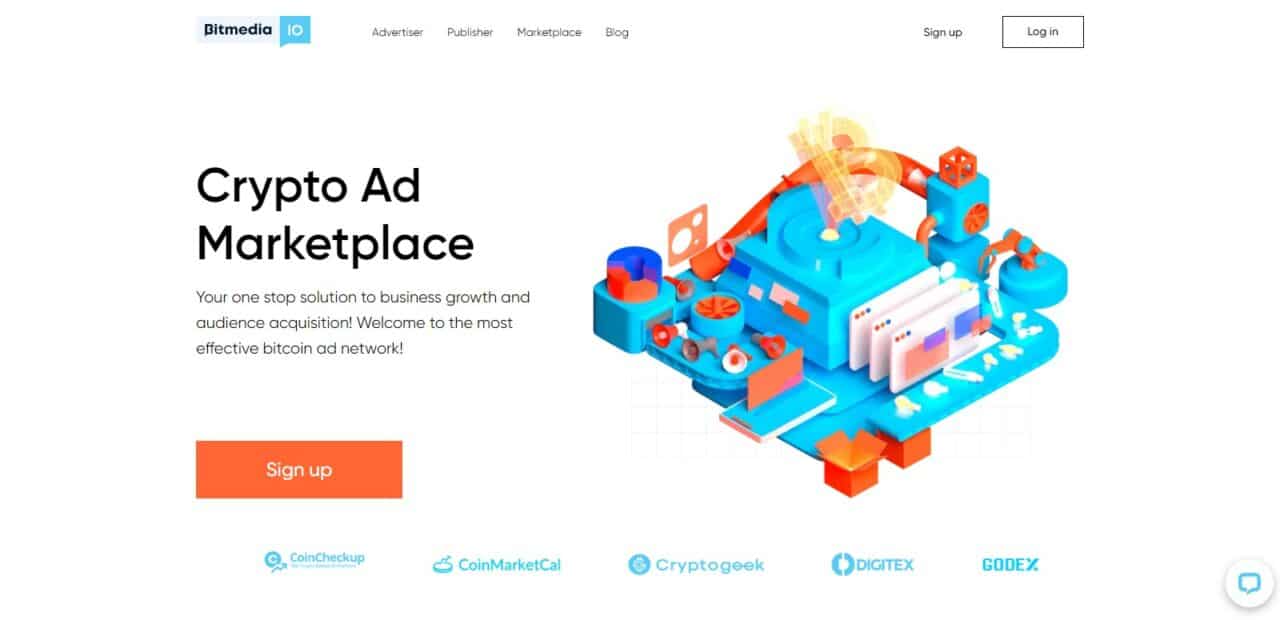 Bitmedia stands out in the cryptocurrency advertising space due to its commitment to transparency and fraud prevention, employing sophisticated fraud detection systems to guarantee genuine traffic and clicks for advertisers, something which presents its own special set of challenges.
Publishers can utilize Bitmedia to monetize their crypto-related websites and apps, offering competitive revenue-sharing models and timely payouts to its publishers. Furthermore, this platform provides comprehensive reporting and analytics, helping publishers keep tabs on their performance and earnings.
Bitmedia stands out as an effective choice for advertisers or monetizers looking to enter the cryptocurrency niche, due to its focus on the crypto industry, commitment to transparency and fraud prevention measures and emphasis on advertising in this space. As with any ad network however, users should carefully assess their needs and objectives to determine if Bitmedia fits with their advertising or monetization strategies.
3. A-ADS (Anonymous)
My straightforward explanation of A-ADS is that it's a crypto-ad network for everyone – regardless of your site or app category and without having to sign up or subscribe!
You can use A-ads as a CPA, CPM and even CPC, but their rates are too low; CPM rates for non-crypto websites typically fall under one dollar per CPM rate. Although using them can have some advantages such as showing ads on adult sites (where rates may be extremely competitive).
If your website relates to cryptocurrency, a-ads can provide effective CPM rates of $5+ per 1,000 impressions.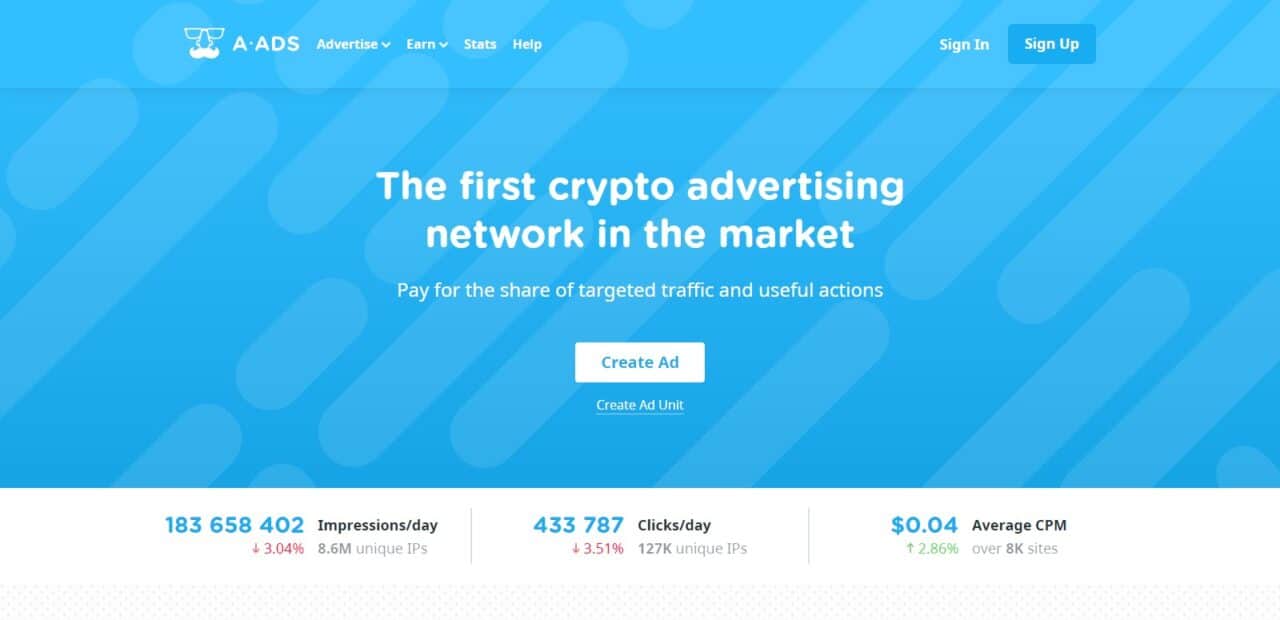 A-ADS is a cookieless service that doesn't collect personal or site data and allows you to log in using an access code. There's no approval or onboarding; simply create and place ads as desired.
A-ADS payments are issued in Bitcoin (BTC), starting with 0.001 BTC as minimum purchase amount. Your animated ads present similar challenges. There is an assortment of ads from adaptive to classic banners that require your consideration.
4. Cointraffic (Best Cryptocurrency Ad Networks)
Cointraffic is a self-serve advertising network designed for cryptocurrency-related websites. Their services are similar to Bitmedia, Coinzilla and others; however some have noted that Cointraffic ad spaces don't always fill. They offer different advertisements which work in CPM mode.
Cointraffic accepts crypto-related websites of all kinds and is especially interested in content sites that feature tools or statistics related to cryptocurrency. We welcome any tools, stat sites or any other such crypto sites as well.
Crypto enthusiasts don't visit websites unrelated to crypto. Make sure your user-friendly interface and at least 5K monthly visitors make them welcome before reaching out to your account manager for guidance.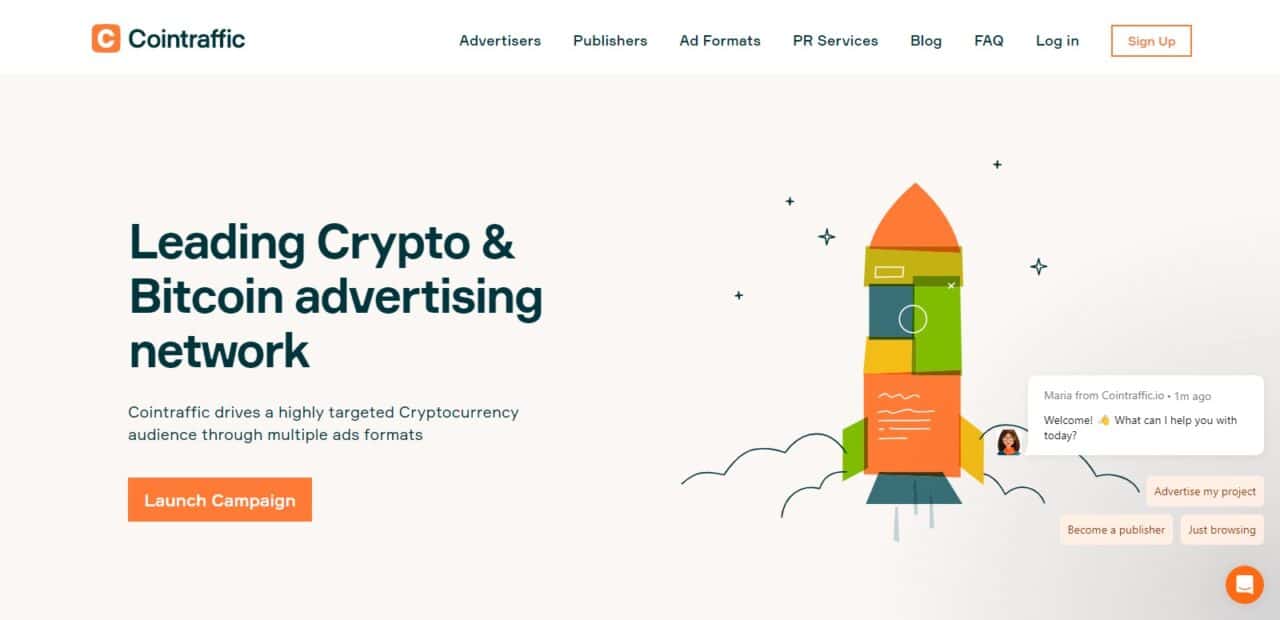 Cointraffic offers various ad formats, such as in-page, header banner, slide, sticky, pop-under and native ads. Geo, device niche and user targeting is also possible with Cointraffic ads, as well as animated versions which often look alike.
Cointraffic can be an ideal advertising network for your cryptocurrency website, and can easily be combined with others such as Coinzilla or Bitmedia while still maintaining an excellent user experience (UX).
Cointraffic provides detailed metrics, with daily impressions and revenues clearly displayed. Websites like morocotacoin.news use Cointraffic; their press release feature is limited to publishers with established traffic, especially within the crypto and Blockchain industries.
5. AdsFirm
AdsFirm is an ad platform offering crypto-ad solutions for publishers and advertisers. Though lesser-known than others, their ads look good enough. Plus, AdsFirm allows you to manage all accounts at one place: advertiser, publisher, referral.
AdsFirm, as a cryptocurrency ad network, only accepts websites related to crypto. All you need to register and provide your website URL – once verified they'll start showing ads no matter if or when traffic arrives!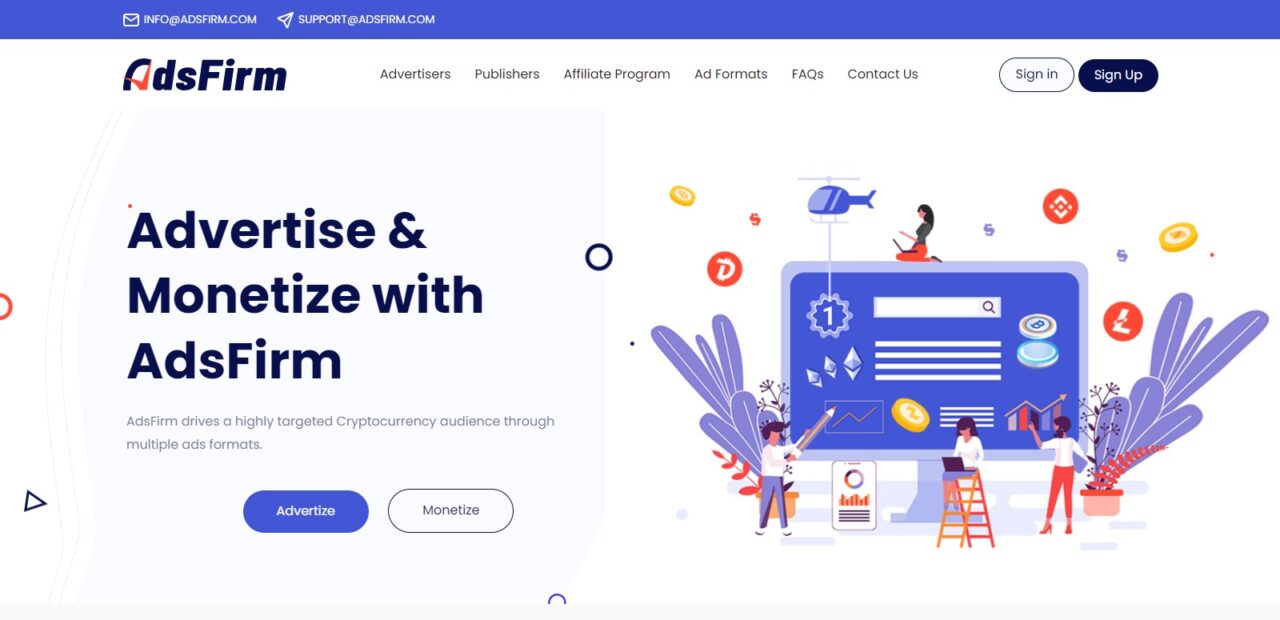 AdsFirm does not meet their guaranteed 99% fill rate and CPM and CPC are much lower compared to other crypto ad networks.
AdsFirm provides banner ads of various sizes; simply paste HTML codes. They offer BTC for minimum payments of $50 and welcome inquiries at any time.
AdsFirm may work like Coinzilla, Bitmedia or Cointraffic but at this stage I cannot guarantee its success as it's still early stages. Give AdsFirm a try, then let me know your feedback.
6. BuySellAds (Best Cryptocurrency Ad Networks)
BuySellAds is an established advertising firm, serving developers, cryptocurrency enthusiasts and digital innovations with CPM model advertising solutions. While not an entire crypto ad network like Coinzilla, BuySell can still help drive traffic to your cryptocurrency website or blog.
Use BuySellAds reporting dashboard to gain access to useful metrics, including total earnings, ad spaces, impressions, clicks, rates, CPM and predicted revenues.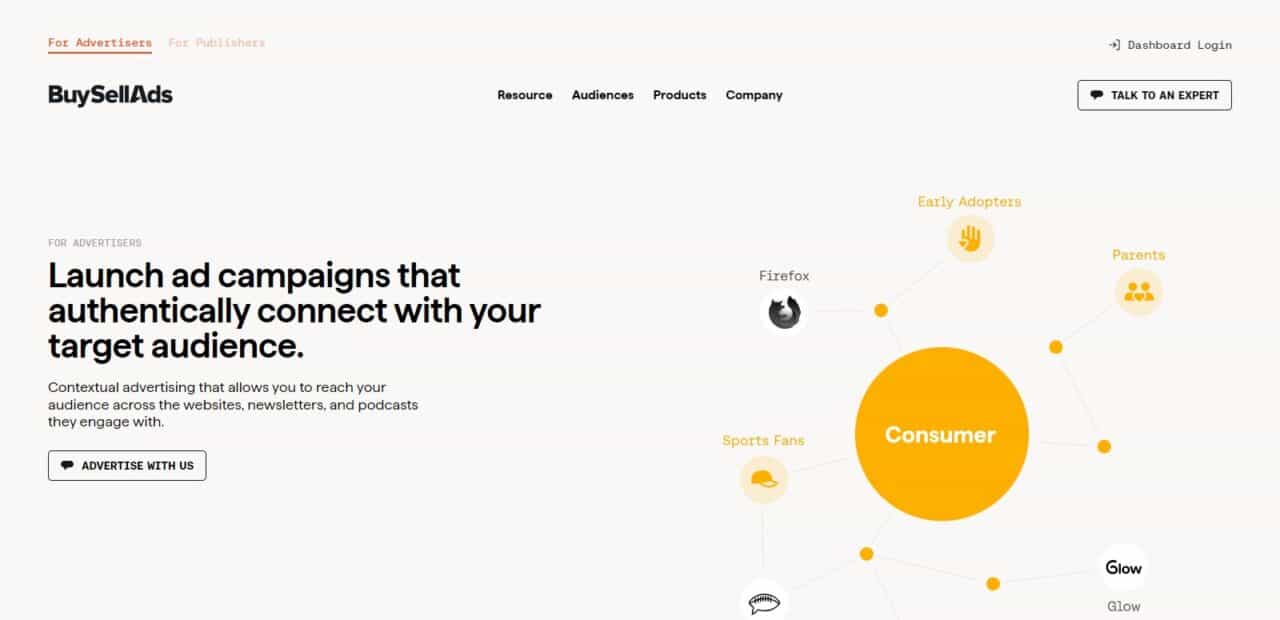 Their self-serve ad platform consists of header bidding, ad block recovery, private marketplace sales and direct sales that work in concert to maximize earning potential. Header bidding can help your revenues to expand by accommodating multiple demands.
Publishers benefit from header bidding by increasing output and auctioning with all bidders; but that isn't its only advantage; header bidding also boosts yield while increasing earning potential.
7. Coin.Network
Coin.Network, another brand of BuySellAds, serves contextual advertising (display and native ads) tailored to each website's content.
Coin.Network's flexible demand partnerships ensure the ads seamlessly integrate with the content on your coin website, offering Net-30 payout options such as USD ($), BTC, ETH and LTC.
They provide various display and native ad formats, including rectangles and leaderboards; additionally, their crypto-focused network offers customized ads.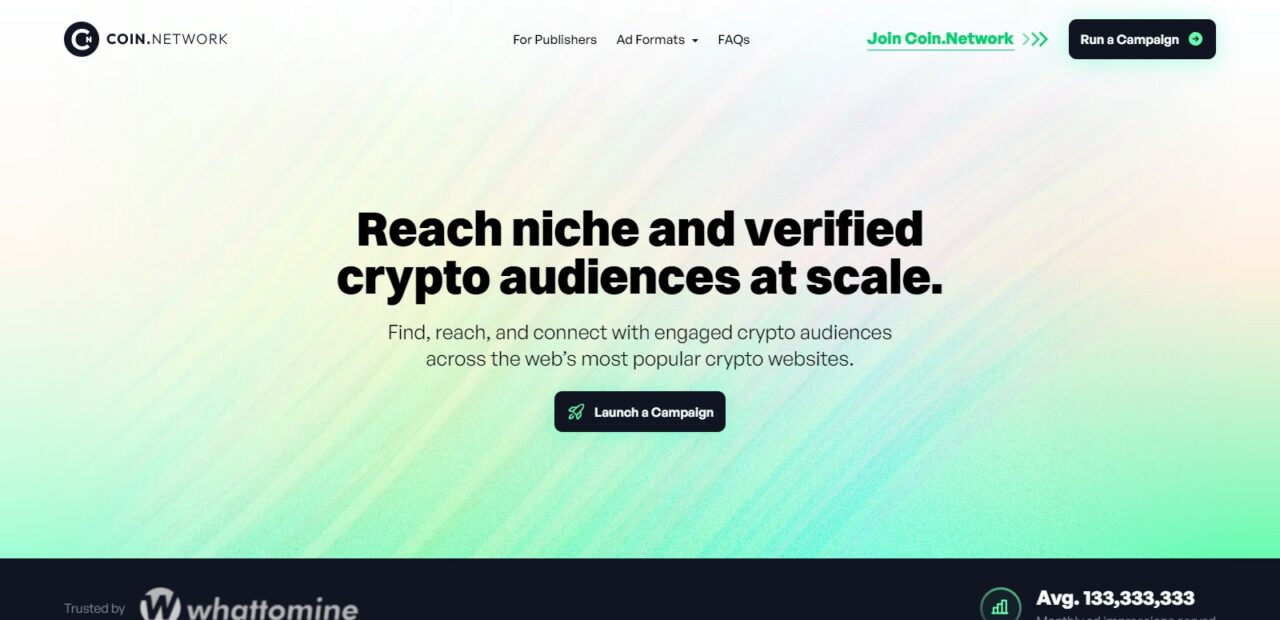 Coin.Network operates programmatically, and many major websites use them as a monetization solution to maximize their revenue potential. Unfortunately, they only accept websites with considerable traffic – making them unsuitable for small publishers.
Coin.Network offers advertising solutions to coin-related websites with over 10,000 page views per month, but I've heard great things about their ad network despite not using it myself. Give it a try and let me know how it goes!
8. Google Ads (Top Cryptocurrency Ad Networks)
Google AdSense and other reputable ad networks have proven extremely valuable advertising platforms for cryptocurrency-related websites as well as news and financial websites that cover cryptocurrency topics. Many websites that specialize in crypto, as well as financial news websites covering these subjects, have successfully collaborated with these ad platforms.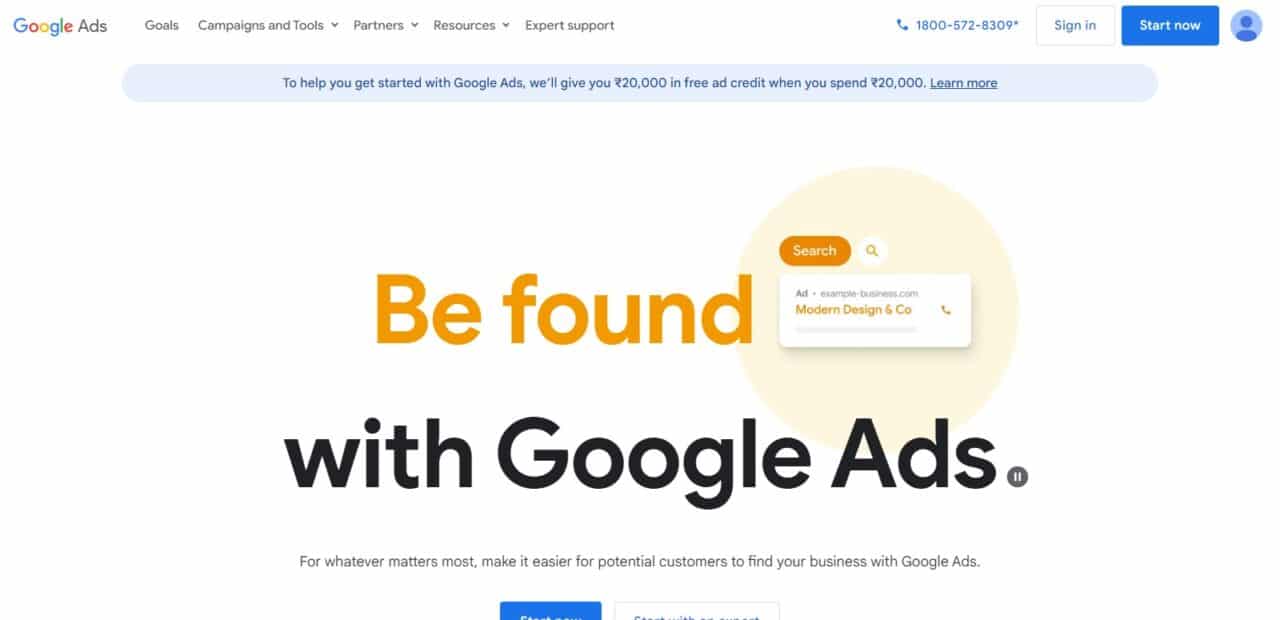 This underscores the significance of quality content and compliance with advertising networks' rules and policies for cryptocurrency content websites that want to effectively monetize. Established ad networks often offer more opportunities and access to advertisers outside just cryptocurrency-specific networks.
Crypto website owners and publishers looking to monetize their content must focus on producing high-quality, relevant and compliant material while investigating advertising options such as Google AdSense. In doing so, it will attract more readers that may make your audience and niche feel valued and worthy of support.
9. Adsterra
Adsterra is an internationally acclaimed advertising network and has built up an excellent track record in digital advertising. Adsterra offers advertisers flexible and effective methods of reaching their target audiences with various ad formats such as pop-under ads, display banners, native ads, and more. Adsterra's advanced targeting options and real-time analytics give advertisers the power to maximize their campaigns for maximum return.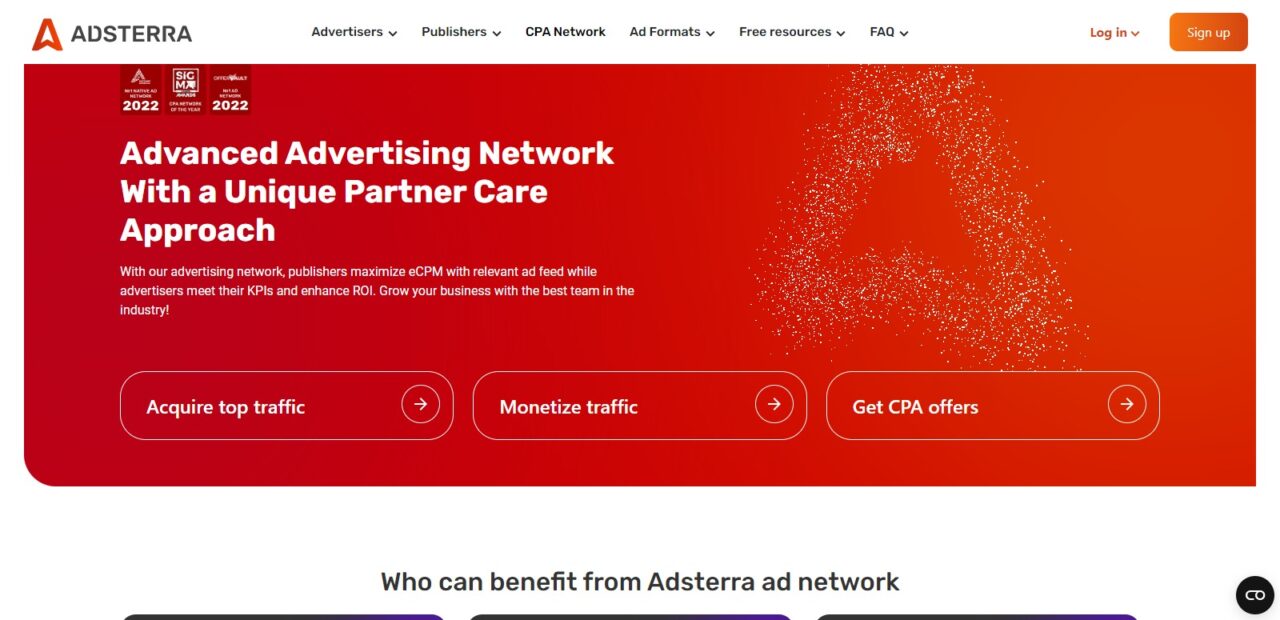 Adsterra offers publishers competitive payouts and an easy user-friendly platform, making it an appealing option for monetizing websites and traffic. Thanks to its dedication to innovation, transparency and customer support services, Adsterra has quickly established itself as a valued partner among advertisers and publishers worldwide.
10. PropellerAds (Best Cryptocurrency Ad Networks)
PropellerAds is an acclaimed digital advertising network known for its vast array of advertising solutions and user-friendliness. PropellerAds gives advertisers an effective platform to reach their desired audiences with advertising formats like push notifications, native ads, pop-unders, and banner ads.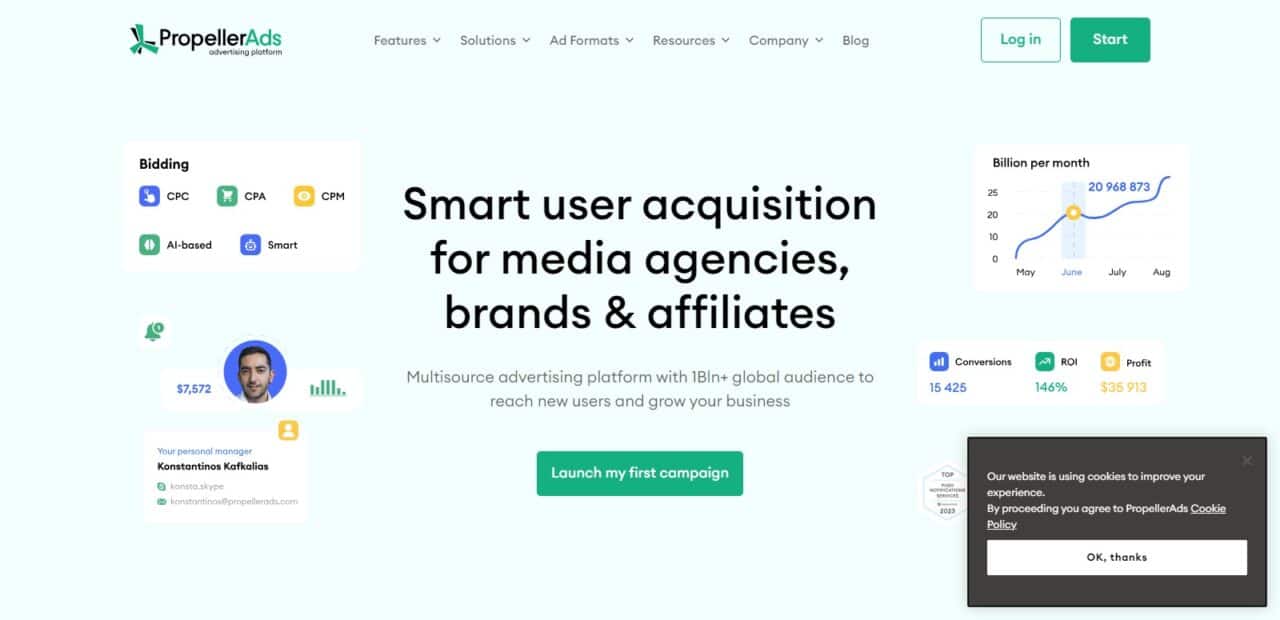 PropellerAds' innovative targeting options and real-time analytics allow advertisers to customize their campaigns for maximum effectiveness, while their competitive payouts and user-friendly interface allow publishers to monetize their traffic effectively. Their dedication to innovation and performance have made PropellerAds a top choice among advertisers and publishers seeking reliable digital advertising solutions.
How Adsterra Works As A Crypto Ad Network?
Application and Approval: Publishers with cryptocurrency-related content can apply to join Adsterra's network, with approval usually depending on evaluating the quality, content, and compliance with Adsterra policies and guidelines.
Ad Placement: Once approved, publishers can select from various ad formats provided by Adsterra such as banners, pop-unders, native ads and more before embedding the ad codes into their websites.
Targeting and Optimization: Advertisers looking to promote cryptocurrency-related products or services can use Adsterra's platform to launch campaigns that target their desired audience in terms of geography, demographics and interests. They can set targeting options accordingly in order to reach them more quickly within this niche market.
Monetization: Adsterra is a platform that helps publishers monetize their traffic by displaying advertisements on their websites, earning revenue by showing these ads, and earning Adsterra pays them out depending on various factors, including traffic quality and performance of ads displayed. They often offer attractive payouts depending on these factors as well.
Adsterra's Performance Tracking: Adsterra provides real-time analytics and reporting tools that allow advertisers and publishers to track the success of their campaigns or ad placements for improved performance, and optimize for optimal results.
Payment: Publishers receive their payments based on an agreed-upon plan, which may change depending on ad format and payment schedule. Adsterra may offer various payment methods, including wire transfers, PayPal payments and cryptocurrency-based offerings.
Best Cryptocurrency Ad Networks Conclusion
Conclusion Cryptocurrency ad networks provide advertisers and publishers with multiple avenues for engaging with digital currencies, offering advertisers numerous options to reach target markets with cryptocurrency-related advertising campaigns. Although several crypto-specific ad networks cater specifically to this niche, the top cryptocurrency ad networks often transcend this restriction by providing multiple solutions.
Networks such as Coinzilla, Bitmedia and A-ADS specialize in cryptocurrency trading while garnering accolades for their transparency and privacy policies. Google AdSense and BuySellAds have both adopted cryptocurrency-related content with enthusiasm, providing wider reach and access to diverse audiences.
At its core, selecting the appropriate cryptocurrency ad network ultimately depends on an individual's goals, targeting needs, budget constraints and industry developments. By carefully considering all these aspects and staying abreast of emerging trends in cryptocurrency advertising, advertisers and publishers alike can make informed decisions to maximize the effectiveness of their crypto ads.
Best Cryptocurrency Ad Networks FAQ
What is a cryptocurrency ad network, and how does it work?
A cryptocurrency ad network is a platform that connects advertisers looking to promote cryptocurrency-related products or services with publishers who have ad space on their websites or apps. These networks facilitate the buying and selling of cryptocurrency-related advertising inventory, offering various ad formats and targeting options.
Which are the best cryptocurrency ad networks for crypto ads?
Several reputable cryptocurrency ad networks cater to advertisers and publishers in the crypto industry. Some of the well-known ones include Coinzilla, Bitmedia, A-ADS, and Adsterra. However, the best network for you depends on your specific needs, budget, and target audience.
What ad formats do cryptocurrency ad networks offer?
Cryptocurrency ad networks typically offer a range of ad formats, including display banners, native ads, pop-unders, push notifications, and video ads. The availability of these formats can vary between networks.
Can I advertise non-crypto products or services on cryptocurrency ad networks?
Yes, many cryptocurrency ad networks accept a wide range of advertisements, including those related to non-crypto products and services. However, your ad content must comply with the network's guidelines and policies.
Do cryptocurrency ad networks offer targeting options?
Yes, most cryptocurrency ad networks provide advanced targeting options, allowing advertisers to reach specific audiences based on factors like geography, demographics, interests, and more. This helps tailor ads to the right viewers.