Bitcoin rose 3.38 percent to cross the $4000 line on Saturday morning. The development marks the fourth time the value of the pathfinder of Cryptocurrencies has reached the $4000 range in 2019.
At press time at 09:00 at GMT+2, one Bitcoin was selling at $4,054.82. The market cap was hanging around $71.3 billion with a 24-hour trading volume of $10.6 billion.
For the most part of the year, BTC's price has maintained momentum at the upper echelons of the $3000 range. The endurance is acclaimed by many industry players as a good sign.
At the moment Bitcoin's market dominance is 50.6 percent bringing market cap of the entire ecosystem to $140.8 billion. Therefore, Altcoin's value is still below fifty percent.
The pump has dragged most coins along to the profit zone. It is overwhelming to see the greater portion of CoinMarketCap in the green.
Significant Gains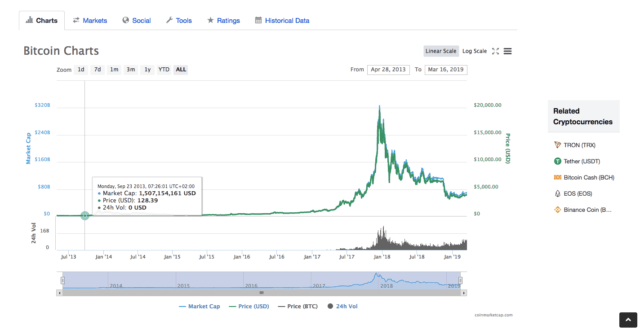 Besides, on top 10, not a single downtrend was recorded. For the entire top 100, only 16 coins slumped.
Bitcoin Cash (BCH) made a notable acquisition of 18.11 per cent to increase its price at 158.08. Litecoin and Ethereum are up 8.56 and 6.32 per cent respectively.
Below top 10, there are some upward adjustments worthy of mentioning. Holo went up 15.98 per cent while Thorecoin made it 15.11 per cent.
Meanwhile, Huobi Token swelled 12.52 per cent as Kucoin Shares earned 11.63 percentage point. It was also a good day for Crypto.Com Chain who also jumped 11.09.
Maintaining $4000 Price
Moving forward is Bitcoin capable of maintaining the new price of $4000? It is too early to say given that it hasn't managed to nurture that rate for the 4th time in less than three months.
Nevertheless, if the market leader could pull this off and beyond, it would bring some relief to Cryptosphere. In the middle of February when Bitcoin crossed the $4000 line for the 3rd time in the year, it took the market cap of all the cryptocurrencies to over $145 billion.
Alas, it didn't last for more than 24 hours, and the market lost over $15 million. Maintaining momentum is something that can bring back the smiles to the faces of the people in this space who are dealing with the most bitter winter in the history of cryptocurrencies.