According to Forbes magazine's January 10 report, the bottom of the price of Bitcoin's $ 2,500 is very likely, and then the price of Bitcoin may fall again. But there is nothing to zero the value of Bitcoin unless the encryption mining industry collapses.
At the same time, according to the latest SHA256 (Secure Hash Algorithm), this only happens when the bitcoin price suddenly drops below $1,000, and the miners are still profitable at the bitcoin price of $1,000. However, the bitcoin bubble cycle is not over yet. Like the fate of many Internet darlings, there will be a lot of layoffs in the encryption field.
According to CoinMarketCap data, all of the top 20 cryptocurrencies will suffer serious losses within 24 hours. Bitcoin (BTC) prices fell below the $3,700 mark. As of 1:30 pm ET, Bitcoin traded at $3,666.90, down 9.15% in the past 24 hours, while Bitcoin has a 52.5% market share in the cryptocurrency market. From the Bitcoin weekly chart, the current price is lower than the BTC's price of $3,888 a week ago, and is significantly lower than the mid-week high of $4,108.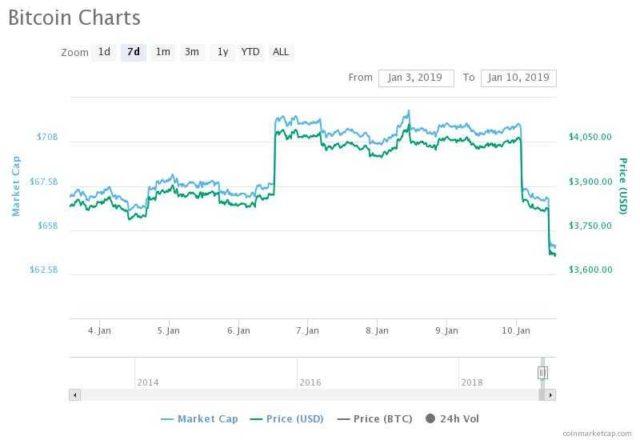 At the same time, Ripple (XRP) has surpassed Ethereum (ETH) to become the second largest cryptocurrency market capitalization. In addition, the gap between the two encryptions narrowed, with an XRP market value of $13.568 billion and an Ethereum market value of $13.288 billion.
Among the top 20 cryptocurrencies, except for the small increase in stable currency (USDT) and Tether, the encryption market as a whole fell. The current total market value of all cryptocurrencies is approximately $122.1 billion, which is lower than the total market value of $130 billion reported a week ago.