Deepcoin is a Singapore-based centralized exchange (CEX) offering spot trading, derivatives, wealth management, DeFi investment, and other comprehensive financial services. It is reportedly registered in the Republic of Seychelles with a company number of 206025. Deepcoin claims to have obtained three major authoritative regulatory licenses, including the United States NFA, the United States MSB, and the Canadian MSB.
The crypto derivatives trading platform is primarily aimed at the Asian market. It offers a handful of innovative products like Super Saving, Lucky Money, and Options FX.
1.Decentralized Exchanges (DEXs) (Best Alternative To Deepcoin )
Decentralized exchanges (DEXs) are a popular alternative to Deepcoin and other centralized exchanges. As the name suggests, these platforms are built on blockchain technology, which allows for decentralized trading and eliminates the need for a central authority to control user funds. This means that users have full control over their assets and can trade directly with other users without the need for intermediaries. Below We Include Some popular DEXs Alternative To Deepcoin Exchange
PancakeSwap
PancakeSwap is a decentralized exchange for swapping BEP20 tokens on Binance Smart Chain. PancakeSwap uses an automated market maker (AMM) model where users trade against a liquidity pool. Such pools are filled with users' funds. They deposit them into the pool, receiving liquidity provider (or LP) tokens in return. They can use those tokens to reclaim their share, plus a portion of the trading fees.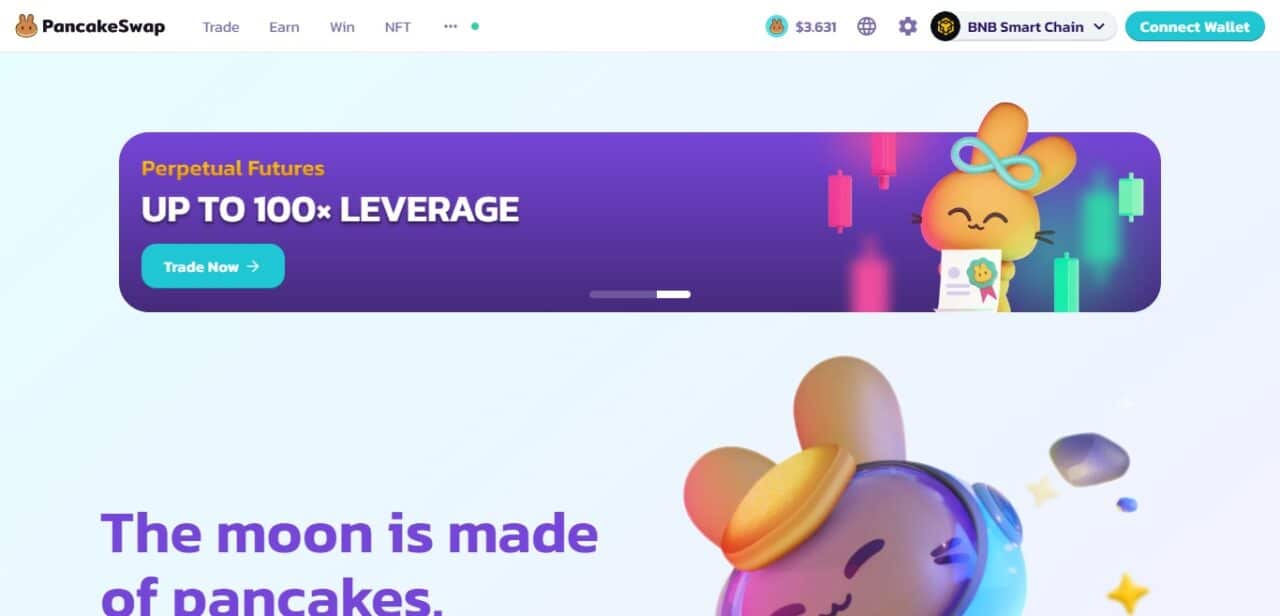 The LP tokens are called FLIP tokens. PancakeSwap also allows users to farm additional tokens – CAKE and SYRUP. On the farm, users can deposit LP tokens, locking them up in a process that rewards users with CAKE. Users can stake CAKE tokens to receive SYRUP, which will have further functionality as governance tokens (and as tickets in a lotteries).
Ref Finance
Ref Finance is a community-led, multi-purpose Decentralized Finance (DeFi) platform built on NEAR Protocol.Ref takes full advantage of NEAR's low fees ($0.005 per swap), one-to-two second finality, and WebAssembly-based runtime (hello, Rust smart contracts!).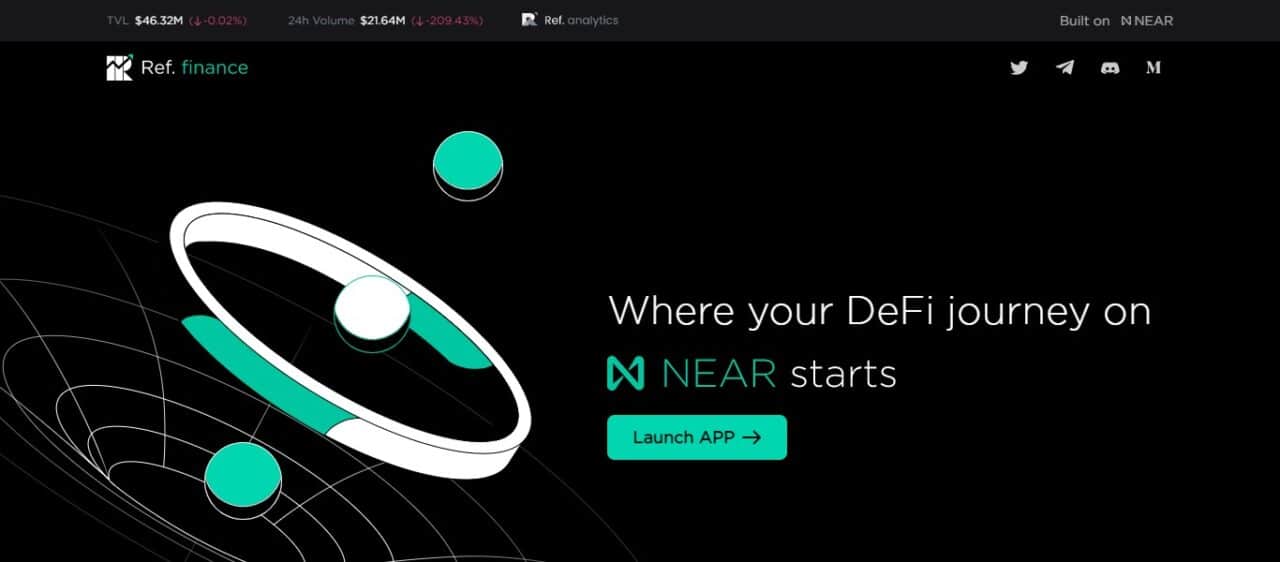 Using the recently launched Rainbow Bridge (NEAR <> ETH), traders can utilize the billions of dollars in ERC-20-compliant assets from Ethereum, and eventually, from any chain (BSC, Polygon/Matic, Cosmos/IBC, and others) on NEAR.
Ref Finance's first product is an automated market maker (AMM). It is similar to Uniswap, with a few changes: – Multiple pools in a single contract. Traders can trade across pools atomically in a single transaction – Customizable LP fees per pool. LPs can charge higher fees for illiquid or highly volatile tokens. Referral fees for swaps, currently set at 1 bps. Developers can earn rewards for building UIs and other applications on top of Ref Finance
SpookySwap
SpookySwap is a decentralized exchange (DEX) on the Fantom blockchain. It operates with an automated market maker (AMM) to provide constant liquidity for traders and allow them to trade against a liquidity pool. It also serves as a bridge between Fantom and other layer-one blockchains.
Token swaps allow customers to trade one token for another with liquidity in the pools. The exchange offers fees below the industry standard. Users can also add liquidity and earn from the swapping fees on the token pairs where they provided liquidity. With more than 18 token pairs, SpookySwap offers the most diverse yield farming opportunities on the Fantom blockchain.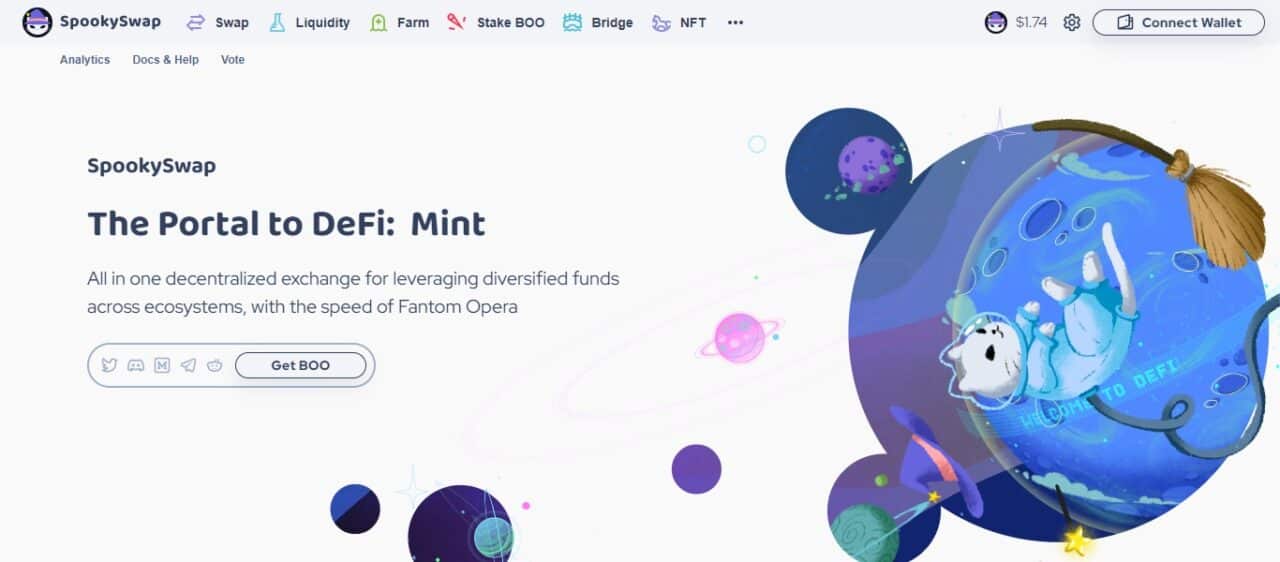 Furthermore, there are single stake pools, where only one token type is needed to stake. In that case, users do not need an LP token and can earn from staking only the platform's native BOO token. This allows them to get more assets and increase their share of fee-earning tokens.
There is also an NFT collecthttps://spooky.fi/#/ion called Magicats, displaying the two mascot cat characters Grim and Ace. Finally, the exchange offers a bridge to other blockchains like Ethereum, BNB Chain, Polygon, and Avalanche. Users require a wallet and gas tokens of the chain they are bridging from. The transactions can take between 10 minutes and 24 hours, depending on the traffic.
Best Centralized Exchange Of Deepcoin Alternative
CoinEx
CoinEx is a global crypto exchange committed to making crypto trading easier. Available in 15 languages, the exchange offers a wide range of products and services, including spot trading, futures trading, margin trading, AMM, crypto finance, and strategic trading. CoinEx provides easy-to-use, secure, and reliable crypto trading services for more than 4 million users in over 200 countries and regions.
CoinEx features dedicated sections for BTC and stablecoins, as well as access to over 600 premium and innovative cryptos. With a zero-accident record, CoinEx has earned the recognition and trust of users through its user-friendly products, fast and stable performance, and seamless deposit and withdrawal processes. Available in multiple languages, CoinEx has always put users first and aims to provide pleasant crypto trading experiences for users as their gateway to the crypto world.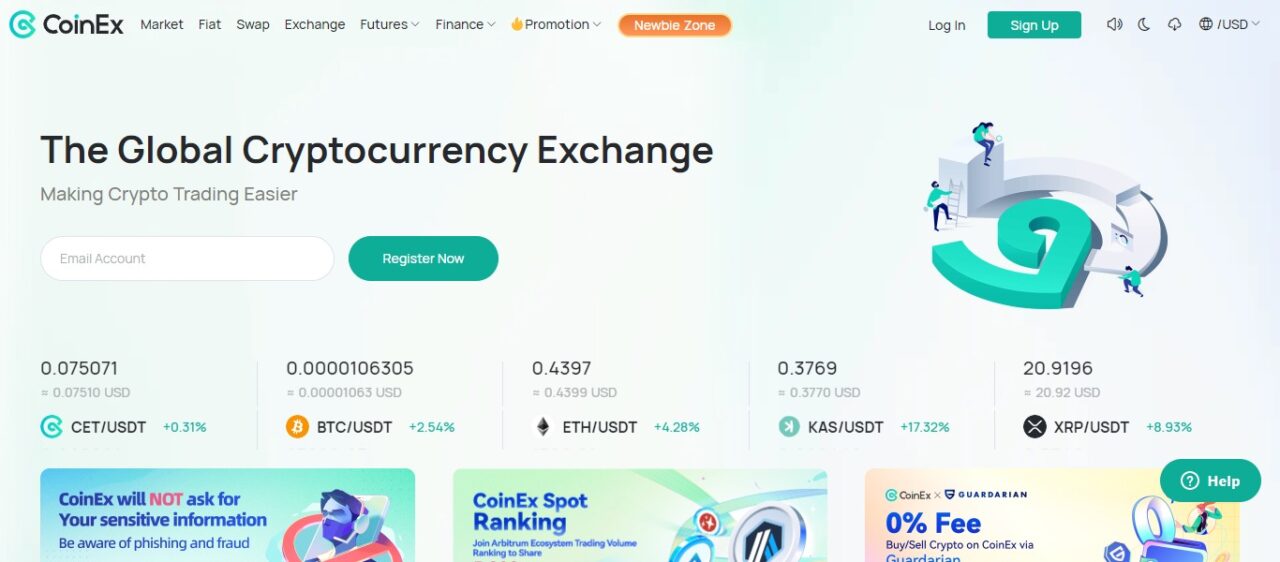 In 2022, CoinEx launched the "Merkle Tree" audit method as Proof of Reserve, becoming one of the earliest crypto trading platforms to disclose such proof of reserve. Committed to its bottom line of security and transparency, the exchange has lived up to its commitment to a 100% reserve ratio. On this secure, transparent crypto exchange, users' assets are never misused for any reason whatsoever, and all withdrawal requests are promptly processed.
Poloniex
Poloniex is a global crypto centralized exchange (CEX) platform backed by Justin Sun, founder of Tron. The exchange provides the following products: spot trading and margin trading, futures trading and perpetual swaps, limit orders, real-time order books, a convenient lending system (P2P lending), crypto staking and a trading terminal.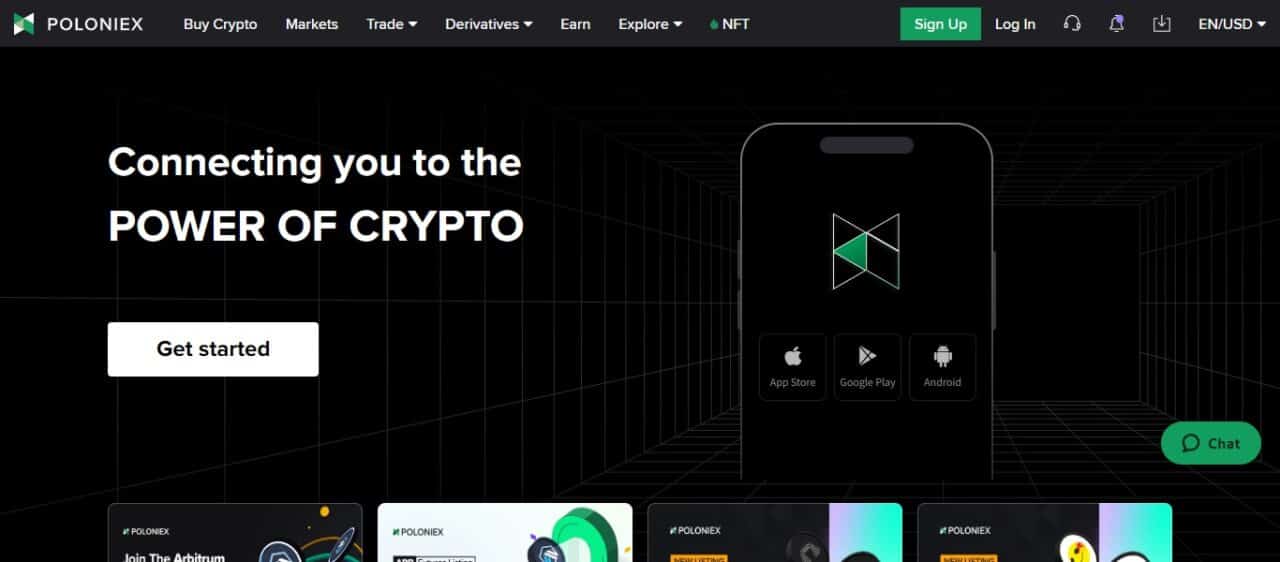 The exchange lists over 350 cryptocurrencies and tokens, which can be purchased with a bank account, credit or debit card, and ApplePay.The exchange has an insurance fund and its own crypto community — Poloniex Learn, where guides, educational materials and relevant industry news are available.
Toobit
Launched on October 16th, 2022, Toobit is a centralized exchange based in Seychelles. It supports spot trading/crypto deposits/crypto withdrawals/derivatives/futures/OTC/copy trading. Toobit is regeistered and licensed under FinCEN. Toobit's team is distributed across different regions of the world, including Russia, South Korea and Turkey. Toobit is committed to providing a secure, efficient, and diverse trading experience for investors, with a range of products and services designed to meet the needs of different types of traders.
Toobit offers a range of trading products, including spot trading, perpetual contract trading, and planned OTC trading. The platform supports multiple popular cryptocurrencies such as Bitcoin, Ethereum, Litecoin and other high quality tokens to trade. The perpetual contract trading product provides higher leverage for traders to maximize profits in market fluctuations.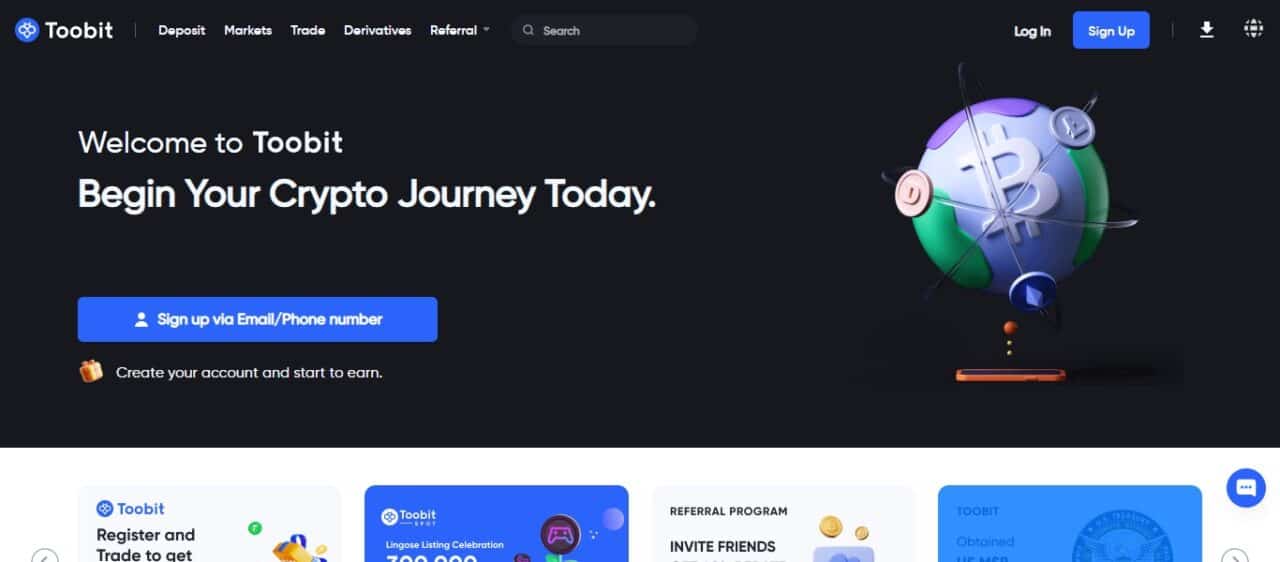 Furthermore, Toobit's plans to launch OTC trading, which will make it easier for users to conduct large-scale transactions. To ensure seamless integration with the platform, Toobit provides API services, enabling users to automate their trading with their own software. The platform has strict KYC (Know Your Customer) verification to ensure that all users comply with the regulatory requirements of the exchange.
The customer support team is made up of experienced and professional customer service specialists and technicians who are ready to provide quick and accurate technical and trading support and assistance.Tapbit provides users with industry-leading technology, including a core aggregation engine that is the most advanced technology product of its kind currently in the market.
Bitso
Bitso is a cryptocurrency platform in Latin America. Founded in 2014, it claims to be the first and only crypto platform in the zone to be regulated. Claiming to have more than 1 million users, Bitso offers two main products: its mobile app, designed to buy, sell and use cryptocurrencies and Bitso Alpha, a cryptocurrency exchange that reportedly offers speed, precision, and high-liquidity and enables trading with technical and graphical analysis tools.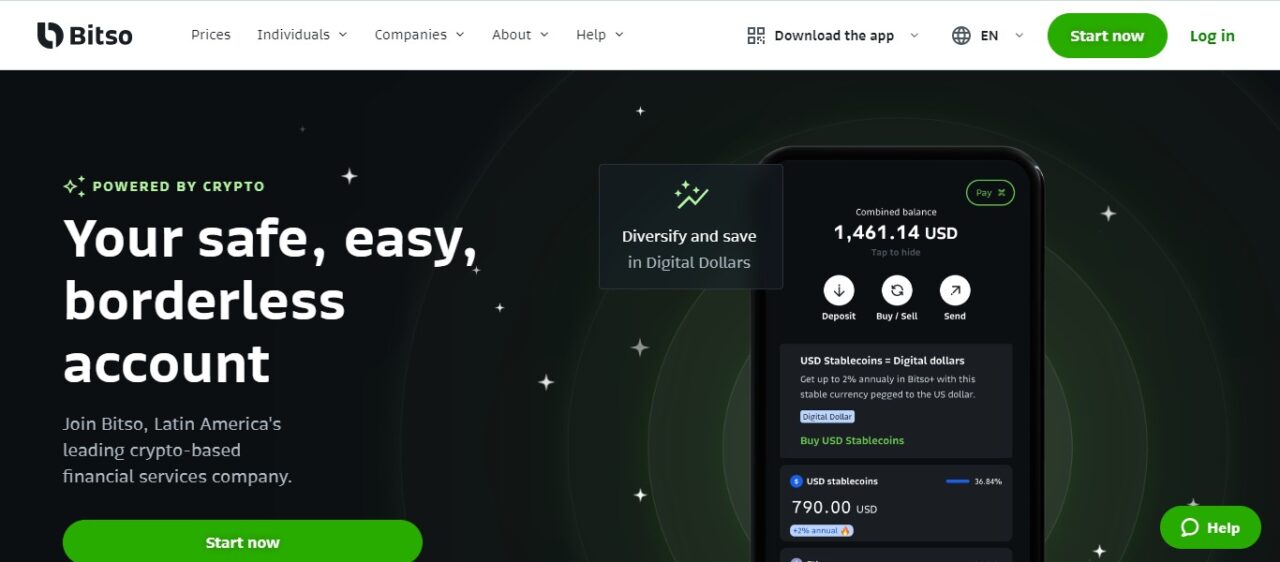 Users can access USD (US dollars), ARS (Argentinian Pesos) and MXN (Mexican pesos) on/off ramps, as well as on/off ramp to USD books with a variety of stablecoins. Users can trade with Bitso via its trading platform, Bitso Alpha, or through our API, which allows them to create complex automated trading strategies that can be backtested against historical data. Currencies listed on Bitso are Bitcoin (BTC), Ethereum (ETH), Ripple (XRP), Bitcoin Cash (BCH), Litecoin (LTC), Basic Attention Token (BAT), Golem (GNT), True USD (TUSD), Decentraland (MANA) and DAI (DAI).
About Crypto Exchange
A cryptocurrency exchange is a website that makes it possible to purchase and trade cryptocurrencies like Bitcoin, Ethereum, and others. By enabling users to buy or sell cryptocurrencies using other cryptocurrencies or fiat currencies like the US dollar or the Euro, these exchanges enable the trading of cryptocurrencies.
Users can open an account, deposit funds, and then use those funds to purchase or sell cryptocurrencies on cryptocurrency exchanges at the going rate. The price of a cryptocurrency may be different on one exchange from the price on another exchange or in the general market due to the regular price fluctuations of cryptocurrencies.
Centralized exchanges (CEX) and decentralised exchanges are two different kinds of cryptocurrency exchanges (DEX). A centralised entity manages CEXs.
Why Deepcoin Popular
I lack access to the most recent data and market trends because I am an AI language model. Nonetheless, there are a number of factors that could cause a cryptocurrency or a cryptocurrency exchange to gain popularity:
Unique Features: If Deepcoin offers special features or functionalities that are unavailable on other exchanges, this could be one factor in its potential popularity. It might provide a greater selection of trading pairings, reduced costs, or quicker transaction processing times, for instance.
Good Reputation: If Deepcoin has a good reputation in the industry, that is another factor that could contribute to its popularity. This can be because of a track record of producing top-notch customer service, providing a safe platform, or providing a top-notch user experience.
Word of Mouth: If Deepcoin is providing value to its users, they may suggest it to others, helping to boost its popularity. Word of mouth is a great marketing technique.
Marketing Efforts: Bitcoin exchanges that spend money on marketing initiatives, such social media campaigns or influencer collaborations, can assist increase user signups and build awareness of their platform.
Time and Market Conditions: Last but not least, the timing of Deepcoin's launch or platform improvements, as well as general market conditions, could also influence how well-liked it is. For instance, more individuals might visit Deepcoin or other exchanges that provide a particular cryptocurrency if there is a spike in interest in cryptocurrencies or demand for that particular cryptocurrency.
It's important to remember that popularity doesn't always translate into quality, and users should always conduct their own research and thoroughly assess any cryptocurrency or crypto exchange before investing their money.
Why Deepcoin Not Good Choice For Some Users
It's challenging for me to provide a detailed response because I don't have specific knowledge of the background of "Deepcoin." Yet, there may be a number of general factors that prevent some consumers from choosing Deepcoin. Here are some potential examples:
Lack of Trust: Users that don't trust the platform may decide not to utilise Deepcoin. This can be as a result of security concerns, a lack of openness in the business' operations, or a pattern of fraud or hacking.
Restricted Functionality: Due to the lack of certain features or functionality, some users may find Deepcoin to be insufficient for their purposes. For instance, some exchanges might not provide the complex trading tools, trading pairs, or cryptocurrencies that more seasoned traders require.
High Fees: If Deepcoin charges large costs for transactions or trading, some users might decide not to use it. Some consumers may find high fees to be a major turnoff, especially if they engage in frequent trades or transactions.
Regulatory Compliance: Depending on the country in which Deepcoin is registered, some requirements may not be met by the platform. Given that some users might be barred from accessing the site by law, this might restrict the platform's user base.
User Experience: Lastly, because to a subpar user experience, some users may not like Deepcoin. These can involve problems with the user interface, customer service, or general usability of the platform.
Overall, a user's specific demands, goals, and tastes will determine whether or not Deepcoin is a good solution.
How to Choose best crypto exchange?
Picking the best cryptocurrency exchange can be challenging because there are so many options, each with advantages and disadvantages. When choosing a cryptocurrency exchange, keep the following things in mind:
Security: While selecting a crypto exchange, security should come first. Look for exchanges that enable two-factor authentication, employ strong encryption, and keep the majority of your assets in cold storage (offline). Moreover, find out if the exchange has a solid reputation for security and if it has ever been hacked.
Fees: Various exchanges impose a variety of charges, and these charges may significantly reduce your trading profits. Before you begin trading, look for exchanges with reasonable fees and make sure you comprehend the charge schedule.
Reputation: Seek out exchanges that have a positive reputation in the cryptosphere. To find out what other users have to say about the exchange, visit online forums and reviews.
User Interface: Trading may be easier and more pleasurable with a user-friendly interface. Search for exchanges that provide extensive trading tools if you need them and have a simple, user-friendly interface.
Liquidity: The simplicity with which you may acquire or sell a coin is referred to as liquidity. Often, exchanges with more liquidity have tighter bid-ask spreads and
Customer Support: When dealing with intricate financial transactions, good customer support is crucial. Search for exchanges that provide a variety of assistance options, such as email, phone, and live chat.
Regulation: Take into account whether the exchange is overseen by a respected agency, such as the Securities and Exchange Commission (SEC) in the US or the Financial Conduct Authority (FCA) in the UK. Exchanges that are regulated often give users extra protections.
The ideal cryptocurrency exchange for you will ultimately depend on your unique requirements, top priorities, and preferences. Do your homework, weigh your options, and pick the exchange that best suits your requirements and provides the best overall experience.
Deepcoin Conclusion
As a language model, I am not privy to precise data regarding Deepcoin or its market performance. But generally speaking, people should thoroughly assess any cryptocurrency or cryptocurrency exchange before investing their money.
It is crucial to do extensive research and take into account variables like security, reputation, fees, user interface, liquidity, customer service, and regulation before making any selections. By doing this, you can be sure that your choice is well-informed, that it will fit your needs, and that it will provide the finest overall experience.
In the end, using Deepcoin or any other cryptocurrency or crypto exchange should be decided after carefully weighing the advantages and cons.