Best News App in India consumption, one of the standout news apps in India is "The Times of India." Renowned for its comprehensive coverage of national and international events, The Times of India app offers a seamless user experience that brings timely and relevant news directly to users' fingertips.
With its user-friendly interface and a wide range of categories including politics, business, entertainment, sports, and more, the app caters to diverse interests. Its commitment to credible journalism and in-depth reporting ensures that users stay well-informed about the latest developments across various domains.
Through real-time notifications and curated content, The Times of India app exemplifies the best in news apps by delivering accurate, engaging, and up-to-date information to its users, making it an indispensable tool for staying connected with the world.
Here is List of Best News App in India
Daily Hunt
NDTV 
Aaj Tak
Times Of India 
The Hindu
Jio News
Knappily
Inshorts
Way2News
First Post
10 Best News App in India
1. Daily Hunt
Dailyhunt, a prominent news app in India, has established itself as a go-to source for a diverse range of news and information. With a vast collection of content available in multiple regional languages, Dailyhunt caters to the linguistic diversity of the country, allowing users to access news and stories in their preferred languages.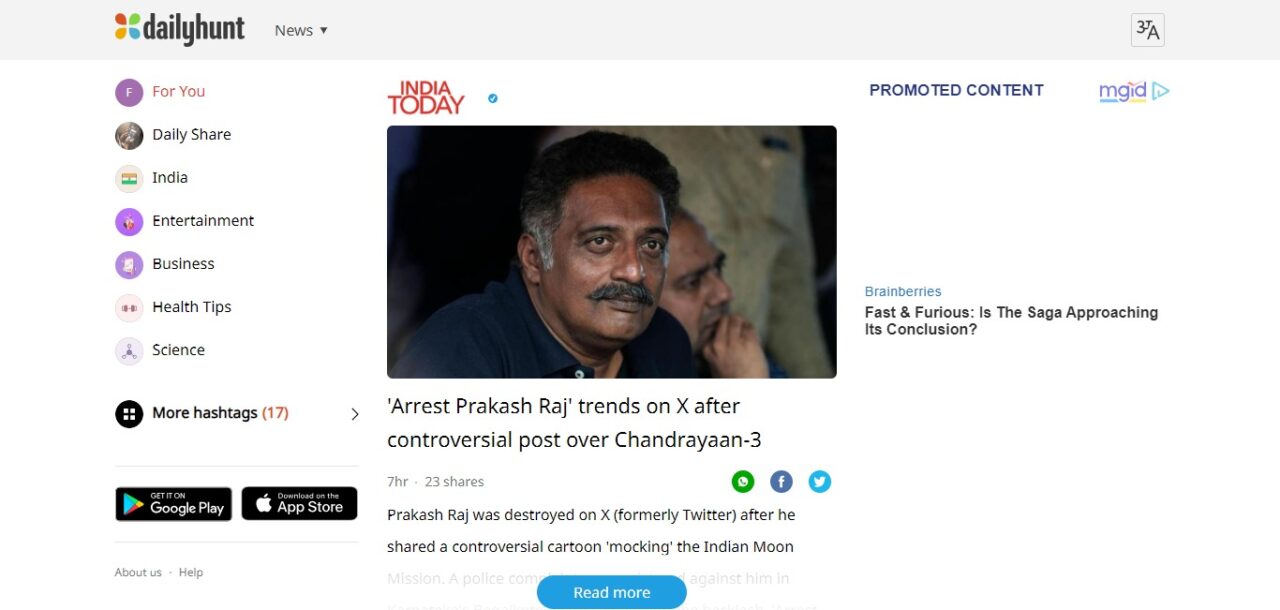 The app's intuitive interface and personalized news feed make it easy for users to discover and engage with topics of interest, including news, entertainment, sports, and more. Dailyhunt's commitment to accurate reporting and its ability to deliver relevant news to users in their own languages contribute to its popularity.
By bridging the gap between mainstream news and regional languages, Dailyhunt plays a crucial role in keeping users informed and connected with the latest developments across the nation.
2. NDTV (Best News App in India)
NDTV (New Delhi Television Limited) stands as a reputable and influential news source in India. Renowned for its credible journalism and comprehensive coverage of both national and international news, NDTV has earned a prominent place in the media landscape.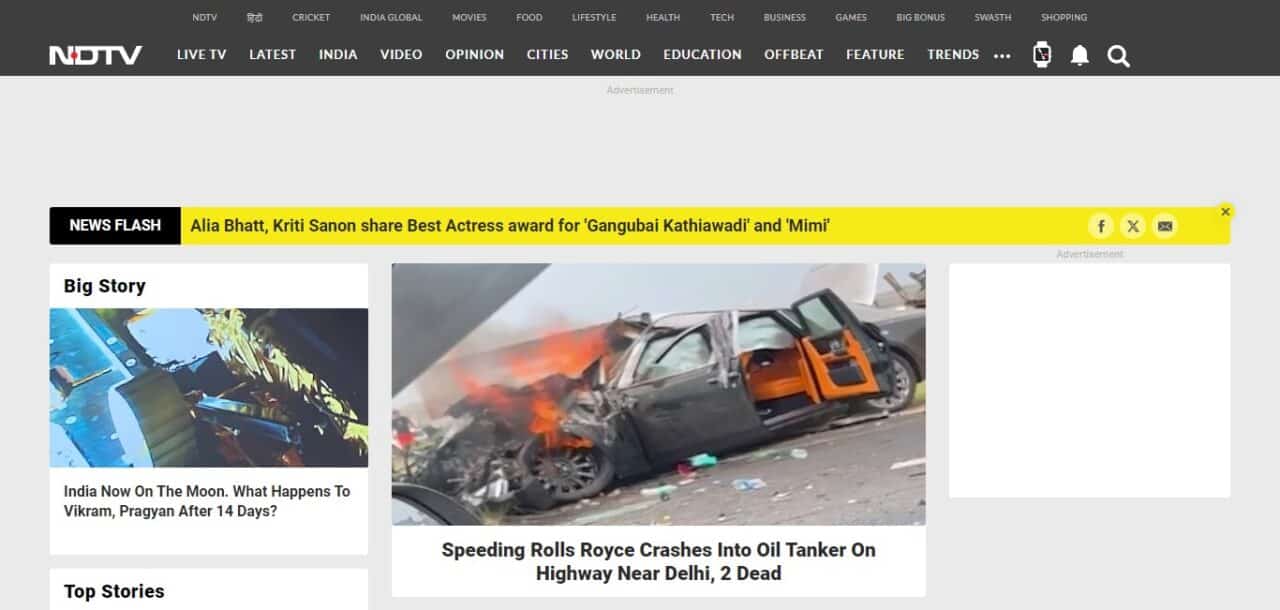 Through its various platforms, including television, website, and mobile app, NDTV delivers in-depth reporting, insightful analysis, and diverse perspectives on a wide array of subjects, including politics, economics, technology, and culture.
Its commitment to balanced and responsible reporting has garnered the trust of its audience. NDTV's emphasis on investigative journalism and its dedication to addressing crucial societal issues have contributed to its status as a reliable and respected news organization that continues to play a significant role in shaping public discourse in India.
3. Aaj Tak
Aaj Tak, a prominent Hindi news channel in India, has earned a place of influence and trust among viewers. With its commitment to delivering news "Sachcha Waqt, Sachcha Samachar," which translates to "Real Time, Real News," Aaj Tak has become a household name associated with timely and accurate reporting.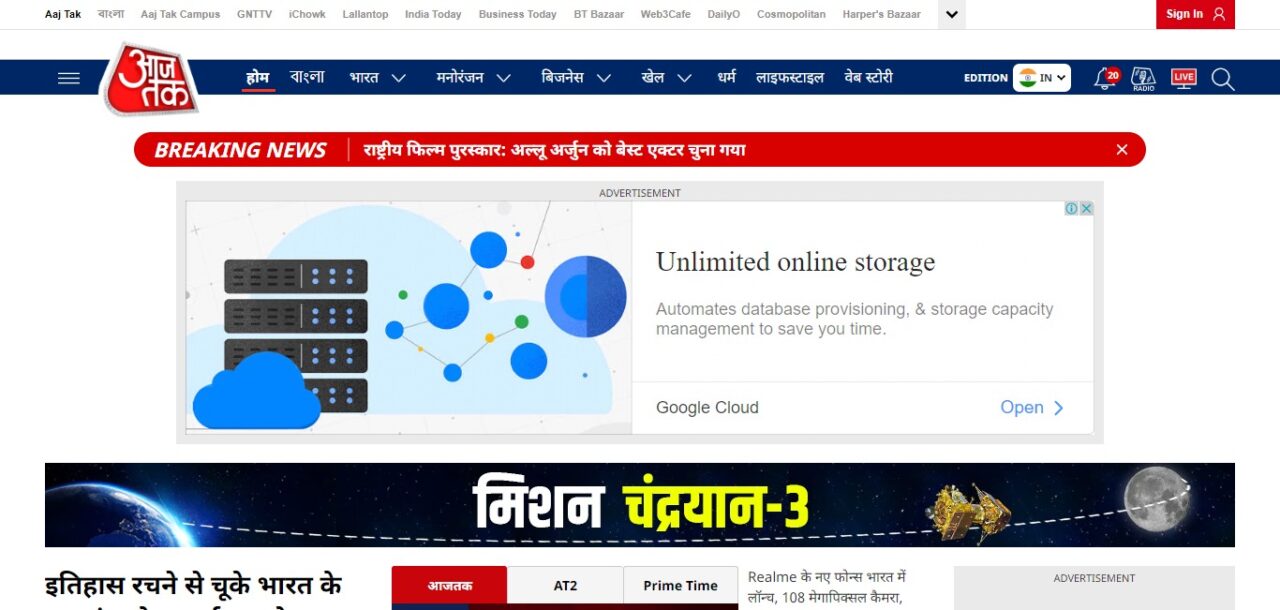 The channel covers a wide spectrum of topics, from politics and current affairs to entertainment and sports, catering to the diverse interests of its Hindi-speaking audience. Aaj Tak's straightforward and impactful reporting style, combined with its dedicated team of journalists, keeps viewers informed about the latest developments both within the country and on the global stage.
Its commitment to transparency and responsible journalism has solidified its reputation as a reliable source of news and information, making it a preferred choice for millions of viewers seeking credible insights into the events shaping India and the world.
4. Times Of India (Best News App in India)
The Times of India, a leading English-language daily newspaper in India, stands as an emblem of journalism that has shaped the country's media landscape. With its widespread circulation and comprehensive coverage, The Times of India has established itself as a reliable source of news, insights, and perspectives on national and international affairs.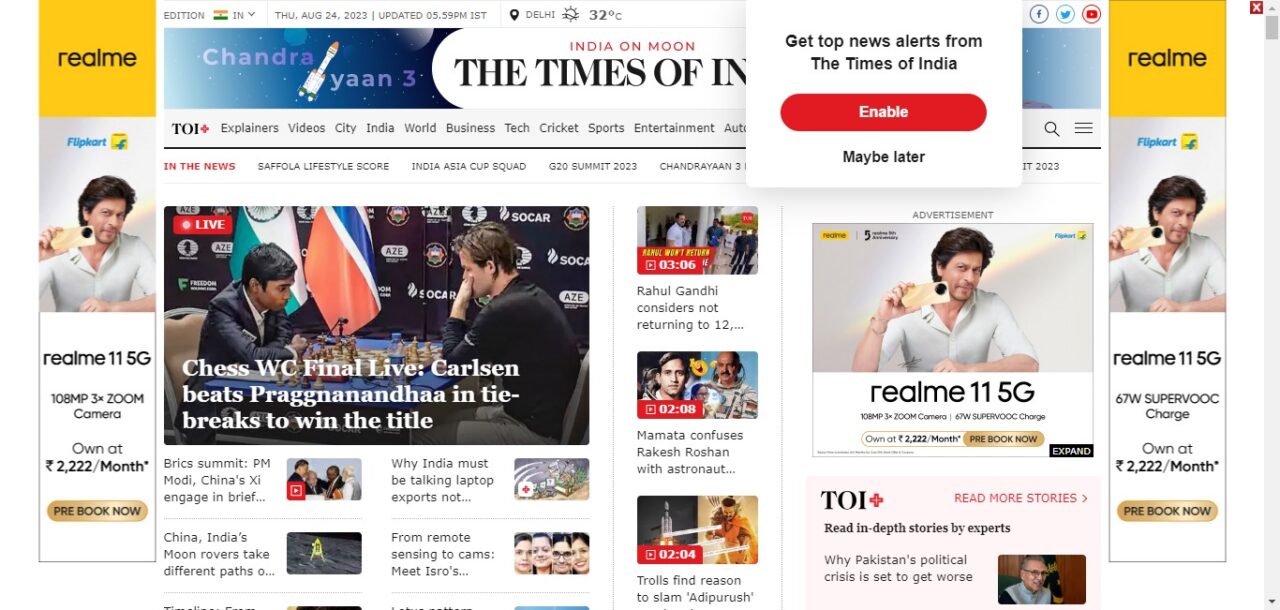 Its wide-ranging coverage spans from politics and economics to culture and lifestyle, catering to a diverse readership. The newspaper's dedication to unbiased reporting, investigative journalism, and in-depth analysis has earned it the trust of its readers over the years. With a legacy that dates back to 1838, The Times of India continues to play a pivotal role in informing and engaging readers across the nation, making it an integral part of the country's media narrative.
5. The Hindu
The Hindu, a distinguished English-language newspaper in India, holds an esteemed position as a pillar of quality journalism and insightful reporting. Founded in 1878, The Hindu has built a reputation for its commitment to balanced, comprehensive, and well-researched news coverage across a spectrum of subjects, from politics and economics to culture and international affairs.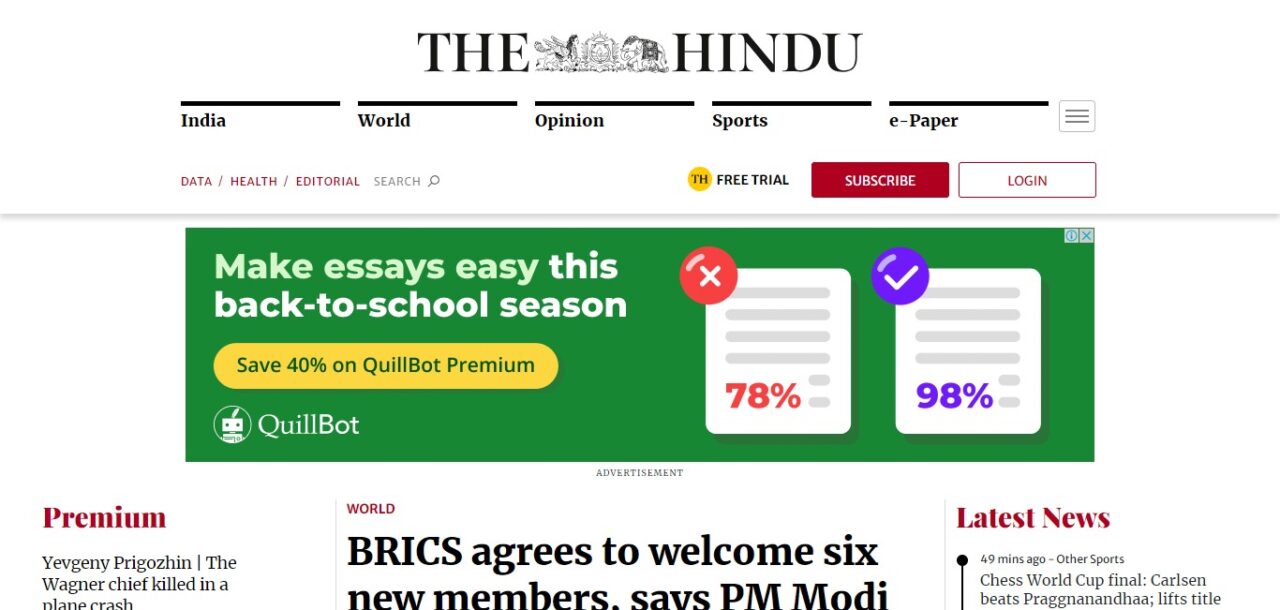 Known for its nuanced analysis and in-depth articles, The Hindu provides readers with a profound understanding of complex issues shaping the nation and the world. Its steadfast dedication to accurate reporting and ethical journalism has garnered the trust of its readers over generations.
With its rich legacy and unwavering commitment to upholding journalistic standards, The Hindu continues to be a beacon of credibility and a vital source of information for readers seeking reliable insights into critical matters.
6. Jio News (Best News App in India)
Jio News, an innovative digital news platform by Reliance Jio, has rapidly emerged as a prominent player in the realm of news consumption in India. Launched as part of the Jio ecosystem, this app offers a diverse range of news content, covering topics such as politics, business, entertainment, sports, and more, catering to a wide audience.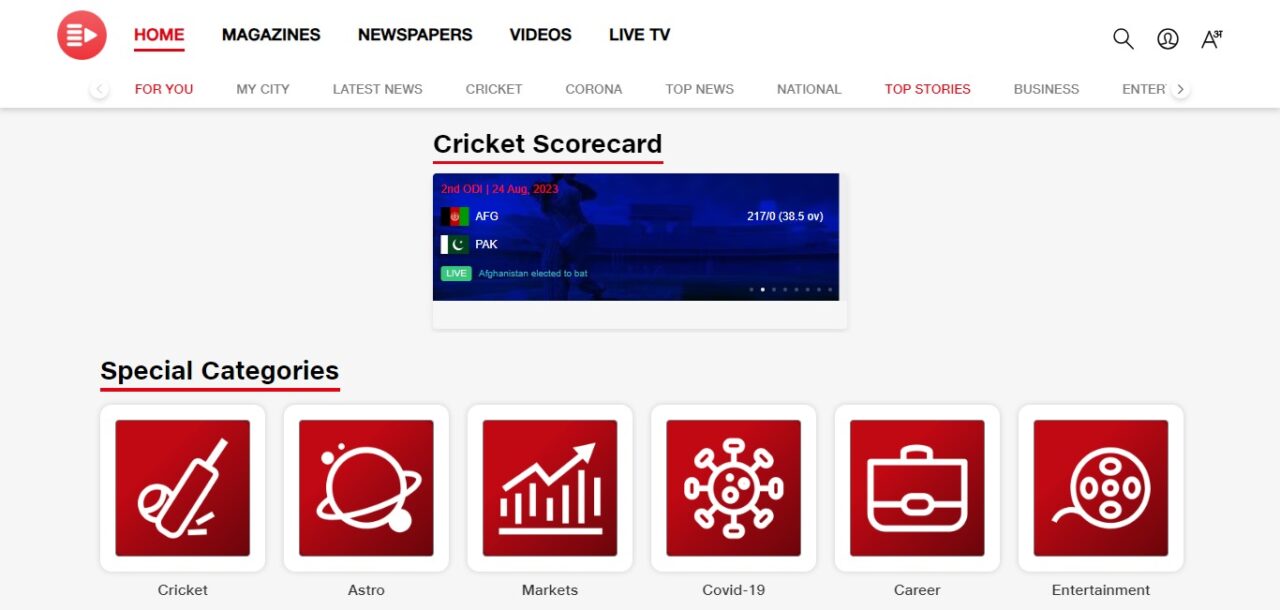 Jio News leverages the power of digital technology to deliver news in multiple languages, ensuring accessibility to a linguistically diverse country. Through its user-friendly interface, curated news feed, and real-time updates, Jio News provides a convenient and engaging way for users to stay informed about both national and international events.
Its integration with Jio's extensive digital ecosystem further enhances its appeal. Jio News, with its focus on technological innovation and comprehensive coverage, stands as a testament to the changing landscape of news consumption and the fusion of digital connectivity with credible journalism.
7. Knappily
Knappily, a unique news app, has carved a niche for itself in the realm of information consumption by offering in-depth and analytical insights into current affairs and trending topics. The app's distinctive approach lies in its commitment to explaining complex news stories in a succinct and engaging manner, often referred to as "explainers.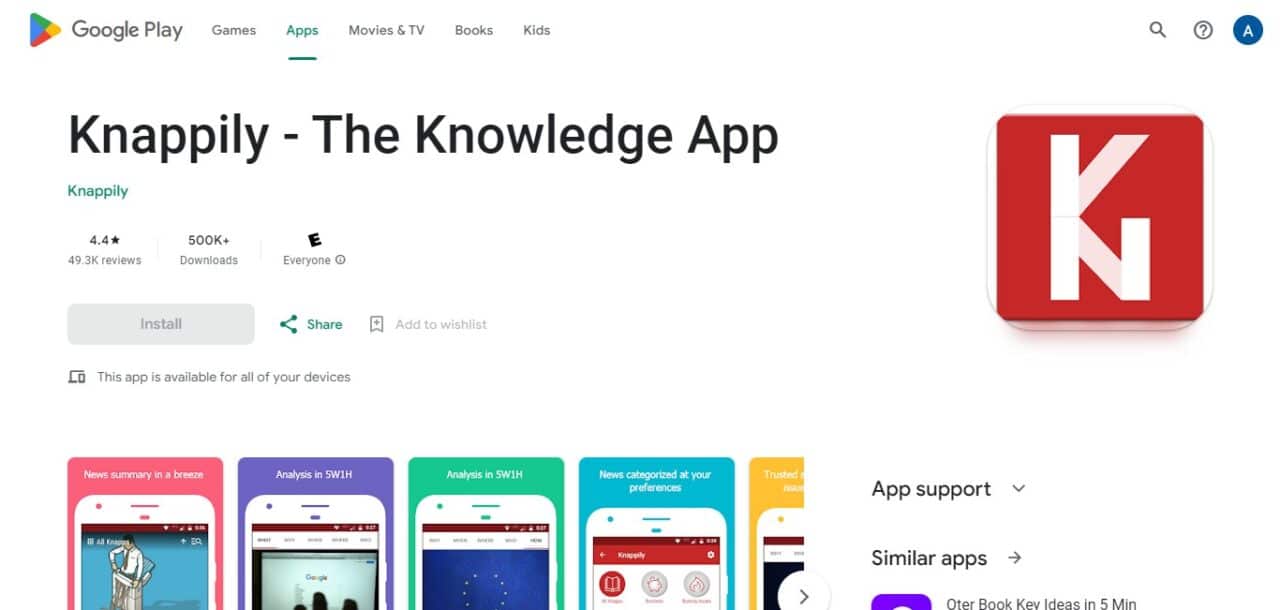 " Knappily breaks down intricate subjects into bite-sized chunks, providing users with a comprehensive understanding of the context, significance, and various facets of the news. This approach empowers users to make well-informed decisions and engage more meaningfully with the world around them.
By focusing on clarity and depth, Knappily enriches the news consumption experience, catering to those who seek more than just headlines. With its informative yet concise articles, Knappily plays a crucial role in fostering critical thinking and awareness among its users, setting itself apart as a valuable resource in the digital age of information.
8. Inshorts (Best News App in India)
Inshorts has emerged as a popular news aggregation app that addresses the fast-paced and information-rich nature of modern life. With its unique concept of delivering news in 60-word snippets, Inshorts offers a quick and convenient way for users to stay updated on the latest happenings across various domains.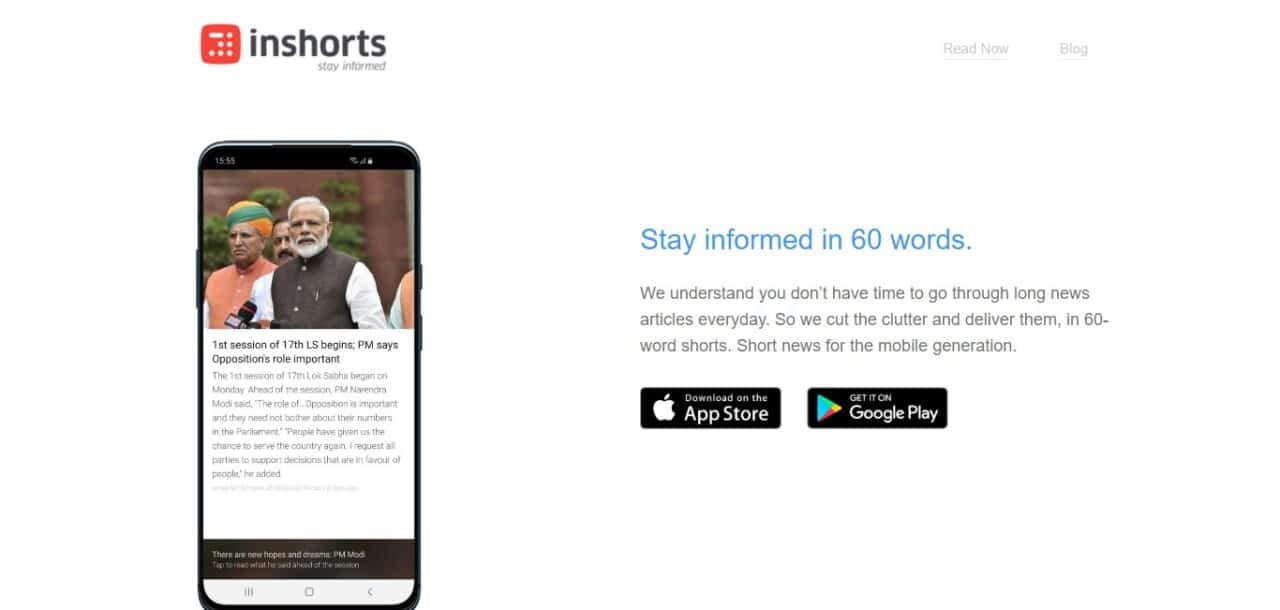 The app curates news from multiple sources, condensing key details into concise summaries that capture the essence of each story. This format caters to users with limited time while still providing them with a snapshot of important events. Inshorts' minimalistic approach ensures that users can quickly browse through a variety of news stories, making it particularly appealing to individuals on the go.
By presenting news in a digestible format, Inshorts addresses the need for bite-sized information consumption in today's fast-paced world, catering to those who seek quick updates without compromising on relevance and accuracy.
9. Way2News
Way2News has emerged as a noteworthy news app that aims to provide users with concise and relevant news updates to keep them well-informed on the go. With its emphasis on delivering news in bite-sized formats, the app condenses important stories into easily digestible capsules, making it an ideal choice for individuals with limited time.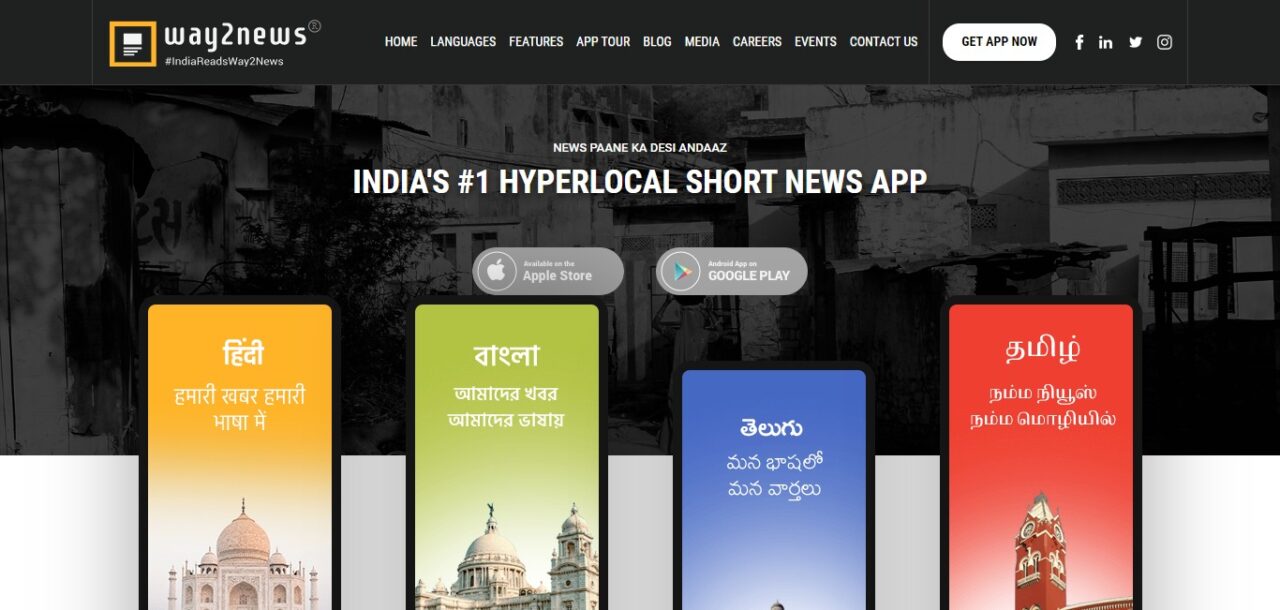 Way2News covers a wide range of topics, including current affairs, entertainment, sports, and more, catering to diverse interests. Its user-friendly interface and personalized news feed ensure that users receive content tailored to their preferences.
By offering quick news summaries and breaking stories, Way2News addresses the need for efficient and accessible news consumption in the digital age. The app's focus on delivering accurate and timely updates in a succinct manner positions it as a valuable resource for users seeking rapid information updates while on the move.
10. First Post (Best News App in India)
Firstpost, a prominent digital news platform in India, has established itself as a dynamic source of comprehensive and insightful reporting. Known for its diverse coverage spanning politics, business, culture, technology, and more, Firstpost delivers timely news updates and in-depth analysis that cater to a wide audience.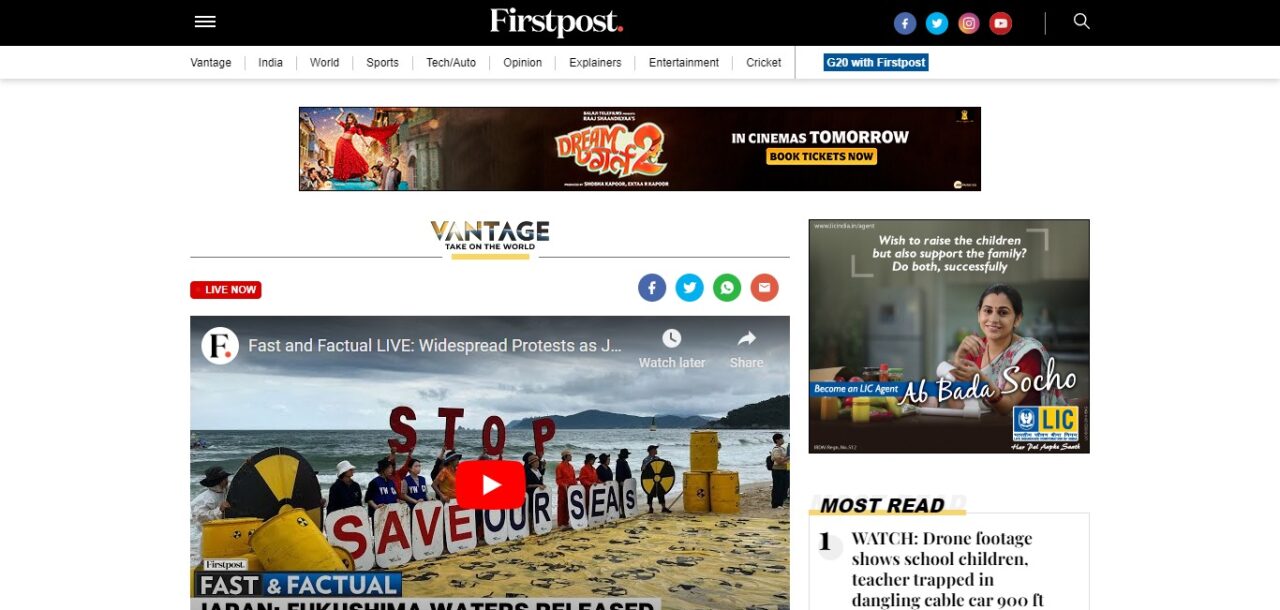 The platform's digital-first approach leverages multimedia elements, including articles, videos, and interactive features, enhancing the overall news consumption experience. With its emphasis on contextual reporting and nuanced perspectives, Firstpost delves into complex issues, enabling readers to gain a deeper understanding of the subjects that matter.
Its commitment to journalistic integrity and thought-provoking content has earned Firstpost a reputation as a forward-thinking news platform that engages, educates, and informs readers about the latest events and trends in India and beyond.
Best News App in India Conclusion
In the ever-evolving landscape of digital news consumption, India's best news apps have emerged as powerful tools that connect users with accurate, timely, and diverse information. These apps cater to a wide range of preferences and needs, offering intuitive interfaces, personalized content, and innovative features that enhance the news consumption experience.
From established giants like The Times of India and NDTV to innovative platforms like Inshorts and Way2News, each app brings something unique to the table. The diversity of options ensures that users can access news in their preferred languages, formats, and styles, while also benefiting from insightful analysis and responsible reporting.
Whether it's a focus on regional languages, concise summaries, or in-depth features, the best news apps in India keep pace with the demands of a digital-savvy audience, making it possible for individuals to stay informed, engaged, and connected in an increasingly fast-paced world.
Best News App in India FAQ
What are the best news apps in India?
There are several top-notch news apps in India catering to diverse preferences. Notable options include The Times of India, NDTV, Aaj Tak, Dailyhunt, Inshorts, Knappily, Way2News, and Firstpost.
How do I choose the best news app for me?
Consider factors like the app's reputation for accurate reporting, its range of topics, the languages it supports, user reviews, and the quality of its content. Select an app that aligns with your preferred news sources, formats, and features.
What types of news do these apps cover?
The best news apps provide a wide spectrum of coverage, including politics, current affairs, business, entertainment, sports, technology, and more. You can choose apps that align with your interests and preferences.
Are these apps free to use?
Many news apps offer free access to a significant portion of their content. Some may offer premium features or ad-free experiences through paid subscriptions. Check the respective app's pricing details for accurate information.
Can I get news in my preferred language?
Yes, many apps offer news in multiple languages to cater to India's linguistic diversity. The Times of India, Dailyhunt, and other apps provide news in various regional languages.
How often are the news updates?
News apps generally offer real-time updates throughout the day, ensuring that you're informed about the latest events as they unfold. Push notifications can keep you updated on breaking news.