What is Landbot Ai?
Landbot AI utilizing a visual builder, organizations can construct chatbots and conversational landing pages utilizing the conversational platform Landbot. These landing pages and chatbots can be utilized to have conversational interactions with consumers and visitors, streamlining lead generation, customer service, and other business operations.
In order to comprehend and react to user inputs, Landbot uses AI and natural language processing, giving consumers a tailored and interesting experience. The platform also provides interfaces with well-known business tools and platforms, enabling companies to optimize operations and enhance client experience generally.
Key Points
| Key | Point |
| --- | --- |
| Product Name | Landbot |
| Product Type | Ai Tool |
| Free Trail | Yes Available Basic Version |
| Price Start From | $30 Month |
| Deployment | SaaS/Web/Cloud Mobile – Android Mobile – iOS |
| Offline/Online Support | Online |
| Customer Type | Large Enterprises ,Medium Business ,Small Business |
| Official Website | Click Here To Visit |
Landbot AI Transcription Pricing
Now it's time to talk about company plans and pricing

How to Sign Up & Use Landbot AI?
Go to the Landbot AI website (https://landbot.io/) and click on the "Sign Up" button.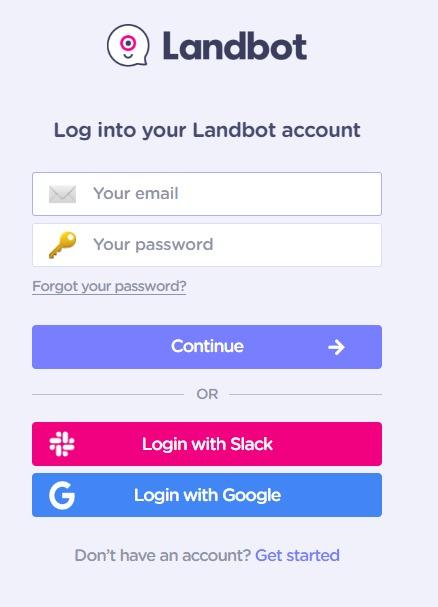 Enter your email address and create a password to create your account.
Once you have created your account, you will be directed to the dashboard where you can start building your chatbot.
To create a chatbot, click on the "Create New Bot" button and choose a template or start from scratch.
Use the drag-and-drop editor to customize the chatbot by adding questions, responses, and actions.
Set up integrations with third-party tools like CRM systems or email marketing platforms if necessary.
Preview and test the chatbot to make sure it works as expected.
Publish the chatbot and embed it on your website or share it on social media platforms.
Monitor the performance of the chatbot using the analytics dashboard and make adjustments as necessary.
Landbot Key Features
Building with Landbot
Landbot AI is a fun, intuitive and powerful platform that empowers you to create anychatbot you can imagine and deploy it anywhere
Website Chatbot
Engage your website visitors naturally — through conversations. Capture attention in real-time, build stronger relationships and get higher conversion rates.
WhatsApp Automation
Create conversational marketing campaigns, engage existing customers and provide excellent customer service, all inside WhatsApp.
API & SDK
Use Landbot to deploy chatbots in your own apps and channels, with our comprehensive API and SDK.
Chatbot Platform
Build sophisticated conversational experiences for web and mobile using our visual chatbot builder and templates – no coding required.
Revenue Growth
From lead capture to engagement campaigns, Landbot's conversational experiences for the web and messaging channels will increase conversion rates and boost revenue for your business.
Operational Efficiency
Launch your chatbot in minutes and automate complex customer interactions, achieving more than ever while reducing development and operational costs.
All Your Tools Together
Sync your data across the most popular software platforms with native integrations, or connect Landbot AI to any application or proprietary technology using Webhooks and APIs.
Ready to use Templates
We've made it super easy to create your first chatbot. Browse our library, find the right template, and you'll go live in no time!
Landbot Ai Pro Or Cons
| PRO | CONS |
| --- | --- |
| Easy to use: It has a user-friendly interface and visual builder that makes it easy to create chatbots and conversational landing pages without any coding knowledge. | Limited language support: They currently supports only a limited number of languages, which can be a drawback for businesses with multilingual audiences. |
| Customizable: They allows businesses to customize their chatbots and landing pages to match their branding and messaging. | Limited language support: They currently supports only a limited number of languages, which can be a drawback for businesses with multilingual audiences. |
| AI-powered: They uses AI and natural language processing to understand and respond to user inputs, creating a personalized and engaging experience for users. | Limited analytics: They analytics and reporting features are limited, which can make it difficult to track and measure the success of chatbot interactions. |
| Automates customer support: They can automate customer support, allowing businesses to provide 24/7 support and reduce response times. | Limited customization options: While Landbot is customizable, some users may find the customization options limited compared to other chatbot platforms. |
Landbot AI Alternative
ManyChat
ManyChat is a popular chatbot platform that allows businesses to build and automate conversations with customers on Facebook Messenger, WhatsApp, SMS, and other channels. It offers features such as a visual builder, integrations with popular business tools, and customizable templates.
Dialogflow
Dialogflow is a conversational AI platform that allows businesses to create chatbots and virtual assistants for their website, mobile app, or other platforms. It offers features such as natural language processing, voice recognition, and integrations with popular platforms.
Tars
Tars is a chatbot platform that allows businesses to create conversational landing pages and chatbots using a visual builder. It offers features such as integrations with popular business tools, customizable templates, and a variety of conversation design elements.
Final Verdict on