Hello Guys Today We Talk About Where & How To Buy Gemini Dollar (GUSD) . We Describe Everything In Details . Read Our Article Carefully. Please Note This Article Only For Educational Purposes Not Financial Advice .
Gemini Dollar (GUSD) can be purchased on a variety of cryptocurrency exchanges, including Binance, BitForex, and Gate.io. To purchase Gemini Dollar, you will first need to create an account on one of these exchanges and link it to a payment method, such as a bank account or credit card. Once your account is set up, you can then search for Gemini Dollar and place a buy order at the current market price or at a specific price you set.
What Is Gemini Dollar (GUSD)?
The Gemini Trust Company (Gemini) is a digital currency exchange and custodian that allows you to buy, sell and store digital assets, founded in February of 2014. The GUSD is created by the cryptocurrency exchange Gemini.
The company received approval from the New York Department of Financial Services or NYDFS to launch the stablecoin in September of 2018. The Gemini Trust Company holds USD deposits that correspond to the number of tokens that are in circulation.
When it comes to the Gemini Dollar itself, it is an ERC-20 token that is built on the Ethereum network and has smart contracts that are audited by the security company Trail of Bits Inc.
This dollar is intended to bridge the divide between traditional finance and the crypto industry, due to the fact that this specific stablecoin is completely regulated by the NYDFS.
Where To Buy Gemini Dollar (GUSD) (Best Gemini Dollar Exchange)
CEX.IO
CEX.IO (http://cex.io/) was founded in 2013 with a mission to support global financial inclusion through the adoption of cryptocurrency and blockchain technology. As one of the most tenured market participants, CEX.IO offers a rich ecosystem of simple to use, secure solutions for buying, storing, trading, selling, sending, and earning digital assets.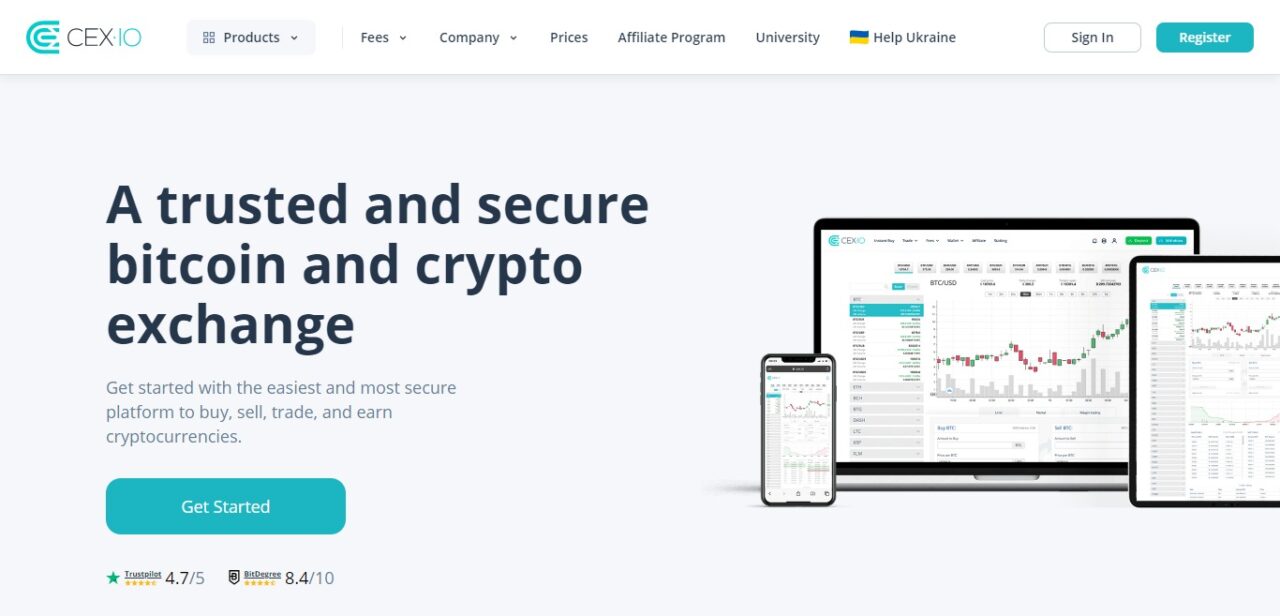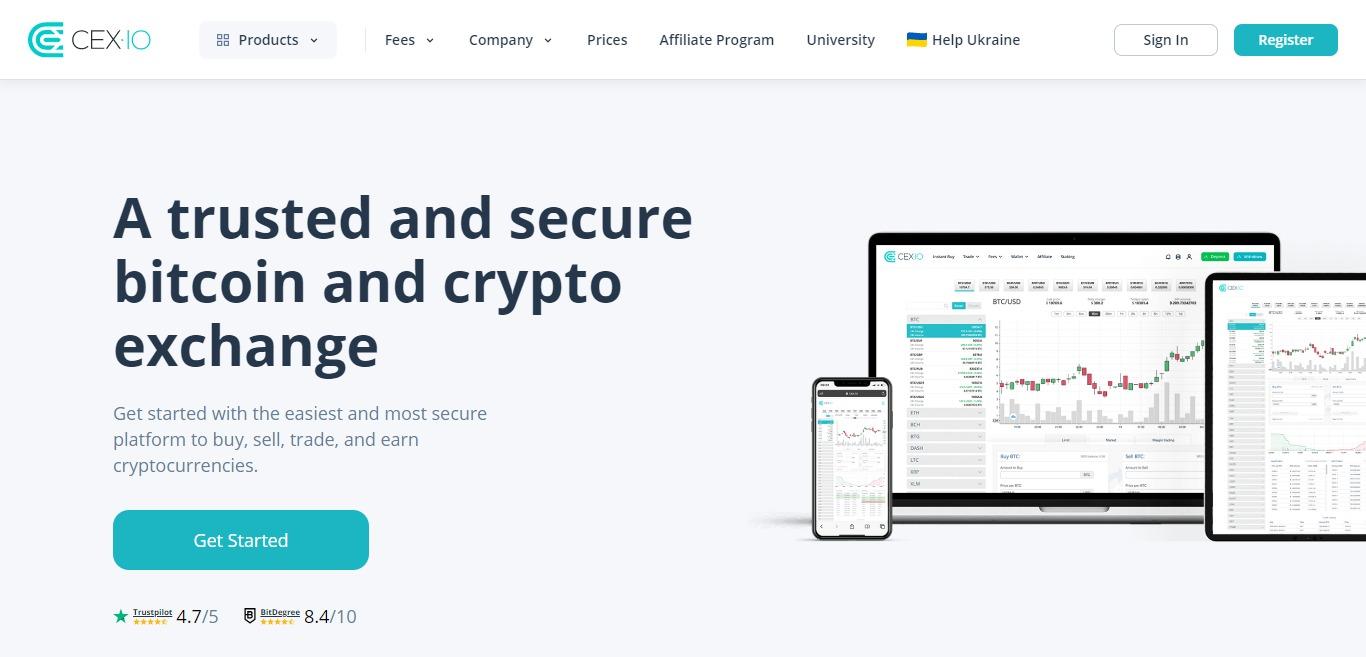 With over five million registered users globally, CEX.IO provides retail, enterprise, and institutional customers with best-in-class tools and technologies to help them tap into decentralized finance.
Finexbox
Launched in Oct 2018, Finexbox is a centralized exchange that is based in Hong Kong. Finexbox describes itself as a full-featured spot trading platform for digital assets. Finexbox offers leveraged margin trading through a peer-to-peer funding market, allowing users to trade with up to 3.3x leverage.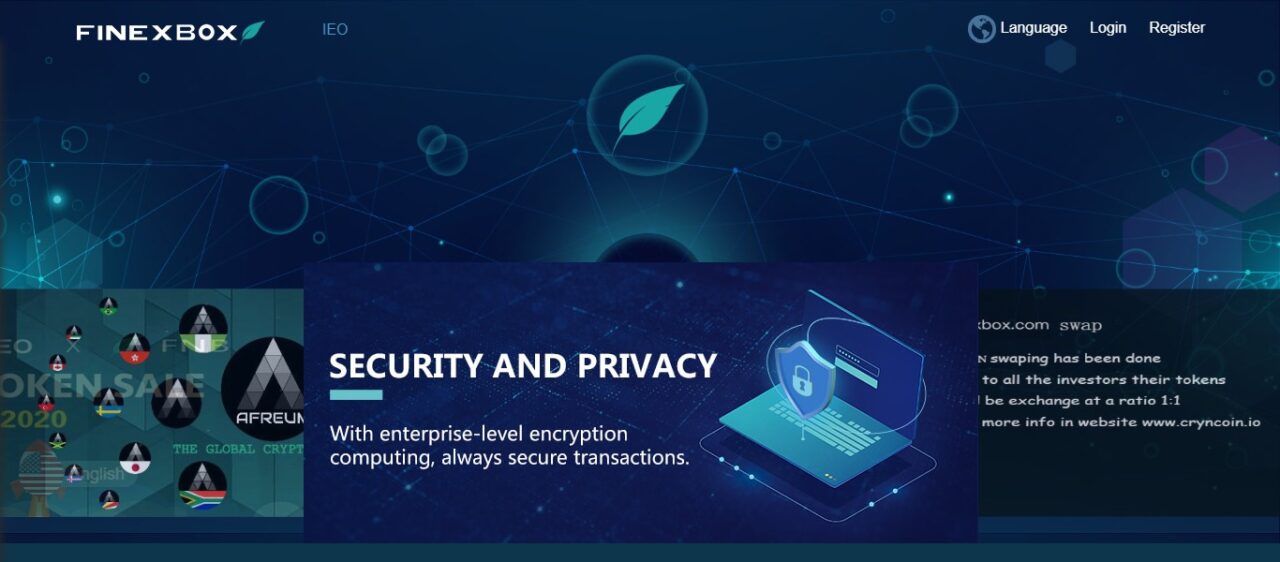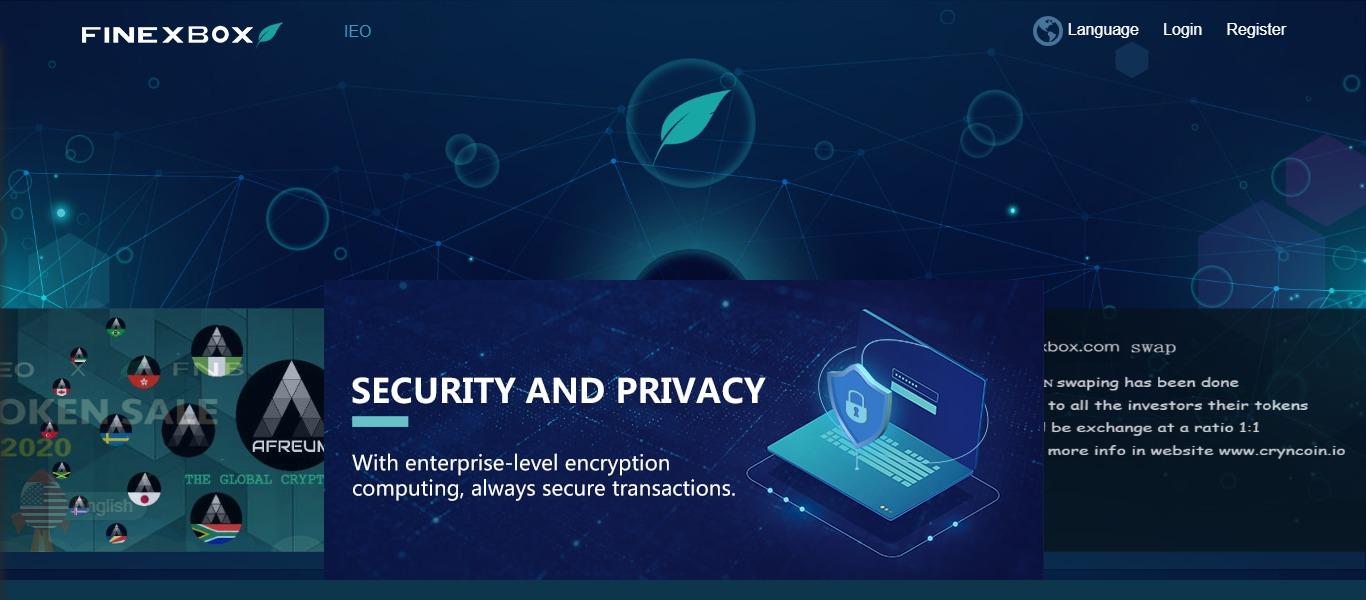 Finexbox's API are designed to offer an easy and efficient way to build digital asset trading applications and tools: create your own charts, monitor and edit your orders and positions,track your trading history and wallets movements.
Uniswap (V3)
Uniswap is one of the most popular cryptocurrency decentralized exchanges (DEXs), launching in November 2018. It pioneered the automated market maker (AMM) model, instead of the traditional order book-based used by exchanges. Uniswap runs on the Ethereum blockchain and uses a number of smart contracts to securely swap ERC-20 tokens between users.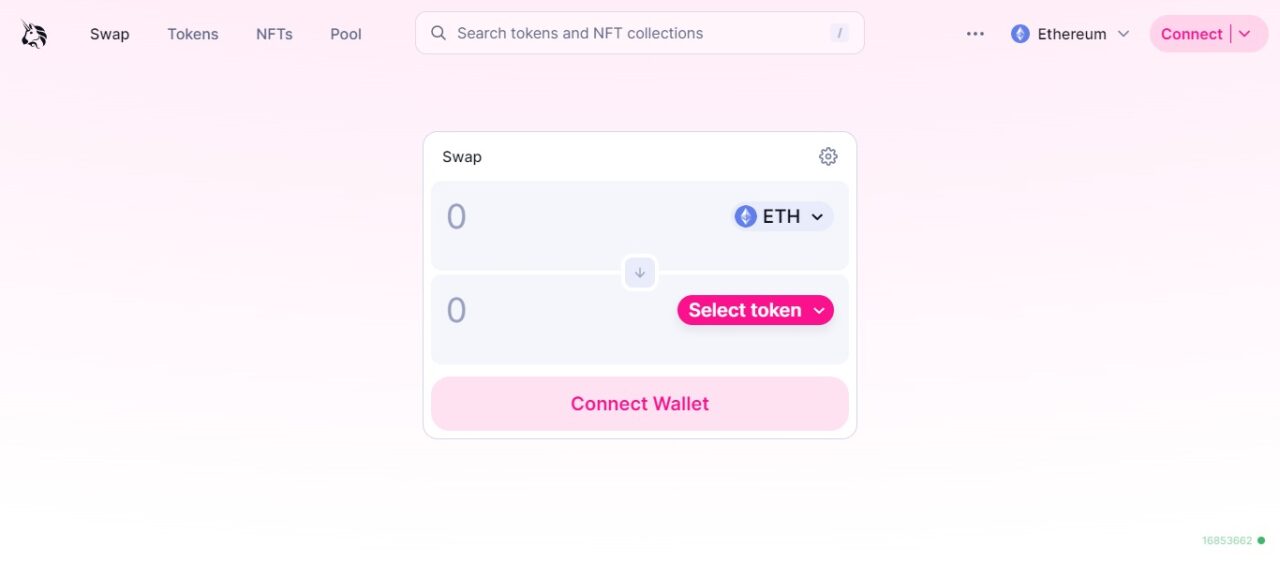 The decentralized aspect of the protocol means that there is no single centralized authority that manages and runs the exchange — instead, swaps are done in a peer-to-peer (P2P) manner. Moreover, Uniswap strives to solve the liquidity problem inherent in other exchanges.
Uniswap V3 is the 3rd edition of the protocol fitted with updates to improve compensation and provide greater control and flexibility for individual LPs. Uniswap V3 supports over 46.5% of the total DEX trading volume and the protocol reached a cumulative lifetime trading volume of $1 trillion in May 2022.
EXMO
EXMO is a British cryptocurrency exchange. EXMO has an estimated 2.5 million users, 6+ fiat currencies (USD, EUR, etc.) SEPA, SWIFT, credit/debit cards on the platform. EXMO exchange is registered in London, with offices in London, Poland, Ukraine, Lithuania and the US, and employs a project team of 150+ people.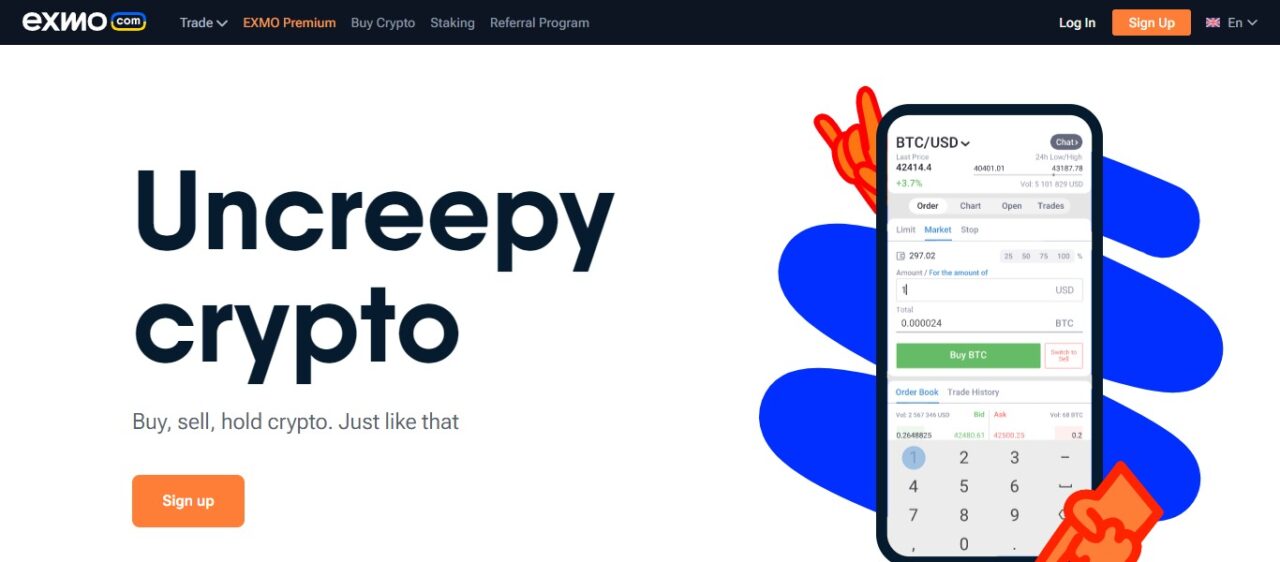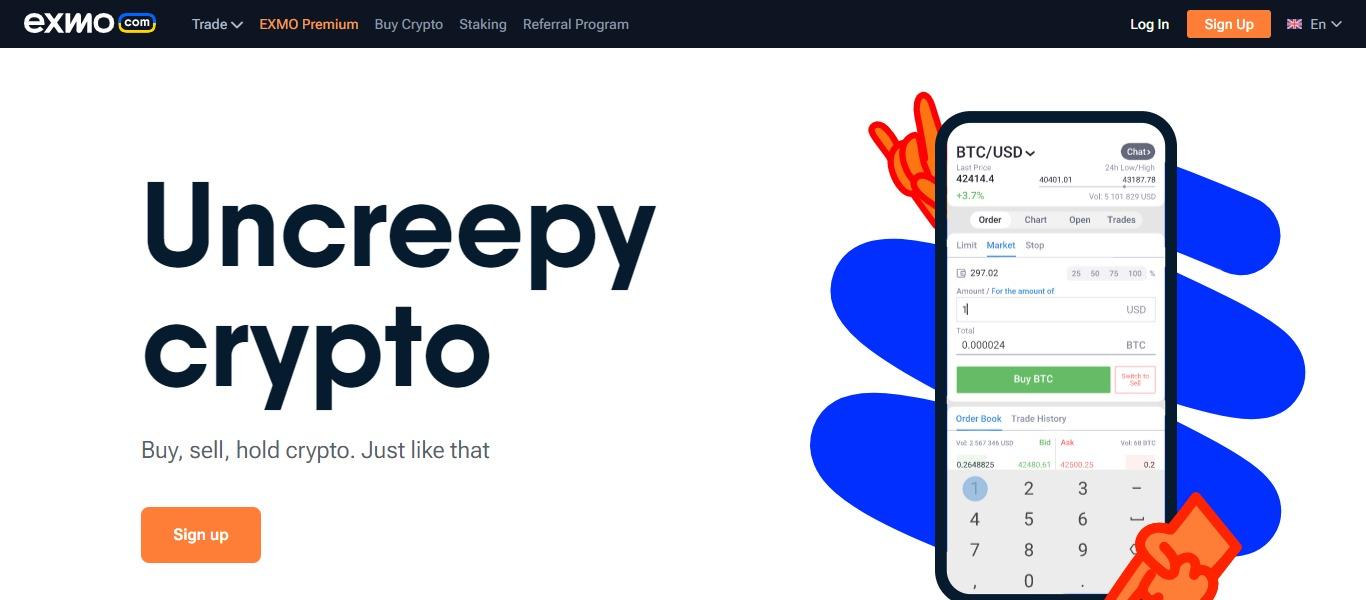 Founded in 2014, the company is now based in the UK, Ukraine, Poland, Lithuania and the US. The EXMO.com cryptocurrency platform has more than 24,000 active daily traders, more than 180 trading pairs, an exchange token EXMO Coin (EXM) and operates with 5+ fiat currencies. The platform supports SEPA and SWIFT transfers, as well as credit/debit cards for instant crypto purchases. The average daily trading volume is over $200 million.
Coinbase Exchange
Coinbase Exchange is a US-based crypto trading and investment platform where users can easily buy, sell, exchange and store cryptocurrencies. The platform is intuitive and beginner-friendly with support for basic transactions, digital wallet, and PayPal withdrawals. For more advanced traders, Coinbase Pro offers more professional trade execution and lower fees. However, in June 2022, the company announced that Coinbase Pro will be phased out and all users will have access to the "Advanced Trade" feature on the main app.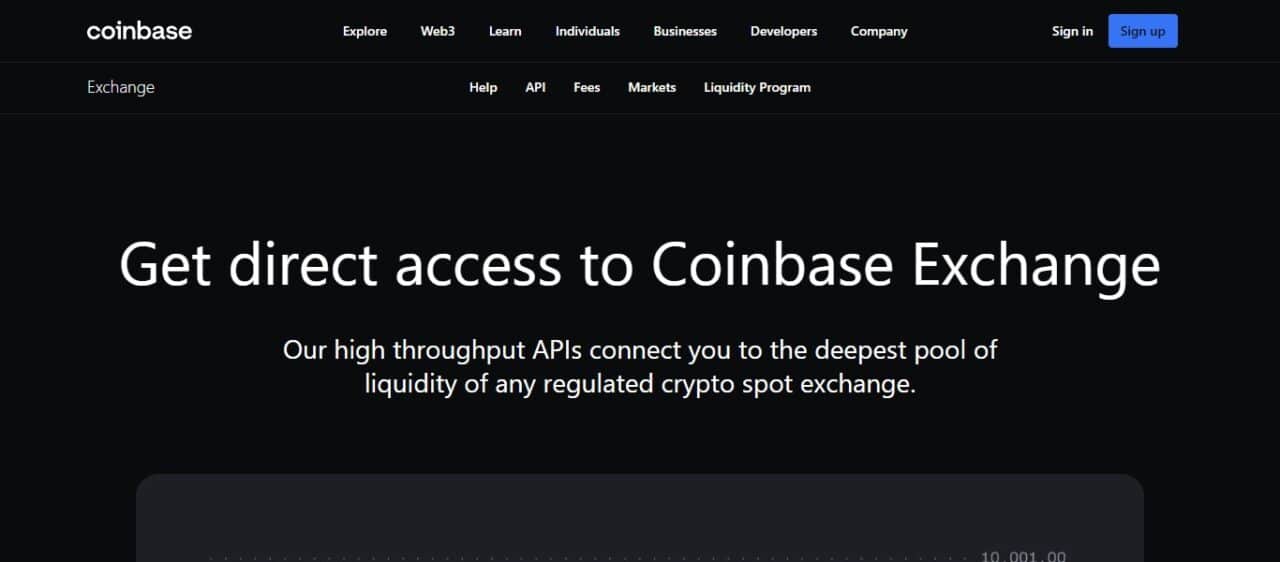 Exchange fees are based on a maker-taker model and range from 0.00% to 0.40% for maker fees, and 0.05% to 0.60% for taker fees, depending on the total USD trailing 30-day trading volume. "Stable Pairs," or trading pairs of stablecoins have fixed maker fee of 0.00% and taker fee of 0.001%.
How to Buy Gemini Dollar
Gemini Dollar (GUSD) is a stablecoin that is pegged to the US dollar and can be purchased on various cryptocurrency exchanges. Here are the general steps to buy Gemini Dollar:
Create an account on a cryptocurrency exchange that supports GUSD. Some popular exchanges that support GUSD include Gemini, Binance, and Coinbase.
Verify your identity by completing the required KYC (Know Your Customer) and AML (Anti-Money Laundering) checks. This typically involves providing personal information such as your name, address, and identification documents.
Fund your account with a cryptocurrency or fiat currency such as USD or EUR. If you are using fiat currency, you may need to complete additional verification steps.
Navigate to the GUSD trading pair on the exchange and place a buy order for the amount of GUSD you want to purchase.
Once your order is filled, you will see the GUSD in your exchange wallet.
You can then transfer the GUSD to a different wallet or use it to purchase other cryptocurrencies or goods and services that accept GUSD.
Remember to always exercise caution and do your own research before investing in any cryptocurrency, including stablecoins like GUSD.
GUSD Price Live Data
The live Gemini Dollar price today is $1.00 USD with a 24-hour trading volume of $822,720 USD. They update GUSD to USD price in real-time. Gemini Dollar is up 1.03% in the last 24 hours. The current CoinMarketCap ranking is #79, with a live market cap of $609,873,557 USD. It has a circulating supply of 607,049,883 GUSD coins and the max. supply is not available.
Gemini Dollar Good For Investment Or Not ?
Gemini Dollar is a relatively new and small project and it's not widely traded on many exchanges, which can make it more risky and volatile than more established cryptocurrencies. Additionally, it is important to consider the overall market conditions and the potential regulatory changes that could affect the value of Sandbox and other cryptocurrencies.
Gemini Dollar Wallets
Gemini Dollar (GUSD) is an ERC-20 token, which means that it is built on the Ethereum blockchain and can be stored in any Ethereum-compatible wallet. Here are some popular wallets that support GUSD:
MyEtherWallet: MyEtherWallet is a free, open-source, client-side interface for generating and managing Ethereum wallets. It supports GUSD and other ERC-20 tokens.
MetaMask: MetaMask is a browser extension that allows you to interact with the Ethereum blockchain directly from your browser. It also supports GUSD and other ERC-20 tokens.
Ledger: The Ledger hardware wallet is a secure offline device that can store a wide range of cryptocurrencies, including GUSD.
Trezor: The Trezor hardware wallet is another secure offline device that supports GUSD and other ERC-20 tokens.
Exodus: Exodus is a desktop and mobile wallet that supports multiple cryptocurrencies, including GUSD.
Remember to always exercise caution and do your own research before selecting a wallet to store your GUSD. It's important to choose a wallet that is reputable, secure, and compatible with your needs.
Please Note
Cryptocurrency trading carries a high level of risk and may not be suitable for all investors. Before deciding to trade digital assets you should carefully consider your investment objectives, level of experience and risk appetite. The possibility exists that you could sustain a loss of some or all of your initial investment and, therefore, you should not invest money that you cannot afford to lose. You should be aware of all the risks associated with digital asset trading and seek advice from an independent financial advisor if you have any doubts.
Gemini Dollar Faq
What is Gemini Dollar?
Gemini Dollar (GUSD) is a stablecoin that is pegged to the US dollar at a 1:1 ratio. It is issued by Gemini, a regulated cryptocurrency exchange founded by the Winklevoss twins.
How is Gemini Dollar different from other stablecoins?
Gemini Dollar is designed to be transparent, secure, and compliant with regulations. It is audited by an independent accounting firm to ensure that its dollar reserves match the amount of GUSD in circulation. It is also subject to regular regulatory oversight.
How is the value of Gemini Dollar maintained?
The value of Gemini Dollar is maintained by a system of reserves held in US dollars. For every unit of GUSD in circulation, there is a corresponding unit of US dollars held in reserve. These reserves are held in FDIC-insured bank accounts and are audited by an independent accounting firm.
Is Gemini Dollar a good investment?
As with any investment, it's important to do your own research and consider your own investment goals and risk tolerance. Gemini Dollar can be a useful tool for investors who want to hold a cryptocurrency that is less volatile than other cryptocurrencies like Bitcoin or Ethereum. However, it's important to keep in mind that investing in any cryptocurrency comes with risks, and stablecoins like GUSD may not offer the same potential for high returns as other cryptocurrencies.
What wallets support Gemini Dollar?
Gemini Dollar is an ERC-20 token, which means that it can be stored in any Ethereum-compatible wallet. Some popular wallets that support GUSD include MyEtherWallet, MetaMask, Ledger, Trezor, and Exodus.