Ripple's Bruce Fenton, the founder of Bitcoin Foundation, has stated that he has never cared about nor followed Ripple much but their complete dishonesty about the XRP issue is baffling and insulting.
In a tweet posted on Friday, the pioneer Bitcoin advocate intimated that Ripple's lies are going to turn him from indifferent to an active enemy of the project. Fenton who is not noted for such animosity in the Crypto space seems not to have surprised many with this utterances.
Ripple has come under attack in recent times for denying that Ripple is not XRP and that the two are different entity altogether. This is surprising to many since the 3rd most expensive Cryptocurrency has always carried the name Ripple until its recent rebranding introduced $XRP
Community Reaction
Fenton's post attracted many responses of varied opinions but mostly pointing accusing fingers at Ripple for lying and trying to give a bad name to cryptosphere.
"What lies? The facts are there and should never have been called Ripple. The correction is long overdue and has caused many people who don't read and research confusion," Jason Fox commented. However, CryptoBacon thinks once Ripple sold enough of their free Ripple coins they realized they couldn't perpetuate the scam until they change the name.
On his part, Ahmet believes Ripple's technology is good but they don't really know how to run an open source software project and manage the surrounding community. For him, $xrp's rebranding should have been made openly with concise wording instead of using self-proclaimed sock puppets like @haydentiff.
"Go for it Bruce these ass hats have used extremely questionable tactics/ethics previously to the extent where they bring shame and disrepute to the whole crypto space," Bigpiggy01 charged Fenton. Shayne Van Asperen reasons Ripple lied by stating that the network is decentralised but a "suggested" UNL is not decentralised, no matter how much they want it to be.
Litecoin Moses hinted it is the reason why he Ripple's  dislikes XRP. "I don't fault the people coming in and buying it now believing what they hear," he wrote. "They are being misguided by the company. Straight up lying to people."
"Why so much hate?" Alberto Dangond asked. Differing a bit, Painteronerabbit suggested It is still Ripple to a lot of people and XRP is a mouthful. "They have done things that have caused a lot of doubt, but the utility and adoption are firmly established," he remarked.
Cory Johnson's Response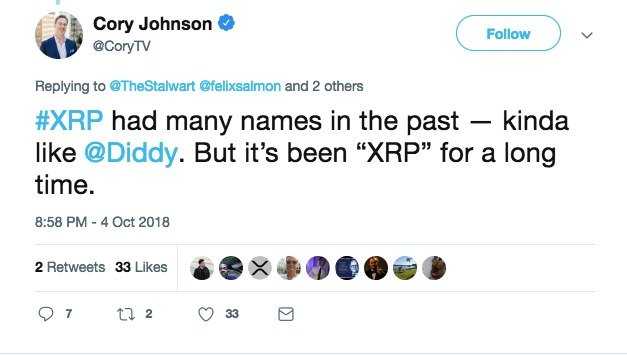 In a reaction to Fenton's post, Cory Johnson, Chief Market Strategist at Ripple explained that XRP had many names in the past but it has been "XRP" for a long time. He also insisted that ripple as a company is different from the currency.
More so, Johnson stated Ripple cannot change Ripple's  the name of XRP. "I'll check the time machine and there was never a "Ripple Inc." nor a "Ripple" digital asset, but whatever, the last five years of inaccuracy make me mental, the Chief Marketing Strategist said.