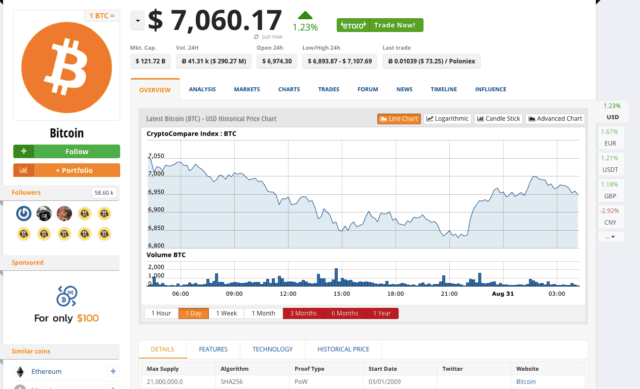 Three times in a role in a week, first market mover Bitcoin has hit the $7000 mark. It has been a week of trying to move from the $6000 range with up and downs.
On Tuesday, Bitcoin finally broke the resistance to hit the $7000 line. At 14:30 GMT+2, it rose 4.48 percent to record the new market price.
However, it could not sustain it for long and it fell back to the $6000 echelons less than 24 hours. The earlier expectation in the crypto community was that it could lead to a bull run.
Then on Friday, it overcame the $6900 resistance once again to record a $7000 price. Alas! that lasted for a few hours and it was back to the $6000 range again.
Stimulatingly, the price has jumped back to $7060 on Saturday morning and it is just an agonizing situation. Are going to see the up and down like that?
Will It Sustain?
Can Bitcoin conquer the $6900 range and sustain the $7000 price on the weekend? will it be able to start a price rally soon?
This and many other questions are what many analysts are pondering over. Though there are signs of market recovering, there is no signal we are out of the depression yet.
Total market capitalization of cryptosphere is hovering around $231 Billion compared to last week's $210 Billion. If Bitcoin is able to sustain the $7000 price and rally on, it would create more confidence and bring altcoin along.
Top 10 Update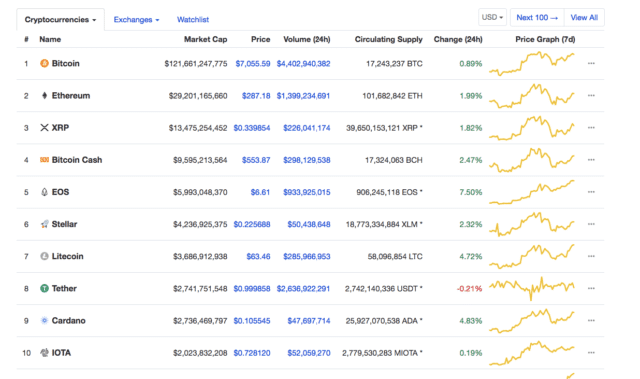 There is optimism looking at how top 10 on CoinMarketCap is blossoming on Saturday morning. At press time at 9:00 GMT+2 all of them were in green except a little loss from Tether.
EOS has the highest gain at the moment of a 7.50 percent. At the 10th spot, IOTA managed a small gain of 0.19 percent point
We might end the week with a refreshing news for the industry if the markets continue to go the way it is going. CWS will continue to update you on the market trends, so stay with us.